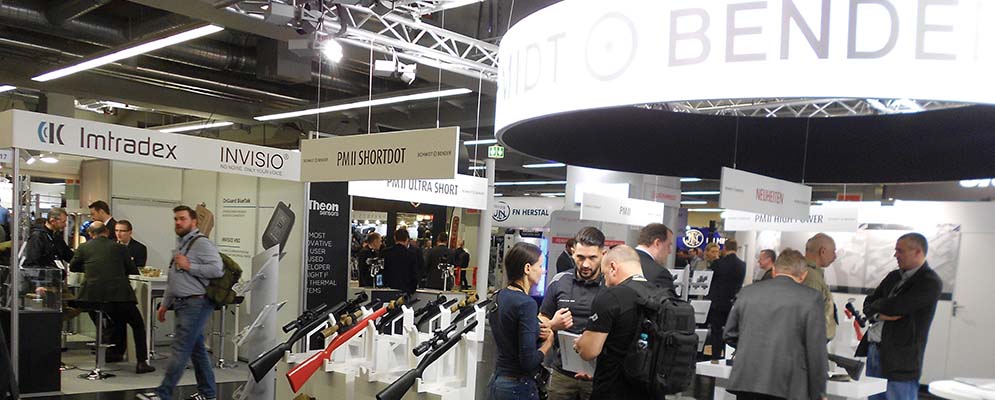 ABOVE: The long-established optical sight manufacturer Schmidt & Bender booth, one of many offering optical and sighting devices for the law enforcement community.

A Walk Around the Expo Aimed at Law Enforcement

The seventh edition of Enforce Tac International Exhibition & Conference Law Enforcement, Security and Tactical Solutions billed as the "International Trade Fair for Command, Control and Operational Equipment used by security forces" was held over March 7–8 at the Nuremberg Messe Exhibition Centre, Germany. The 2018 event which was stated to be 20-percent larger than last year attracted 242 exhibitors and more than 3,500 visitors over the two days.
The event continues to grow in size, and this year's event occupied four halls located at the Messe centre entrance which is adjacent to the various entries points for road, rail and car parking. The extended exhibitor focus is on police service issue firearms and ammunition, ballistic accessories, optics, information and communications technologies and uniforms. The latter, primarily of a service nature, included stab and bullet-proof vests, shields and helmets and restraining devices. Reflecting the changing threat scenario, the counter-drone system "Dropster," a hand-held discharger firing a cut-resistant net, was displayed. Effective up to 30 meters, the Dropster is used and aimed like a pistol for event protection and other media attracted events. Noteworthy on the firearms side was the Heckler & Koch 5.56mm NATO caliber HK433 contender as a replacement for the G36 assault rifle in German service. At the current time, only two contenders are now in the running to replace the G36, namely Heckler & Koch and Haenel Defence with their military version of the CR 223, the MK 556 in 5.56mm NATO.
RUAG Ammotec AG of Thun, Switzerland, displayed a full range of current production ammunition which now includes blank rounds for .338 Lapua Magnum caliber rifles!
The ground floor exhibition hall provided a display area for specialist police and security vehicles.
To provide added value in attending, Enforce Tac was complimented by a programme of lectures and seminars organized by the European Police Trainer Conference 2018 and sponsored by the Polizietrainer in Deutschland e.V. (Police Trainers in Germany PiD), that brought together subjects of current interest to the police service in regards to theory, practice, application and equipment. Seminars focused on areas ranging from "Preventing Excited Delirium In-Custody Deaths" to "Dynamic Use of Firearms" and "Reactive Target Systems." To assist delegates attending from outside of Germany, a simultaneous translation from German to English was also provided.
Among the regular European manufacturers were two Swiss manufacturers of law enforcement firearms, Wyssen Defence AG and Glarner Waffen Manufaktur + Handelshaus AG, exhibiting for the first time, together with Knights Armament Company (KAC) of Titusville, Florida.
Enforce Tac has traditionally preceded IWA International Hunting & Sporting Trade Fair also held at the Messe exhibition centre, allowing those attending the former to attend the latter, which was held over March 9–11. IWA itself continues to grow in size and popularity (vying with the U.S. Las Vegas SHOT Show for the size), with individual halls now being themed along specific product lines and with Hall 5 remaining the home of the large U.S. Pavilion, but now complimented with a growing craft custom and utility knife area.
Additionally, those attending Enforce Tac were able to visit the second edition of the U.T.SEC–Unmanned Technologies and Security, Exhibition and Conference which focused on security by and against unmanned technologies.
Shown is the Heckler & Koch HK433 5.56mm assault rifle. Developed as a potential replacement for the in-service G36 assault rifle, HK433 will be available in law enforcement configurations. It is seen here with folding-stock extended and cheek-piece raised, with emergency back-up sights raised.
The Heckler & Koch stand was an early port of call for the firearm-minded.
Shown is the "Dropster" counter-drone pistol fitted with discharger cup containing the "capture net" and reflex sight unit. Offered in a sturdy transit case with five re-loads instantly to hand. (© – Droptec GmbH)
Mehler Law Enforcement GmbH was one of many local companies to display their range of law enforcement clothing and accessories.
Wyssen Defence AG of Switzerland displayed their product range of generic Armalite platform-based rifles, their own design of submachine gun and a range of propriety design sound suppressors.