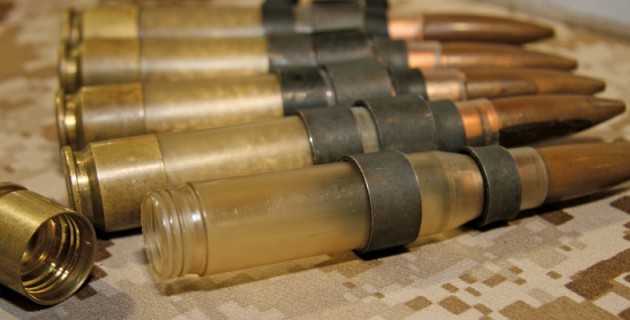 ABOVE: We first spotted this polymer and brass .50 caliber BMG ammo at MARCORSYSCOM's display at MDM way back in 2009. We're pleased to report that it is still alive and moving toward possible fielding. The per-round weight reduction is listed at 25 percent with no need to modify existing heavy machine guns. www.marcorsyscom.marines.mil. (Robert Bruce)

– – –
"Whenever there's a conflict, the budget goes up.  Afterward, the budget goes down.  The decrease on average is about 30 percent.  (Commandant of the Marine Corps) General Amos calls it 'transition from prosperity to austerity.'  We're in that transition period now, from a position of relative austerity to austerity."  
– Ariane Whittemore, Assistant Deputy Commandant, Programs and Resources, Hqs. Marine Corps
– – –
Ms. Whittemore's unsweetened serving of cold hard truth led the Expo's essential, invitation-only, Report to Industry with a sobering assessment of the Marine Corps' rocky and increasingly barren procurement terrain stretching from 2013 to beyond.
Very likely speaking directly for the Commandant, Whittemore underscored the painful realities of cuts in funding and more as America's economy speeds toward the "fiscal cliff."
We first spotted this polymer and brass .50 caliber BMG ammo at MARCORSYSCOM's display at MDM way back in 2009. We're pleased to report that it is still alive and moving toward possible fielding. The per-round weight reduction is listed at 25 percent with no need to modify existing heavy machine guns. www.marcorsyscom.marines.mil. (Robert Bruce)
Her remarks were followed with some specifics by Brigadier General Frank Kelly, the boss at Marine Corps Systems Command.  He minced no words in noting what has to follow a return to the Marines' maritime roots in the drawdown from the Middle East and shift toward operations in the Pacific.
"If you can't get on and off a ship you're irrelevant," Kelly warned.
And, echoing the mantra of countless others dating back to the earliest formations of fighting men, he suggested that one possible answer to smaller projected budgets comes in the form of extending the life of existing gear and looking for ways to improve it.
"If you're not going to go out and buy a lot of new things," Kelly said, "learn how to take care of the things that you have.  And learn how to make them better."
John McMillan, a trade show specialist with the Armament and Technical Products division of defense giant General Dynamics, answers questions from Marine Sergeants Brian Long and Tom Bulgar, intrigued by the exciting new Lightweight Medium Machine Gun. This developmental LWMMG chambers the formidable .338 Norma Magnum cartridge, bridging the capability gap between standard 7.62mm NATO and .50 caliber BMG rounds. Its proprietary recoil mitigation system is said to tame the hard-hitting .338's mule kick to not much more than experienced with the M240. (Robert Bruce)
The "Semper Fidelis" Corps, although reeling from the one-two punch of hardware worn out from a decade of war and now – in this author's estimation willfully short-rationed by the nation's dominant political party – was sending a clear message to current and aspiring suppliers.
One-on-One
Thursday morning's Report to Industry was followed by a five hour block of targeted appointments with specific Program Managers from Marine Corps Systems Command.  Each lasting about ten minutes, these one-on-one meetings allow industry representatives to pitch their goods, gripes and whatever else directly to the heads of each of SYSCOM's compartmented operations.
Of particular interest to our readers, the PM (Program Manager) for Infantry Weapons Systems was scheduled to meet in turn with thirty representatives ranging from Aegis Defense to Zanfel Labs.  Neatly tucked in there was time for US Ordnance, HK, Magpul, Rheinmetall, Colt, Knight's, and more.
It was announced in July 2012 that Colt Defense got the coveted USMC contract for up to 12,000 M45 Close Quarter Battle Pistols (CQBP), plus spares and logistical support. The new M45 is a direct descendant of the iconic Colt M1911 adopted by the U.S. military in 1911 and carried as the primary sidearm through all the major conflicts of the 20th century. One highly significant factor in this decision has to have been the long history of USMC's Precision Weapons Section re-building original Government-issue 1911s, primarily for use by Force Recon and MARSOC units. www.colt.com/ColtMilitary/Home.aspx. (Robert Bruce)
Under the Big Top
Billed as "the world's largest military exposition focusing on enhanced capabilities for expeditionary forces," this year's Modern Day Marine Expo was held from September 25-27, aboard Marine Corps Base, Quantico, Virginia.
Co-sponsored by the base, the Marine Corps League, and Marine Corps Systems Command, the 32nd MDM (Modern Day Marine) showcased the products and services of some 475 companies that support military land, air and sea operations.
Once again, exhibits at this year's exposition filled three enormous, modern, climate-controlled tents, as well as the spacious outdoor display area, presenting the latest operational equipment and technology, along with videos, models and prototypes of items soon to enter service.
Defense contractors from throughout the U.S. and some allied nations signed on to show their products and services, get feedback from the warfighters, and respond to questions.
Another perennial favorite of ours is LSAT – Lightweight Small Arms Technologies – a Joint Services Small Arms Program under prime contractor AAI that has made steady progress over the years. According to AAI engineer Ben Cole, the latest version LSAT light machine gun, seen here with its distinctive polymer cased telescoped 5.56mm ammunition, has achieved technology readiness level 7. It was among eight that successfully completed a rigorous three week evaluation by the Army's Maneuver Battle lab. www.aaicorp.com/products/advanced_prog/armament_systems.html. (Robert Bruce)
Much of the equipment now used by Marines and other U.S. and allied forces confronting enemies in Iraq, Afghanistan, and around the world was first presented to military leaders, operations planners and acquisition managers at previous editions of the expo.
"Crossroads of the Marine Corps"
Strategically located about 30 minutes drive south of Washington DC, America's capitol city with powerful lawmakers, the Pentagon, numerous defense contractors, and foreign embassies, MCB Quantico is an ideal Expo location.
It is home of the Marine Corps Combat Development Command, charged with developing Marine warfighting concepts and determines the Corps' capability requirements for doctrine, equipment, organization, training, education and support.
The Marine Corps Warfighting Laboratory at Quantico is part of the Development Command and responsible for improving current and future naval expeditionary warfare capabilities for the Marines and their amphibious roles and missions.
The projectiles for Liberty Ammunition's Halo-Point Civil Defense handgun ammunition handgun cartridges are one piece, hollow point, lead free, and are said to "outperform traditional lead-based handgun ammunition across every metric." Once jealously guarded by DoD, this ammo is now available to civilians in 9mm, .40 S&W and .45 ACP. www.libertyammo.com. (Robert Bruce)
Also at Quantico is Marine Corps Systems Command, principal agency for acquisition and sustainment of systems and equipment for the Marines' warfighting mission.  Many of the personnel who staff those organizations took advantage of continuously-running shuttle buses to visit the exhibit halls and discuss missions, capabilities and requirements with defense industry professionals.
Guns & Ammo, Sights & Accessories
While this latest MDM Expo was jam-packed as usual with thousands of items needed for expeditionary warfare, SADJ's mission is always to find the best guns and related gear on display that maximize lethality in the infantry grunt's dirty and dangerous world.
There was plenty to catch our attention at dozens of elaborate display booths manned by representatives of the world's foremost arms merchants.  This year's roster included offerings from prominent names like Barrett, Beretta, Colt, FN, General Dynamics, Glock, HK, Knight's, Remington, Rheinmetall, Ruger, and SIG Sauer.
Other worthies, including Defense Munitions, Geissele, LaRue, Long Mountain Outfitters, LWRC, Magpul, U.S. Ordnance, and more are at no disadvantage because of the seemingly continuous flow of combat hardened Marines who eagerly seek and spot "the good stuff."
Simple is best as Johnny Tatum of JFT Assets shows with the Rapid Load V4, a two can ammunition cradle for M2HB machine guns. Toss the empty can and then pull the big D ring. The inclined ramp uses gravity to slide a fresh can of the big gun's .50 BMG cartridges into position for reloads in about 10 seconds. www.jftassets.com. (Robert Bruce)
While robotic land, sea and air platforms were particularly prominent at this year's show, there was no shortage of new and improved hole-punching hardware.  Hard and often bitter lessons learned from the last decade of unforgiving urban and open terrain combat have given rise to plenty that's "new and improved."
Space requirements necessarily limit the number of examples shown, a full listing of exhibitors and other information may be found at www.marinemilitaryexpos.com.
Modern Day Marine Exposition 2013
The 33rd annual Modern Day Marine Expo is scheduled for September 24-26, 2013, once again at MCB Quantico, Virginia.  This is the largest of three related shows where exhibitors meet the Marines on their own turf.
Marine Corps Base, Quantico, VA, is headquarters for the Corps' combat development center and home to Marine Corps Systems Command, where warfighting requirements are defined and determinations made on equipment and systems to be used by Marines in worldwide operations for years to come.
Marine West Expo, slated for February 13-14 at Camp Pendleton, CA, and Marine South Expo, April 10-11 at Camp Lejeune, NC, are held at home installations for two of the Marine Corps' expeditionary forces, which are continually training and dispatching fighting elements to a broad spectrum of missions around the world "in the air, on land, and at sea."
Spotted at the U.S. Ordnance booth, riding on top of one of the firm's .50 cal. M2HBs, the DMO-1 Digital Machinegun Optic feeds its bullet-drop-compensated sight picture to a helmet mounted viewer so the gunner doesn't have to stand exposed behind the gun. www.usord.com
Exhibitors at the Marine Military Expos meet and exchange information, face-to-face, with not only the users of their equipment but also the men and women responsible for equipping the Corps, tasked with a broad range of existing and emerging demands.
In addition to displaying products before thousands of users, Marine Military Expo exhibitors also exchange information with their target audience, listen to their needs and gain valuable insight into what works best in a wide array of combat, combat support and combat service support situations.  Marines who have recently returned from wartime missions not only provide feedback but also convey suggestions and ideas that are often considered and adopted in designing or improving equipment and systems.
The decision-makers, procurement experts and exhibitors all want and need to meet.  They attend the expos for up-close and personal exposure to the leading-edge equipment, systems and services and solutions their Marines need for the years ahead.  At the Marine Military Expos, networking opportunities among the buyers, the users and defense industry professionals are unlimited.  Take advantage of those opportunities for your company by exhibiting at the Marine Military Expos: www.marinemilitaryexpos.com.