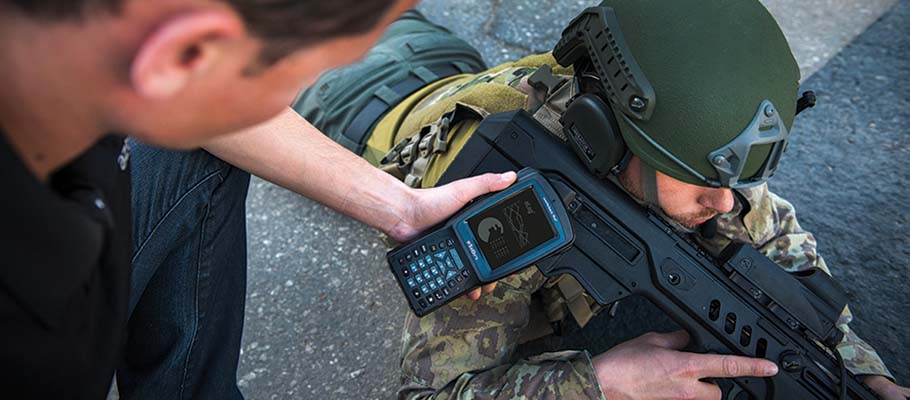 ABOVE: IWI eLog
SADJ has always traveled the world in search of the innovators in small arms and weapons. Sometimes we're able to coordinate visits with a group of factories in a country and bring our readers a good overview of what's happening in the arms industry there. In this issue, we discuss our visit to Israel and the new products we observed.
IWI
Our visit started with IWI (Israeli Weapons Industries: www.iwi.net / www.iwi.us), one of the core small arms manufacturers in the SK group. Ronen Hamudot, Executive V.P. of Marketing & Sales, and Shiri Katsav, Marketing Communications Manager, worked to arrange our visit and testing. We met with them and Assaf Elias, IWI US Executive Director, Zeev Shneorson, the Next Generation R&D Manager, and numerous other engineers and demonstrators.
The SK Group has approximately 1,500 employees in the group; the member companies are IWI, Meprolight, Camero, Israeli Shipyards Ltd., and UOS. IWI has been in the small arms business for over 80 years, and manufactured such legendary weapons as the Uzi and the Galil series.
The first product we will discuss is called the eLog. Designers have been trying to fit a round-counter system into small arms for many years, but the efforts have fallen short – either the weight is too great, or the accuracy is to low, or some other problem stalls the program. IWI approached this in a different manner. Round counting of rounds fired is just one of many functions of the eLog. eLog digitizes the performance of the weapon, records it and makes the information available to the armorer and management. This can be done at a simple level as squad or operator armorer, up to macro level of analyzing entire battalions of weapons use and condition.
According to Uri Amit, President and CEO, "Despite today's widespread use of digital documentation across industries and types of organizations, the military has been slow to make the switch. For the most part, armies are still using outdated documentation methods, even for keeping track of and maintaining their weapons. To overcome this critical lag, IWI has developed eLog – helping armies to quickly and easily become digitized, and thus enabling them to make decisions based on comprehensive, real-time information."
He continued, "The system will provide armies with invaluable, previously unavailable information that will enable full control and monitoring of weapon spare parts and ammunition inventories, and will deliver alerts regarding weapon thefts."
The eLog system consists of three main components: weapon-embedded sensor modules, terminals that collect available data, and armorer management software.
Every weapon is equipped with an embedded Concealed Sensor Module. This sensor records the firearm's real-time operation and performance. The sensor is operated by a replaceable coin battery with an average operation cycle of at least 3 years, depending on usage. The sensor reports the number of shots fired, the weapon's serial number, and the last shooting record. Additional information is available upon customer requirement. Communication between the sensor and the terminal reader is via RF technology, transmitting within up to a 40m range.
The Mobile Terminal Reader is a rugged PDA that communicates with the sensor module and collects the recorded data. The terminal can simultaneously read data from a specific group of weapons.
The computer-based Armorer Management Software provides a detailed view of each weapon's status and performance. According to the accumulated data, the system generates recommendations or modifications for maintenance and repair of the weapons. The location of stored weapons is continuously verified, and alerts are sent if a weapon is removed without authorization or stolen. The system manages inventory of spare parts and ammunition consumption, and logs weapon history.
At the range we were presented with a nice selection of IWI products to fire, from the Tavors and X95 9mms, the Jericho handguns, to the Galils and Ace, as well as the Negev variants.
SADJ Editor-in-Chief Dan Shea receives the range briefing before starting the test fire on IWI's integrally suppressed 9x19mm X95-S submachine gun, with Meprolight MOR optic.
IWI's X95-S integrally suppressed submachine gun in 9x19mm, with Meprolight MOR optic.
Several hundred rounds were fired out of the X95-S. It was comfortable to handle, easy to control, very accurate, and there was no serious blowback that is the hallmark of many suppressed firearms. As a bullpup type system, the blowback of gases from pressure from the suppressor chambers can be a problem. It was quite a pleasant firearm to shoot, with virtually no interference from unwanted gasses. The system has enough volume so that the heat from firing does not build up too quickly, but the size is unobtrusive. All in all, an exceptional submachine gun.
Tavor prototype made in non-functional materials; this was one of the concept models and is in the meeting room at IWI.
Tavor Flattop with Mepro 21 day/night illuminated sight, ready for firing. With a weight of 3.28 kg (7.23 lbs.), an overall length of 725mm (28.5 inches) and a barrel length of 457mm (18 inches), the Tavor is a very compact, efficient weapon.
SADJ Editor-in-Chief Dan Shea fires the Tavor Flattop in 5.56x45mm. Dan's response was that this is very controllable, and very accurate. Pairing with the M21 reflex sight is a good match, making for quick target acquisition.
IWI tames the Micro Beast with the Uzi Pro. This small, compact machine pistol/submachine gun is now amazingly controllable and still has a high rate of fire. It is closed bolt, lightweight, and has 3 safety mechanisms built in. It is small, compact enough to be carried concealed and deployed with excellent accuracy. Weight 2.32 kg (5.15 lbs.); length stock folded 300mm (11.8 inches); length stock extended 529mm (20.8 inches) and barrel length 152mm (5.98 inches).
One of the legendary machine guns in the world today is the Negev in 5.56x45mm. In the photos, we show the 5.56x45mm variant, but the newest offering from IWI is the 7.62x51mm NG7 (markings shown). Many weapons experts consider that a "Squad Automatic Weapon" needs to be in .30 caliber to perform all of the longer range and suppressive fire functions asked for from a "SAW." The 5.56x45mm versions are more of a "belt fed rifle" and can take the place of the automatic rifleman in a squad quite nicely. The M249/Minimi, HK23E and Stoner 63A are examples in 5.56mm as well as the extremely controllable Negev. IWI has moved the bar up a notch by making the NG7, a Negev in 7.62x51mm that will compete with the top weapons on today's market like the FN MK48 Mod 1 and the U.S. Ordnance MK43 Mod 0, both of which have outstanding features. Our test firing of the NG7 was quite satisfactory, if only a short standing fire episode. We plan on doing a much more in-depth military test in the future.
Meprolight
Our visit with Meprolight (www.meprolight.com) was combined with the visit to IWI (a sister company). We had the advantage of having the IWI firearms at the range and the ability to use the Meprolight products as they were intended. Amir Karo, Director of Sales & Marketing U.S. and Canada, guided us through the different products, along with Meprolight's engineers. The first item was the MEPRO 21 (M21) Day/Night illuminated reflex sight. It was offered with new camouflage and several different reticles. The MEPRO MOR, which is the NRA's Optic of the Year for 2015, is a Multi-Purpose Reflex Sight with Laser Pointers. It has an active reflex sight with 30mm lens for fast target acquisition, as well as both a visible and non-visible laser. Just as important, per the Israeli Special Forces requests, the MOR has a passive self-illuminated system for the times the operator might be lacking battery power.
On the table, left to right: MEPRO NOA 7x uncooled Thermal Weapon Sight, MEPRO NOA NYX 2x/3x uncooled Thermal Weapon Sight, MEPRO Hunter 6x Night Vision sniper optic, MEPRO Hunter 4x Night Vision Sniper Optic, MEPRO MESLAS Fire-Control sniper optic.
MEPRO MESLAS is an innovative Fire-Control Riflescope 10×40, designed for sniper rifles. The sophisticated, compact, multi-function system incorporates a single-pulse laser rangefinder operating in an eye-safe spectral range (1.54 µm, invisible to night vision devices), a sniper's telescope, and a fire-control system. When measuring distances, the MESLAS automatically calculates the elevation angle according to the ranged target accurate adjustability. Fitted with azimuth and elevation adjustment knobs, the optical axes of the telescope can be aligned with the axes of the weapon barrel and compensate for side wind and target travel. Compact fire robust system withstands environmental conditions, as well as shocks and vibrations. Optional features include measurements of temperature, humidity, weapon elevation, and axial angle sensors for ballistic calculations. This author has seldom seen an optic that can help the operator as quickly and efficiently as the MEPRO MESLAS. We were only able to test it for ranging without a rifle due to no access to a .338 LM rated range, but the information that came from lasing multiple targets at different distances was fast, intuitive, and we look forward to providing an on-the-range test report in the near future.
Advantages:
+ Compact fire control system
+ Single-pulse laser rangefinder operating in an eye-safe spectral range
+ Measures distances and elevation angles
+ Optional measuring of temperature, humidity, weapon elevation and axial angle sensors for ballistic calculations
TAR Ideal Concepts
Aviad Matza the CEO of TAR Ideal (www.tarideal.com), and Harte Feldman hosted us at their facility, and we spoke with Vadim Gold the Special Forces Sales Manager and Alex Ahss Police and Prisons Sales Manager. It was a very illuminating visit to a bustling company – the offices are tight quartered and there is amazing energy in the air. Each section of the offices is focused on a different aspect of Tar's business, which spans the globe. TAR Ideal Concepts Ltd. was formed in 1990 and has evolved into a one-stop shop for defense supplies and training. TAR supplies equipment, training, analysis, and defense systems, frequently using the turn-key approach. They analyze what the requirements are and provide a complete solution to the customer. The international division is divided into sections, and TAR utilizes as much from the local Israeli industry as they can. There are 4 layers to the company as well: Import, Supply, Distribution, and training. TAR has recently branched into designing products they see a need and three products that TAR Ideal is offering that we were shown are:
TL5 Pro beacon is a personal ID system that can be worn on helmets, shoulders, or placed on important items. It can be used as visual or infrared. The TL5 Pro is made of nylon and polycarbonate, fits the standard Picatinny rail, has 4 circular infrared LEDs (830nm) and the colored LEDs are white/blue/red. A single CR123 battery or 1xAA battery will operate it. It is TAR's desire that the TL5 Pro helps stop incidents of not-so- "friendly fire."
The TLG Weapon Target Designator laser system was conceived by TAR to enter a market not addressed by the higher end costs of most laser designators. TLG-1 is a dual beam weapon mounted (Picatinny rail) IR and red aiming laser. These can be activated by an integral on/off switch, or, a remote pressure switch.
With the TAROS 4×32 Prism scope, once again, TAR was designing for quality optics for a customer with a lower budget range. This 4 power optic has an illuminated ballistic CQ reticle working as a red-dot. It is waterproof to 1 meter, shockproof, and fogproof.
Camero
Camero Tactical (www.camero-tech.com) Through the Wall Visioning Systems are an incredible step up for intelligence gathering before dynamic entry. Camero has many other products and uses including Vision Map, Uniscope, and Oshira – all stories for another day. The star of the show for us was the Xaver 400 unit. It is a radiation safe portable system that the user can place on most standard walls and essentially map the locations and positions (standing, sitting, laying down) of the people that are on the other side of the wall. There are Xaver 100 units with less capability, and the Xaver 800 which gives 3-D mapping and many other features, but the 400 unit seems to be the most popular at present. Camero describes the technology involved as follows: "Camero is the leading provider of three dimensional (3D) Ultra Wide Band (UWB) imaging technology with products and development efforts in through-wall imaging systems as well as passenger screening devices. Camero's core technology is based on micro-power pulse radar technology with innovative state of the art image and signal processing algorithms and high end firmware design."
Features of the Xaver 400:
+ Optimized rugged design for tactical operations
+ Reliable detection of people behind most common wall materials
+ Simple user interface with tracking capabilities for intuitive interpretation
+ Simultaneous detection of static and moving objects
+ 20m (65 ft.) detection range
+ Ability to operate in a stand-off mode (at a distance from the wall)
+ Provides information about room dimensions and major infrastructure elements
+ Optional internal wireless video transmitter for remote display
Silver Shadow
Silver Shadow (www.silver-shadow.com) is a licensed exporter of weapons and material in Israel. They are licensed firearms manufacturers, traders, and can sell to Israeli MOD and police. Silver Shadow brought the world the Cornershot platform, which SADJ has covered in the past, as well as the high grade Gilboa rifles.
Micky Shoham, VP of Sales and Marketing for Silver Shadow met with us and discussed the future of the Gilboa rifles – a very high grade AR/M16 type system that is evolved with their cutting edge manufacturing techniques and the R&D team composed of several well-known Israeli arms designers.
No mention of Gilboa rifles is complete without a view of the Snake; the dual barreled M16 variant that is finely tuned and designed to provide multiple hits from each shot fired. This of course, is not Gilboa's only rifle, they have many ranging from very short barreled (and reliable) to Designated Marksman Rifles.
CAA – Command Arms Accessories
Mikey Hartman, CEO of CAA (www.commandarms.com/), and Shahar Dagan, the VP of Marketing and Sales hosted us for a factory visit at their facility about 5 miles from Gaza strip. They have 3 manufacturing facilities; one in Israel, one in the United States, and one in Eastern Europe, with a total of around 100 employees. The Israeli factory that we visited was running 24 hours per day, six days per week, and many of the CNC operators were Russian speakers trained in the
high-grade Russian factories.
CAA has an excellent AR-15/M16 pistol grip that is very ergonomic, as well as an incredible array of accessories. The "Roni" is their flagship product at this time and they are trying to comply with (and hopefully avoid) the Short Barreled Shotgun and/or Any Other Weapon classifications in the United States, which has limited the market there. Worldwide, this does not present a problem and the Roni is quite popular. The magazines produced at CAA are up-to-date, solid, dependable, and the window view is very nice as well. Watch upcoming issues of SADJ for their debut of the new "communicative" magazines. These really will be a great leap forward for the operator.
CAA's flagship product is the Roni; a carbine conversion for a variety of handguns. The buyer needs to select which handgun he will be using in the Roni, as the shell is distinct for each. Many of CAA's innovations are built into the Roni, such as the collapsible stock. We have tested these in the past and found that taking a Glock or SIG pistol and adding the solid shooting platform of the Roni can really extend the range and accuracy of the basic pistol shooter.