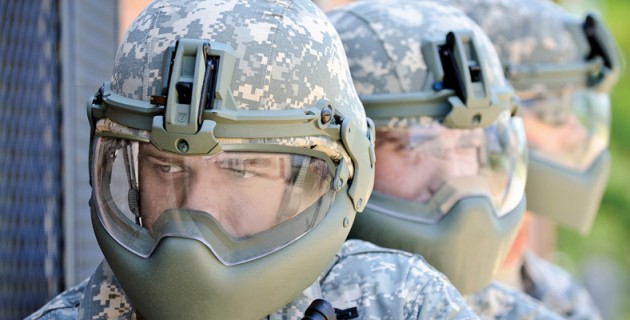 While military or law enforcement budgets often fixate on high end equipment procurement, it is the unspoken rule that trained personnel are the real commodity in any organization.  There are multiple companies involved in producing ballistic protection systems.  This business competition has not only spurred R&D, but also lowered the cost making it available to a wider range of clients besides the military; such as law enforcement, private security, and individual citizens.  A leading ballistic protection company helping equip U.S. tier one DHS, law enforcement, private security contractors (PSC), and military units is Revision Military, Inc. with its recently introduced head protection system.

The days of the basic WWII "steel pot" helmet are over.  Head gear now serves a multipurpose role beyond strictly protection; night vision gear (NVG), communication, and other types of surveillance gear is often supported via a helmet system.  Revision is at the forefront of making ballistic head protection not only more comfortable but also effective in stopping a wider range of threats.  The increased comfort eases the operator's chore of maintaining self discipline in wearing their gear.  Protection equipment can be characterized as a contingency, a "what if" plan if you will.  Head protection has become just as crucial a part of an operator's equipment as sidearm, rifle, and ammunition.  It's worn for the same reason seat belts are used.  The most important thing is making sure the protective equipment is worn.  As stated earlier, trained personnel are the real commodity in any organization.  Revision products aid in making sure personnel wear their equipment with the confidence it will perform when needed while being as comfortable as possible considering the weight and mass involved operating with it.
Revision Cobra helmet system heralds a new development stage for personal protection in terms of head gear. (Revision Military)
The see-saw battle of armor protection versus armament has been going on since the first wooden shield deflected bone or stone tipped spears.  Most people associate the knights of medieval times as the epitome of armor over armament.  In Europe, plate armor reached its peak in the 16th century.  The evolution of firearms brought an end to plate armor ascendancy.  Research & Development (R&D) in armor protection continued behind the scenes without managing to catch up to firearm effectiveness for hundreds of years.  Flak jackets created for the WWII aircrews signified the return of relevance for body armor thanks to advancement in material technology.  The WWII flak jacket consisted of manganese steel plates sewn into a waistcoat made of ballistic nylon engineered by the DuPont Company.  The ballistic protection we are more familiar with and serve as direct descendant of current body armor was developed in the 1970s in the form of DuPont's Kevlar fabric.  The development of ballistic protection gear has been going at an unprecedented rate since the 1970s with new materials and techniques discovered that can literally stop a bullet.  The manufacturing and material improvements since the Vietnam War are enabling a level of protection with minimal added weight, so important for mobility, unmatched for centuries.
Forward mounted red dot optic proved possible to use with the Revision Cobra's Mandible Guard in place.
Research sources indicate that helmets are among the oldest forms of personal protective equipment.  Sumerian soldiers in 2300 BC and are known to have been worn helmets into battle.  Helmet materials and construction became more advanced as weapons became more powerful and were initially constructed from leather and brass and then bronze and iron.  Helmets came to be made entirely from forged steel protecting the head from cutting blows with swords, flying arrows, and low-velocity musketry.  Military use of helmets declined after 1670 with the widespread introduction of firearms.  World War I and its increased use of artillery renewed the need for steel helmets for protection for the head from shrapnel and fragments.  Today's military helmets are made of ballistic materials that offer improved protection from projectiles as well as shock waves from explosions.
A dial ratchet mechanism allows quick one handed adjustment of the Revision Cobra helmet. A neck nape pad adds to comfort.
Revision Military recently introduced the Batlskin (pronounced "Battle Skin") Cobra P2 Helmet.  The Cobra is the foundation for other helmet mounted modular components, including the Front Mount, Mandible Guard, and Visor.  The Revision Cobra is a lightweight ballistic combat helmet (42 ounces), front mount, visor and ballistically rated mandible protection system.  The Revision Cobra helmet is the end result of a 3 year contract to develop the U.S. Army's next-generation head protection system.  The goal of the Cobra helmet and modular components is a single, fully integrated system that provides excellent protection from blunt force, blast and ballistic threats, with lightweight wearability.  Extending protection from the head down into the face was practiced by the Greeks and Romans.  However, just as gun powder vanquished the armored knight, the same was done in terms of full faced battle helmets for soldiers.  The Revision Batlskin Cobra system is a new development for modern soldier in terms of full face protections.  As stated by Jonathan Blanshay, CEO of Revision, "The unfortunate reality is that wartime head and face injuries are at an all-time high.  The Batlskin System not only makes radical leaps forward in helmet and liner technology; its integrated visor and mandible guard could also greatly reduce the incidence of traumatic brain injury in blast situations.  At the same time, the modular and scalable nature of this system provides soldiers with the unique ability to quickly armor up and down as the threat environment dictates."
The Revision Cobra's Mandible Guard is easily removed as the mission dictates.
The Batlskin Cobra uses advanced shell technology to achieve weight reduction while increasing ballistic performance.  It is 20% lighter than current helmet shells while still retaining protection against blunt force, blast and ballistic threats.  Summary of the product data indicates that the Batlskin Cobra offers NIJ Level IIIA ballistic protection (9mm NATO/.44 Magnum).  This is possible via a manufacturing process using hybridized layers of materials.  One concern of the Cobra when fully outfitted with the Mandible Guard and visor is heat build up for the operator.  This would be the case with any "closed" helmet system without active cooling.  The Cobra's liner system offers stability and custom fit with its multi-level design allowing for cooling.  Another issue is compatibility with different communication systems employed by forces.  It must be said that the High-Threat Mandible Guard is engineered for rapid attachment and removal while on the fly, which assists with managing heat to threat assessment.
The Batlskin Front Mount is the core piece of the Cobra helmet system seamlessly integrating Batlskin Visor and Mandible Guard allowing for rapid attach/detach of the modular pieces.  Batlskin Front Mount also serves as a universal NVG mount interface – crucial on the modern battlefield.  The Batlskin Cobra Visor is a lightweight and easy to use protective enhancement to the Batlskin Head Protection System.  The visor provides clear maximum field of view visibility, while its pivoting arm allows for three positions: up when not in use, vented for cooling, and locked in the down position to protect against movement during blast and ballistic impact.  The Batlskin Visor is designed for quick donning and doffing while on the move.  It is scratch, fog and chemical resistant.  The Cobra helmet features Revision's Batlskin Ergonomic Retention System employing one-handed adjustment buckles for ease of use and straight-line-force design for stability – even with night vision equipment.  A dial ratchet mechanism adjusts the fit band with a simple one-handed operation.  A comfortable nape pad and cabretta leather-lined chin strap allow for superior wearability.
T&E consisted of donning the Batlskin helmet with the visor and Mandible Guard installed then running various drills as experienced attending Graham Combat, Suarez International, and other training entities to verify viability of the Batlskin helmet in "run-n-gun" CQB scenarios.  Velocity System chest plate carrier and Mayflower chest rig was also incorporated in the drills as this would be a likely load out for an operation.  A short duration mission would impose no issues with heat, while a longer type would as with any closed face helmet.  The best analogy is a full face motorcycle helmet as you go around on daily tasks; it would become untenable after a while.  However, the ability to remove the Mandible guard and raise visor would help to alleviate the heat discomfort with the Batlskin Cobra helmet.  The protection offered would be worth the effort in terms of going into an engagement where contact is likely.  Different AR rifle platforms were used outfitted with eye relief dependent optics as well as forward mounted red dots to verify if Mandible Guard impacted access to the sights.  Evaluation for this article indicates that cheekweld and sighting of weapon is impacted when the Cobra's Mandible Guard is mounted.  Eye relief dependent optics are near impossible to use; red dot optics required rifle to be canted inboard to access aiming point with both eyes open – important for success.  Rifles with laser designated or infrared aiming points would be one solution with the Mandible Guard in place; the current prevalent doctrine of night time operations would not make this as onerous as it sounds.  The visor did not impact field of view in any way during use and with Mandible Guard removed one could obtain a solid cheekweld with it in closed position.  Fogging of the visor did not occur during outside evaluations, but would need to be monitored if working indoors in a conditioned environment or outside when temperatures where cooler.
Individual operators using the Batlskin Cobra helmet will have the final say in how well the Revision helmet is received and if it will see widespread use.  This is always the case when something "new" is introduced.
Revision Military
7 Corporate Drive
Essex Junction VT 05452
(800) 383 6049
www.revisionmilitary.com