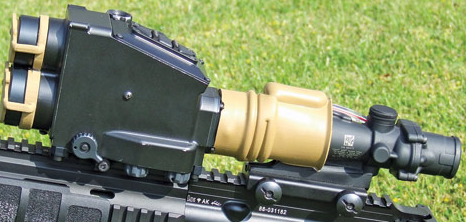 Saker is the new Fused Weapon Sight (FWS) from Qioptiq providing the Dismounted Close Combat User with an enhanced Detect, Recognize and Identify capability. Saker combines image intensifier and uncooled thermal imaging sensors into a single sight unit. Designed with a low-power architecture and featuring a removable battery pack, Saker can be used as a stand-alone sight or as an in-line / clip-on sight, providing flexibility and forward compatibility.

Saker is built around a forward facing architecture resulting in a flexible system that can take power from a range of standard batteries including AA and CR123, along with having the ability to integrate with powered rails and other centralized power supplies. The use of Man Machine Interface (MMI) developed on the Dragon thermal weapon sight family combined with simplistic controls for managing the fusion elements of the system significantly reduces the training burden in both time and cost terms.
Saker, the first of the Qioptiq FWS Family, is targeted at Special Forces users and urban environments in particular by providing a lightweight low light / zero light solution that will greatly assist in target detection and recognition at ranges well in excess of most modern assault rifles. Saker is compatible with a range of optical sights and attaches via a quick release bracket, providing a true 24 hour capability with the ability to continue operating even during the harshest visibility conditions.