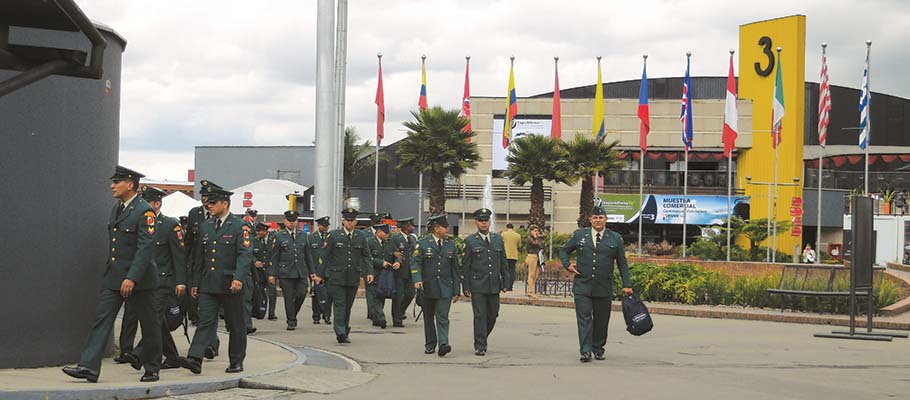 Expodefensa in Bogota, Colombia is a bi-annual show that has strong regional attendance. It is heavily attended by the Colombian military groups, and their buyers and decision makers are evident, from discussions SADJ had with the vendors. Many other military officers from South American countries were in attendance, from Argentineans to Venezuelans. We found this to be a very successful show. There were tens of thousands of attendees, but we did not get the full report in time for publication.


Expodefensa will be held again in 2015, then 2017 because COGES took over this show and wants to get the show into a 2-year cycle opposite their flagship Eurosatory show in Paris which is scheduled for June of 2016.


Statement from Show management:


The Ministry of National Defense of Colombia, the High-Tech Corporation and the International Business and Exhibition Center of Bogota – CORFERIAS present version IV of Expodefensa, an exhibition of specialized nature and point of reference for the Andean Region, Central America and the Caribbean in terms of technological development an innovation for defense and security.


Expodefensa 2014 will be a showcase of the most innovative developments of the industry, where you will be able to exhibit the best of your company, position your brand, make business contacts, present innovations and promote your products, equipment and services to Government representatives and executives of the Colombian defense sector, official delegates from the region and national and international visitors.


Colombia became a military and security reference in the region thanks to its acquisition programs, the modernization of its Public Force, the notable operational capacity of its troops and its developments in defense and security technology.


Equipment efficiency – constantly tested in battle and the development of the constitutional mission – has made Colombian public force in a letter of introduction for supplier companies in other countries.


Some information not shown in the photos:


In discussions with Arsenal of Bulgaria, Hristo Ibouchev told SADJ that over 10 years ago, they had solidified the AK top cover for rail use and it was a very reliable design. Now most customers are discussing this, so Arsenal had these
ready for presentation.


IMS- The Institute for Metal Science in Bulgaria- has their Anti- Helicopter mine system in production. It has a 150-meter vertical range, uses a sensor to trigger, and the square mine has 600+ pieces of fragmented steel in 1×1 cm chunks, and guarantees 3-5 frags per square meter at the 150 meter range. The round AH mine has 450-500 frag chunks same range.


IMS's Anti-UAV (Drone) mine has a 500 meter vertical range, similar fragmentation quantity but size is different.