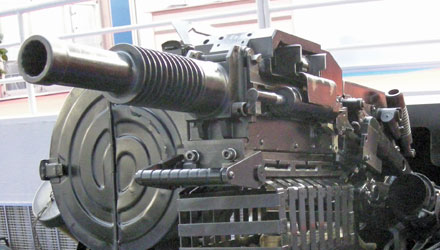 The fifth bi-annual PARTNER Serbia show was held over the course of four sunny days in Belgrade, Serbia in late June 2011.  The show has grown considerably since the first show, as well as from the previous one in 2009 (reported on in SADJ Volume 3, Number 1), having now moved into the largest of the exhibition halls in Belgrade Fair.  Expectations are that the 2013 show will have grown significantly from 2011, both in vendors and attendees.  YugoImport is the co-promoter of the show and the various factories they represent take up a significant portion of the floor space.  Various refurbishment centers and Serbian military groups make up a very impressive outdoor display as well.
Visible for the first time was the cooperation of other Balkan countries: Croatia and Bulgaria had large delegations and display areas for their defense contractors.
SADJ has been attending this show since the beginning, and we are very pleased to be attending in 2013 as well.
Some Highlights of the Show (Products Not Shown)
Beatronic Supply APS:  One of the most innovative electronics/optics groups on the planet is Beatronic Supply from Denmark.  Beatronics has put together their own products, combined with products from many other top of the line manufacturers, to create a pallet of choices that is full range.  Beatronic has Vektronics, they have high-speed video systems, and testing equipment that is needed by all in the ballistics field.  Check them out.  (www.beatronic.com)
Milan Blagojevic-Namenska A.D.:  Powder manufacturer MBN is in full production of both bulk propellant for a variety of ammunition manufacturers around the world, but they produce bag charges for a variety of howitzer systems.  (www.mbnamenska.com)
Military Refurbish Center:  The Serbian Military Refurbish Center has a modern facility dedicated to recovering and testing various ammunition, munitions, and systems.  They are highly skilled at analyzing and preparing programs to bring inventories up to standard.  Contact: Miroslav Hajducovic at hayduk1@eunet.rs.
Prva Petoletka:  Prva Petoletka had a large display within the YugoImport area and two items stood out as very interesting.  First is the MSRG-40 six-shot 40x46mm low velocity launcher – also made in 38mm as a five shot.  There were two variants of the 40mm, for longer cartridges or one for shorter HE type cartridges only.  The other was a lightweight 120mm Mortar.  (www.ppt-namenska.co.yu)
Prvi Partisan:  Ammunition manufacturer Prvi Partisan needs little introduction in the West.  They have their own product line of small arms and hunting ammunition that has been running since 1928, as well as their "under license" production for a variety of U.S. and European distributors.  (www.prvipartizan.com)
Technical Overhaul Department – Cacak:  The Technical Overhaul Department located in Cacak performs a lot of rehabilitation of military equipment as well as experimentation and design.  The M70 series AK in 7.62x39mm is their version of an "AK Bullpup" and it was a well done design.  (www.trzcacak.co.rs)
Pages: 1 2