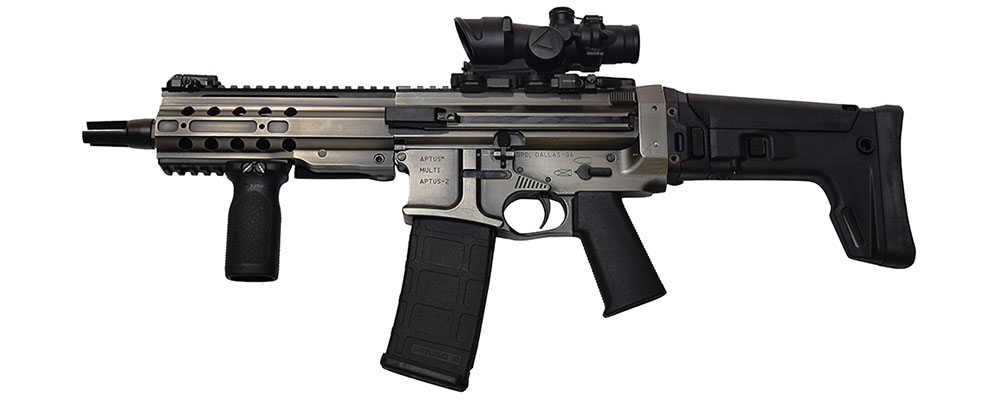 DRD TACTICAL LLC

Aptus is a multi-caliber, quick-change barrel weapon system that allows you to go from PDW to DMR in less than 1 minute. Aptus is a direct gas-operated, semi-automatic weapon system with a Magpul folding/adjustable stock, and the weapon can be fired with the stock folded. Available in 5.56 NATO or 300BLK calibers.
ANGEL ARMOR AVAIL™BALLISTIC DOOR PANELS
Angel Armor's Avail Ballistic Door Panels exceed NIJ standards for multi-round and special threat protection, all with a single panel and simple installation. The proprietary design optimizes the coverage area for each unique make and model. The concealed and weatherproof panels are made for both driver and passenger side doors for the industry's top vehicles. Rigorous testing ensures maximum safety and peace of mind, so you can respond with confidence in any situation. For full-door coverage, combine with Enlight™ Window Armor.
NIJ standard 0108.01 threat protection (Level IIIA)
• 9mm Luger 124gr FMJ 1400 +/- 50 fps
• .44 MAG 240gr SWC GC 1400 +/- 50 fps
Innovative design
• Fastest installation in the industry
• Weighs less than 10 pounds
• Semi-rigid, 1/4-inch thin panels
• Totally concealed, weatherproof design
Powerful protection
• Revolutionary ballistic technology exceeds NIJ standards
• Multi-round defense from the most prevalent threats
Optimized coverage
• Available for the industry's top vehicles
• Transferable between compatible makes and models
Special threat protection
• Federal 9mm 124gr Hydra-Shok JHP @ 1256 fps
• Federal .40 S&W 165gr Hydra-Shok JHP @ 1084 fps
• Federal .45 AUTO +P 200gr GDHP @ 1203 fps
To request testing for additional special threats, contact Angel Armor. Independently tested in accordance with NIJ standards. Full test details and reports available upon request. For a full vehicle compatibility list, visit angelarmor.com.
ANGEL ARMOR ENLIGHT™ WINDOW ARMOR
Elevate your vehicle protection with Angel Armor Enlight Window Armor. Our premium design features maximum coverage for officer safety while allowing for civilian interaction and engagement. The window armor does not interfere with door functionality or require removal of the existing window—and no additional hardware is needed. Upfit your vehicle with Enlight Window Armor for every mission and see it through.
Revolutionary
• Seamless armor coverage
• Smooth finish with no protruding edges
• Premium hardware for flawless integration
Agile
• Drop-in, tool-free installation
• Quick-release handles for fast, easy removal
Proven
• Multi-round ballistic protection exceeds industry standards
• Available for driver- and passenger-side Ford Police Interceptor Utility windows
• Transferable between compatible vehicle makes and models
NIJ standard 0108.01 threat protection (Level IIIA)
• 9mm Luger 124gr FMJ 1400 +/- 50 fps
• .44 MAG 240gr SWC GC 1400 +/- 50 fps
Special threat protection
• Federal 9mm 124gr Hydra-Shok JHP @ 1256 fps
• Federal .40 S&W 165gr Hydra-Shok JHP @ 1084 fps
• Federal .45 AUTO +P 200gr GDHP @ 1203 fps
To request testing for additional special threats, contact Angel Armor.
ANGEL ARMOR TRUTH SNAP™ MODULAR BALLISTIC DEFENSE
Pack more protection in your body armor platform with the redesigned Truth SNAP magnetic plate system. The innovative, two-piece design offers tiered protection from NIJ Level IIIA to NIJ Level III threats, including common rounds from the AK-47, 5.56 and .308. Thin and lightweight, Truth SNAP addresses nearly every relevant spike, stab, handgun and rifle threat you face on duty.
• Revolutionary trauma plates provide advanced handgun, rifle, stab and special threat protection
• Rifle threat protection integrated in an ultra-lightweight package for extended, all-day use
• Multi-round capable plates exceed NIJ standards. AK-47 + SPIKE Level 2
• Rugged, durable and ready for any environment
• Refined aesthetic finish
• Proprietary, multi-curve design (the multi-curve design is not applicable for 5 x 8" plates)
• Magnetic SNAP system provides tiered threat protection—armor up or down
• Variety of sizes and cuts available, ranging from 5 x 8" to 10 x 12"
• Designed to be used in conjunction with RISE or other soft body armor vests
BLACK HILLS AMMUNITION ALL-NEW HONEYBADGER™OPTIONS TO 2017 LINEUP
In 2016, the rules were changed for defense ammunition in .380 and .38 Special by introducing a new concept: non-expanding pistol bullets with hard cutting edges and deep flutes that outperform the best defensive hollow point ammunition. These new bullets, developed in concert with Lehigh Defense, literally and efficiently cut through barriers that plug conventional hollowpoints, while creating larger, deeper wound paths. This year, we've added three more loads. These are the HoneyBadger™ 9mm 125-grain and .45 ACP 135-grain for the ultimate in self-defense, plus the HoneyBadger™ .44 Magnum 160-grain for hunting against four-legged predators.
BLACK HILLS GOLD 2017 LINEUP FEATURES HORNADY'S NEW ELD-M® (EXTREME LOW DRAG-MATCH) AND ELD-X® (EXTREME LOW DRAG—EXPANDING) BULLETS
When Hornady discovered ways to make excellent bullets better, we wanted to utilize that technology. Using ELD-M® (Extreme Low Drag-Match) and ELD-X® (Extreme Low Drag—eXpanding) bullets, we upgraded our Gold rifle lineup with the highest BC bullets available. The result is more effective shooting, longer range and the loving care you've come to expect from Black Hills. From .260 Remington to .338 Lapua, you have myriad choices with increased performance.
HEIZER DEFENSE PKO-45 PISTOL
Heizer's PKO-45 pistol is the world's thinnest 45ACP semi-automatic on the market at only .8" wide, making it smaller than most compact 9mm handguns. Made from 100% aerospace-grade stainless steel weighing in at 25 ounces. Designed from the ground up for concealed carry/home defense. Its revolutionary fixed barrel under guide rod configuration lowers the bore axis, which minimizes muzzle rise. You have a tiny 45 that shoots like a full size 1911. Two added benefits of the fixed barrel are accuracy and reliability. Will ship with 2 mags, a 5+1 flush and 7+1 extended. Ships with HIVIZ Litewave sights (standard) and comes in Tactical Black, Ghost Grey, Copperhead and Champaign Chrome.
RUGER AMERICAN PISTOL COMPACT IN .45 AUTO NOW WITH MANUAL SAFETY
This compact model with ambidextrous manual safety, chambered in .45 Auto, is 7.25" long and 4.65" high with a 3.75" barrel and weighs in at 29 ounces with an empty magazine. It ships with medium and large replaceable grip modules and two nickel-Teflon®-plated steel magazines (one 10-round extended magazine and one 7-round compact magazine). The Ruger American Pistol Compact shares all the features and rugged reliability of the duty-size gun in a smaller, lighter, more concealable package.
A.C.S. INDUSTRIES LTD GRENADE TRIGGER POUCH
A.C.S. Industries LTD is the developer of the Grenade Trigger Pouch, a unique preventative tool for secure carrying and fast extraction of grenades in the field of duty. The pouch is already in use by Special Forces in the USA, France, Poland, Latvia and Yamam (Israeli SWAT), just to name a few.
The Trigger Pouch is custom molded from composite materials to custom fit each grenade shape and size. The pouch employs five separate security measures which enable both safe handling as well as fast and efficient operation of a grenade.
The pouch allows for quick and safe handling—especially crucial in the world of fighting terrorism where every second is critical. The pouch can be custom made for every make and model of grenade and is already available for the following types of grenades:
1. Fragmentation Grenade M-67;
2. Fragmentation Grenade 26 by IMI Systems;
3. Flash Bang Grenade 7290 Mini Grenade by CTS/CTI;
4. Flash Bang Grenade MK 13 by Rheinmetall;
5. Flash Bang Grenade (40*112mm) by Rheinmetall;
6. Flash Bang Grenade Low Roll II by Safariland.
If there is an interest for a grenade which is not listed above, A.C.S. Industries can custom make it as well. More information about the Trigger Pouch can be found on the company website: http://acs-grenade.com. Instruction videos can be seen at https://www.youtube.com/channel/UCHfYLBi-j5XNNotQJVJK3iA.
RAYTHEON
Raytheon's innovative, dual-field-of-view rifle sights allow forces to take on threats near or far. The ELCAN Specter®DR 1-4x sight provides machine gun operators close-quarter and precision-fire capability, and the ELCAN Specter DR 1.5-6x sight offers enhanced views to locate the target and employ long-range precision fire.
ELCAN Specter®DRLP 1-4x and 1.5-6x Low-Profile Dual Role Military Combat Weapon Sights
The ELCAN Specter DR 1-4x and 1.5-6x dual role weapon sights are dual-field-of-view combat optics that provide both close quarter and precision fire capability in a single optic. Whether utilizing the red dot in 1x or 1.5x mode or the ranging reticle in the 4x or 6x mode, the Specter DR dual role combat optics provide ultra-wide viewing angles for optimal situational awareness and unmatched low-light performance. Utilizing a side-mounted "throw lever" the Specter DR 1-4x and 1.5-6x sights quickly and easily change the field of view to fit the warfighters' operational needs. The Specter DR 1-4x and 1.5-6x DFOV sights are also equipped with an illuminated reticle that, when paired with their superior light gathering capability, makes them extremely effective in low-light conditions. The illuminated reticles, along with the red aiming dots, are controlled by a new and improved low profile illumination switch that not only reduces the overall width of the sight, but also its overall weight while increasing battery life by 50%.