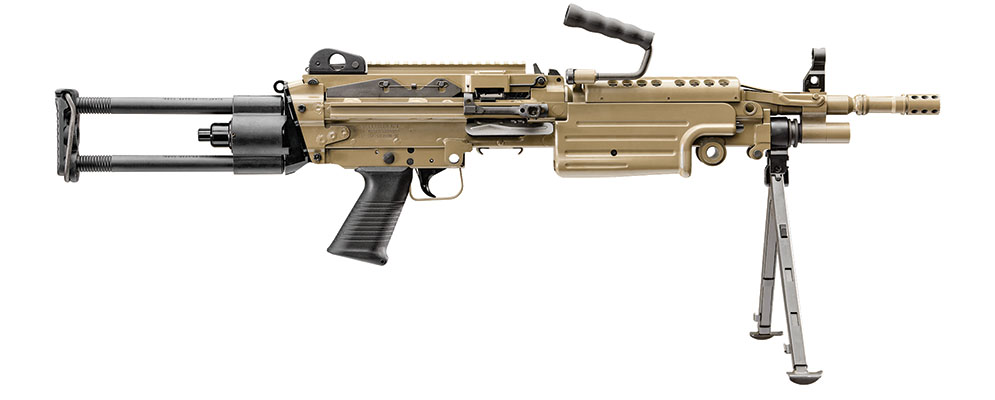 FN USA INTRODUCES NEW FN M249S™ PARA


The FN M249S™ Para, a semi-automatic version of the M249 Para light machine gun, was originally developed by FN Herstal as the FN MINIMI® and adopted by the U.S. Military in 1988. The rifle features the signature 16-inch FN cold hammer-forged, chrome-lined barrel and operates from a closed bolt position. Chambered in 5.56x45mm NATO, the rifle will accept both magazine and linked ammunition belt and offers a 4.0-6.5-lb trigger pull out-of-the-box. The gun features a formed steel frame with claw extractor design. The top cover has an integrated MIL-STD 1913 mounting rail for sighting systems. As in the full-auto gun the M249S Para barrel is quick-change removable for easy barrel changes and has a hard chrome-plated bore and chamber. The gun's buttstock rotates and is telescoping with a hydraulic buffer system and non-slip buttplate. An under-mounted ammunition carrier helps keep ammunition cleaner for reduced wear and added reliability. The PARA weighs 17 lbs. with no ammunition. The gun will carry a retail price of $8799.00.

HEXMAG OFFERS NEW ADVANCED AR-15/AR-10 PISTOL GRIPS

Hexmag, LLC, maker of the most advanced and versatile AR-15/AR-10 platform magazines on the market, proudly presents two new pistol grips that are excellent for either rifle. Both grips are available in black or flat dark earth and feature upper grip extensions. New from Hexmag is the Hexmag Tactical Grip (HTG). This grip features a unique overmolded, soft rubber grip surface with finger grooves and a rounded back strap swell similar to many 1911 pistols. The HTG also comes with the innovative GapperTM which fills the space between the trigger guard and grip for increased comfort. The HTG allows for a fuller and firmer grip squeeze and is an excellent choice for most shooters. Its grip well is also hollow so backup items such as batteries, ear plugs and a number of after-market accessories can be inserted inside for long-term backup. The retail price is $34.99. The Hexmag Advanced Tactical Grip (ATG) is designed for competition and shooters with special needs/requirements. This patented and easily installed grip allows shooters to adjust the grip angle by several degrees to accommodate different preferences, hand sizes and/or shooting positions. Installing the ATG on an AR-15/10 platform is a five-minute task that can be done without machining or special fitting. After installation, the grip angle can be easily adjusted from the standard to 17, 25 or 33 degrees takes in just a few seconds. Just loosen the grip well screw, move the grip to the desired position, then re-tighten the screw, and it will stay locked in position. The price is $27.99. You can view them at www.hexmag.com.

SIG SAUER INTRODUCES 300 WIN MAG MATCH GRADE AMMUNITION

SIG SAUER, Inc., continues to expand its Match Grade Elite Performance Ammunition line for rifles with the addition of 300 Win Mag Open Tip Match (OTM) rounds. Featuring a 190gr Sierra MatchKing® bullet, this new 300 Win Mag load has a muzzle velocity of 2,850 fps and muzzle energy of 3,426 ft-lbs. Engineered to excel in today's precision rifles, SIG SAUER Match Grade Elite Performance Ammunition features a temperature-stable propellant that delivers consistent muzzle velocity in all weather conditions. Premium-quality primers ensure minimum velocity variations, and the shell case metallurgy is optimized in the SIG Match Grade OTM cartridge to yield consistent bullet retention round to round. All SIG SAUER rifle ammunition is precision-loaded on state-of-the-art equipment that is 100% electromechanically monitored to ensure geometric conformity and charge weight consistency. All Elite Performance Ammunition is manufactured in the United States by SIG SAUER to the same exacting standards as the company's premium pistols and rifles. For more information, visit www.sigammo.com.

SMITH & WESSON UNVEILS THE NEW M&P M2.0 PISTOL

Smith & Wesson Corp. has just announced the debut of the M&P M2.0 pistol, the latest innovation from the iconic firearms company. Designed for personal, sporting and professional use, the M&P M2.0 pistol delivers an entirely new platform, introducing innovative features in nearly every aspect of the pistol, including the trigger, grip, frame and finish. When they launched the first M&P polymer pistols over 10 years ago, they were a game changer for the company. Since that time, they have clearly established M&P as a leading firearm brand and built an incredibly strong family of products around it, including the market leading M&P Shield® pistols. Now, with a decade of experience under their belts, they are very excited and proud to reveal the next generation M&P pistol–the M&P M2.0. They are launching the 9mm, 40S&W and .45 Auto versions of their full-size design, but stay tuned for multiple new product additions and line extensions in 2017 that will establish a completely new family based on this platform.

When you pick up this pistol, the first thing you'll notice is an extraordinary grip that feels great in the hand–and that's just the beginning. From the grip, to the new aggressive texture, to the crisp trigger and audible reset, this pistol feels and fires like a next-generation model should–and more. Highlights of the M&P M2.0 pistol include an extended stainless-steel chassis and high grip to barrel bore axis ratio for reduced muzzle rise and faster aim recovery. The M&P M2.0 pistol further improves performance with a fine-tuned, crisper trigger, lighter pull and a tactile and audible reset. The pistol, available in three calibers, includes an aggressively textured grip and four interchangeable palmswell inserts for optimal hand-fit and trigger reach. The M&P M2.0 pistol base model is priced within reach, with a retail price of $599. It is available in the three most popular pistol calibers: 9mm, 40S&W and .45 Auto. The striker-fire, semi-automatic polymer pistol is available in matte black or FDE–Flat Dark Earth–finishes and includes two magazines, a limited lifetime warranty and a lifetime service policy. Learn more at www.smith-wesson.com.

TEAM WENDY'S EXF BALACLAVA IS NOW AVAILABLE

The EXF Balaclava was designed with a thin moisture-wicking fabric that can be worn under the full line of EXFIL® helmets without impacting the helmet sizing. The EXF Balaclava is available through TeamWendy.com and authorized Team Wendy dealers. EXF Balaclava's features include: Form fitting design with stretch fabric that covers the head, face and neck; optimized for use while wearing a helmet with a thin moisture-wicking fabric that will not impact helmet sizing; fleece insulating fabric that provides warmth around the face and neck; split design to allow face portion to be pulled down around the neck; and a mesh panel at the mouth that improves ventilation. Learn more about the EXF Balaclava online: www.teamwendy.com.

CEDAR CREEK TACTICAL ARMS THE DELUXE TACTICAL KIT

You're watching your favorite crime drama or movie, and the scene comes when the SWAT team arrives on location. The back door of the Swat truck flies open, and team members come streaming out carrying the coolest M4 rigs you have ever seen, and it's all you can do to contain the drool at the rifles they're packing. What a lot of guys don't realize, is that cool AR or M4 rig easily runs $3000 to $6000+ depending on the accessories.

The AR-15 Deluxe Tactical Kits from Cedar Creek Tactical Arms are an entry-level version of that cool rig the average Joe can afford. Starting around $1485.00, these MSR kits come with Magpul or Hogue furniture in black, OD Green or Flat Dark Earth. The kit comes with adjustable stocks, sling mounts, single/double point slings, rubberized pistol grips, vertical grip, bipod, quad rail, 150 lumen tactical light, green laser with mounted pressure switch, flip-up sights and your choice of available optics; five Magpul Magazines all in the Plano tactical hard case with the recessed foam inserts round out this incredible kit. Everything is installed and ready to go right out of the case, just add ammo! It is a great way to get started at an affordable level. If you want to upgrade components later on, you can, as your budget allows. Don't get me wrong, if you want the $6000 dollar rig right now, they can do that too.

The Deluxe Tactical Kits are currently available in .223/5.56, 300 Blackout, .308 and an awesome Star Wars-like, 12-gauge kit built on the UTAS UTS-15 or Keltec KSG bullpup shotguns. You may never buy a modern sport rifle the same way ever again. Check them out at www.CedarCreekTacticalArms.com or call them at (219)764-4800.