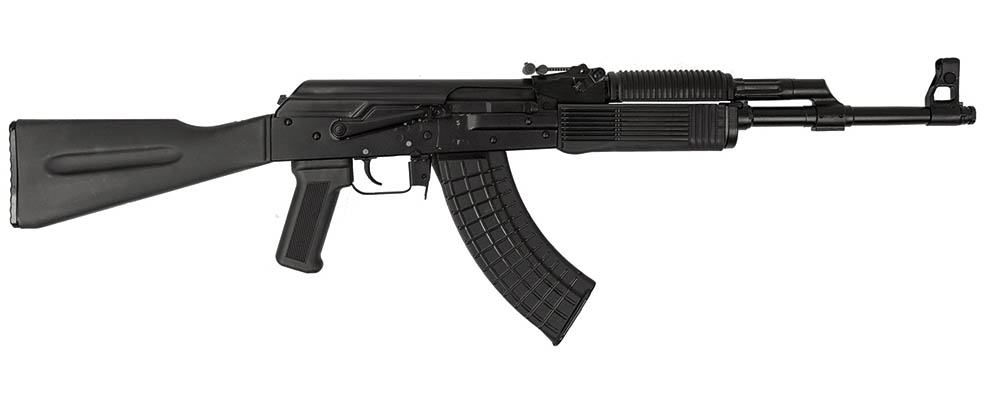 ABOVE: FIME Group FM-AK-47-11 Rifle


FIME Group Introduces the FM-AK-47-11 Rifle

FIME Group of Las Vegas, Nevada, introduces the latest member of the Molot family of products, the Vepr based FM-AK47-11 7.62x39mm rifle. The FM-AK47-11 is the result of the combined efforts of Molot Oruzhie, the legendary factory in Russia, and FIME Group of Las Vegas, Nevada, and is the first-ever true factory Vepr-based modern sporting rifle in this configuration. Hand-select premium components, custom-shop-like attention to details by Molot and FIME Group's highest standards of workmanship, give this rifle its superior quality. Initially manufactured by Molot in Russia, then re-manufactured by FIME Group in the United States, the FM-AK47-11 rifle is filled with premium quality features and accepts any standard mil-spec factory AK-47 magazines. The features of the FM-AK47-11 (Vepr 7.62x39mm) rifle include a Heavy RPK-style hammer-forged chrome-lined barrel, an RPK-style 1.5mm stamped receiver and an RPK-style trunnion block. The rifle also has RPK-style ribbed polymer handguards with a stainless steel heat shield. The polymer original Warsaw length buttstock has a cleaning kit trap door. The rifle utilizes a double-stage fire control group and has a windage adjustable 1000m rear sight leaf. The rifle's barrel has 14x1mm left-hand muzzle threads. The new rifle also has a side-mounted scope mount rail. For more information, you can contact them at www.fimegroup.com.

LEO® Telescoping Stock
LEO® Telescoping Stocks from Mesa Tactical
LEO stock adapters are investment cast aircraft grade aluminum; CNC machined and powder coated black with a tough, chemical resistant finish. The LEO adapter features an optimal stock elevation allowing the use of iron sights or even the bead sight. All LEO adapters accept optional push button sling swivels, Remington 870 adapters can accept stamped steel pocket sling loop and hook loops. Adjustable length-of-pull to fit shooter's stature or for use with body armor and other equipment. These stock kits adapt AR-15 style buttstocks and pistol grips for use with Remington 870 and Mossberg 500/590 shotguns. The stocks contain the optional Crosshair™ hydraulic recoil buffer which reduces recoil. The ability to add any AR style pistol grip configuration allows increased control and user comfort. The collapsible stock makes a shotgun easier to stow, transport and deploy. They also give the shotgun similar handling characteristics to the AR-15. Sling attachment points, are included as is all hardware and no gunsmithing is required. They are made in the USA and feature a Lifetime Warranty.

American Eagle .338 Lapua Magnum
Federal Premium Offers American Eagle .338 Lapua Magnum
Federal Premium offers target shooters its American Eagle 338 Lapua Magnum ammunition, which offers consistent, accurate performance at a price that's perfect for high-volume shooting. This ammunition is available at dealers world-wide. The popular 338 Lapua Magnum load features a 250-grain jacketed soft-point bullet in a reloadable Federal brass case. Like all American Eagle products, the 338 Lapua Magnum boasts outstanding reliability and accuracy thanks to Federal primers and a uniform bullet jacket. It is offered in reloadable Federal brass with consistent Federal primers. The new ammunition has reliable feeding and function in all types of .338 rifles. The new ammunition has a retail price of just $66.95/20rds. See more at www.federalpremium.com.

Kinetic Concealment New Comprail System
Kinetic Concealment Offers New Comprail System
Kinetic Concealment is proud to introduce the latest product in their defense accessory line, the CompRail System. The Kinetic Concealment CompRail System was designed for a competition shooter's quick pistol modification, or for anyone who wants to mount a weaver mount style optic onto a handgun. The CompRail offers an option for shooters on a budget, and the standard Picatinny rail gives the owner full choice as to the type of optic they wish to use. The Kinetic Concealment CompRail System is designed to fit all 1911 pistols with a rail, Sig 250, Smith and Wesson M&P (Full and Compact) and Beretta 92 and 96. (*Will not fit models with one rail slot or sub-compact pistols.) Attached by two Hex-Head screw bolts, the CompRail System brings a 2 1/4" Picatinny rail system to the top of the pistol for optic mounting. Tested up to a .45ACP caliber, the CompRail System is a true performer at a value price point. Made to be the perfect companion to the RD-01 Red Laser Optic, the CompRail can also be purchased with the RD-01 as the KC CompRail Combo Kit. MSRP for the CompRail System is $25.95, or may be purchased as a combo with the KC RD-01 for $85.95. It can be purchased online at www.kineticconcealment.com.

Firefield New Comprail System
Firefield Introduces New Comprail System
Firefield introduces three new products specifically designed to up your success in the field, the Laser Designator (FF25003), Laser Illuminator (FF25004) and Subcompact Green Pistol Laser (FF25005).

With plenty of predators running rampant from sea to shining sea and feral hogs now reported in at least 39 states and 4 Canadian provinces, Firefield introduces three new products specifically designed to up your success in the field, the Laser Designator (FF25003), Laser Illuminator (FF25004) and Subcompact Green Pistol Laser (FF25005). The Laser Illuminator and Laser Designator complement rifle or crossbow systems used for low-light hunting or shooting situations. The Subcompact Green Pistol Laser turns your handgun into the perfect hunting sidearm and can also be invaluable for training, troubleshooting and personal defense.

The Firefield Laser Designator (FF25003) is designed to be the most versatile night hunting laser illumination system of its kind; the Firefield Laser Designator boasts shockproof aircraft-grade 6061-T6 aluminum construction, IPX6 water-resistant protection and a Class IIIa 532nm 5mW green laser. With a focusable beam, from spot to flood, an illumination mode and three distinct reticle options, night hunters have more options than ever when it comes to laser illuminating technology. The 3-volt Laser Designator is powered by a single CR123A battery for up to 5 hours, does not spook hogs and is compatible with weaver and Picatinny mounting systems. A pressure pad, battery, reticle lens caps and mount with click-adjustable windage and elevation are included. The Firefield Laser Illuminator (FF25004) is ready to handle your hog or predator problem, the Laser Illuminator has one job, to light up your unlucky objective. The Laser Illuminator features shockproof 6061-T6 aircraft-grade aluminum construction, IPX6 water-resistant protection and a 532nm 5mW green Class IIIa laser capable of casting up to a 200-in. throw at 50 yards. The Laser Illuminator does not spook hogs, is powered for up to 5 hours with a single CR123A battery and mounts perfectly on any weaver or picatinny rail. Includes a rail mount, riflescope mount, remote pressure pad and battery. The Firefield Subcompact Green Pistol Laser (FF25005) is perfect for the hunting, shooting and personal defense; the Firefield Subcompact Green Pistol Laser keeps you on target even when conditions compromise traditional aiming. Hog hunters know how important carrying a sidearm can be in dusk-til-dawn woods while firearm trainers and personal defense advocates recognize the benefits of compact, lightweight handgun laser systems. The shockproof Subcompact Green Pistol Laser features rugged polymer construction, IPX4 water-resistant protection, a 532nm 5mW green Class IIIa laser and a 3.7V 60mAh rechargeable battery boasting 1 hour of battery life from a quick 10-minute charge. The included weaver and picatinny compatible rail mount makes installation easy. Includes a micro-USB charging cable. Check these new products out at www.fire-field.com.

JM4 Tactical Quick Click and Carry Holsters
JM4 Tactical Announces Quick Click and Carry Holsters
JM4 Tactical is very proud to introduce to you the (QCC) Quick Click and Carry Holsters. They are designed to be more of a comfortable pocket that covers the trigger guard. The QCC Holsters creates a magnetic pull that creates retention on the gun and holds it in place. The QCC Holsters come in small, medium, large and extra-large and in three different colors to fit your every need. Each size fits a variety of guns, which means you don't have to have a separate holster for each gun. The QCC Holsters can be used in a varied amount of circumstances including concealed carry, protection inside your vehicle, home, and office. JM4 Tactical is owned and operated by Chad and Shawndalyn Myers of Abilene, Texas. Chad has a history in production and is a former United States Marine. Shawndalyn has a background in office management and finance. JM4 Tactical prides itself in customer service and integrity. All of JM4 products are proudly made and manufactured in the USA. Please check them out at www.jm4tactical.com.

Beast Safe from Browning
New Beast Safe from Browning
New for 2016 in the Browning ProSteel safe line-up is the Beast safe. The Beast is built to give those with big gun collections a large safe, with superior features, at a great price. The new Beast has outer dimensions of 58" tall x 44" wide x 27" deep. Designed for safety from intruders and fire, the Beast features a 12-gauge steel body and a 1" formed door with partial inner plate. The Force Deflector Locking System has 1" diameter chromed locking bolts that are active on three sides to help keep the safe secure in the event of a break in. The Beast has ThermaBlock fire protection with a 1400° F/60-minute rating to maximize defense against exterior heat. The interior features the DPX Storage System on the top half of the door back with a 10 long-gun storage capacity. Exclusive Cantilevered Modular Shelving can be adjusted to the user's preference to accommodate valuables and other items. The shelving system is built on a steel frame with carpeted wood shelves. The Beast model puts a focus on long-gun storage, with a High Capacity Barrel Rack designed to provide rapid access to 41 long-guns (13 per rack). Total long-gun capacity is 56, depending upon gun sizes. It is available in a Matte Black finish with a three-spoke black chrome handle. The Beast model is available with either an S&G® Mechanical Lock (suggested retail $2,229.00) or with SecuRam™ Electronic lock (suggested retail $2,299.00). For more information on new Browning safes for 2016, please visit www.browning.com.

SureFire 1000 Lumen P3X Fury Intellibeam
SureFire Introduces New 1000 Lumen P3X Fury Intellibeam™
SureFire, LLC, manufacturer of the world's finest—and most innovative—illumination tools and tactical products is now shipping the much anticipated new P3X Fury Intellibeam™. This innovative, automatically adjusting version of the original P3X Fury takes full advantage of the variable-output capability of one of SureFire's brightest and most popular LED flashlights. SureFire's proprietary IntelliBeam™ Technology is an intelligent sensor and microprocessor-based system that continuously evaluates your environment and seamlessly adjusts light output, from 15 to 1,000 lumens, based on the scope of your surroundings. Never again blind yourself with too much light output while reading a map or negotiating close-quarters! Intellibeam™ technology gives you just the right amount of light you need for any situation. Learn more www.surefire.com.


Daniel Defense Launches Popular DDM4V11 Rifle IN .300 Blackout

Daniel Defense, manufacturer of some of the world's finest firearms and accessories, has released the latest edition in its M4 Carbine line. The new DDM4V11 .300 with Mil-Spec + Cerakote finish has all the same modularity and functionality as the company's best-selling V11 Carbine, but it was built to accommodate the popular .300 Blackout cartridge. The .300 Blackout offers increased bullet weight, which substantially increases its effectiveness on target all while reducing felt recoil to the operator. Just like its predecessor, the DDM4V11 .300 was created for shooters who prefer the benefits of the KeyMod system—a recoil-resistant, two-part, direct-attachment method for accessories that offers outstanding " return-to-zero" when they're removed and reinstalled. The KeyMod system is fully integrated into a 15" SLiM RAIL, which features an uninterrupted Picatinny rail on top and KeyMod attachments at the 3, 6, and 9 o'clock positions, ensuring plenty of real estate for optics and accessories. This longer rail offers excellent ergonomics, weight savings, and cooling abilities while allowing the maximum sight radius for more accurate shooting with rail-mounted iron sights. It also provides operators with the option to extend their support hand out closer to the muzzle in order to drive the weapon more precisely and help prevent over-travel when transitioning between multiple targets. Weighing in at just over 6 pounds (unloaded), the DDM4V11 .300 features a free-floating Cold Hammer Forged, 16" S2W barrel with 1:8 twist and carbine-length gas system that is tuned to reliably cycle a wide range of .300 Blackout cartridges. The muzzle is capped with DD's Improved Flash Suppressor to significantly reduce the weapon's flash signature while the rugged buttstock and pistol grip provide shooters with the comfort and ergonomics needed for optimal control of the firearm. The new DDM4V11 .300 has an MSRP of $1759.00. They can be located at www.danieldefense.com.