Milipol Qatar 2008 was officially opened by H.E. Sheikh Abdullah Bin Nasser Bin Khalifa Al-Thani, Minister of Interior of the State of Qatar.  He was accompanied by the Minister of Defence of China, and the Ministers of Interior of Algeria and Cyprus.  The Ministry of Interior also announced at a press conference that contracts worth QR130mn were signed between its representatives and four major companies on the 1st day of the show.  While much hard work was required to reach that point, Milipol continues to confirm its position as not only one of the leading international showcases of innovative products and services for the global public security sector, but an exhibition that is successful for the attendees.

Milipol is an answer to questions formed during the Cold War, and those questions have evolved over the years to focus the Milipol exposition into deeper layers of professional security needs.  Security services were already at work in the wings, fighting against such growing menaces as international criminality, drugs, organized crime, terrorism, as well as industrial and economic espionage.  As the 1990s progressed, security services grew more essential on the international scene and the professionalism of their intelligence gathering, weapons, and response ability needed to mature.
Milipol is from a French based exhibition group that sponsors two main shows that are now in staggered years.  One year will be Milipol Paris, which has been held since 1984 and biannual since 1995, the next year, Milipol Qatar, which had its 7th edition in 2008.  In 1995, the year Milipol went biannual, the exposition achieved a new dimension of considerable importance: official sponsorship from the French Government.  It was now held under the aegis of the French Ministry of the Interior, and the Milipol Paris Show became an official event, along the same lines as the international Eurosatory exhibitions for land armament, Euronaval for naval equipment and the Paris-Le Bourget Aeronautics-Aerospace Exibition.
This year, there were 9 national pavilions which gathered exhibitors from their respective countries: France (32), Germany (15), Italy (8), UK (10), USA (18) all returned to the show, as well as 4 new groups this year: Brazil (3), Qatar (8), Singapore (5), South Africa (3).
Some basic statistics of Milipol Qatar 2008:
– 4,938 professional visitors (an increase of 33% compared to 2006)
– 260 exhibitors from 37 countries (10 new represented countries)
– 4 Qatari governmental bodies exhibited their expertise
– 9 national pavilions
– 127 journalists
– 128 official delegates from the Middle East, USA, Asia and Europe.
Visitors Information
The exhibition is reserved for professionals.  Access is only available with an official invitation card from an exhibitor or from the organizer or with an electronic badge.  Anybody having an invitation card will have a visitor badge valid throughout the exhibition.  Security professionals can also register on line (when available) to receive an e-badge.  The exhibition entrance is only for public and industrial military and security professionals; the organizer reserves the right not to authorize access to non-trade visitors.  Proof of identity is required with the badge.  Minors under age 18 are not allowed to visit Milipol Qatar.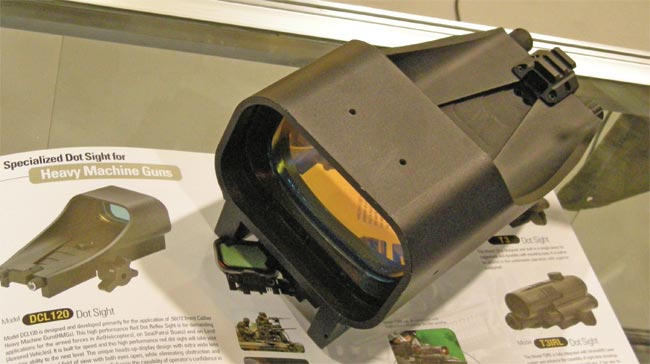 Seen recently at many trade shows around the world is this special red dot sight made for heavy machine guns by C.N.O. Tech Co., Ltd. in South Korea. The Model DCL120 is designed and developed primarily for .50 BMG (12.7x99mm) heavy machine guns, but it is seeing rapid testing on Garwood M134G Miniguns and US Ordnance's weapon systems. The high performance red dot reflex sight is for use in demanding military applications in air (helicopters), on sea (patrol boats) and on land (armored vehicles). The goal of the designers is to use the unique heads-up-display design with its extra wide lens to provide an unlimited field of view with both eyes open, while eliminating obstruction and tunnel vision common to tube style scopes. This enhances the speed of target acquisition, and allows a full awareness of what is going on in the battlefield. www.cnotech.com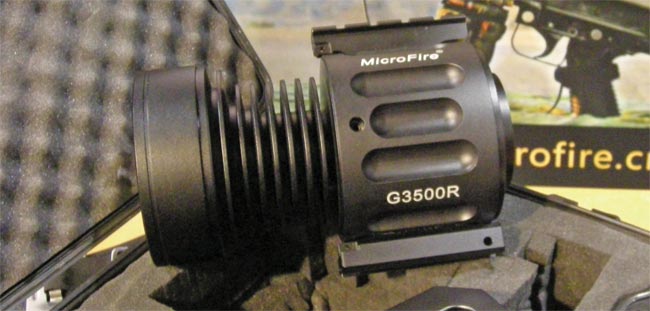 MicroFire offered the new K3500N tactical level white beam 3,500 lumen lamp. With a variety of weapon mounts available for light machine guns, this 900 gram (1.98 lbs) unit provides a far-reaching light source to illuminate target areas, all in a water-proof, shock resistant package. www.microfire.cn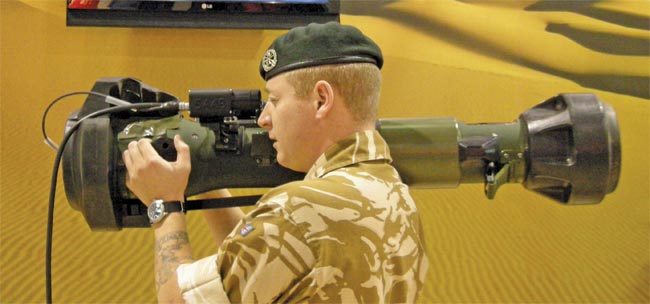 The British military contingent on special duty for these types of exhibitions had a number of items that could be termed "hurt 'em and heal 'em." They had the recently adopted Saab NLAW (RB57) training system that was quite popular and effective at showing system capabilities. The "New generation Light Anti-tank Weapon" or NLAW, is a man-portable, disposable, anti-tank system that can be operated by one individual. "Predicted Line Of Sight" (PLOS) technology allows the Fire Control Unit in the NLAW to utilize probabilities after tracking the target for several seconds, to determine point of aim. The operator can use the Overfly Top Attack (OTA) mode for armored targets that are traditionally more vulnerable from above, where sensors detect the dense metal underneath and detonate, or Direct Attack mode for other targets, and the OTA mode sensors are diverted and the NLAW uses delayed impact firing. The NLAW is a "Fire-and-Forget" programmed projectile. For further information, go to Saab Bofors website at: www.saabgroup.com/en/ProductsServices/products_az.htm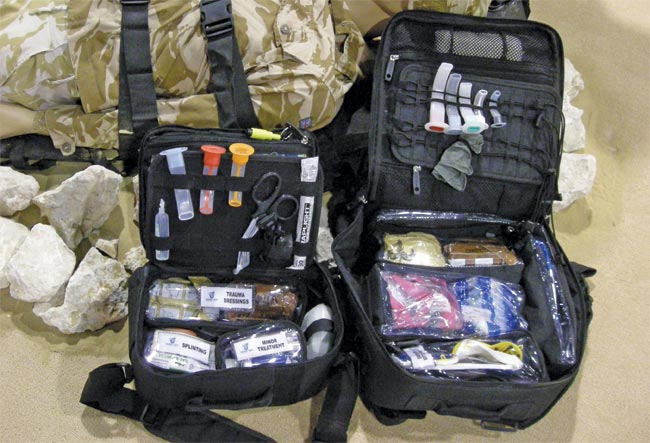 On the other end of the projectile, Prometheus Medical had a number of interesting tactical medical items that will be of great interest to our readers. The first eye-catching item was an intra-osseous (putting replacement fluids directly into bone marrow) kit that can vastly speed up life-saving on the field; and second was an outstanding sterile modular bandage called the Oales Modular Bandage. This has a unique pressure cup that generates true focused pressure on top of the wound site where it is required, not circumferential pressure like an ineffective tourniquet. By generating this focused pressure it helps occlude damaged vessels at the wound site where it is needed. It also reduces the amount of manual pressure required to be held, freeing up the care provider to treat other injuries and casualties. The next offering that should be considered is the Team-8 Stretcher, which is a flexible stretcher with 8 carry grips and a super low weight of only 2.6 kgs (5.73 lbs). Perhaps most importantly, the BG Medical Bag that contains the essential equipment to support the initial management of the adult or child who has an acute traumatic or medical injury. It is discretely and ergonomically packaged, optimizing its practicality and offering a logical progression through treatment pathways. Providing the medical provider with an accessible equipment panel and removable pouches with clear plastic windows, the BG Medical Bag offers functionally and simplicity of use under stress conditions. The bag can be supplied with or without equipment and can be tailored to suit the customer's specific needs and skill level. The BG Medical Bag is designed to be carried on the person or discretely located in any vehicle, and weighs only 7.4 kgs (16.3 lbs) when loaded. www.prometheusmed.co.uk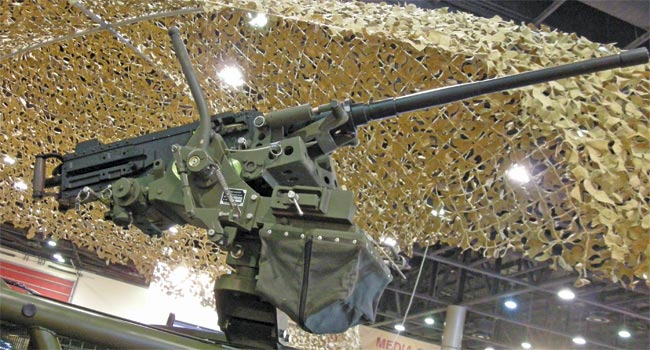 Jeep's J8 combat command vehicle featured a swing-arm mounted MAG-58 7.62x52mm machine guns for the passenger's seat, and an M2HB .50 caliber (12.7x99mm) Browning heavy machine gun. Production began in Egypt in 2009. The J8 is armor compatible and is targeted at heavy use customers, focusing on military command. Basically, the Jeep is back in uniform where it began.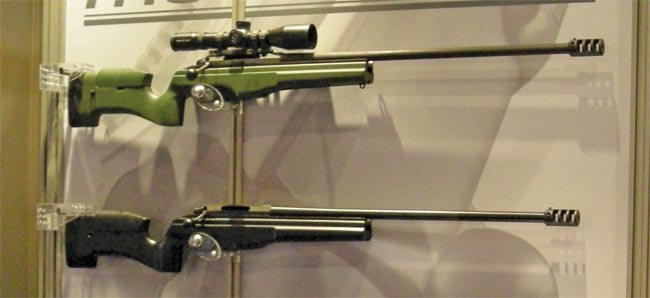 Beretta had a very aggressive and forward looking display including the new Beretta assault rifle, the ARX-160, CX4 Storm rifles, the M3 and M4 Super 90 Benelli shotguns and the Sako TRG42 series of tactical rifles. SADJ has recently covered the ARX-160 in some detail and we have a full test coming up in the next issue. www.berettadefence.com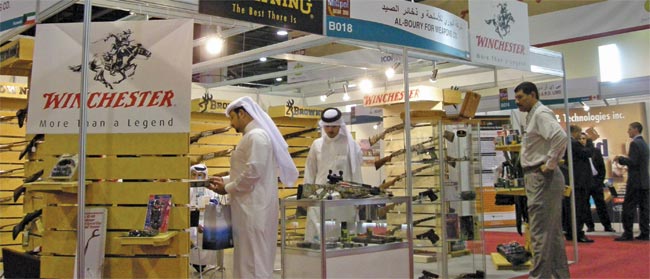 Sales agent Al-Boury for Weapons of Kuwait was quite popular with the line of Winchester and Browning sporting arms, as well as tactical firearms. Target shooting and firearms collecting are regional past times, and this type of display generates a huge amount of interest. www.alboury-group.com/arms/arms.html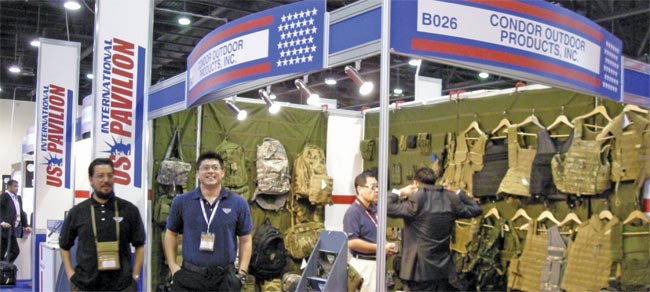 Condor Outdoor Products and their proprietary line of tactical gear, weapon slings and tactical equipment is a staple at many international shows, and they were one of the anchors of the US Pavilion. www.condoroutdoor.com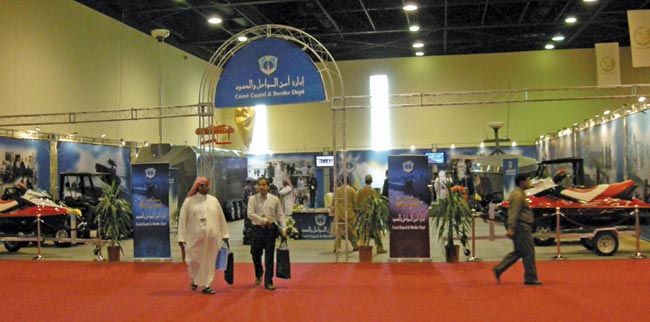 One of the official displays was Qatar's Coast Guard & Border Department, with open displays of water-craft and tactical boats.