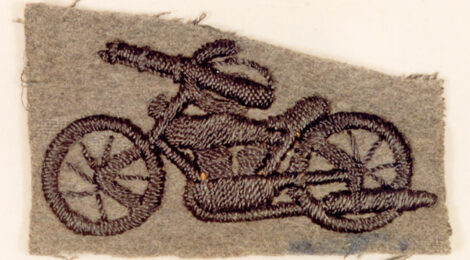 Large Austrian bronze artwork casting of a three man Austrian Army machine gun team firing the Schwartzlose M07/12 water-cooled machine gun in full combat gear. Very well detailed down to the hob-nailed boots, it is mounted on a marble base. Approximately 30 x 17 inches and weighs about 100 pounds. It is titled 'Mannao Militades' and signed 'Untszili.' Circa 1920s.
World War I British Machine Gun Corps Sergeant's cane with white metal end embossed with the Machine Gun Corps insignia. Identified on wood to 'W. Geddes.'
World War II Italian Bersagilieri Motorcycle Machine Gun unit sleeve patch.