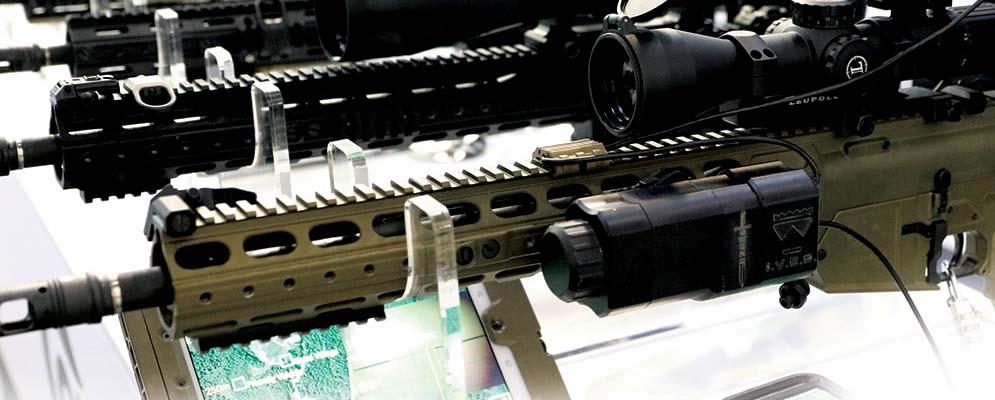 ABOVE: The Sniper Weapon & Observer Reconnaissance Device (SWORD) is seen here fitted to a rifle at the Colt stand. This Android-based application gives snipers and commanders greater situational awareness.


Ian Cameron / Adelaide

Land Forces is a biennial defense exhibition held in Australia and, as its name suggests, it is geared towards army equipment. Land Forces 2016 was held at the Adelaide Convention Centre from September 6-8 in South Australia. It was organized by Land Defence Australia with support from the Australian Army, the Australian Department of Defence and the Defence Science and Technology Group (DST Group).

This was only the second time Land Forces has been held, with the previous iteration happening in Brisbane in September 2014. The 2016 show was certainly larger, with 13,450 visitors passing through the doors. The show boasted 501 exhibitors from 23 countries, making it an ideal size to get around the booths within 2 to 3 days. The organizers also announced that 34 international delegations from 18 different countries attended Land Forces 2016.

Land Forces 2016 was more than just a defense exhibition, for a number of conferences, seminars and symposia were held in conjunction with it. There were eleven such events held over the three days of the exhibition. The next show will be held in 2018, but the host city has not yet been announced.

This is the standard EF88 rifle fitted with an Elcan Specter DR day sight offering 1x-4x magnification. The 3rd Brigade in Townsville has already been equipped with this 5.56mm weapon from Thales Australia.
EF88 rifle
One of the most important small arms exhibited at Land Forces 2016 was the 5.56 mm EF88 rifle from Thales Australia. Incidentally, Thales refers to the rifle under its own nomenclature of F90. The company announced the conclusion of an AU $100 million (US $73.6 million) deal with the Australian Defence Force (ADF) on August 4 2015, this covering 30,000 EF88 rifles and 2,500 SL40 40 mm under-barrel grenade launchers. This program comes under the aegis of Land 125 Phase 3C, and it will see weapons manufactured at Thales Australia's facility in Lithgow, New South Wales.

Enhancing the Austeyr is the most cost-effective way to deliver a capability upgrade, and we've worked closely with defense and army units to design, test and manufacture this world-class weapon. We're now looking forward to getting it into troops' hands as quickly as possible."

The firm commenced low-rate initial production in September 2014, to reduce risk and smooth transition from existing F88 manufacture. The EF88 measures 700 mm long, and it weighs 3.25 kg, making it one of the lightest assault rifles available. It is being issued to Australian troops in two versions: a standard bullpup rifle with a 20-inch (508 mm) barrel and a carbine with a 16-inch (407 mm) barrel. A range of 600 m is listed for the standard rifle or 300 m-plus for the carbine version.

The EF88 benefits from upgraded ergonomics, a bolt release catch, greater durability and better balance. There are also more options for mounting ancillary devices such as optic sights and laser aiming devices. Thales began delivering the EF88 to the ADF in 2015, and it will take six years to fulfill the production contract. First recipients were soldiers of the Townsville-based 3rd Brigade, with the 7th Brigade and then the 1st Brigade scheduled to receive them in the future.

The Australian Army divides combatants into Tier 1 combatants who perform niche tasks (e.g., tank crews), Tier 2 dismounted troops who conduct dismounted close combat, Tier 2 mounted soldiers who crew armored fighting vehicles and Tier 3 combatants who provide general support to combined-arms teams.

The ADF is introducing the EF88 in a number of variants according to the above tiers, with the difference being barrel length and accessories such as sights and bipods. In terms of the latter, weapons can be fitted with a Grip Pod Systems GPS.02-CL forward grip with bipod and extended rail or a Harris N325-BRM weapon stabilizer. There are four variants for Tier 2 dismounted troops (i.e., regular infantry): commander, marksman, rifleman and grenadier. These are fitted with an InForce WMLx visual illumination device via a Daniel Defense 1 o'clock offset rail.

Tier 2 mounted troops use the shorter-barreled F90-407 carbine with a Knights Armament basic forward grip. Tier 3 soldiers have two variants available: a standard F90-508 rifle and grenadier. The main sight issued to all soldiers is the Elcan Spectra DR, an enhanced dual-range day sight with 1x-4x magnification. Selected Tier 2 dismounted troops will receive an Elbit Systems XACT th65 thermal imager system. The same criteria applies to the Qioptiq Kite in-line image intensifier system for which the ADF specified white phosphorous tubes.

The Steyr Mannlicher SL40 (or F91) that weigh 1,025 g is a fully integrated 40 mm side-loading grenade launcher attachment. This combines with a Thales F1 quadrant sight that can be used at night and which is compatible with night vision goggles. The launcher can be fitted to the rifle in just 15 seconds.

Thales Australia is exploring export opportunities for the F90; it currently offers five variants, though more will follow. Presently there is a standard F90, F90(G) with a grenade launcher F90M marksman rifle, F90M(G) marksman rifle with grenade launcher and shorter-barreled F90CQB. The company said it is "developing further enhancements for the rifle, which is fitted for, but not with, electronic architecture including centralized power as a key future-proofing measure." Thales is also considering a 360 mm barrel.


MK47 automatic grenade launcher

Another important acquisition for the ADF, and one that also featured prominently at Land Forces 2016, is the General Dynamics Ordnance and Tactical Systems MK47 Mk 0 40 mm automatic grenade launcher (AGL). These are fitted with General Dynamics' Lightweight Video Sight 2 (LVS2) sight system that combines color video, thermal imaging and a laser rangefinder.
The AGLs are being acquired under Land 40 Phase 2, with local arms supplier Nioa serving as a vendor. Brisbane-based Nioa was selected for this AU $47 million (US $36 million) requirement on June 30, 2015.
It is also responsible for support services management, systems engineering and maintenance support. Nioa, established in 1973, is Australia's largest privately owned arms supplier, and it represents more than 50 international suppliers. Nioa commented, "Nioa's engineering and support capability developed under these contracts will become a major component of the Priority Industry Capability for support of infantry weapons in Australia, and provides the Commonwealth with a viable option for the support of these weapon fleets."

The contract is for 222 weapons, with the type replacing the MK19 Mod 3 AGL currently in limited service in the ADF. The weapon plus sight weighs 46 kg while the tripod adds another 6 kg. The sight can identify individuals at 1,000m and vehicles at 3,000m. The MK47's range is 2,000m for area targets and 1,500 m for point targets.

It was announced in mid-July 2016 that the ADF had taken delivery of its first batch of AGLs, and all weapons should be handed over by the end of July 2017. At Land Forces 2016, Mark Cook, chief engineer at Nioa, revealed that introductory tests concluded in September, and he told Small Arms Defense Journal that soldiers "have been amazed by the quality of the sight."

After undergoing a previous tender cancellation, this AGL project was put on the ADF's infamous Projects of Concern list in 2012 before being later removed. The original AGL tender closed way back in October 2007, in which the Heckler & Koch Grenade Machine Gun and MK47 were the two contenders. The former, as proposed by Point Trading, became the preferred tenderer. However, after 18 months of contract negotiations, the Department of Defence canceled the process in 2011 "because it became clear that the company was not going to deliver what Defence had assessed it had promised."

The AGLs will be employed by infantry battalions, special forces and airfield defense guards. A future growth path could be for Australia to adopt 40 mm airburst munitions. There is potential for the LVS2 to be fitted to .50-cal M2HB-QCB machine guns too, and Nioa is exploring this avenue with the Australian Army.

The Glock 17 Gen4 9x19mm pistol as recently supplied to the New Zealand Defence Force, which ordered 1,886 examples plus 150 "blue" training simulation pistols. These are fitted with MOS red dot sights.
New Zealand
Nioa also distributes Glock pistols in Australasia. Indeed, Nioa supplied 1,886 Glock 17 Gen4 pistols plus 150 "blue" training simulation pistols to the New Zealand Defence Force (NZDF) after winning a contract in November 2015. The 9 mm Glock 17 is replacing the in-service SIG Sauer P226 that has been the NZDF's mainstay sidearm since its introduction in 1992. These are fitted with Modular Optic System (MOS) red dot sights.

At the time of the contract announcement in 2015, LtCol Dean Paul of the NZDF's Land Capability Delivery Branch commented, "Ensuring we remain a force equipped to succeed means supplying our people with fit-for-purpose personal protection weapons.This is part of our 2020 strategy for enhanced combat capability, and we are pleased to be rolling out the new pistols next year." The contract amounted to NZ$1.8 million (US$1.9 million), with delivery commencing in 2016. As part of its contract, Nioa will maintain these weapons over the period of their lives.

The NZDF has been replacing much of its small-arms inventory under its In-Service Weapon Replacement/Upgrade Program. In August 2015 the NZDF announced that Lewis Machine & Tool (LMT) had been down-selected to replace the incumbent 5.56 mm Steyr assault rifle. LMT's solution is based on the CQB16 rifle, which is derived from the AR-15. New Zealand purchased 5,568 of these new rifles for issue to personnel, plus it acquired an additional 3,472 for a weapon pool.

Introduction to service of the CQB16 was scheduled for November 2016, with the Trijicon ACOG sight fitted as standard. Originally it was envisaged that the New Zealand Army would follow Australia in improving the current AUG to F88 standard. However, battlefield experience in Afghanistan led to criticism of the weapon's performance. In New Zealand service the new rifle is known as the Modular Assault Rifle System-Light (MARS-L). The army will use a 16-inch barrel, while air force and navy personnel get a 14.5-inch barrel.

The replacement program has already seen the Benelli M3 tactical shotgun and LMT LM308MWS 7.62mm designated marksman rifle inducted into the New Zealand Army in 2011. The army's aging 5.56mm FN Herstal C9 Minimi light support weapon was also replaced with FN Herstal's 7.62 mm Minimi TR (in two sub-variants), with 598 of these medium-caliber machine guns ordered. The 40mm Grenade Launcher Replacement project to replace the existing M203 remains under consideration.

Special forces

Nioa previously supplied 7-round Glock 26 pistols to Australian Army special forces as an ankle-carried weapon. Aircrews use the Glock 19 with a ten-round magazine, and Australia has a future requirement under Land 159 to refurbish Glock 19s, a competition in which Nioa is interested in competing.

Colt also had a number of weapons on display at Land Forces 2016, with Nioa acting as the American company's distributor in Australia. Of interest were a couple of examples of the R0977AU-Combo assault rifle of 5.56mm caliber, which was a special build done at the request of the customer; SADJ understands this was Australian Army special forces. The rifle features 2x uppers and one lower, where the former consist of a 14.5-inch low-profile gas block and Troy Alpha rail, and an 11.5-inch low-profile gas block and Troy Alpha rail. The rifles have a six-position Magpul CTR buttstock and Geissele SSF trigger.

Miscellaneous

Speaking to SADJ at Land Forces 2016, Nioa said it was excited about the possibility of demonstrating two innovative technologies at Australia's Army Innovation Day on October 12, 2016. One was the Ottawa-compliant M7 Spider from Orbital ATK, this being a man-in-the-loop force protection system comprising sensors, communications and munitions.

The other was the Sniper Weapon & Observer Reconnaissance Device (SWORD) from Colt. This Android-based application gives snipers and commanders greater situational awareness. It passively ranges the distance to targets and plots impact points, which could reduce potentially collateral damage. SWORD was delivered to the US Marine Corps in August 2016, and a Colt spokesman said Australia is showing great interest in the device too.

Perhaps one of the most significant snippets of news that SADJ unearthed at the exhibition was an intention by the ADF to fit a suppressor on every soldier's weapon. This applies to regular soldiers and not just special forces, with major advantages to be gained in terms of sound suppression, concealment of muzzle flash and a reduction in dust being kicked up. If the ADF proceeds with this program, it will mark Australia as one of the first militaries worldwide to take such a course of action.