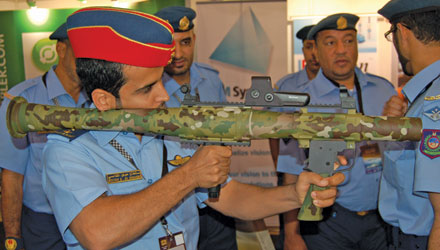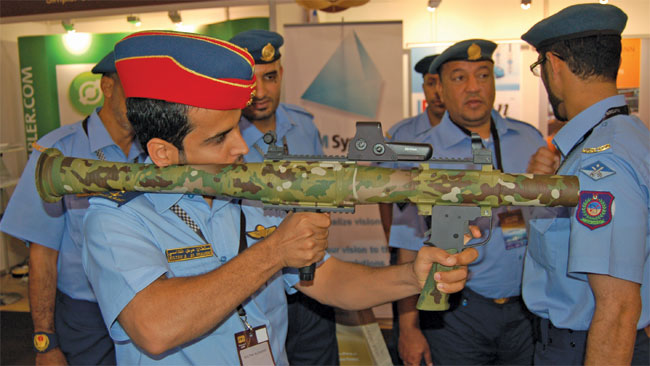 Airtronics USA has their MK777 lightweight RPG-7 in final testing now, with a variety of PG-7 and other rounds available as well. This 7.7 lb. (3.5 kg) recoilless launcher is being made in conjunction with ATK. (www.airtronic.net and www.atk.com)
The International Defence Exhibition and Conference (IDEX) of 2011 is a biannual show that has reached its 10th anniversary with this event.  It is a mature show with well developed habits and procedures for the exhibitors and attendees.  Having established itself as a benchmark show much like Eurosatory, Milipol, DSA or AUSA, IDEX attracts a rich diversity of attendees from around the world.  The show itself is centered in Abu Dhabi, the capitol city of the United Arab Emirates.  The UAE controls 9% of the world's oil reserves, and 5% of the natural gas.  As such, the UAE has a strong interest in their defense industry and tries very hard to stay modernized and up to the best technology in the region.  Many Middle Eastern/South West Asian countries had their military in attendance, and the technology was highly evident.

This year's show was full to the brim, and the "New Exhibitors" section in Hall 1 was also filled.  More than 50,000 attendees filled the halls, and there were exhibitors from over 50 countries.  This shows growth from the 2009 show, but in any event this is a massive defense show.  Being paired with NAVDEX gives both events a boost as well.
One of the more interesting pieces of show talk was Jordan's deal with ATK to rebuild two Jordanian CN235 military transport aircraft into the ATK light gunship package.  The technology that makes this possible is the most modern series of sensors and controls, but the Hellfire missiles, 70mm rockets and 30mm M230LF chaingun make for a true "gunship."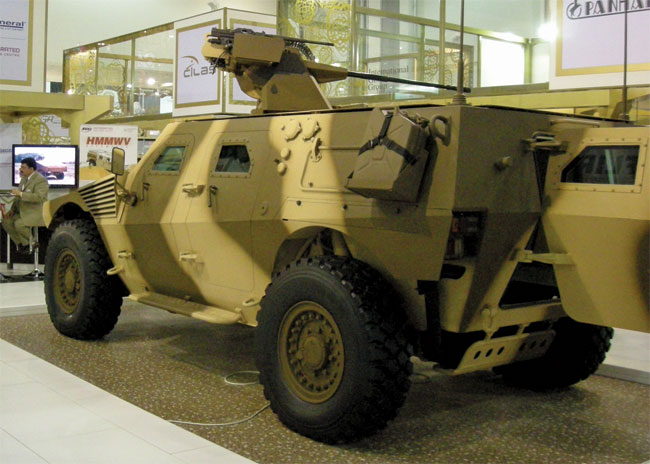 IGG is a six year old UAE company focused on the needs of the UAE military and police units, as well as regional sales. IGG has gathered together some of the finest defense manufacturers in the world to offer their products for sale. (www.iggroup.ae)

Advanced Defense Systems is a new company that is part of the UAE Tawazun group's small arms portfolio, along with Caracal and Tawazun Precision Industries. Well known precision rifle manufacturer Vlad Lobaev of TSAR-CANNON in Russia has moved his company lock, stock, and barrel to the UAE to participate in this project. His rifle designs in .300, .338, and .408 Chey-Tac are legendary for long-range accuracy, and Vlad tells us that with the new venture he expects to be integrating a lot of new technology and advancing the precision rifles he offers. (www.tads.ae)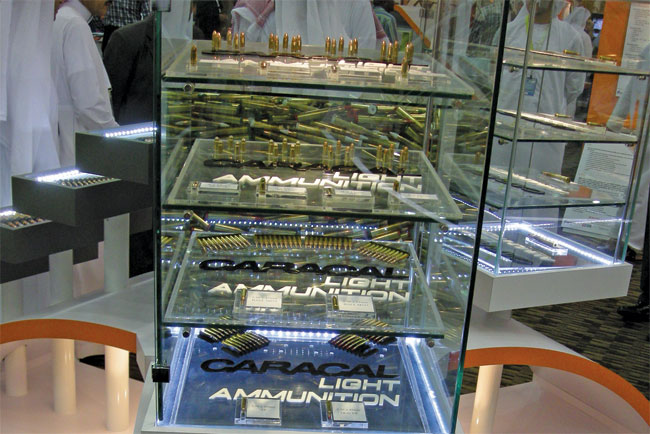 The UAE ammunition manufacturer ADCOM has been purchased and is now Caracal Light Ammunition, part of the Tawazun Group. Products range from 9x19mm, 5.56x45mm, 7.62x51mm, to 12.7x99mm (.50 BMG). Sources tell us that they will be expanding the production range soon. (caracalammo.ae)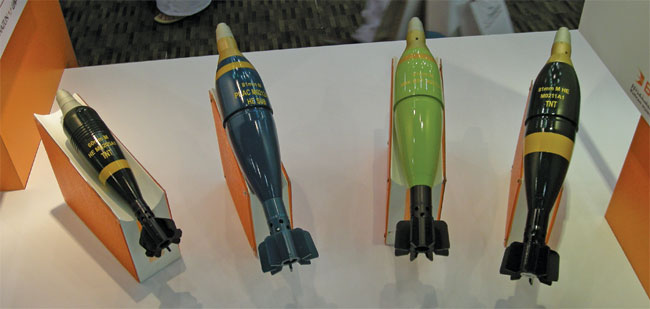 Burkan is a Rheinmettal partner manufacturing munitions in the UAE, including 40x46mm HEDP, 40x53mm HEDP, mortar rounds, 107mm rockets, and 122mm artillery systems. They also provide munition demilitarization services. (www.burkan.ae)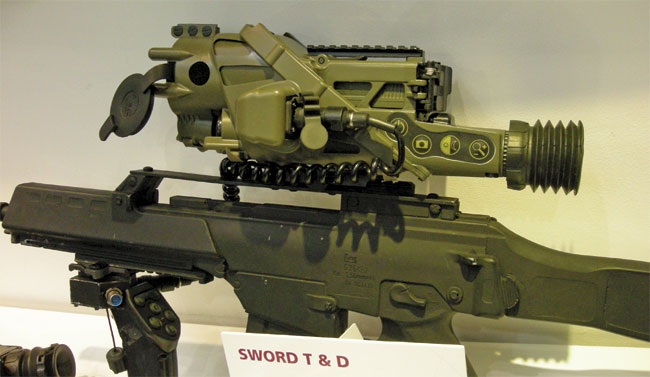 Safran in France presented their SWORD T&D multi-weapon thermal & day sight system. This can be mounted on most systems from M2HB to 94mm Carl Gustav M3, and any rifle or machine gun in between. This ambidextrous TWS allows for remote operator controls - keeping his FCU hold; digital day and thermal channels, as well as choice of reticle. (www.sagem.ds.com)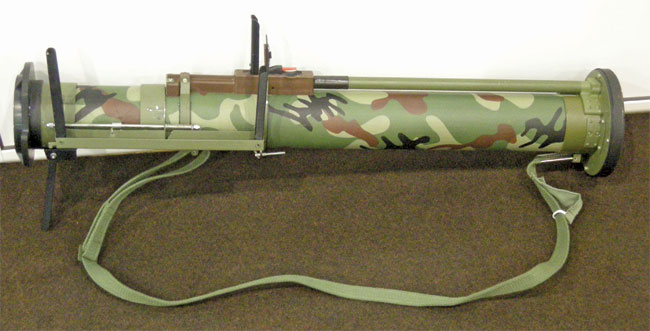 Armar started their thermobaric shoulder fired rocket program in 2007 with the DREB-G 73mm appearing in 2008. The new Armablast is a thermobaric one shot unit, the same warhead, but with a new safety and fuze operation. Complying with Milstandard 810, this 2nd model can be disarmed easily. These are shipped in plastic bags, 5 pieces per wooden crate, and can fire from enclosure. (www.armarbg.com)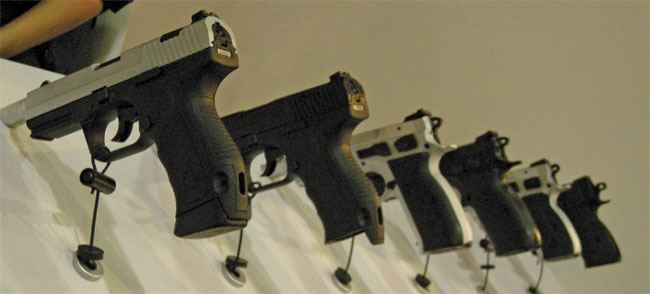 Turkish handgun manufacturer Canik55 unveiled their Piranha, Shark, Dolphin, Stingray, and S-FC series of handguns. www.canik55.com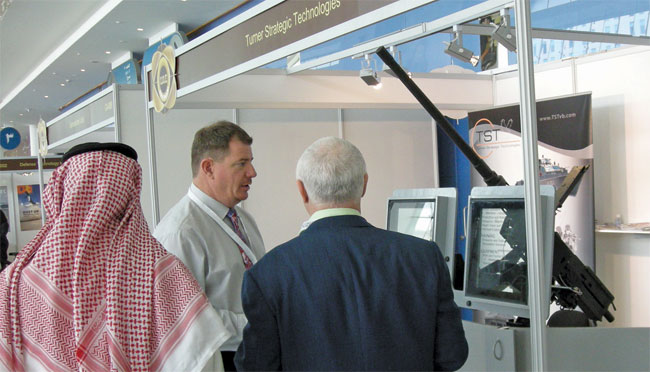 Turner Strategic Industries presented their Armored Personnel Shield, which was developed to meet requirements for a light-weight ballistic protection for machine gun operators. Panels are available in NU Level III or NU Level IV in any color. TST Tactical Program Manager Jerry Hurd is shown speaking with representatives of Saudi Arabia, showing the TST APS with an M2HB made by US Ordnance. (www.tstvb.com)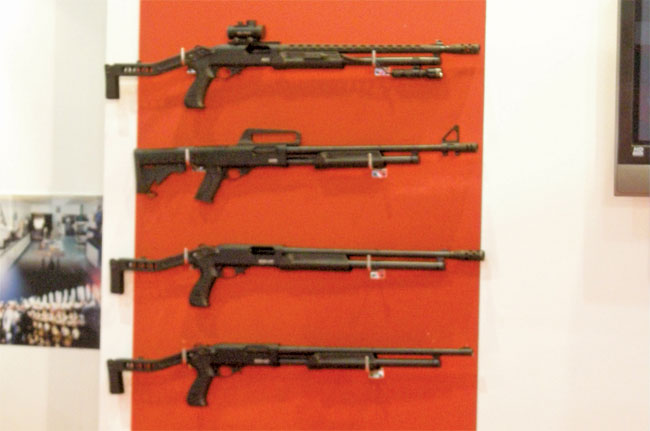 Turkish small arms manufacturer Sarsilmaz was on hand with their full line of revolvers, pistols and shotguns. The ST-10 9x19mm pistol is new for 2011 and drew quite a lot of interest. (sarsilmaz.com)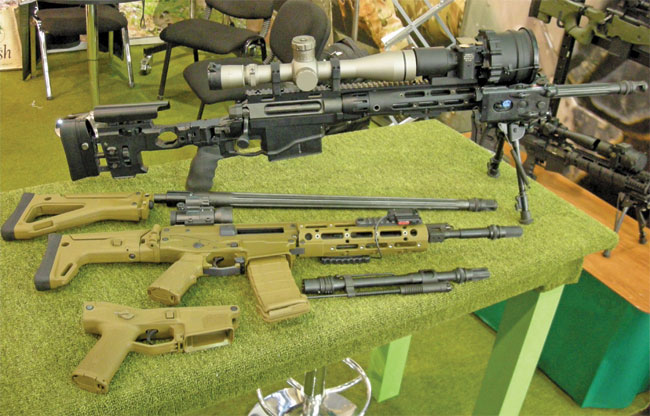 Bushmaster Associates is concentrating on upgrading existing M16 platforms in the Middle East and Africa. They were working with Remington and Bushmaster, presenting the new ACR and MSR. (bushmasterassociates.com)