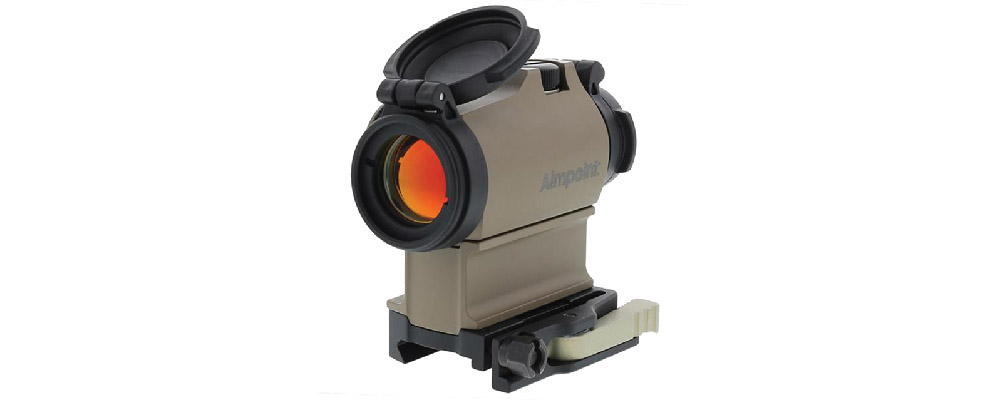 ABOVE: Aimpoint Micro T-2™ Flat Dark Earth Sight

Aimpoint Introduces Limited Run Micro T-2™ Flat Dark Earth Sights
Aimpoint has announced the launch of a limited run of Micro T-2™ carbine-ready sights in Flat Dark Earth (FDE) color. This is the first time the company has offered an FDE finished sight to the U.S. market.
The sights are being finished with Cerakote® H-Series surface coating—an advanced thin-film ceramic coating that bonds completely with the aluminum alloy housing of the sight. Cerakote® finishes are known worldwide for their corrosion and chemical resistance, UV and thermal stability and durability under extreme conditions.
"We needed to match our choice of color surface finish with the durability and performance of the Micro T-2 sight," said Jonas Ardemalm, Director of Commercial Sales & Marketing at Aimpoint AB. "Cerakote® offers an extremely durable coating that has been proven to perform under very demanding conditions, and it offers advantages beyond typical paint applications. We are very happy to offer this enhanced Micro T-2 to our customers in the USA."
This initial run of FDE Micro T-2 sights is being offered on a test basis through a select group of authorized Aimpoint Dealers in the U.S., and they are expected to sell out quickly. For more information on Aimpoint and Aimpoint products, visit the company's website at: aimpoint.com.
National Shooting Sports Foundation Appoints New Board Member
In early March 2018, the National Shooting Sports Foundation (NSSF) Board of Governors announced the appointment of new board member, Tom Taylor, Chief Marketing Officer and Executive Vice President, Commercial Sales, of SIG SAUER. Taylor will replace Colt Manufacturing's Dennis Veilleux, whose term expires end of 2019.
Since March 2015, Taylor has led all global marketing initiatives and U.S. commercial sales as well as product development for SIG SAUER.
Taylor's prior experience includes serving as Senior Vice President, Sales and Marketing, at Mossberg from 2010 to 2015; as Vice President, Marketing and Product Development at Smith & Wesson leading the development and introduction of the now iconic Military & Police (M&P) pistol and rifle lines; and as Senior Vice President at Remington/Freedom Group where he supervised several special projects.
Taylor has also served on the International Hunter Education Association (IHEA) Foundation Board of Directors, volunteers his time as Chairman and Executive Director of Honored American Veterans Afield (HAVA) and is involved in many other hunting and shooting support organizations.
About the NSSF
The National Shooting Sports Foundation is the trade association for the firearms industry. Its mission is to promote, protect and preserve hunting and the shooting sports. Formed in 1961, NSSF has a membership of more than 11,000 manufacturers, distributors, firearms retailers, shooting ranges, sportsmen's organizations and publishers. For more information, visit nssf.org.
Streamlight® Announces Sporting Goods Sales Rep Agency of the Year
Streamlight® Inc., a leading provider of high-performance lighting and weapon light/laser sighting devices, announced that Vincent Pestilli & Associates has been named the company's 2017 Sales Rep Agency of The Year for the Sporting Goods market.
Vincent Pestilli & Associates is a group of independent manufacturers' representatives that provides sales and marketing services for premium brands in the shooting, hunting, law enforcement and outdoors markets. Based in Brownfield, ME, the company received the award in recognition for outstanding sales achievement in its Northeastern sales territories.
"Vincent Pestilli & Associates' outstanding sales performance last year contributed greatly to the company's success in the Sporting Goods sector, a strategically important market segment for Streamlight," said Streamlight Vice President, Sales and Marketing, Michael F. Dineen. "We look forward to their continuing contributions to our sales efforts."
For more information about Vincent Pestilli & Associates, please visit vpestilliassociates.com. For more information on Streamlight Inc. please visit streamlight.com.