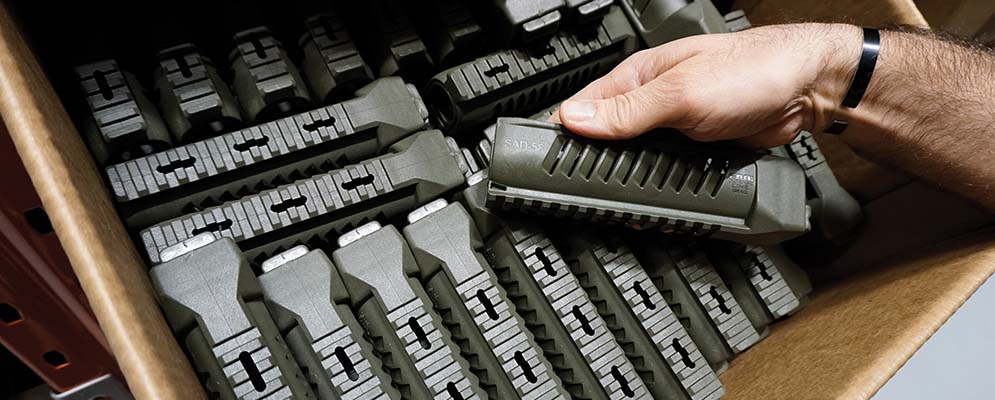 ABOVE: VZ58 polymer handguards to be packaged and shipped.

SADJ Tours the Family– Owned FAB-Defense Factory
The use of polymer on firearms has taken strides since the wide adoption of Stoner's AR-15 rifle. Injection-molded polymer is light, yet strong, and is cheaper to mass produce compared to machined aluminum. Items such as the buttstock, pistol grip and fore grip on modern rifles and shotguns are made of injection-molded, fiberglass-reinforced polymer. Not to mention the proliferation of the polymer-framed, striker-fired pistols from the likes of Glock, Smith & Wesson M&P and SIG SAUER P320, etc., solidified its use in the firearms industry.
I was invited by the people at FAB-Defense® to drop by their new factory for a guided tour. FAB-Defense is a subsidiary of FAB Manufacturing & Import of Industrial Equipment Ltd., one of the largest manufacturers of polymer AK, AR, shotgun and pistol accessories outside of the United States. They have recently moved into their brand new building that is 2,000 square meters (21,500 square feet). Their old facility was less than half the size at 900 square meters (9,700 square feet).
FAB-Defense has a wide array of polymer accessories ranging from pistol to carbine conversion kits called the KPOS; AR, AK and VZ magazines, their SCORPUS holsters, various rifle and shotgun buttstocks, grips and bipods, and so on. They even have self-healing target systems under the brand Reactive Target Systems Ltd.
Mold for polymer foregrip.
Itay Goldenberg, who is their sales manager for North America, picked me up from my hotel in Tel-Aviv in the morning, and we took a 30-minute drive southeast to Modi'in Maccabim-Re'ut.
They have recently moved into this new building with production, assembly and warehousing on the main floor and offices for sales and engineering located on the upper floor.
I had the opportunity to meet the company founder, Tuvia Faifer. Originally he had a military career in the bomb disposal unit, and he developed devices to defuse bombs and their mechanisms. Tuvia founded the company in 1961, manufacturing machining tools, molds and machines. It was in the 70's and 80's that he began developing accessories for soldiers and military clients.
At 77 years old, he still comes to work on time every morning, but he has passed the torch over to his son Sagi to run the business.
Sagi oversees the whole company from design and manufacturing to sales and marketing. He was part of this family business at a young age, and over the years he understood each aspect of the company from top to bottom.
He noted that they were the first to manufacture polymer pistol holsters with paddles. The story of the inception behind the holsters was there were two Israeli agents on a mission in enemy territory. During the extraction process they threw away their pistols, but they were caught during a search and the police found them with their holsters on their body. After that incident, the government requested affordable holsters, made of polymer instead of leather, which is time consuming to produce and expensive to buy. Polymer holsters can be thrown away and replaced after each mission if required.
All of their employees are IDF veterans, and most of them carry their pistols on them at all times.
Machinist building a fixture.
Engineering Plastics
The thermoplastic resin pellets called Polyamide (PA) is the highest grade polymer used in the industry. It costs approximately $12-15 (USD) per kilogram which is quite expensive. Unlike ABS plastic which is not resistant to extreme temperatures like high heat, Polyamide (PA) is fiberglass-reinforced which makes it high-impact tolerant, chemical resistant and functional in extreme hot and cold temperatures.
Sagi stressed that they purchase the material directly from the manufacturer, and they do not add any recycled materials or additive into the mixture. This means the final product will maintain its strength in extreme hot and cold temperatures in countries like Russia where it's normal to experience -30 degrees Celsius during most of winter.
The reason for other manufacturers to do this is to increase manufacturing speed (up to 10 times quicker) and reduce cost as these plastics are expensive to procure.
"Positive" piece made of copper for AG-44S Quick Release Ergonomic Foregrip. The grip texture is carved carefully by hand.
Design
The first step of designing is to have a set of basic parameters the product is made to achieve. For example, does this product make magazine reloading quicker and easier? The second step is to communicate with the end users and distributors to get their initial feedback. Following that is doing a design review—finalizing the product dimensions and weight. All the employees provide their feedback. Each design is 3D-printed so the product can be tested on the firearm itself to get the actual feel of it and do preliminary field testing.
One major step is to design the mold. It involves coming up with complex CAD drawings that include channels to direct the injection of molten material into a mold. This requires special engineering skill and working knowledge as the cost of each mold starts at $10,000 (USD) each.
The CAD drawings for the molds are done in conjunction with the design of the product. The shape and size of a product can make designing the mold difficult if not impossible. In the case of FAB-Defense, the designer and engineer work together to solve all the potential problems before they occur in the manufacturing process.
Electrical discharge machine creating a mold.
Factory Floor
The tour begins at the warehouse section of this industrial building, which consists of storage racks that are 20-feet-high completely filled with boxes containing products. Each side of the aisle is labeled by a unique alphabet, and below each letter is the product category of the type of products on the aisle. Each box is properly labeled with the product SKU.
Nearby, they have four large CNC machines that are running constantly, machining metal parts such as handguards, quick-detach levers, folding stock latches, etc. FAB-Defense also utilizes external contractors if they need to increase their output upon receiving large orders.
In the workshop area, there are manually operated machines that are used to build the fixtures for test fit such as the AK-47 buttstock. One of the technicians is a big heavy metal music fan; on the wall is a Metallica poster, and their music blares in the background trying to beat the sound of machining noise.
A complete piece from the injection molding machine, showing multiple polymer pieces connected by the "runners" that are about to be trimmed away.
The mold is first created by making a "positive" piece machined out of copper. Using electrical discharge machining (EDM), material is removed from the mold by rapidly recurring current discharges between the copper acting as an electrode, creating a negative piece that will be used in the injection molding machine. Additionally, the mold has to be cleaned and maintained in order to keep it dimensionally accurate. Each copper piece weighs over 70 pounds, and they are carefully stored in one section while the hundreds of molds are stored in another section on shelving units that are easily 2 stories high.
At the other end of the shop floor are five gigantic injection molding machines. First the polymer pellets are loaded into the machine; they have a melting temperature of 270-320 degrees Celsius which is also the injection temperature. After injecting the melted polymer into the mold, it needs to be slowly chilled to 100 degrees Celsius in order to stabilize the polymer or else it can warp out of shape. After that, it will cool from 100 to 30 degrees Celsius which only takes a few second's time. After the product is ejected from the mold, the machine operator will trim off the "runners" which are the excess polymer pieces in the channels used to fill the mold. The product is then put in a large water bucket to cool down to room temperature. On average, each machine can produce about 20 products per hour; however, certain products are made from three to four molds.
Each machine is fully automated, but I was told each one has to be set up and adjusted in order for it to work in its own optimal setting.
Once all the components are made, they are manually assembled in the assembly room. Unfortunately this is a laborious process that cannot be replicated by a machine as the assembly can get very complicated. Case in point, the TPOD is a Picatinny foregrip with a button-activated, integrated bipod that contains 28 springs that have to be carefully installed by the technician. The end result, however, is an extremely rigid bipod that you can stand on with your own weight.
After completing assembly the products will be packaged and stored back in the warehouse ready for shipping to customers worldwide.
Storage of the molds. This is about 1 million dollars' worth of molds.
Product Line-Up
The most recognized product from FAB-Defense is its GLR-17 Tactical Stock for full-size Glocks. It was used in numerous Glock 18 videos on YouTube which showed its effectiveness as well as converting the pistol to a concealable small machinegun (SMG). It might be surprising to some that the stock was designed by hand drawings, well before the days of CAD drawings and rapid prototype/3D printing. It's something they still produce now (it only fits Generation 1 to 3 Glocks), but the portfolio of accessories has certainly expanded greatly.
The concept of the GLR-17 Tactical Stock came around in 1980 when Israel was in the peace process with its neighboring country Jordan. At the time, the security personnel working at the Israeli embassy in Amman were not allowed to carry rifles. Working with only pistols, they needed something with more accuracy and that could be easily deployed in case of long-distance engagements.
With the modern requirement of red dot optics to further increase shot accuracy, FAB-Defense has created the KPOS pistol-to-rifle conversion kits that can turn any modern pistol, like a Glock 17, SIG SAUER P226 or IWI Jericho into a Personal Defense Weapon (PDW). The pistol slides into the chassis in seconds and the user can mount Picatinny-compatible accessories such as flip-up sights, red dots, vertical grips and flashlights on the chassis. It also features an AR-style charging handle for easy racking and a folding stock that is quick to deploy.
Due to the current Israeli gun laws, security companies and civilians are only allowed to own and use pistols. Security personnel and civilians can legally leave the KPOS in the trunk of their car or motorcycle as it is not a firearm. These units are currently in use by various Special Forces units such as the motorcycle unit in Jerusalem, Dutch Navy Seals (their version is made out of stainless steel for better corrosion resistance), the IDF LOTAR Eilat Counter-Terrorism unit as well as the German police.
The next iteration of the KPOS, first announced at SHOT Show 2018, is called the KPOS Scout. It uses a mix of polymer and aluminum with the Picatinny rails made out of aluminum to maintain zero for optics. The benefits are saving weight and keeping the price point more affordable in comparison to the earlier versions. It will be compatible with all current generations of Glocks including models with compensated barrels.
I was shown the prototype KPOS Scout made with a 3D printer. It adds little weight to a Glock, which means it's quicker to shoulder and transition between targets while providing better stability for follow-up and longer distance shots. It's expected to be available by the time this article hits print with a retail price of $299.00 (USD). For the American market, it is sold with a right-folding stabilizing brace to avoid NFA paperwork and tax stamp.
Technician carefully assembling the KPOS conversion kits.
Conclusion
What will the future hold for polymer? If we take a look at car manufacturing, we can predict Carbon Fiber Reinforced Polymer (CFRP) will potentially have a future in firearms and its accessories. CFRP is lighter and stronger than even the highest quality fiberglass-reinforced polymer. It is already in use today with mass-produced vehicles such as the BMW i series of electric cars. In due time, the cost will go down to the point that firearms accessories manufacturers will be able to use this new material. The only question is when that will happen.