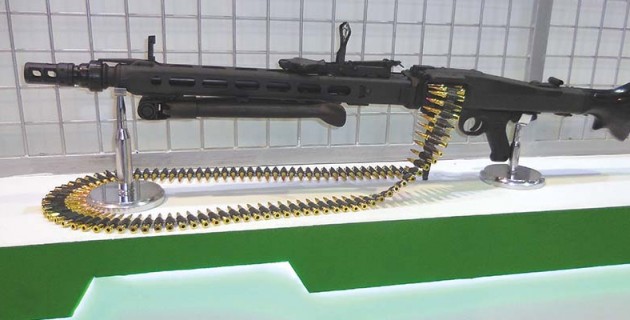 ABOVE: Pakistan Ordnance Factories (POF) flagship machine gun, the MG3, is considered to be one of the best made versions of the old high-speed design. POF has now added a special muzzle break to tame the recoil, and the spider AA sight works well for all uses.

4 December, 2014 – Karachi, Pakistan: SADJ's last visit to Pakistan was for the 2012 IDEAS event, which was a rousing success. Show management filled the halls the last time, and expectations were high for a repeat performance.
IDEAS is one of Asia's top military shows. Many shows are regional and focused solely on their country's military needs. That's not a bad thing, but it's something for attendees and exhibitors to be aware of. For small arms showings and international prominence, our top Asian shows to attend are Defence & Security Thailand, DSA Malaysia, IDEAS in Pakistan and IndoDefence in Indonesia. We at SADJ have a number of other shows we consider very important, such as BRIDEX, TADTE, and China Defence, but IDEAS stands out with more international prominence. Oddly enough, the United States has not participated very strongly in the IDEAS show; but the 2014 event was different. Some of the bigger U.S. companies are beginning to understand the prominence of IDEAS and are partnering with local distributors and having some presence. Smart smaller defense contractors should sense an opportunity here as well. In the 2012 edition, our small group was about the only U.S. attendees to be found. Of course, that U.S.-centric viewpoint is very short-sighted. The international community had a huge presence at IDEAS in 2012 as well as expanding in 2014. For example, Beretta Defence had a large booth, as did MKEK, Sarsilmaz, Norinco, Denel, Truvelo Armoury, and YugoImport, among others.
Universal Smart Military Systems from Pakistan produces decoys of rocket launchers, tanks, radar installations, jets, with correct thermal signatures. www.universalsmartmilitarysystems.com.
That said, the Pakistan manufacturers are certainly showing to their own military, with a mind to the fact that the IDEAS management has really brought in the international presence. There were 88 delegations from different countries, 30 of which were led by Defence Ministers, Joint Chiefs, and Defence Secretaries of their various countries. This is what a vendor is looking for – exposure to the decision makers, and the IDEAS show provided a great opportunity for this. There were 333 vendors displaying of which 256 were foreign and 77 were Pakistani; showing what we've said above about the international presence to be true.
IDEAS 2014 had the basic small arms manufacturers from Pakistan putting on their best to include POF (Pakistan Ordnance Factories), GIDS, and PMTF.
We look forward to attending IDEAS 2016!
PMTF's larger mortar lineup included a nice 81mm Brandt type long range mortar, a wheeled 120mm, and in the very back, a 106mm recoilless rifle.
POF presented their upgraded "Designated Marksman Rifle," an accurized G3 variant in 7.62x51mm caliber. With sniper stock, heavy barrel, accurized trigger, and optic, it's a formidable DMR.
China's Poly-Technologies presented a first viewing of the "Shoulder Launched Rocket - with Low Collateral Damage." The display and accompanying brochure call this a rocket, but it appears to be a recoilless launcher with a ballast of hundreds of plastic disks tossed backwards or some hybrid of the two. This allows for firing from enclosure, defined as approximately 2.5 meters cubed or larger. More importantly, the grenade has a low fragmentation/blast distance of 7 meters and is used as a breacher. www.poly.com.cn.