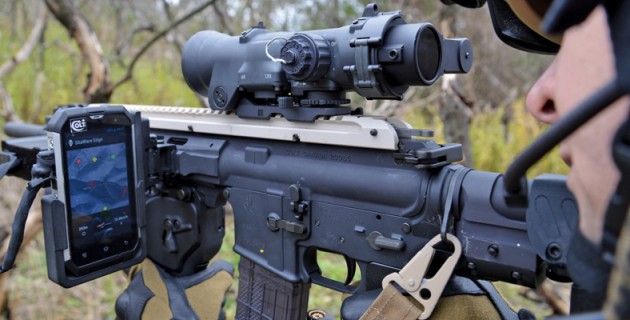 ABOVE: SWORD provides a fully integrated battle space system.

Examining and trying to appreciate the latest greatest technology being promoted at the near countless booths at a show the magnitude of AUSA, one underlying question must be answered. What does any particular technology mean to fighting and winning? Small arms technology can be categorized into the following areas – weapon material construction, operating systems, fire control and sighting, ammunition, and accessories. The general direction the small arms industry appears to be taking is most curious.
The AR-15/M16 assault rifle has been in service since the early 1960s. There have literally been hundreds of AR variations produced, but the operating system, upper and lower receivers have largely remained the same. While some variants are chambered to fire 7.62 NATO, 6.8mm Remington and several other similar rounds, the M16 and M4 remains chambered for the NATO standard 5.56mm, 62 gain, SS-109 round.
Note the gold electrical contacts in the Intelligent Rail.
Barrels have been chrome lined, floated and made from stainless steel. Buffer assemblies have been made smaller, been modified with drain holes for the SEALs, and stocks have been made collapsible and folding. The classic top carrying handle has been replaced by a flat top 12 o'clock rail that on many AR variants now extends well down the hand guard above a low profile gas block so an in-line night vision scope can be mounted in front of a telescopic sight.
Three, six and nine o'clock rails have been added to the hand guard so a soldier can attach numerous cool gadgets like IR and visual laser aiming and illuminator accessories, lights, bipod, hand grips, navigation, video, sling swivels, grenade launcher, shotgun module, etc., even auxiliary power source modules to power the electronic accessories. The imagination is the limit to these rail-mounted accessories whether or not they actually improve upon the soldier's hit probability and make tactical sense.
Mark 21 sniper rifle.
With the above in mind, it is apparent that the push by several major gun manufacturers at this year's AUSA show was systems integration of many individual rail-mounted components into an interoperable power sharing smart system. Colt had its Sniper Weapon & Observer Reconnaissance Devices (SWORD) technology demonstrator on display. SWORD's fire control system is based upon Colt Canada's Patented Small Arms Network Power Data System (NPDS). The NPDS can be used with most sniper and assault rifle platforms and provides power, data and navigation infrastructure enhancing it into a Networked Weapon System (NWS). SWORD takes NWS several steps further by integrating it with a Small Arms Rail System that provides an electrical interface with an impressive capabilities menu, extending into the cloud that the operator has at his fingertips.
Taking a more sophisticated path, Prototype Productions, Inc. (PPI) has developed an Intelligent Rail system for the U.S. Army's M4 Carbine and civilian AR-15-based weapon platforms. More recently, under a long-term product integration and license agreement with Beretta U.S.A., PPI is integrating the Intelligent Rail system into the Beretta ARX 100/160 series carbines. The result is a seamlessly integrated weapon and accessory management system that is lighter and significantly more capable than existing platforms.
The raised over-insertion stop is molded into the M3 Magpul magazine.
The Intelligent Rail is a future-oriented solution that centralizes power for all weapon accessories, standardizes a universal connector for all accessory platforms, and integrates a control and communication pathway over a "Picatinny"-style rail bus. The Intelligent Rail will provide infrastructure for advanced fire control, video interfacing, signal controls, laser ranging-finding and targeting, soldier networking, enhanced vision such as thermal or low light, less-than-lethal capabilities, and other component advancements. Current initiatives aim to integrate the Intelligent Rail system into weapon platforms during manufacturing as well as proliferating lighter, more capable, accessories, including fire control systems, with soldier network and increased situational awareness capabilities.
Magpul has consistently been a forward-thinking company with a solid product line. There is no argument, especially among today's combat soldiers, that Magpul manufactures great AR-15/M16 magazines. Magpul's new M3 magazine has some very subtle improvements over the previous generation that makes it even more reliable (if that's possible). The M3 incorporates a new, more rugged polymer that is molded in the United States. The M3 has an over-travel insertion stop molded into the magazine that forms a raised welt around the magazine, preventing over-insertion of the magazine into the mag well by positively stopping it at the correct installed height. The M3 also has a slimmer more streamlined floor plate. The M3 mag is offered in both a 30- and 40-round capacity and it's compatible with FN's SCAR 16, HK's 416, and of course all the other AR-15/M16s out there.
The SIG 227 gen 4 has subtle improvements.
SIG Sauer continues to produce highly reliable, affordable handguns. Their new SIG P-227 is a fine example of ergonomic grace, sporting a stainless slide paired with an aluminum frame. Almost exactly the same geometry as the 9mm SIG 226, the 227 is a .45 bullet launcher with a round capacity of 10 + 1. SIG also offers an extended 14-round high capacity magazine for police and military applications. The 227 is offered in three barrel length variations all possessing SIG's SA/DA trigger. The "Nitron" is a full size gun and has a 4.4 inch barrel. The more concealable "Carry" has a 3.9 inch barrel. The "Carry SAS 2B" also has a 3.9 inch barrel, but is additionally equipped with a unique short reset trigger. An additional plus gained from the shared SIG 226 geometry means the 226 and 227 share holster size – so for those upgrading from the SIG 226, purchasing new holsters may not be necessary.
SIG additionally offers a line of quality AR-style flattop rifles that employ short-stroke pushrod gas systems like the SIG516 chambered in 5.56 NATO and Patrol AK chambered in 7.62×39. The SIG716 Patrol rifle chambered in 7.62 NATO launches a "real" bullet downrange and offers superb reliability with formidable accuracy past 1,000 yards. All have quad rail systems integral to the design with structural 12 and 6 o'clock rails.
The Glock 30 gen 4 is .45 ACP perfection.
Remington now offers a superbly engineered bolt action sniper rifle that evolved from decades of lessons learned from its combat-proven Model 700. The Remington Precision Sniper Rifle (PSR) is a magazine fed, air cooled sniper weapon system designed to be user configurable. A complete kit of accessories can be provided for sustained deployment in remote areas. Because of the weapon's unique design, the operator can easily change the configuration of the weapon, including barrel lengths, calibers and stock geometry to meet mission-specific requirements.
The caliber change is accomplished by changing out the barrel, bolt head (if necessary) and the magazine (if necessary). Current configuration offerings include .338 Lapua Magnum (.338 LM), .300 Winchester Magnum (.300 WM) and 7.62mm NATO/.308 Winchester. Magazine capacities are 5 and 10 rounds for the .338 LM, 5 rounds for the .300 WM and 10 rounds for the 7.62mm/.308 Win.
Trijicon's rugged VCOG trumps them all.
The military version recently purchased by SOCOM is the Mk 21 Mod 0. [Pic#5-Mk 21 sniper rifle here] The top rail is structurally rigid providing a rock solid base on which to mount telescopic sights with in-line night vision and /or IR scopes without parallax. The barrel is fluted and floats, reducing weight while increasing extreme accuracy. This 14 1/2 pound sleek-looking hi-tech work of art is also commercially available and legal in most states.
Glock has consistently led the polymer frame pistol market with their innovative designs, out-of-the-box accuracy, superb reliability, availability and affordability. The Austria-based manufacturer continually strives to perfect its line of pistols with new generation improvements that notably surpass their predecessor version. The subcompact Glock 30 Gen 4 is no exception. The most desired new feature is its reduced trigger reach. Trigger reach is defined as the distance between the face of the trigger to the back of the backstrap. This reduction in trigger reach is visually negligible, but has a new distinctive feel and tactility making it an awesome handling first choice for concealed carry. Chambered for the .45 ACP round, the big bore Glock 30 Gen 4 sports a 10 + 1 standard carry capacity. Its rough-textured frame and aggressive checkering assures a solid grip under the worst environmental conditions. The pistol comes with multiple interchangeable backstraps so the grip geometry can be precisely tailored to the shooter's hand dimensions. Glock specifically designed this 6.9 inch short frame powerhouse for concealed carry situations where first hit knockdown muscle is paramount.
IMI's 5.56, 42 gr frangible bullet eliminates ricochets and fragmentation splash back.
FN Herstal's SCAR was a design success that mated a composite polymer construction lower to a steel flattop upper, incorporating a gas short-stroke pushrod operating system. Its novel interchangeable barrels that automatically head space, are held by 4 captured set screws – 2 on each side. Still under development, FN has taken this design and created the FN PDW (Personal Defense Weapon) that is fundamentally a 6 3/4 inch barrel, 5 1/2 pound shorty-version of the SCAR MK-16. The PDW has a collapsible stock rather than the SCAR's folding stock making it as concealable as any submachine gun. It has the same great hammer forged chrome lined floating barrel as the SCAR – just shorter. Like the SCAR, all the operating levers and safety are fully ambidextrous. The PDW prototype on display had quad rails and FN claimed it has an accurate range of 200 m.
Trijicon has unarguably led the tritium-light aiming systems industry in the U.S. since its founding in 1981. Quite simply, they make a range of quality tritium sights for both tactical and sporting applications. Their latest, LED illuminated VCOG has a 1×6 magnification with a 24 mm objective lens sight that sports a 4-inch eye relief, making it suitable for sighting high power recoil weapons. The adjustable brightness LED is powered by a single readily available lithium AA battery that touts an estimated 700 hours of continuous power, depending upon the operational environment. Additionally, the VCOG is built to survive the harsh environmental demands of extended combat operations. It has a rugged military-grade aluminum housing that completely seals and protects its optical innards from impact, water and dirt. The VCOG is offered in a thumb screw mount or quick release mount for any rail application and it is compatible with the older ACOG mounting adaptors. This sight is a winner.
At 550 meters, IMI's 5.56, 77gr Match King's accuracy only varies about 50 centimeters.
On the small arms ammunition front, Israel Military Industries Ltd. (IMI) Small Caliber Ammunition Division has developed three new boxer primed, brass cased, 5.56 special rounds worthy of note. Designed for use in rifles and machine guns, IMI's new bevel tipped, aluminum-colored, 42 grain frangible lead free round is made from a sinterized mix of copper and tin. Designed to disintegrate into small particles when impacting hard surfaces, it almost entirely eliminates ricochets and fragmentation splash back. This makes it ideal for close quarter battle, use in machinery-sensitive areas like nuclear power plants, oil and gas storage and refinery areas, & great for both indoor and outdoor lead free firing ranges.
The second 5.56 round IMI has developed is their 77 grain hollow point Match King. IMI has paid great attention to detail in developing and manufacturing this new high performance round that can be fired from any AR-15/M16 variant that far surpasses performance of the NATO M855 Ball round. Accuracy is achieved through the control of tight bullet tolerances, shell casings, gun powder and an exacting assembly processes throughout the overall manufacturing process. This precision round also minimizes gunpowder residues, making it ideal for use with sound suppressors. IMI claims its Match King's accuracy at 550 meters only varies about 50 centimeters (obviously under ideal range conditions) – which offers a significant increase in hit capability for the M16/M4 shooter at extreme effective range.
IMI's 5.56, premier 54 gr, Armor Piercing Hard Core (APHC) round far surpasses the performance of NATO's M855 Ball round and closely approached that of the M-995 for half the cost.
The third is IMI's premier Armor Piercing Hard Core (APHC) 5.56 round designed specifically for use in rifles and machine guns. This impressive black tip, non-toxic, lead free 54 grain bullet far surpasses the penetration of the NATO M855 Ball round against armored targets – especially at long range. Remarkably, it also closely approaches the performance of the M995 round while being economically priced at only half the cost. Since the APHC round contains no toxic lead, and is affordable, it is perfect for both indoor and outdoor range use. This round is an example of IMI's cutting edge metallurgy composition, state-of-the-art projectile manufacturing and it's in production today.
In summary, it appears the future direction of the small arms industry is headed toward rail-oriented integral systems and ammunition improvement. Until there is a major technical breakthrough in man-portable directed energy weapons and/or caseless ammunition, requiring the major rethinking and redirection of the small arms industry, we will unlikely see much more than repackaging of old firearms technology and more fine tuning.