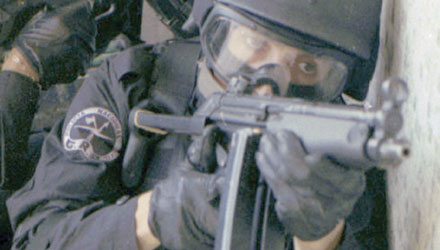 'Hill Billie' protected troop transport in March 2006 in Al Kut, Iraq, while escorting Maj. Gen. Edwardo Mendoza, Multinational Division, Central South. A better choice would have been the M1152 Expanded Capacity Enhanced IAP/Armor Ready cargo/troop carrier with Armor Troop Carrier with Kit 'A' and optional Kit 'B', made up of additional armor and fragmentation packages. (U.S. Air Force photo by Senior Airman Jason T. Bailey)
Weapons support?
If the gangs made a stand in their urban turfs, fighting in the heavily populated areas of El Salvador make for a difficult proposition as already tested during the civil-war, and particularly during three weeks in November 1989, when guerrillas dominated San Salvador.  There are few adobe houses left in San Salvador and other cities since most are now made of brick and cement, even in the shantytowns – thanks to U.S. Aid.

During the civil war, the U.S. delivered some 379 M-67 RCLs and some 791 M72 LAAWs.  The Salvadorian Army purchased 50 M40A1s from Spain and Israel.  All these weapons could be used with great effect in urban fighting.  The M40A1 remains as a fearsome gun with awesome firepower, but of little use as it is deployed today.  Those M40A1 in use by the Infantry could be modified to the Austrian towed variant (the 10.6 cm rPAK M40A1), and the Cavalry model mounted on M1152 EC and M1167 Humvees modified to hold the M40A1 instead of the TOW.  The weapons need to be refurbished and upgraded with laser range finders (LRF), electronic sight and/or thermal and night vision systems to make it an all-weather/day and night tool.  The M1167 comes with a Gunners Protection Kit optimized to deflect black-blast and allowing a 360 degree arc of fire.  If unable to do the job with the 106mm, what about using the 90mm recoilless rifle instead?  Well, the M67 RCL was too heavy and now is too old and worn-out.  There have been two accidental explosions during training.  The M67 should be replaced with RPG-7.  Why the choice of this weapon?  Reliable, cheap, soldier-proof, and hundreds were captured from the FMLN guerrillas.
Gun Trucks: Project M
To reduce casualties, and instead of blasting their way in, the military would move into these neighborhoods under the protection of up-armored vehicles to dislodge and/or discourage resistance, much like when it moved against Zacatras and Apanteos jails.  Problem is: little armored support and transports. The Humvees provide for the only tactical motorized military response unit in the country, and the vehicles have greatly improved the effectiveness of presence patrols, but more are needed.
In February 2010, the Salvadorian Army loaned 700 Taiwanese T65s (M16 variant) to the National Civilian Police (PNC) and transferred M16 rifles. The police acquired MP5 and SAF SMGs, Galil and HK33 & HK53 models, along with M4 Carbines. (Julio Montes)
El Salvador built 40 semi-armored Cashuat gun trucks (VBA) and 26 APC (VBTP) between 1984 and 1985 based on the M37B 3/4 ton pickup.  In 1994-1995, the local armed forces workshop upgraded two examples using M35 truck parts and axles (Cashuat-II?).  In 1998 two other examples were modified accordingly at the Cavalry Regiment base.  Today, the Cashuats cannot be used because the fleet was never upgraded to Cashuat-II, it lacks spares and their bullet resistant glass has expired and darkened, giving very little or no visibility to the driver.  Between 2004 and 2005 the Army developed the new generation of gun trucks to replace the Cashuat.  The High Command showed us a slide of pictures of a truck chassis modified with a forward armored cabin, much to the style of a HMETT, with a turret with two recycled HS-404 20mm cannons from unserviceable Ouragan planes mounted on the bed.  It has been indicated that initially an M55 triple mount was installed, but later replaced with the new gun platform.  The turret was electrically driven for transverse and elevation, and it suffered of a quick response to tracking controls, making it somewhat imprecise for either ground or air targets.  After the first prototype had been completed, an audit found some $25,000 missing from the $70,000 allocated to the project, which brought it to a halt for several months.  Later the Army retook the basic concept, but with a different model in mind.  A new prototype was started, but never completed.  At one point or another, four new Ford truck chassis were acquired, and at least two were modified with a new more powerful engine.  In 2010, all funds dried up, and the Army halted all research and development of Proyecto M.  When we visited the CALFA in 2011, it was indicated that the Army would retake and complete the prototype by March 2011.  We are still waiting, but all requests for pictures have been denied.
During the civil-war, the Army modified 14 Magirus-Deutz 7-ton Jupiter and other heavy trucks (nickname Mazinger), and 20 F-250 pickups (nickname Astroboy).  But those machines are long gone without replacements.  Now, even with the present emergency on-going, to renew Project M with Ford truck chassis does not make much sense from a logistical point of view, and it would be ridiculous to hope for anything like MRAPs.  An alternative could be to up-armor examples of the Army's 7400 6×6 trucks (with DT530 diesel 275hp/800lb-ft engine).  These are the civilian version of the International 7000-MV.  The 7400 truck chassis is a popular platform for APCs around the world due to its extremely strong chassis and engine which allows for full protection on all sides and a V-hull underneath against blast.  As an alternative, the 7400 SFA 4×4 can be used, which differs in having a MaxxForce DT 285hp turbo diesel engine, matched to the same Allison 3500 EVS transmission, for speeds up to 128 km/h (80 mph).  Better yet, a new Salvadorian gun truck could be based on the latest Medium Tactical Vehicle (MTV) with the DXM independent suspension, and also already designed to accommodate a variety of survivability and armoring solutions derived from the International MaxxPro MRAP.  The U.S. compromised to supply 104 trucks, and it is hoped that all of them are of the new International 7000MV series, to include a few MTV, and the 7000MV tractor 6×6.  According to Navistar Defense, the MTV, in addition to the DXM, incorporates automatic traction control, anti-lock brakes, self-diagnostics, and advanced electronics systems with optional central tire inflation system (CTIS).  To top it, a TCM-20 or the reworked HS404 gun-turret from Project M could be mounted on the bed.  One more option would be to create something similar to the TCM-20 using the recycled HS-404 from the Ouragans.  Reality is that the Regiment lacks even the funds to refurbish the Cashuats, much less for acquiring new armored gun trucks.
The TCM-20 was developed by Ramta Division of IAI. Mounted on a platform such as the M1152 or the Salvadorian Cashuat the weapon can be used against ground and air targets. The TCM-20 is essentially a modernized version of the U.S. M55 trailer-mounted anti-aircraft gun system, with the original 12.7 mm M2HB machine guns replaced by two HS 404 20mm cannons modified to fire HS 804 ammunition (HE-IT-SDHE-IAP-TTP-T). The guns are provided with M18 reflex day sight, and there is provision for front and side armor protection. Turret traverse and gun elevation speeds are 60 to 72°/s in azimuth and 60 to 67°/s in elevation. (Julio Montes)
Authorities Outgunned
Why gun trucks and/or armored vehicles and support guns for internal security in El Salvador?  Just look at your local PD in the U.S., and notice that the first thing out when hunting a dangerous criminal is a SWAT team and an armored tactical response police vehicle.  For the same security reasons, this applies to the authorities in El Salvador.  Furthermore, the firepower likely to be encountered in Central America in the hands of the bad guys can be a lot greater than in any street in the U.S.  In April 2010, for instance, a group of gangsters ambushed a rival gang at San Jose Park in downtown San Salvador, throwing a hand-grenade, and leaving more than 15 wounded; it was the third attack with explosives within the year.  Another 15 wounded and one dead would be the result of another attack with a M67 hand grenade at the Hula Hula Park, in San Salvador.
The situation is compounded by a flood of heavy weapons in the hands of organized crime and drug cartels becoming well-armed illegal armies on their own, with a sophisticated International network.  A few years back the local press reported that 40 Central American gangsters attended military training at La Laguna El Tigre, in Petén, Guatemala, among them 12 Salvadorian members of MS-13.  The training came courtesy of the Mexican Cartels of Los Zetas and Beltran Leyva's.  Salvadorian authorities now claim that members of the MS-13 gang had formed an alliance with Los Zetas, and operate as foot soldiers and human traffickers for Mexico's cartels.  In April 2010, Salvadorian President Mauricio Funes stated that there was information that the (Mexican) cartels had entered El Salvador with exploratory purposes.  These are also a present threat to the U.S. with MS-13 – founded in California back in the 1980s – having nexus in 42 States and the District of Columbia.
Although U.S. authorities pay more attention to the situation in Mexico, most of the problems related to the drug war in the south go unreported.  In 2008, under the Central America Regional Security Initiative (CARSI), the U.S. offered $65 million dollars in assistance to the drug war in the area, to be distributed among eight countries, while under the same program Mexico was scheduled to receive $400 million a year.  In October 2010, President Mauricio Funes presented a $900 million Central American anti-drug-trafficking plan to Secretary of State Hillary Clinton, and asked the Obama administration to help fund it.
In the meantime, the Salvadoran military has established eight task forces of 350 men each as part of Zeus Command, and tasked with occupying the twenty-nine areas with the highest crime rates in the country, to include large sectors in Santa Ana, Sonsonate, San Salvador, La Libertad and San Miguel.  However, the gangs have been detected moving their activities to other previously considered "pacified" regions in Morazán and Chalatenango.  Any momentum must be exploited by authorities and to be used to develop the investigative arm of the police in a hurry, and to overhaul the judicial system.  The respite will not last since soldiers historically make for poor cops while the blood-bath continues.  If there is no change of direction, the country is headed to a failed State immersed in another civil-conflict.
Pages: 1 2