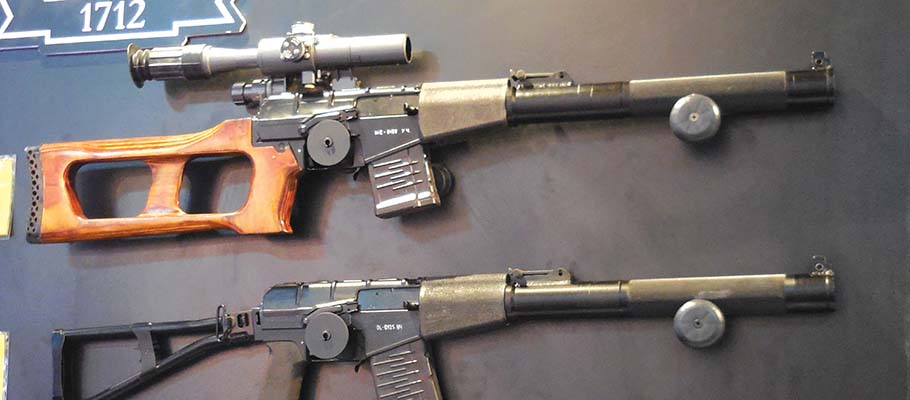 ABOVE: In a back corner on the lower floor, SADJ found the following gems from TNIITochMash in Russia. We had the opportunity to spend some quality time with the engineer in charge as well. Top to bottom: VSS "Vintorez" special suppressed sniper rifle in 9x39mm. AS-Val special suppressed assault rifle in 9x39mm.


Defence Services Asia

14-17 April, 2014, Kuala Lumpur, Malaysia

The 14th edition of the DSA show was held at the Putra World Trade Center in Kuala Lumpur in April 2014. This is a mature show, well-known and very popular in the South East Asia region. It draws internationally, with many business deals being concluded at the show. These are usually pre-arranged as at all shows, the convenience of having your customers there, in front of the community, is an excellent opportunity for all.

SADJ has been attending DSA for over 15 years, and we consider it to be one of our favorite shows for not only seeing what's new, meeting customers, and networking, but Malaysia is a beautiful country, and KL (Kuala Lumpur) has incredible sightseeing and food opportunities.

There were total of 1057 participating companies from 59 countries at the 2014 exhibition. These were in 28 pavilions:
Australia, Austria, Azerbaijan, Brazil, Bulgaria, China, Czech Republic, France, Germany, Hungary, Indonesia, Italy, Malaysia, Norway, Pakistan, Poland, Romania, Russia, Slovakia, South Korea, South Africa, Sweden, Switzerland, Turkey, UK, Ukraine, USA and ASEAN countries.

Statistics that will interest potential exhibitors:

Total number of Foreign delegations: 344 from 45 Countries

Total number of Trade Visitors: 33, 544 from 77 countries/nations

Total number of media / press: 729 comprising 621 local and 108 foreign press

Total number of Malaysian Royalty visitors: 6

Total number of Malaysian VIPs: over 800 VIPs

Russian sniper manufacturer Orsis has been a regular at many worldwide trade shows in the last several years. Their well-made T-5000 rifle is available in 7.62x51mm NATO, .300 Win Magnum, and .338 Lapua Magnum. Their products are definitely worth checking out. http://En.orsis.com
Beretta Defence had a full display booth, and their SAKO sniper rifles were front and center. Top to bottom: TRG M10 is offered in .300 Win Magnum, .308, and .338 Lapua Magnum, shown with Steiner military 5-25x50 optic and Laser Devices DBAL D2. TIKKA T3 in .300 Win Magnum with Steiner military 5-25x50 optic.
Malaysian military officer looks through the Aimpoint Comp M4 reflex collimator (Red Dot) sight. This lightweight optic is the industry standard for fast acquisition, zero magnification optics. www.aimpoint.com
This young woman is a Malaysian Army soldier from the Malaysian Ministry of Defence. She is looking through MODIAR's IST series anti-material rifle optic. The IST rifles are offered in 12.7x108mm and 14x114mm calibers.
GIDS from Pakistan had a large booth presence as usual. GIDS has recently finished with a delivery of the Baktar Shikan rocket launchers. This is a clone of the Chinese HJ-8 (Hongjian-8) or "Red Arrow" made under license in Pakistan. This is a wire-guided missile with a range of 100-4000 meters. Penetration in armor at a 0 degree angle (direct) hit is between 800mm and 1100mm. The rocket is set on a display above the launch cartridge tube. Once fired, the tube is changed for a new, pre-loaded one. www.gids.com.pk
"Jernas" is the export version of the British Rapier, a low level Surface to Air Missile guided weapon system (SAM). Hostile aircraft are identified using radar, and the Mach 2+ missiles (Approximately 1400 mph) seek and destroy the aircraft. There are 8 missiles and a thermal imaging system for the operator to engage the targeted aircraft. www.mbda-systems.com
Azerbaijan's MODIAR is aggressively marketing around the world. In this display, they have their ammunition offerings up to 14.5x114mm including blanks, as well as their 9x19mm Zafar and INAM pistols. www.mdi.gov.az
Truvelo Armoury from South Africa has been marketing their extremely accurate sniper and anti-material rifles around the world. In Malaysia their display featured the CMS rifle in 12.7x99mm- .50 BMG. With an effective range of 1800 meters, this big bore rifle has 1 MOA at 500 meters (Ammunition dependent, of course). It weighs in at 14 kg with optic and magazine, and Truvelo's unique four lug locking system provides excellent stability and safety in the firing platform. www.truvelo.co.za