4-foot tall warrior-demon figures from a 16th Century temple off of Bangkok's main canal. Decorations were made from Chinese dishes that were broken up in a shipwreck and the King decreed the beautiful shards should be used in this immense temple.
Every other year, the Ministry of Defence of Thailand sponsors an excellent four-day Defense & Security trade show at the Impact Exhibition & Convention Center, in Bangkok, Thailand.  Defence & Security is one of the most important shows in the Pacific Rim area, and it draws important exhibitors and buyers as well as direct end users from many countries.  The emphasis is on Asian countries, but it is fertile ground for American, European, and African manufacturers to display at as well.

The show promoters promise a very important crowd of defense related attendees, and they have always delivered on this.  Seen at this show were high-ranking officials from the Thai Defence Ministries and Departments, and the Army, Navy and Air Forces of various Asian countries; Thailand, Malaysia, Singapore, Indonesia, Philippines, Cambodia, Laos, Vietnam, Brunei, India, Pakistan, Korea, China, Sri Lanka, Japan, U.A.E. and Australia.  Many other uniforms or business cards were noted – Chiefs of Police, Coast Guards and Private Security Firms throughout the region.
Like many international shows, there are "country pavilions" set up so that it is easier for exhibitors from like countries to work together on setting up and working their presentations.  Companies with competing products are certainly in these pavilions, but competition breeds excellence and tends to help each company work on their "best foot forward" presentation.
Almost every attendee that SADJ spoke with was upbeat about the networking opportunities that were at this show.  Innovation is also alive and well in the small arms industries of many countries.  We noted a very nice drop-in bullpup stock that fits the HK33 and HK53 rifles, which the Thai inventor did not want photographed, as well as numerous other accessories that were being put out in front of the end users to get their opinions.
The next Defence & Security is in 2009, and the theme is "The Art of Defence."  The date is 4-7 November, 2009 at the Impact Exhibition & Convention Center, Bangkok, Thailand.  Exhibitors and attendees should start making arrangements now.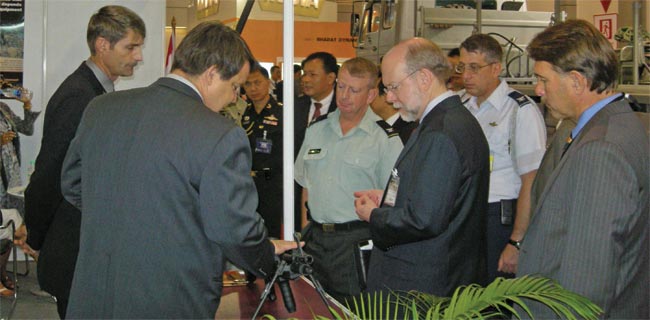 Dave Delp (left) and Steve Helzer explain the operation and upgrades of U.S. Ordnance's MK43 GPMG (M60E4), to the U.S. Ambassador to Thailand, the Honorable Ralph L. Boyce (center with beard), as Curtis Debord looks on (right). The Ambassador graciously hosted a reception for the U.S. Pavilion attendees at his residence in Bangkok. www.usord.com (Photo by Dan Shea)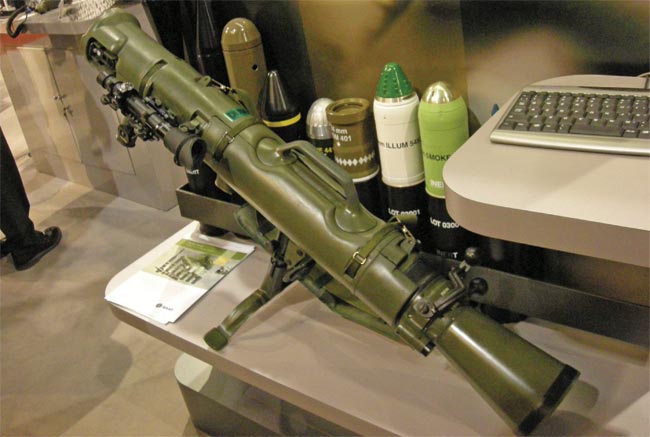 Saab Bofors featured their M3 MAAWS 84mm Recoilless Rifle, which is currently used by many armies around the world, including the US Air Force and the US Army Rangers. (Photo by Dan Shea)

U. S. Ordnance also premiered their new export model M4 Carbine. (Photo by Dan Shea)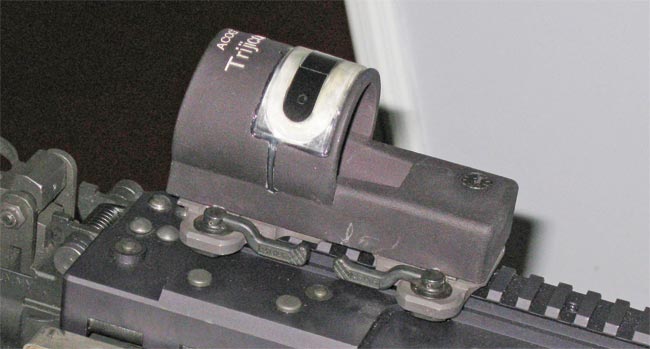 Trijicon's new lower profile advanced Reflex sight fit in perfectly with U. S. Ordnance's MK43 Mod 0 machine gun. (Photo by Dr. Philip H. Dater)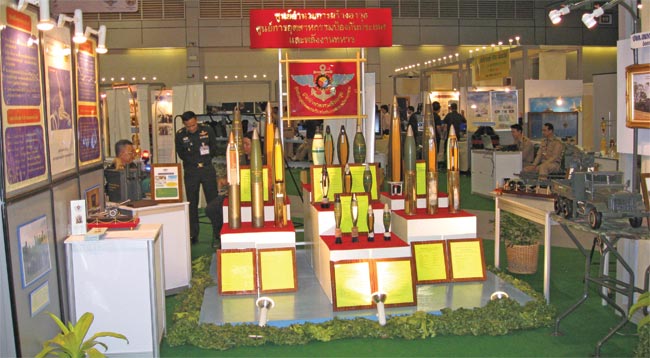 Indigenous Thai manufacturing includes ammunition for cannon and mortars, including high quality HE and smoke variants in 60mm, 81mm, and 120mm mortars. (Photo by Dr. Philip H. Dater)

Bushmaster was set up with numerous rifles on display, and they were quite busy the entire time, as were most of the US Pavilion exhibitors. On the left is the Bushmaster Carbon 15 9x19mm LE pistol, on the right is the Bushmaster C15 LE submachine gun in 5.56x45mm. www.bushmaster.com (Photo by Dr. Philip H. Dater)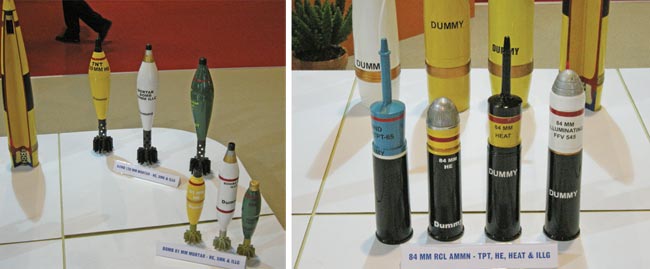 Indian Ordnance Factories had a large booth but they were not featuring their basic small arms with the INSAS and their new caliber 5.56x30mm, other than mortar ammunition and the new offering of ammunition for the M2 and M3 Carl Gustav 84mm Recoilless Rifle systems. (Photo by Dan Shea)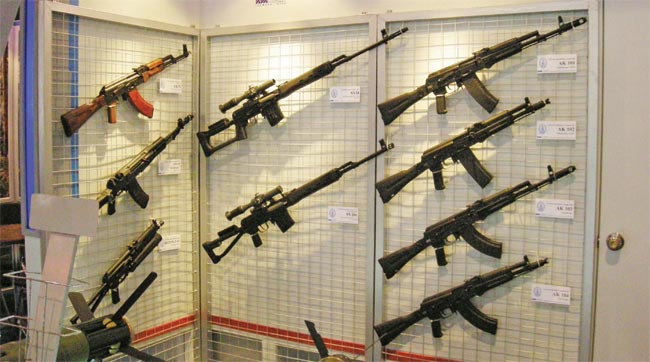 The Russian Kalashnikov variant offerings from Izhmash included some other items: Left column (top) AKM 7.62x39mm, (middle) AN-94 Abakan 5.45x39mm, (bottom) Bizon-2-1 9x19mm SMG with distinctive horizontal helical magazine. Middle column (top) SVD Dragunov sniper rifle in 7.62x54R with PSO style optical sight, (bottom) SVDS Dragunov variant side folding stock in 7.62x54R. Right Column (top to bottom) AK-101 5.56x45mm, AK-102 5.56x45mm, AK-103 7.62x39mm, AK-104 7.62x39mm. (Photo by Dan Shea)