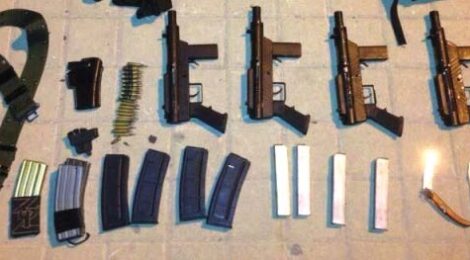 Israel Defence Force (IDF) soldiers from the Yahalom ("Diamond") special unit, recovered hundreds of weapons as well as quantities of ammunition and explosives during a raid in Nablus, West Bank, on 17 June 2014.


Prominently featured is an AR-15 with A1 style 20" barrel, A2 style handguards, and fitted with what appears to be a cheaply made Chinese 20x magnification telescopic sight. The weapon is not an IDF configuration, so it may be a civilian semi-automatic variant (the scope reinforces this likelihood). A number of AR-15 accessory and component parts are also visible, suggesting attempts at basic gunsmithing.

Several homemade, blowback-operated submachine guns have been captured, most likely chambered for 9 x 19 mm. These are of the type previously recovered from Hamas, and sometimes referred to locally as 'Carlo pistols'. They are built upon simple round-section metal tube receivers, with these examples featuring AR-15 pistol grips.

One image shows a 1950s-vintage Beretta Model 951 type pistol, chambered for 9 x 19 mm. An AR-15-style CO2 paintball gun is seen in one image, and an air rifle or possibly expedient single-shot
rifle also appears.