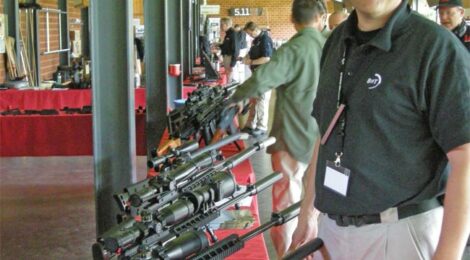 Brügger & Thomet Police Day is held every two years in June in Thun, Switzerland at the Guntelsey Range.  What started as a friendly get-together with customers and vendors has turned into an impressive show of state-of-the-art weapons and gear for tactical and military users.  One must be invited by B&T or a vendor, or accepted after registration on-line.  Filling in the form is no guarantee of acceptance as they need to know who you are and why you would be at this show.  Thus, acceptance to display at this show is discreetly sought, and getting in front of the Swiss military and law enforcement can be of great value to a company.  To display, B&T's business partners are accepted, others must apply.  This year's show had close to fifty companies displaying with over 580 visitors; some of whom brought guests from around the world.
The range setup allows for the vendors to have live fire of their weapons on the range, as well as long ranges for trying optics, thermals, NV, etc.
At times there are seminars.  One year, Dr. Philip H. Dater, the eminent sound suppressor designer, presented.  This is an area that SADJ would encourage Mr. Brügger to expand on.  With his resources and knowledge, he could bring much more information to the end users.
Pages: 1 2