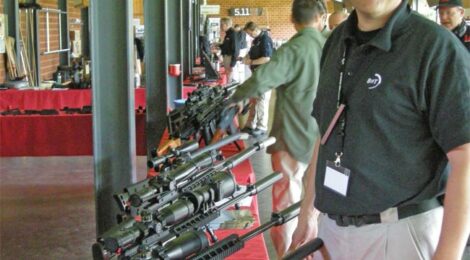 TASER introduced their TASER X12 dedicated less-lethal shotgun done in cooperation with Mossberg but did not have the actual X12 on display. The X12 is dedicated, and has a Radial Ammunition Key System that rejects lethal rounds. The X12 features high-twist rifling for using these low-velocity TASER rounds. It has TASER-yellow coloration on it for identification (not shown on this shotgun) and uses a TASER X-Rail mounting system on the front for the use of secondary accessories and the M26 TASER along with a tactical, collapsible stock optimized for the TASER XREP projectile. The XREP projectile has four prongs to the front and two somewhat hidden prongs on the rear. The wire is also electrified. TASER CAM was introduced to the European attendees, even though it's been out for two years. TASER CAM, when you turn on and activate the switch, starts to record whatever is happening where the TASER is pointed and it also records sound from that point. When you turn it off, it ceases. You can then download the file from a USB port. It has a rechargeable power supply, records over an hour of audio and video, and it records in zero light conditions as well. TASER CAM is compatible with all TASER X26 devices. (www.taser.com)
Brügger & Thomet Police Day is held every two years in June in Thun, Switzerland at the Guntelsey Range.  What started as a friendly get-together with customers and vendors has turned into an impressive show of state-of-the-art weapons and gear for tactical and military users.  One must be invited by B&T or a vendor, or accepted after registration on-line.  Filling in the form is no guarantee of acceptance as they need to know who you are and why you would be at this show.  Thus, acceptance to display at this show is discreetly sought, and getting in front of the Swiss military and law enforcement can be of great value to a company.  To display, B&T's business partners are accepted, others must apply.  This year's show had close to fifty companies displaying with over 580 visitors; some of whom brought guests from around the world.

The range setup allows for the vendors to have live fire of their weapons on the range, as well as long ranges for trying optics, thermals, NV, etc.
At times there are seminars.  One year, Dr. Philip H. Dater, the eminent sound suppressor designer, presented.  This is an area that SADJ would encourage Mr. Brügger to expand on.  With his resources and knowledge, he could bring much more information to the end users.
Pelican recently purchased Hardigg cases with their roto-molding program, and the European distribution was set up with nice examples of the RALS, Remote Area Lighting System, and several other smaller units that are self-contained, including a rolling pack with battery system inside. There were several examples of mobile armorer tool and work chests that seal up tight and all of your tools and parts are kept in well-numbered drawers. Shown on the ground is the 1780W 12-weapon transport chest, which holds twelve M16s. Next to it is the single field desk which folds up and has six drawers in a chest. On the counter is the 9430 Remote Area Lighting system. On the ground, the double light head unit is the 9460 in black. (www.peli.com)
The Bushnell Group includes Uncle Mike's, Butler Creek, Hoppe's, M-Pro 7 and Stoney Point Products. They were featuring some of their law enforcement gear, but also the BoreSnake was being introduced in some of the European arenas. Bushnell also has a new 42mm Law Enforcement scope, 2-5 x 16 power as well as a 4.5 x 30 with a 50 mm objective. (www.bushnell.com)
SIG Sauer presented their 40x46mm grenade launcher with a B&T ring mount, set up with an Aimpoint Comp M24MOA, with the remote trigger system on it. The 40mm GL has a side-folding stock, and iron sights graduated from 25, 50, 75, 100, 150, 200 meters.
The SIG Caspar 751 is a 7.62x51 NATO upgrade of the SIG 550 series rifle design. It features a side-folding stock, trigger guard that folds out of the way for use with gloves, a forward located recoil assembly, and uses a proprietary magazine. As displayed at the show, it has a Leupold Mark 4 3-10x tactical scope using B&T scope rings, and emergency BUIS. The 751 features single, three-round burst and fully automatic selection, and a cold-hammer forged six groove barrel. The example shown uses a B&T Rotex-III 7.62-caliber suppressor and a Versa-Pod bipod on the lower rail. (www.sig-sauer.de)
The SIG Sauer offering of the 553-2 series is their newest version of a short entry 5.56mm carbine, which was of prime interest to many attendees. "553" is the short carbine as shown, "-2" means a barrel twist of one in seven inches. "-1" would mean a twist of one in ten inches. The barrel has a 22mm flash hider that accepts NATO standard rifle grenades. Of course, the B&T rail forend for the SIG Commando Series is utilized, and there is a DBAL-A2 visible and non-visible laser attached. The recoil system on the 553 series has been moved away from the somewhat problematic rear-opening system on the 552 series, to a more standard-type SIG, front mounted that's inside the hand guard area. The charging handle has been re-designed to address concerns on the 552 series. The optic is an ACOG standard with desert finish, with a DOCTER micro reflex sight on top for fast target acquisition.
Rheinmetall Defence presented the very lightweight LLM-PI laser light module pistol. The operator needs to choose whether he wants one utilizing visible or non-visible laser. It has an LED operation that supplies a luminous flow of about 100-120 lumens. The unit is very lightweight, weighing in at less than 100 grams and is waterproof to a depth of 30 meters. The operator can adjust the flashlight beam down to about half normal power and the laser is adjustable as well. The system utilizes Mil-Std 1913 or Picatinny rails with various mountings available. It has a five-level rotary switch, a rocker switch for left- or right-handed users and button switch operation. This provides the user with many options depending on the mission. The battery is a CR17345, Duracell number DL123A. (www.rheinmetall-defence.com)
Oerlikon Contraves has made a new fire-control unit for putting on a battle rifle that utilizes a 40x46mm module for firing grenades. The system includes visible and non-visible lasers, with a range-finding laser as well. It is very quick to use, with a menu on the back, as well as selectable languages; English, German, French were in the system at the show. The system mounts on your side rail, and standard optics mount on the top rail. The unit weights 700 grams. The operator pre-programs what ammunition will be used and once aim is taken, the target distance is lased, and the unit automatically adjusts on a 0-14 scale to bring the aim directly onto target. Oerlikon Contraves is a division of Rheinmetall Defence.
From the Vectronix line, SADJ was focused on two units. First is the Tarsius 16 miniature night vision monocular. This can be placed on a helmet mount and switched from right or left side as a single mount, or it can used as a dual mount so eyes are working NV. The same Tarsius 16 can be set up in tandem, as shown, on an M16 top rail, with an Aimpoint Comp 2. The LRF pocket laser range finder is a very lightweight unit. It can be ordered with or without either an internal compass; the "C" in the name indicates "compass." The 905 wavelength is occasionally visible to night vision. The 1500 series gains an extra 500 meters of range finding, up to 3,000 meters, but also is non-visible.
NightSearcher is a British company, presenting the Solaris lines of LED portable lighting systems. Pictured on the left is the Solaris Light, which has a dual-lumen set of 3,000 on high or 1,500 on low. If it's on low power, it will run 15 hours; high power is six hours. Recharge time is about five hours. The center is the Solaris Quattro, which has a charge time of 10 hours. When running all four heads, there are 12,000 lumens on high for three and a half hours, 6,000 on low at eight hours. Operators can utilize one, two, three or four heads. The Solaris Solo (16 kg) on the right has a charge time of seven hours, and the running time with a single head on it is eight hours on high power, 20 hours on lower power. High is 3,000 lumen, low 1,500 lumen. (www.nightsearcher.co.uk)
Pages: 1 2