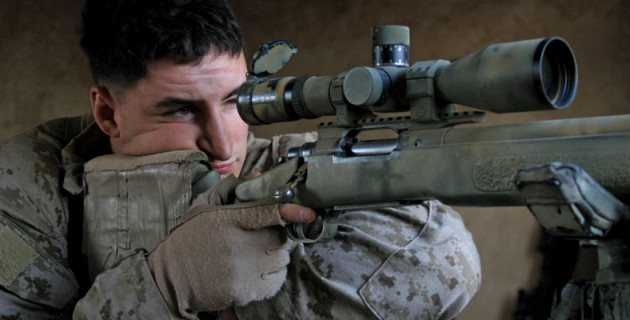 December 2010, MCB Quantico, VA. A close look at one of the original, unmodified Remington 700 rifles, bought by the Marine Corps back in the late 1960s and given the designation M40. (Robert Bruce)
SADJ:  Are there plans for upgrade of test facility infrastructure/equipment?

Fiene:  Construction and installation of an acoustic target system is underway.  We hope to have it up and running by August.  Right now there are Marines downrange in the pits.  We shoot holes in paper targets and the guy in the test shed is watching through a scope to make sure impacts are tight or if there is a 'flyer.'  We get on the radio to the guy in the pits, he pulls the target down, measures the group with a ruler, and radios back the group size.  What the acoustic system will do for us is to instantaneously relay those group sizes back.  We won't have to put a Marine down there to measure targets.  I can keep that guy on the floor building guns instead of operating a tape measure.
SADJ:  Will the current 300 meter test range eventually get put underground to minimize weather effects on accuracy evaluation?
Fiene:  Underground?  I highly doubt that.
SADJ:  What are final test requirements and standards for M40A5 sniper rifles before release?
Fiene:  Firing five-shot groups of factory loaded M118 for a 1 MOA (minute of angle) group – inside a 3.3 inch circle at 300 meters.
SADJ:  Does the mandatory high pressure proof cartridge affect the precision mechanical alignment of the rifle and thus the accuracy of subsequent rounds? 
Fiene:  It hasn't that we've found.  I don't think they've ever had a gun that failed the proof round test.  Maybe if we would forego the proof round, fire the rifle for accuracy then proof it, we might see some change to the accuracy but I doubt it.
SADJ:  What recommendations would you like to make up the chain-of-command to improve the ability of PWS to perform the mission?
Fiene:  I'd say just keep supporting us.  Throughout the history of Rifle Team Equipment Shop and now PWS the questions have been asked, 'are you guys still necessary?  Why do we need you?'  I say to the chain of command 'we are relevant, we're the only military service that has military personnel building weapons for their own.'  We have Marines building weapons for Marines and none of the other services do that.  The Army's MTU builds competition weapons, not combat weapons.
18 January 2010, Helmand Province, Afghanistan. A sniper attached to Alpha Company, 1st Battalion, 6th Marine Regiment takes aim with a Knight's Armament MK11 7.62mm semi-auto during a firefight with insurgent attackers. CWO5 Fiene told SADJ that when batches of these highly specialized weapons would come back to PWS for repair they'd try to swap out enough parts to put some back in the fight. New M110s from Knight's are scheduled to replace all previous semi-auto 7.62mm rifles in the Corps. (USMC photo by Lance Cpl. James Clark)
SADJ:  Need more people?
Fiene:  No, we're staffed right for the missions.  We're extremely busy right now because the acquisition objective for precision weapons increased in the Marine Corps but I don't think that will continue.  In the not too distant future we'll have all the rifles built that SYSCOM wanted us to build.  We'll be primarily back into rebuild operations for that.
SADJ:  With the very small population of 2112s in the Corps, how is career progression facilitated?
Fiene:  2112 is an additional MOS (Military Occupational Specialty).  They compete for promotion in their primary MOS of 2111 Armorer.  2112s only come here for a three year tour and they go back to the fleet.  Most in recon battalions, MARSOC (Marine Corps Special Operations Command) and Ordnance Maintenance companies at the bases.
SADJ:  With the likelihood of being hired by civilian or government entities at attractive wages and other enticements, how does the Corps retain its highly trained and well seasoned 2112s?  
Fiene:  Don't let industry come in here (laughs).  There have been times people have jumped ship for more lucrative paychecks on the civilian side.  By and large I think we keep these guys by their love of being Marines and doing Marine things.
SADJ:  Where is the work on optical sights done?  
Fiene:  Program Manager for Optics at Systems Command.  Recently, the procedures have changed and the sniper rifles that come here for rebuild will not have scopes on 'em.
SADJ:  What weapon(s) have the highest production priority right now?   
Fiene:  M45 Pistols and M40A5 rifles.  The Corps needs 2,800 of the M45 pistols and that leaves us about a thousand more to build.  The M40A5 has a total requirement of 1,080.  It went into full production around Feb 2009.  About 580 M40A5s have been delivered to the fleet at this time (interview on 9 May 2011).  It's strictly an estimate but I think the last M40A5 will come off the production floor and pass its acceptance firing in August 2012.  Most of what we have left are M40A3s that need to be converted to the A5.  These are typically converted when they are reaching the end of their barrel life and that is dependent on usage.
SADJ:  Has this necessitated "overtime" for personnel or a slower rate of production with other weapons?
Fiene:  No, that was mitigated by the four contractors being hired by SYSCOM.
SADJ:  Any problems with acquiring the necessary components to support production?  Any quality or other issues due to bureaucratic requirement for parts from lowest bidder?
Fiene:  Not now.  When they first increased the AAO (Authorized Acquisition Objective) on the M45 CQBP, it took industry a little while to start meeting production timelines.  When you say we need 1,900 more and I'd like to have 'em next week it takes time.  But now we're not having any difficulties in getting the materiel we need.  No quality issues.  As long as you put out your requirement the right way – exactly what you want a particular thing to do – you'll get a product that meets that.
December 2010, MCB Quantico, VA. The long table in the conference room at PWS is set with a feast for the eyes of any weapons enthusiast, in this case an overview of key examples of the sniper rifles built by this unique operation and preserved in its armory for engineering comparison. The three closest to the camera are distinctive versions of the iconic M14 (right to left): National Match M14 for the Marine Corps Rifle Team, M39 Enhanced Marksmanship Rifle, and M14 Designated Marksman Rifle. (Robert Bruce)
SADJ:  Actions for the M40 rifles come from Remington.  Where do the barrels, trigger groups and stocks come from and why these particular sources?
Fiene:  Currently, the barrels come from Schneider, trigger groups from Remington, stocks from McMillan, because these suppliers meet the strict requirements.  Different manufacturers provided their barrels for testing and we selected the one that met our requirements.  It's all done according to current acquisition regulations.  It's SYSCOM's job.
SADJ:  The Corps' MK11 and now M110 rifles come from Knights Armament Corp.  Is there any work needed by PWS before they are sent to the field?
Fiene:  No.  The MK11 and 12 were 'Urgent Need Statement' items.  As they become unserviceable – get beat up or blown up – they would come back here.  We would see what we could make serviceable.  If we got 30 rifles in we might be able to make two or three serviceable and those could go back out to the fleet.  There was no rebuild or support infrastructure for those.
SADJ:  Tell us about the M16 National Match rifle receivers used by CIAP.   
Fiene:  They start out as service grade M16 series rifles from Marine Corps inventory.  The stock trigger mechanisms are removed and replaced with match triggers.  They don't have the automatic sears in them.
SADJ:  Both the M39 EMR and MEU (SOC)/M45 pistol are built from weapons in government storage (M14 and M1911A1).  Are these available in sufficient quantities?  
Fiene:  EMRs are rebuild only, we're not making any new ones.  We've got all the M1911 receivers we need to meet the Acquisition Objective.
SADJ:  Any current weapons at PWS that are expected to be discontinued in the near future?   Anything new coming in? 
Fiene:  DMR (Designated Marksman Rifle) is already gone and the EMR will be completely replaced by the M110.  The M45 could be replaced in the near future with a commercial-off-the-shelf .45.  I think SYSCOM is looking at that.  Nothing new coming in right now.
SADJ:  What would you like to say to young persons considering joining the USMC or currently-serving Marine 2111s about why they should strive for assignment/acceptance at PWS?
Fiene:  Being a Precision Weapons Repairman is the pinnacle of success in the small arms world for the Marine Corps.  The skill sets you get by going through the PWRC you won't get anywhere else unless you go through one of the gunsmithing colleges.  If you're a 'gun nut,' this is the place for you.
SADJ:  What's your speculation on the future of PWS?  
Fiene:  I'd like to think PWS is here to stay.  Everything kind of ebbs and flows.  This facility was originally Rifle Team Equipment support, mostly for Competition in Arms and Shooting Teams.  Right now and for the last ten years because we've been in a fight, there has been more emphasis on making precision weapons — sniper rifles and close quarters battle pistols.  So the pendulum has swung to that side.  While we're still supporting the Rifle Team for Competition in Arms, the focus is really on combat right now.  When that changes and combat operations wind down that pendulum is going to swing back the other way.  We'll probably always have the rebuild program, maintaining those precision weapons out there.
October 2011, MCB Quantico, VA. Staff Sergeant Justin Johnston uses a digital caliper to show the precise dimensions of his 3/4 inch 'perfect cube' aluminum block. All PWRC students starting the course must fashion one using only hand tools. (Robert Bruce)
SADJ:  Retirement?
Fiene:  I think about it only because it's a lot closer now.  I'll be here for a few more years but this will probably be my last billet.  After that I have no idea.  I guess I'll have to grow up….
Chief Instructor of PWRC
A conversation at PWS on 9 May 2011, with Master Sergeant Daniel James Hanus, nickname 'Top Gunz,' PWRC's Chief Instructor and PWS Production Chief.  Now 40 years old, he 'got out of Dodge' (Fort Dodge, Iowa) 21 years ago to join the Corps.  Hanus is proud to have earned MOS 2112, Precision Weapons Repairman, when he was assigned to PWS in 2005.  Although eligible for full retirement benefits at the 20 year mark, he extended his enlistment for the opportunity to return PWS.  At the time of our interview he had been in charge of the students and the production floor for about a year.  His awards include Meritorious Service Medal, two Navy Commendation Medals, two Navy Achievement Medals, Combat Action, Sea Service Deployment, two National Defense, and three Iraqi Campaign Medals.
SADJ:  Tell us about some of your previous assignments.  
Hanus:  First assignment after graduating from the Armorer course at Aberdeen was battalion armorer for H&S Bn., Camp Lejeune, NC.  I was Armory Chief at 1st Air Naval Gunfire Liaison Company.  Here at PWS in 2005, and then 'B Billet' (assignment out of his primary MOS) recruiting duty in Fort Walton Beach, Florida.  That turned out OK – I got a meritorious promotion to Staff Sergeant.  Then 1st Recon Battalion as the Battalion Ordnance Chief, and most recently the senior Marine instructor for Small Arms at the Army Ordnance School, Aberdeen Proving Ground, Maryland.
I had back-to-back deployments to Falluja, Iraq, and one of the biggest lessons I learned there is that weapons in that environment deteriorated very quickly.  About every ten to fourteen days I would take all of our sniper rifles in and do detailed disassemblies and cleaning to keep them from having malfunctions and to help maintain accuracy.  That sand was such a fine powder it had a tendency to get in between the action and the stock bed.  It would actually decrease the accuracy of the rifles.
SADJ:  Are you personally interested in firearms and shooting?  
Hanus:  I love to build guns as a hobby.  My wife can tell when I come home if I've actually been able to work on a gun that day or not.  My attitude is better and there's the smell of gun oil.  I like the 1911 series .45 pistols and the M40 sniper rifles.  I have a Remington 700 in A3 configuration.  I hunt black powder and shotgun.  I have about a dozen weapons; mostly military types, a couple of shotguns and a muzzle loader.
SADJ:  Was it a smooth transition into your new duties at PWS?  
Hanus:  The Marine I replaced, Master Sergeant Rodriguez, had retired and been gone for several months.  But one of our civilian Ordnance Equipment Specialists, Mr. Sean Schumacher, filled the gap.  Also, because I was already here before around 2005, I had past experience and was able to jump right in to production.
SADJ:  Has this assignment lived up to your expectations?  What is the biggest challenge for you when carrying out your duties?
24 January 2011, Marine Corps Mountain Warfare Training Center, Bridgeport, California. We know from the SureFire sound suppressor in place that this is one of the new M40A5s, but this particular one in use by a shooter - spotter team in training at the Mountain Scout Sniper Course looks like it has had a hard life. Due to the skill of the Precision Weapons Repairmen who built it at PWS and 2112 graduates that support the MWTC, it can be counted on to shoot with both reliability and accuracy. In this training exercise the bolt handle is safely up in the unlocked position and there's no magazine in the rifle. (USMC photo by Lance Corporal Sarah Anderson)
Hanus:  Yes it has lived up to my expectations.  As to challenges; keeping Marines focused on the production mission.  They have a tendency to get what we here at PWS call the 'Groundhog Day mentality' – same things every day – so I give them a monthly mission quota.  Once they've achieved that I give them a little time off, a carrot that gives them incentive to work toward that goal.  On the student side the challenge is whether or not they can cut it.  They make it or don't.  It kind of takes care of itself.  I've got a good instructor staff; they're all experienced 2112s that are now civilian government employees.
SADJ:  PWRC materials include a formalized Statement of Purpose, Scope and Target Population/Prerequisites.  Are there any changes likely in the near future?
Hanus:  We've added the screening process that Marines have to go through before coming to the school.  This is something that I started and conduct myself.  They complete and submit the screening checklist to show they have completed all the prerequisites.  Then I give them a math examination.  Shop Mathematics is a big part of the course and one of the big reasons we have to drop students from the course.  I'll give them a kind of miniature version and as long as they can get at least seventy percent right they're what I call 'malleable.'  After that I'll give them a verbal screening, asking 'why do you want to come do this?'  I'll explain that it is a PCS (permanent change of station).  A lot of them think they're going to come here, go to school and go right back to their units.  Some say they're not sure this is something they want to do.  Once everything screens out OK and this Marine is qualified to attend this course, we determine what report date is best and I'll contact the monitor who will get orders issued.
SADJ:  How many students make it to graduation?  What's done to help the ones having trouble?
Hanus:  On average one out of four don't make it.  I use the expression when they first get here, 'not everyone can fly the Space Shuttle.'  Not everyone has what it takes to make it through this school.  We had one who dropped out voluntarily; he was struggling at the beginning.  Course is structured as 'crawl, walk, run.'  He was having problems in the crawl stage but there were problems at home; his father was sick.  He came in and told me 'my head's just not in it and probably not gonna make it.'  So we gave him the option after things got settled at home to come back the next time we have a start.  The ones prior to him were academically dropped.  They just couldn't do it.
Since it's a voluntary school, there are no negative repercussions if you can't make it.  And, because acceptance at PWS is a permanent change of station, they don't go back to their previous unit.  We just call up the duty assignment monitor and get them orders for somewhere else on Quantico.
Remediation depends on the situation.  The instructors are usually here an hour before class time starts.  They'll stay here through lunch and stay after the duty day if a Marine needs it.  But there's a point in the curriculum where he meets standards or doesn't.  If he can't perform the function we make our recommendations but Chief Warrant Officer Fiene has the final say whether he stays or not.