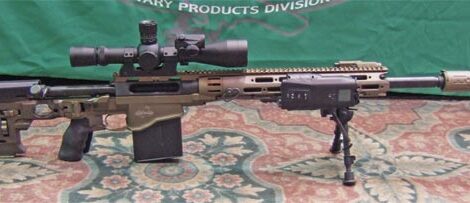 The Remington Modular Sniper Rifle is highly flexible allowing conversion to various calibers.
U.S. Army Infantry Center
Speaking on behalf of the Army, LTC Tom Henthorn, who moved up in to the position held last year by COL Robert Radcliffe, detailed the present focus of the U.S. Army Infantry Center.  Motivated by a missing upload, Henthorn had to forgo the military tradition of "death by Power Point" and successfully gave a blunt and focused assessment of ongoing USAIC small arms efforts.  As with the USAIC brief the previous year, precision fires again held a prominent place and progress since then was clearly visible.  The commencement of a rechambering program for the Army's Remington M24 fleet from 7.62mm to .300 Winchester Magnum is a byproduct of the introduction of the 7.62mm Semi-Automatic Sniper System (SASS) and the requirement detailed in the 2008 symposium for a long range sniper system to fill the gap between 7.62mm and .50 BMG platforms.  The rechambering of the M24 long-action became feasible as the Army nears completion of M110 SASS fielding, which was in its infancy during the last conference.  Also in the areas of precision fires the USAIC continues to work jointly with SOCOM on a Precision Sniper Rifle (PSR) requirement.

LTC Henthorn also announced that the USAIC plans to move to phase two of its capabilities based assessment (CBA) that is used to evaluate capability gaps, the foundation for requirement documents.  Currently, weight studies addressing the M240B machine gun's use in the dismounted role, and development of new arms room concepts using shot counters to facilitate inventory and maintenance, are also planned.  As a conclusion, Henthorn reemphasized to attendees the overall Soldier satisfaction with individual weapons supported by USAIC surveys from on-site input by warfighters, stressing that the U.S. Army has a healthy small arms fleet that USAIC is looking to make even better in service to ever changing mission requirements.
USMC Systems Command
In recent years, the Marine Corps has been a leader in proactive and practical weapons programs as the JSSAST brief by COL Andrew Bianca of USMC Systems Command (SysCom), Infantry Weapon Systems, confirmed.  Not only has the Corps recently fielded light weight 60mm and 81mm mortars and the M32 multi-shot grenade launcher, they have also pushed forward with another ambitious project geared specifically to the light warfighter, the Infantry Automatic Rifle (IAR).  Down selected to four candidates, the intention is to give the Marine Integrated Rifle Squad a light automatic weapon capability to offset some of the disadvantages encountered by the M249 design in current infantry operations.  Bianca was careful to point out that the IAR will not be an M249 replacement, but an added capability to the USMC arsenal.  This is not the only improvement Marines are likely to see coming their way, as an organization with abundant M16A4 rifles in service, SysCom has initiated an effort to replace the standard stock with an adjustable/collapsible model allowing for improved weapon fit to a higher percentile of personnel, with one demand, that the reliability of the weapon remain unaffected.  According to Bianca, the key reliability criteria has yet to be sufficiently attained.
The Army is certainly not the only service seeking greater precision fires capabilities as COL Bianca outlined an effort underway to upgrade the venerable M40 sniper rifle to A5 configuration, including a modular stock and improved barrel.  In the same arena, the USMC will also be seeking to replace the current issue MK 11 with a Rapid Engagement Rifle to fulfill a similar role.  Considering the Marine Corps is also involved with the joint SOCOM PSR program focused on a long range sniper platform, it seems the tradition of superior marksmanship will continue.
One unique aspect of current Marine Corps efforts is the fielding of foreign weapons kits as training aids designed to familiarize Marines with the common weapon systems of the enemy they will encounter overseas in caches, homes, and on the battlefield.  Currently the service fields three such kits, which are modeled after the common array of ComBloc weaponry, and will be seeking to add eight additional.  The training gained at home station before encountering these systems in-country is highly beneficial and increases the safety of warfighters often forced by necessity to deal with foreign weapons and ordinance with nothing but common sense and guess work.
Air Force, Navy, Coast Guard & SOCOM
The other branches, in part because of the Army's traditional role as executive agent and weapons lead, had little to add to the presentations previously given as far as new land warfare developments were concerned.  There was however an update on current training issues within the Air Force by COL Patrick Lopardi who revealed to the audience the Air Force's desire to improve its indoor and outdoor range capabilities, which at the time are limited, to include complex scenarios and even vehicle engagements.  Lopardi was followed by CDR Thomas Geteski of the Navy who announced the Navy plans to complete its small arms modernization begun previously by FY10.
The Coast Guard brief by CPT Scott Genovese focused on emerging needs and recent success.  The USCG is eighty-five percent complete transitioning its small force away from the 9mm Beretta M9 pistol to the SIG P229 DAK .40 S&W.  The Coast Guard has also achieved considerable success implementing one of their newest tools in the arsenal, the Barrett M107, which replaced the aging Robar as the USCG's primary precision anti-material weapon.  Drug smugglers, ever more desperate due to increased interdiction and pressure from offensive operations by Mexican forces, have moved away from the classic cigarette boat technique after suffering setbacks at the hands of USCG gunners wielding M107s from rotary winged aircraft.  As a result, smugglers have been forced to use make-shift submersible craft while attempting to get product to US shores; a sign that they are losing the battle with the Coast Guard.  Success unfortunately is often tainted by loss, and CPT Genovese informed the participants that recently a gunner was killed in the line of duty after being ejected from a small high-speed watercraft.  As a result, as often happens in the wake of such an accident, the Coast Guard is seeking to remove their gunners from the danger of hazardous bow positions and asks industry for information regarding gyro-stabilized weapon systems suitable for this purpose.
Mr. Nyles Wilcox representing SOCOM, PEO SOF Warrior, appealed to industry for cooperation developing new capabilities his organization would like to see come to maturity.  As to be expected, one improvement being sought is more effective suppressor technology, which will reduce firing signatures, both visible and audible, as the group still makes heavy use of legacy weapons and suppressors.  SOCOM is also seeking combined technologies that will reduce laser and optical footprints by combining multiple devices into a common platform, a concept tried in the past with the XM8 and currently fielded by units within the Israel Defense Forces.  Along with combined technologies, a capability for sighting systems equally flexible and rugged for light and heavy weapon interoperability has emerged due to failure of some devices when exposed to excessive shock and vibration.  In the end, Mr. Wilcox made apparent that his approach during the session was focused on, "what industry can do for SOCOM" with flexibility, reliability, and interoperability the watchwords in typical SOF fashion.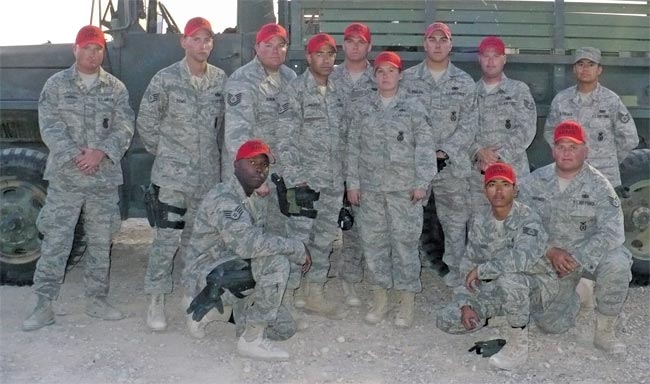 Cadre of the USAF Heavy Weapons Range, 99th GCTS, Desert Warfare Training Center. The professionalism of these NCOs was crucial to the firing demonstration's success and safety.
Awards and Recognition
Each year NDIA recognizes personnel and organizations for their accomplishments in the small arms field.  The awardees and their accomplishments will only be briefly detailed due to space considerations, but for a full explanation of each award's purpose and dossier of the recipients, refer to the Spring 2009 issue of SADJ.
2009 Chinn Award: Mr. Joel Goldman (SADJ, Spring 2009, pgs 110-111)
2009 Hathcock Award: Robert J. Thomas, CDR, U.S. Navy (ret).  (SADJ, Spring 2009, pgs 114-117)
2009 Ambrose Industry Award: Otis Technology, Inc. (SADJ, Spring 2009, pgs 112-114)
2009 Professional Service Award: Mr. Hays Parks (Not present at event.  Will speak in 2010, Dallas)
2009 Professional Service Award: Mr. Volker Kurtz, originally presented at the 22nd Annual Small Arms and Cannons Symposium, August 2008, Shrivenham, England. (SADJ, Spring 2009, pg 104)
Academia
The NDIA Small Arms Systems Symposium has developed a reputation internationally as a place where new concepts in the field gain footing.  It is expected among participants that besides briefings from military officers and program managers, some of brightest minds, both youthful and mature, will address the crowd in three days of technical papers related to all aspects of small arms and munitions development.  It would be impossible in a brief article to discuss all of the topics in depth, but there are some notable presentations that deserve mention.
The keynote speaker on the 21st of May was COL Eric Burns, USAF, OIC of the DoD Comparative Testing Office.  Under the auspice of the Office of the Under-Secretary of  Defense  (OUSD), Advanced Systems and Concepts, Burns comparative testing involves worldwide travel seeking out pertinent technologies and ideas, much of it CotS.  "Our job is to go out and find world class items.  Believe it or not we find world class items all over the world." briefed Burns.  "We find great gear in all shapes and sizes."  Why look outside of the U.S.?  Well, as Burns made clear only forty-six of the top one hundred defense contractors are American companies, with the rest dispersed across the globe.  "Lots of technology coming off the floor can help the guys in the environment they're in right now." Burns added as he listed some of the office's success stories.  The office has made considerable achievements and has played an integral role during the early stages of programs such as the Special Operations Combat Assault Rifle (SCAR) and the AT4CS, a confined space version of the legacy anti-tank munition with greatly reduced back blast.
COL Burns also took a moment to mention some noteworthy small arms systems encountered during his world travels to include the SP-22, a development of the SR-21 bullpup, which somewhat resembles the Israeli Tavor system.  Chambered in 5.56mm, the rifle contains notable features such as an integral optic and laser device that is delivered zeroed from the factory.  Also discussed was a 20mm anti-material rifle from South Africa, though not identified.  It is worth noting that these foreign made commercially available weapons answer capability gaps or desired enhancements presented by other organizations during the briefing sessions.
Aside from weapons, an emerging technology being developed by a team under Dr. Brett Bagwell of Sandia National Laboratories caught the attention of those intuitive to the fact that a good optic will radically enhance system performance when incorporated with the right ammunition and training.  Developed in response to Dr. Bagwell's belief that current optical aiming solutions are not optimized for the varying scenarios warfighters encounter today, he set off on a mission to develop a small, quick, and effective variable power optic.  The potential in the design produced by his Sandia team lies is the use of deformable lenses in place of traditional scope designs that rely on changes in the distance between the aperture, erector, and eyepiece to effectively change focal length and vary magnification.  Dr. Bagwell's team has successfully developed a unit to proof the concept that Adaptive Polymer Lenses, electrically driven to change the surface shape of lenses instead of their distance from one another, can achieve quality variable magnification in a small robust package.  This technology, pioneered to provide camera lenses to the cell phone industry, seems to be an excellent compact alternative for manipulating light transmission to provide the desired image in weapon optics and its progression should be watched closely.
The most climactic paper of the symposium was a follow up to "Time for a Change" presented in Dallas during the 2008 symposium.  Last year the author, Mr. Jim Schatz, found himself in the spotlight as he offered constructive criticism of the current small arms procurement system utilized by the Department of Defense, and particularly the Army.  His presentation, based on available data in the public domain and grounded in two decades of involvement in the defense small arms industry, made the case that American warfighters today generally use weapons that while good, are aged and no longer the top of their class.  Mr. Schatz concludes that a historically broken development and procurement process for military small arms is to blame, and that the process should be reviewed and altered to correct what he sees as a detachment from the small arms end-user by those who develop the products.