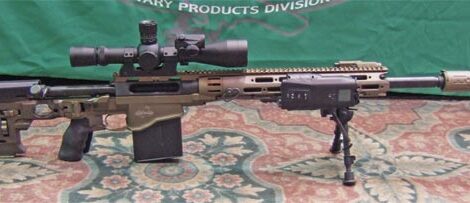 Schatz's update for 2009 expanded on this premise, but took time to recognize the radical progress made since the original presentation.  He noted that new ambitious personnel holding key military positions involved with small arms technologies, engaged leadership and oversight, and general acceptance and recognition of the eclipsing technology available on the market has combined to push the "system" in the right direction.  The presentation maintained that efforts, such as the Army's Future Carbine, are only the beginning and must be maintained and expanded to be a permanent way of operating while inclusive of all classes of small arms systems.  Schatz used assessments of threat weapon systems currently fielded, such as the Russian AN94 rifle, GSh-18 pistol, and Chinese QBZ-95 bullpup, to underscore the threat to U.S. small arms dominance and the danger to our Soldiers in the field who may find themselves in situations where they do not have the overmatch advantage so cherished in U.S. doctrine.

The briefing did not only offer criticism, it recommended solutions.  Many of the solutions were repeated from last year to include keeping programs focused not only on leap-ahead technologies, but also readily available solutions that can see rapid implementation such as evaluation and fielding of superior CotS weapon systems.  Another solution was meant to draw the end-user closer to the decision making process by implementing a User Small Arms Advisory Panel (USAAP) composed of established and reputable end-users, removed from the bureaucracy of the "system", directly answerable to an outside oversight authority.  The USAAP would be an advisory and decision making body that convenes regularly to ensure that fielded small arms technologies meet operator needs and are not eclipsed for any prolonged period of time.  The USAAP's recommendations and decisions would be a driving mechanism to the developmental, industrial, and procurement community.  Schatz's conclusion was simple; we have made significant headway, but there is still too much bureaucratic process hindering the ability of the U.S. Military to provide the best small arms available.
Other notable briefings throughout the event include U.S. Navy Small Arms Ammunition Advancements presented by the Naval Surface Warfare Center, the Soldier Weapons Panel presented by the U.S. Army PM Soldier Weapons office, Using 40mm AGL as a Precision Weapon at Long Ranges briefed by Defense R&D Canada, The Modernization and Expansion of Ballistic Test Capabilities at the Lake City Army Ammunition Plant briefed by ATK, and the Shrike 5.56- Advanced Weapon System by Ares Defense Systems Inc.   Document downloads and Power-Point slides from all briefings can be accessed for reference online at http://www.dtic.mil/ndia/2009infantrysmallarms/2009infantrysmallarms.html.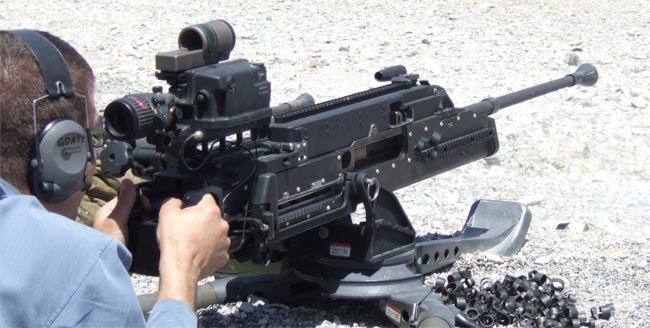 The XM806 light weight .50 cal. BMG machine gun is nearly half the system weight of the venerable M2 offering substantial anti-material capability to light forces.
In the Exhibit Hall
To anyone who likes gear and guns the exhibit hall at the NDIA Small Arms Systems Symposium is a fantastic place to be.  But this year was particularly exciting due to the huge outpouring of vendors, many with new and exciting products.  The natural course for this writer is to link the requirements of the services to the tangible products available today from the industry, of which it is safe to say, there is no shortage.  A few will be discussed here along with some other notable systems that improve or offer new capabilities.
Precision Sniper Rifle (PSR)
With so much discussion among the services regarding precision fires capabilities it was not astonishing to find vendors who were responding with new products.  Some of the notable products exhibited in this class included the Remington Modular Sniper Rifle (MSR), the SIG Tactical 2, and the Ashbury international Asymmetric Warrior series.  All of these systems offer .338 Lapua chambering for long range flat shooting capable of filling the void between 7.62 NATO and .50 BMG munitions; very much in-line with the PSR capabilities being sought by the services.  The Remington and SIG systems focus heavily on flexible use and modularity allowing for ambidextrous operation through rapid modular parts exchange, multiple adjustments for length-of-pull and cheek weld, and most prominently, interchangeable barrels and bolts allowing for a slew of calibers to be hosted on a single system.  The Ashbury design lacks the inter-caliber feature, but retains a high degree of modularity and benefits from constant design updates from the company's dedicated staff, obvious from the inclusion of the carbon fiber heat shield with rail bearing surfaces shrouding most of the barrel, which was absent from the design exhibited last year.  Both Remington and Ashbury also offer modular stock upgrades for Rem. 700 style weapon systems.
As a compliment to PSR platforms Knight's Armament was exhibiting a substantial capability increase for precision fires weapon systems in the form of their bullet flight ballistic calculator software compatible with commercial iTune music devices.  Introduced at SHOT Show 2009, the ballistic software gives the weapon operator quick access to a wide assortment of ballistic data featured in easy to use touch screen windows.  Designed to be as user friendly as possible with an optional weapon system side mount that allows the user to remain behind his platform, the Knight's system goes beyond generalized computing and allows for the selection of specific ammunition variants by type and manufacturer while computing environmental and range data.  Coupled with a good range finding scope, a Knight's ballistics computer has the potential to substantially decrease workload and margin of error for the precision marksman both at the range and in the field.
Assault Rifles, Carbines and Machine Guns
As the Army actively moves toward fair and open competition for an M4 carbine replacement, there are already a slew of manufacturers offering rifles and carbines that will make the "Future Carbine" solicitation one to watch carefully.  In response to an Army RFI (Request for Information) nineteen vendors, many of whom were present at the 2009 NDIA event, attended an industry day in November of 2008 to display their wares and capabilities to Army leadership, including the honorable Pete Geren, Secretary of the Army.  It seems that innovative rifle designs and capable production facilities are springing up overnight, and without a clear solicitation as of yet, the rights to produce the future individual weapon for U.S. Army Soldiers is still anyone's game.
Colt Defense, as the current sole source producer of the M4, has been busy producing new innovative designs based on the basic AR-15 type platform.  The company's Advanced Combat Carbine (ACC) and Advanced Piston Carbine (APC) first fully revealed at the 2008 AUSA convention in Washington D.C., offer logical improvements over legacy systems such as a monolithic rail system and improved barrel construction for enhanced accuracy and service life.  The company's decision to offer two operating mechanisms based on common platforms, direct gas impingement (DI) on the ACC and short stroke gas piston on the APC, has given Colt a flexible product line capable of following the ever changing winds of the DI vs. Piston debate.  It is noteworthy that a semiautomatic version of the ACC is in full production for the law enforcement market, designated the LEO 6940, at a rate of 1,000 per month, despite Colt's busy production schedule that spans not only commitments to the U.S. military and law enforcement agencies, but also foreign military and commercial sales.  Also displayed was the Colt IAR candidate as submitted to the USMC featuring DI operation and specialized heat sink capability.  All in all, Colt appears to be standing strong for upcoming challenges the future holds by displaying an ability to design and produce improved solutions for the warfighter.
Another long time contract holder displaying a strong product line was viewable at FN's impressive booth full of multiple variants of SCAR type weapons and their famous light and medium machine guns.  The SCAR system has seen over five years of refinement since the original SOCOM requirement and is finally seeing fielding among combat units.  As now designated, the MK 16 light 5.56mm version, and MK 17 heavy 7.62mm version, both offer ambidextrous controls and modular features including quick change barrels of various lengths.  Newer to the SCAR line up, however, is the improved Mk 17 Sniper variant, recognizable by its lengthened extruded aluminum receiver extending beyond the gas regulator to provide additional mounting rail footprint for thermal and aiming devices common to precision weapons.  The sniper version also contains an improved grip with later plans for a modified SCAR buttstock offering more adjustments for length-of-pull and cheek height.  Also noteworthy from FN were the M240L titanium receiver GPMG and MK 48 light 7.62 machine gun, both playing an integral role in the Army's effort to lighten dismounted fighting forces as previously discussed.
Smith & Wesson has greatly improved their production capacity over the past three years in conjunction with the release of their highly successful M&P line of semiautomatic pistols and AR-15 based rifles.  The S&W mid-length gas system (DI) carbine and piston operated carbine both offer alternatives to the basic AR-15 style platform and are noteworthy as possible contenders in any upcoming solicitation.  As detailed by Smith &Wesson's Joe Bergeron, the piston operated variant of the M&P15 contains a spring loaded bolt meant to facilitate correction of lock time issues associated with locking lug shear in piston operated AR-15 platforms.  The mid-length DI gas system provides an added level of reliability among various ammunition specifications in a more traditional configuration.
Long awaited and sill evolving is the Adaptive Combat Rifle (ACR), also displayed by Remington, which began life as the Magpul Masada.  Design changes apparent included a redesigned receiver with a move away from polymers for the inclusion of lightweight metals as well as a thicker hammer forged barrel assembly.  The overall weapon weight is noticeably heavier when handled, at seven pounds, but the strengthening and performance improvements seem to merit the changes when coupled with the increased heat resistance.  It is unclear at this time if there will still be a polymer receiver commercial variant or at how far development of the Masood, the ACRs 7.62mm cousin, has progressed since last year.
Finally in this category the full potential of Israel Weapon Industries (IWI) has been witnessed as the MTAR-21 5.56mm bullpup, or Micro-Tavor, continues to mature into an excellent weapon system.  Israel has been the tip of the spear developing relevant combat systems with end-user input as with their other recent small arms successes, the Negev LMG and the standard TAR-21 rifle.  The Micro-Tavor is unique in that it offers a family of features modern militaries have sought after, but never seemed to have fielded in one system.  The weapon contains provision for a suppressor fully threaded into the strengthened polymer receiver, a forward magazine release and selector for ambidextrous M4 style ergonomics, long barrel to OaL ratio, rapidly interchangeable ejection sides, a male portion lock bracket for rapid mounting of magnification and night vision devices, a primary optical mount permanently fixed to the barrel for a "zero shift" return to zero capability, and a receiver channel for pressure switch wires with a pressure pad built into the modular grip.  When coupled with the Israeli MOR site that contains a combination IR and visible laser as well as a combined tritium, battery, and fiber optically powered triple redundant reflex red dot, all of which zero simultaneously, the MicroTavor is truly a system encompassing many systems in one compact package.  In IWI's region of the world existence of a steady state of conflict in a small localized area expedites dissemination of lessons learned from the battlefield and combat evaluations to produce the best weapons achievable; a characteristic critically important to the tiny nation's existence in the restricted confines of Middle East battle space.  As a result of the unique strategic situation foreign market customers can trust that weapon systems manufactured by IWI are some of the most battle hardened designs available, with the Tavor concept quickly proven by light forces in 2006 and 2009, along with a continuous slew of daily security operations.
Unique & Relevant Miscellaneous
Besides carbines, rifles, and machine guns, there were plenty of other items on the exhibit floor that offered possible commercial-off-the-shelf solutions to military requirements and expressed areas of interest.  Again, as with the plethora of weapons in the previous category, only a few notable vendors will be addressed based on their product's relationship to the needs of the services.  It must be added however, that there was hardly a vendor present on the floor at the Bally's Convention Center that failed to offer some impressive contribution to the array of systems and accessories available to our military, law enforcement, and government agencies.
As discussed during Col. Bianca's JSSAST brief, the USMC has a requirement for foreign weapons kits for the purpose of training the force.  Airtronic USA featured a system that partially fit the bill with their RPG-7-USA claimed by the company as the first U.S. produced, ComBloc style, rocket assisted recoilless grenade launcher.  Not only is the system U.S. made, but it does feature some truly "American" design ideas.  According to Robert Wattes of Airtronic, "We've knocked off the RPG and then decided to improve it." The claimed improvements include the addition of M1913 mounting surfaces and an optional M4 style buttstock fitted underneath the launch tube assembly in the true Yankee fashion of attaching modular M4 stocks on any piece of equipment that will accept one.  Considering its compatibility with available aiming systems due to its M1913 surfaces and the added qualitative safety likely in new U.S. manufactured weapon systems, the Airtronic platform seems like a logical candidate not only in response to the USMC requirement, but also regarding the many foreign military allies that use the RPG-7 system.
A walk by an Aimpoint display has always been a successful venture despite this writer's belief, reinforced at first glance, that the company can not possibly have another reflex sight improvement since the last visit.  Further inspection this year, as in the past, revealed yet another innovative item on the table that truly holds relevance to end-user needs in the form of the standard Micro T-1 miniature red dot aiming device coupled with a MATECH mounting system.  The Aimpoint combination produces a rugged, versatile, and super compact aiming package suitable on platforms from carbines like the M4 carbine to medium machine guns like the M240B.  Seemingly applicable to the SOCOM interest in weapon sights interchangeable between light and heavy weapons, the T-1/MATECH combo does this quite well considering its extremely small footprint.  To further compliment the system, the Aimpoint System of Systems, utilizing male and female portion turn-to-lock brackets to quickly attach and detach accessories can be used to reinforce the sighting duo with a 3x magnifier for use in precision and support by fire roles.
Until now, the focus thus far has been weapon platforms and their associated accessories, but Eagle Industries is responding to the warfighter in another vastly important area; body armor.  Two separate efforts by the U.S. Army, one from PEO Soldier Equipment and one manned by the Asymmetric Warfare Group, include Eagle armor systems in the array of weight saving protective vests available to warfighters in harms way.  John LaPlume of Eagle discussed the delicacies that go into making light weight quality armor, explaining that tensile strength and thread type all play a pivotal role in the durability of any piece of combat kit.  Weight reduction by changing material specifications, LaPlume elaborated, has its practical limits, "I think right now we are at a balance point between weight and durability."  The engineering prowess exhibited thus far has allowed Eagle to advance as producer of three out of the six systems chosen during the PEO Soldier down select.  Eagle's involvement with the AWG effort, on the other hand, will see their light weight system, the PCQR currently employed in high quantities with the USMC, fielded with 4th Infantry Division elements in Afghanistan in the near future.  The PCQR, or Plate Carrier-Quick Release, was envisioned for the U.S. Coast Guard as a platform to allow rapid removal of protective gear in hazardous maritime conditions, but has since proven an effective system for removing armor for wound treatment and battlefield care, especially in IED intensive environments.  It is interesting to contemplate how lighter gear such as described here, may one day combine with ammunition efforts within the military to lighten the average soldier's load and make the "light fighter" truly light once again.  As LaPlume pointed out during our conversation, from a textile engineer's perspective, "The overall challenge (concerning weight reduction) is that I can bring ounces out of the equipment, but mortar shells and bullets weigh what they weigh."
The Firing Demonstration
The firing demonstration on May 20th, 2009 can claim a unique bragging right; with over forty participating vendors it dwarfed those of the past and made for a firing line marked by variety ranging from small handguns to the Noble's truck mounted 30mm chain cannon.  Taking place at the U.S. Air Force Heavy Weapons Range, part of the Desert Warfare Training Center, professional USAF cadre and their NCOIC, T/SGT Byron Duncan, assisted Mr. Sal Fanelli in operating a smooth and efficient range event that is sure to be one of the most memorable in years to come.  Despite the blazing Nevada heat, large charter buses delivered hundreds of attendees for nearly four hours of non-stop firing.
Unlike many firing events in previous years, the demonstration saw heavy participation on the firing line from the U.S. Army's PEO Soldier, PM Soldier Weapons office.  Requiring eight manned firing points, the impressive arsenal available for attendee operation included the M320 grenade launcher, M240L Titanium receiver machine gun, the Mk 48 light 7.62mm machine gun, M2A1 enhanced .50 BMG caliber machine gun, XM806 light weight .50 BMG caliber machine gun, and the CROWS system discussed earlier in this article.  Outside of the weapons attendees could fire throughout the duration of the demonstration, the Army performed a stand mounted firing demonstration of the XM25 with non-explosive ordinance proving the systems ability to deliver its 25mm practice projectile to the intended target.  Perhaps though, the most notable performance of Army leadership during the 2009 demonstration was the cordial and open interaction with vendors and attendees.  It was common throughout the day to see COL Tamilio (PM Soldier Weapons), Mr. Richard Audette (Dep. PM Soldier Weapons), LTC Henthorn (USAIC), and others moving down the line from vendor to vendor testing products and asking questions, thus displaying their personal commitment to saving Soldiers and bettering their lives by developing a comprehensive knowledge base of available technologies and emerging capabilities.
Almost all exhibiting vendors brought their wares to the range and in some cases interesting match-ups unfolded.  The Dillon vs. Garwood rivalry became personified as the competing companies' M134 miniguns fired bursts in alternating arrangements as if conversing with one another in a pre-coordinated exercise.  In the end, neither weapon system was able to claim the title of "last man standing" as both guns ran flawlessly throughout the day.  Other rival showdowns occurred as FNH USA's SCAR Mk 16 and Remington's ACR both drew large crowds as did the aforementioned PSR candidates scattered to and fro down the line making use of only a small fraction of the nine mile range span.
Overall, the range demonstration was a tremendous success and drew lengthy praise from attendees.  All of the previously mentioned service requirements and interests as detailed in this article could be found in one form or another along the firing line.  Though a lot of fun as well, the 2009 Small Arms Systems Symposium Firing Demonstration provided an ideal evaluation opportunity for those interested in getting hands-on experience with the worlds most relevant and emerging technologies in the field.  It is recommended to vendors, government personnel, and any others that have a marked professional interest in the field of small arms defense to mark the NDIA Small Arms Systems Symposium on their calendar, even if only for the firing demonstration, which may be one of the most unique and useful across the international spectrum.
Conclusion
The theme of the 2009 NDIA Small Arms Systems Symposium was expressed in the phrase "Enhancing Small Arms Effectiveness in Current and Future Operations."  The sharing of information which NDIA facilitates between the small arms industry and the services is critical to the stated purpose and provides a unique place to gain perspectives; for vendors of future needs, and for the services, of emerging technologies and available capabilities.  Clearly NDIA has once again proven its commitment to its founding mission of helping the defense industry service America's men and women in uniform as they employ small arms as tools in defense of the nation.  In 2010 the symposium moves again to Dallas, TX, and with a new twist; the next symposium will be a joint venture, addressing both small arms and guns & missiles.  With the firing demonstration and briefings presented likely to inspire and intrigue, attendance is highly encouraged.