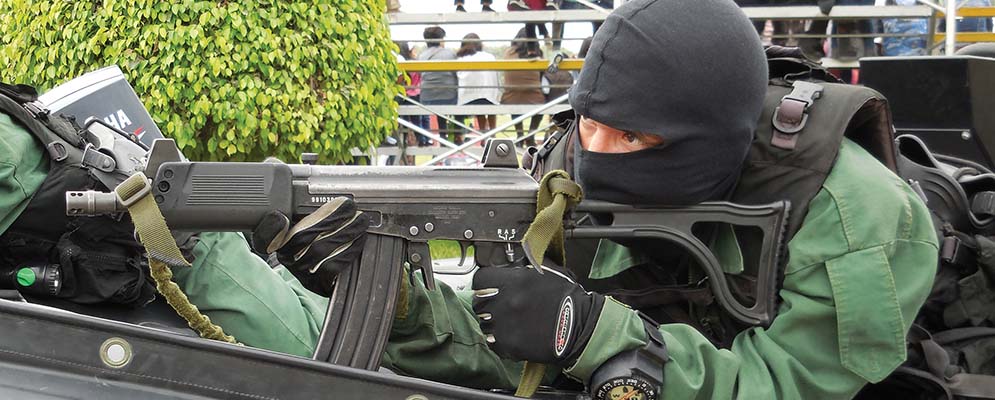 Biennial Arms Event Attracts 42,000 from Around the World

This was the seventh biennial meeting of SITDEF in Lima, Peru. SITDEF has taken place every two years since the start of the show. The show has grown exponentially each time, and in 2015 there were approximately 40,000 visitors, mostly from South American countries, with official delegations from over 30 countries. In 2017 there were approximately 42,000 visitors, more than 429 national and international delegates, many representatives of armed forces in official attendance, with thousands more active-duty personnel as well. There were 156 exhibitors from 27 countries.
SADJ is a regular at this show. The Peruvian military groups have diverse needs from high mountain terrain to their long ocean coast—so the needs of the customers tend to draw a lot of interesting vendors and attendees.
Dave Selvaggio of DS Arms, the premier innovators on the FAL series of rifles, was showing us the DSA SPR in 7.62x51 when he realized SADJ wasn't aware of his new line of Guncraft Beer. Dave's pretty enthusiastic about FALs and beer, with his new offerings of 2nd Amendment Red IPA, M4 Amber Ale, Tactical Pale Ale and FAL Belgian Black Ale. See www.guncraftbeer.com. He was just as enthused about the SPR rifle—basically it was an upgrade of DS Arms' SASS contender, including its new ambidextrous magazine release, Enhanced Trigger Guard, Prototype M-Lock Lightweight forend, the SPR Stock from SASS Trials, Short 10-round magazine, Atlas Bipod, all topped with a Leupold MK4 LRT 3.5-10 scope. The FAL rifle is very popular in South American military forces, and DS Arms is always popular at these shows. www.dsarms.com
One of DS Arms' most popular rifles is the 7.62x51mm SA58. Shown here in left and right side views, with 13-inch barrel in a 1:10-inch twist, right hand eject, enhanced (enlarged) trigger guard and the new ambidextrous magazine release—AK-style flapper and the FAL style on the right. Other features include M-lock handguard, DSA Evolution stock, ergonomic, larger charging handle, Magpul hand stop, DSA Trident series flash suppressor, a 20- or 30-round box mag, and the SA58 is also offered in select fire mode. The stock is special—this is the new DSA "Evolution" patent pending side folding stock. It has 6-position length of pull, 4-position height, with the ability to have a canted position, and is designed to be non-snag for bearded users (more important than one might think). It has a bottom position release button. There are steel track and steel inserts throughout, making for a truly robust platform.
Matt Anderson, owner of Fierro International, made his first visit to SITDEF in 2015. He did this the right way—came and explored what was needed and over the next two years developed product lines and connections so that in 2017, his booth had very, very popular items. He had some military items, but SITDEF does bring in the civilian population and his KelTech displays opened doors with Peruvian distributors. All in all, a trade show success story. www.fierrointernational.com
The Battle of Zarumilla, July 23-31, 1941, between Peru and Ecuador, along the Zarumilla River in numerous areas. The Peruvian Army had 12 tanks in the conflict of the Czechoslovakian (LTL) LPT1 variety Medium Tank. In 1935, the Army of Peru purchased 24 of these armed with 8mm ZB-37 machine guns and a Skoda A7 37mm tank gun. Capt. Castillo of the Ejercito del Peru (Peruvian Army) helps this young future "Staff Sergeant" tanker take up the catbird's seat above the main gun. SITDEF is a very family friendly show on "Family Days," and the soldiers appear to have fun helping the youngsters onto the tanks and vehicles. Exhibitors be advised to expect lots of families on the weekend and have fun with the next generation.
The J-9 Sniper Rifle is from Jordan's Jadara Equipment & Defence Systems in Amman. The rifle is offered in .308 Win (7.62x51mm) and .338 Lapua Magnum (8.6x70mm). This author has had some experience with the rifle during the KASOTC/SOFEX events, and the .338 LM version is quite impressive. Weighing in at 6.2kg and 1,297mm long (51.06 inches) with a 700mm (27.56-inch) barrel, the .338 round is pushing 1,000 m/s (3,280 FPS) and truly has a range exceeding 1,500 meters (1,640 yards). www.jadara.jo
Condor had a very popular display. This Modular Chest Set is lightweight and has add-on capabilities that drew a lot of interest from the Peruvian military—plate carriers, magazine pouches, just about anything needed can be added, but the end user is starting with a well-designed, comfortable system. www.condoroutdoor.com
FN Herstal is offering a very reasonably priced lightweight 7.62x51mm belt-fed machine gun—the 7.62 Minimi MK3 Tactical. This reliable upgrade from the 5.56mm Minimi is made possible by the fact that the original Minimi prototypes were 7.62x51mm, and the receiver for the 5.56mm was left the same size, allowing for enough length to go back to 7.62x51mm. The light bipod is strong enough for real use, and the tactical buttstock is an excellent addition to FN Herstal's offerings. www.fnherstal.com
FN Herstal's FN FCU MK3 is a Fire Control Unit for 40mm grenade launching. It ranges out to 1,500 meters accurately, accounting for spin and drift. It can be used on 40x46mm shoulder-fired launchers and 40x53mm grenade machine guns like the MK19 Mod 3.