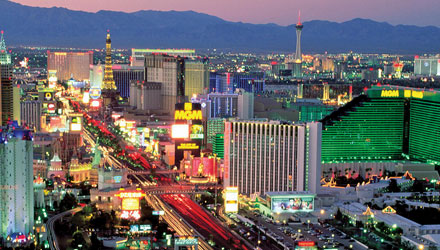 Thureon Defense (www.thureondefense.com) introduced a line of pistol caliber carbines at the show. Shown here is their 9mm gun with a Beta C-Mag Glock drum. These complete guns are priced lower than their competitor's caliber conversion uppers.
Thureon Defense (thureondefense.com) is a little known company that is now producing pistol caliber carbines that use either Glock or Uzi-style magazines.  These carbines will be available in 9mm, .40 S&W, 10mm, .45 ACP and .357 SIG.  The new guns are a closed-bolt, blowback design and use AR-15 trigger components.  They feature upper and lower receivers milled from aluminum bar stock, have integral Picatinny rail sight mounts and best of all, the complete guns are priced less than most AR-15 caliber conversion kits.  A complete line of options and accessories allow the end user to customize the gun in any variety of configurations.  By using existing magazines these guns have a leg up on reliability.

New handguns abounded at the show.  Arsenal, Inc. (arsenalinc.com) has built their reputation on the high quality AK style firearm that they produce and now, continuing on with that, they will be marketing a new Krinkov pistol, which offers shooters a clone of the famous Krinkov machine gun without the folding stock and naturally the select-fire components.  The little gun, chambered in 7.62 x 39 features a black ribbed handguard and pistol grip, 8-inch barrel and of course the familiar Krinkov style, cone shaped muzzle brake.
The use of polymer in handgun frames is nothing new as Glock made this a working concept years ago.  Now the list of gunmakers using polymer for their frames has increased tenfold.  This year Rock River Arms (rockriverarms.com) introduced their new 1911 Poly.  This, as the name implies, is a 1911 pistol with a polymer frame and main spring housing.  The pistol features rubber overmolded grips, commander hammer, beavertail safety, dovetailed front and rear sights and a Parkerized finish.  This attractive gun weighs just a little over 2 pounds.
CZ-USA (cz-usa.com) has now come out with two new versions of their P-07 pistol.  The mid-sized Duty will be available in either 9mm or .40 S&W and features a 3.8-inch barrel and like the original P-07 will have a polymer frame.  Also new from them is a threaded barrel version of the P-07.  Its barrel will come factory threaded 1/2 x 28 to accept a sound suppressor.  This model will also have an elevated sight to clear a mounted suppressor and will come in a black poly-coat finish.
Plinker Tactical (www.plinkertactical.com) has a 35-round magazine for the S&W MP15-22. They also introduced an aluminum charging handle with an ambidextrous oversized latch for the same gun. These products make a great gun even better.
Lightweight, concealed carry, handguns are now dominating the U.S. handgun market.  The extensive use of polymers and aluminum alloys is making for lighter "pocket guns."  Colt (www.colt.com) has reintroduced the classic Mustang in the new Mustang Pocketlite model.  This miniature 1911 style gun is a single-action chambered in .380 ACP.  The use of aluminum alloys in the receiver have shaved off quite a bit of weight from the original Mustang model.  The Mustang Pocketlite weighs just under 1 pound with a loaded magazine.  The gun still has the original CNC machined stainless steel slide and barrel.
Another interesting handgun on display at SHOT was the Heizer Defense (heizerfirearms.com) Double Tap.  This tiny gun is billed, by Heizer, as, "The World's Smallest and Lightest Concealed Carry Pistol on the Market."  The gun will be available with either an aluminum or a titanium frame and in either 9mm or .45 ACP.  It features an over/under design with tip-up barrels that are available in either ported or non-ported.  It is double action and has a no-snag hammerless design for pocket carry.  All guns will have a Mil-Std finish, which resists corrosion.  The Double Tap also houses 2 additional rounds on a speed loading strip housed in the pistol grip.
SIG Sauer (sigsauer.com) has announced they will be offering their Model P226 MK25 to the civilian market.  The MK25 is identical to the pistol carried by the U.S. Navy Seals Special Warfare Operators.  The gun features a dust cover with a Mil-Std 1913 Picatinny accessory rail, corrosion-resistant phosphate finish, Siglite night sights, special engraved anchor on the left side of the slide and two piece polymer grips.  This year SIG also introduced their new (ACP) Adaptive Carbine Platform.  The ACP allows any handgun with a dust cover accessory rail to be quickly modified into a personal defense weapon or carbine style firearm.  It is made from aircraft-grade aluminum and has accessory rails at the 3, 6 and 9 o'clock positions as well as a full-length top optics rail at the 12 o'clock position.  The ACP can be installed onto the handgun in seconds and allows for the mounting of lights, lasers and optics.  There is also a law enforcement model with a folding stock.
Arsenal Inc., (www.arsenalinc.com) has a new pistol version of the Krinkov rifle. The gun should be on dealer's shelves by the time you read this.
Tactical shotguns are now starting to evolve almost as fast as tactical rifles.  At last year's show, Kel-Tec (keltecweapons.com) debuted their revolutionary KSG shotgun.  This twin-feed tube, 16-round, bullpup gun was the talk of the show.  This year they have two new models of the KSG, both designed for the Military/LE/NFA community.  The KSG Patrol with a 16.1 inch barrel and the KSG Tactical, which sports a barrel that is just 13.7 inches long.  With an overall length of 42 and 21.5 inches respectively, these two guns fit the bill for CQB and active shooter scenarios.  They are also quite handy for vehicle use.  Even shortened to these lengths the tiny KSG Tactical still holds an impressive 11 rounds of 2 3/4 inch 12 gauge ammunition.  New accessories were also introduced for the KSG.  There is a screw on muzzle Breaching Attachment as well as a muzzle mount choke tube adapter.  Designed in conjunction with the two new models of the KSG, a vertical foregrip with a 350 lumen light will also be forthcoming.
A couple of years ago at the SHOT Show there was an innovative shotgun that was at that time still in the prototype stage.  The gun is now a reality and the company that is marketing it is SRM Arms (srmarms.com).  The gun is the Model 1216 semiautomatic shotgun and is billed as the, "Next Generation of Tactical Shotguns."  The gun is a semiautomatic 12 gauge that is fed by a detachable magazine that is located under the barrel and in front of the trigger guard.  This detachable magazine is in actuality a group of 4 feed tubes that can be manually rotated as each tube is shot empty.  The magazine can be detached with a push of a button and replaced with a fully loaded mag.  The gun comes in 3 different models; an 18 inch barreled 16-round model (1216), a 13 inch, 12-round model (1212) and the smallest 10 inch, 8-round version (1208).  The gun features top and side mounted Picatinny rails for adding optics and accessories and is said to cycle any round from light trap loads to heavy buckshot and slugs.  It can be pushpin disassembled and broken open much like an AR for cleaning from the breech.
An entire book could be written on new firearm accessories and ammunition on display at the show.  From optics to tactical vehicles to ammunition for the extermination of Zombies, manufacturers are introducing new products in these categories at an outstanding rate.  Here are just a few that caught our eye this year.  There is a new player in the tactical optics market this year.  Browe, Inc., (browe-inc.com) introduced their new Browe Combat Optic (BCO).  The 4 x 32 sight has a titanium housing and a single side mounted control button.   Just some of its features include a sensor that adjusts the optics reticle brightness according to the amount of light it sees on the target, and a manual mode with 10 daytime brightness settings and 3 night vision settings.  The reticle can also be changed to 4 different colors.  The BCO has been designed with future improvements in mind.  There is a sealed port at the back of the battery housing which can be used to update the operating firmware or customize the existing program.  It can also be used to attach a remote pressure switch.  Even more interesting is that this port can also be used to import or export power, meaning that accessories such as red dot sights or lasers could be powered by the battery in the BCO.  Since it's also capable of importing power, it can run on an external power source such as a powered rail.  The optic even has a Vibration Motion Sensor which places it in sleep mode if motion is not detected for two hours.  Optics have definitely come a long way since the early red dot sights.
Tactical Electronics (tacticalelectronics.com) displayed a RAPTR Unmanned Aerial Vehicle helicopter. If it concerns electronics in the tactical arena this company has it.
Trijicon (trijicon.com), the innovator in red dot sight technology since 1981, has now entered in the tactical riflescope fray in a big way with its newest product the TARS (Tactical Advanced RifleScope).  The new scope is made for the long tactical/hunting crowd.  The scope is a 3-15×50 optic that can be programmed with data for specific ammunition.  Once programmed, all the shooter needs to know is the distance to the target.  Set the turret at any distance from 100 to 1,000 yards and pull the trigger.  It's that simple.  The scope features a 34mm aircraft-grade aluminum tube and is waterproof to 66 feet, has a first focal plane reticle that is illuminated with 10 levels of daytime intensity and 2 for use with NV optics.  Four reticle choices are available and it operates for over 30,000 hours on a single CR 2032 battery.  Like all of Trijicon's optics this new scope is built Mil-Spec tough and carries an original owner limited lifetime warranty.
Burris Optics (burrisoptics.com) has two new red dot type tactical sights: the AR-332 and the AR-536 Prism Sights.  Both sights feature a unique Ballistic/CQ reticle, which works not only in close quarters but features bullet compensation at ranges out to 600 yards for users of either 5.56 or 7.62 caliber guns.   Once zeroed, the sights can be used on targets out to 600 yards without adjusting anything.  The AR-332 is a 3x optic while the AR-536 has 5x magnification.  The illuminated reticle color can be set to red, green or left black.  Both sights come with a quick detachable throw-lever mount and can also be installed into AR's equipped with carry handles.
High capacity magazines are no longer an oddity or just a novel toy.  They have found a place in competitor's firearms as well as providing a reliable ammunition source for law enforcement and military tactical units all over the globe.  The Beta Company (betaco.com) has long been known for their ultra reliable Beta C-Mag providing 100 rounds of ammunition for various firearms whether it is 9mm, 5.56mm or now 7.62mm platforms.  They are now shipping their C-Mag in caliber 7.62 x 51 for the H&K 91/G-3, the M-1A/M14, the AR-10 and the FN-FAL rifles.  This new goliath can supply 100 rounds of 7.63 x51 (.308) to the most widely used battle rifles on the planet giving the user the ammunition supply of a belt-fed gun from a magazine fed gun.
US Palm has a quick change barrel system for the AK rifles; using interrupted threads you can remove the barrel in seconds.
Another company that will now be supplying a high capacity magazine for a very popular rifle is US Palm (usplam.com).  They will be introducing two new quad-stack 7.62 x 39 caliber magazines for the AK series of rifles.  There will be a short 30-round and a 45-round version.  The new magazines will feature stainless steel springs and polymer bodies with the 45-rounder being only about 1/4 inch longer than a standard 30-rounder.  The removable floor plate will allow the magazines to be disassembled for cleaning.  The new mags will come in flat dark earth and basic black.  US Palm was also showing their new quick change barrel AK.  That's right!  Now users of the famous Kalashnikov rifle will be able to change barrels to a different length, different type of even a different caliber within seconds.  From the looks of the prototypes at the show all it will take is a mere push of a button, a quarter-turn twist and separate the two halves.  Watch for exciting products from this company over the next year.
While on the subject of AK rifles, Parabellum Armament Company (parabellumarmament.com) had two new products that are well worth mentioning.  The first is their new AKARS (AK Adaptive Rail System).  This is a weapon upgrade that replaces the AK's rear sight leaf and the receiver's bolt cover with a 1913 Picatinny Rail.  It allows mounting of optics on a rail that retains targeting zero even after extensive firing and field stripping of the host weapon.  It also allows use of the original iron sights as a secondary targeting solution.  The second new product is AK related as well.  They now have a front/side mounted ambidextrous cocking handle that can be fitted to existing weapons.  The AK can now be cocked or a malfunction cleared without removing the gun from the shoulder mounted position.  Very well made products.
Pages: 1 2