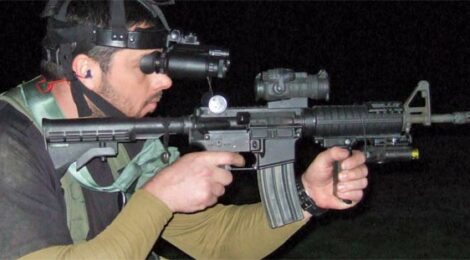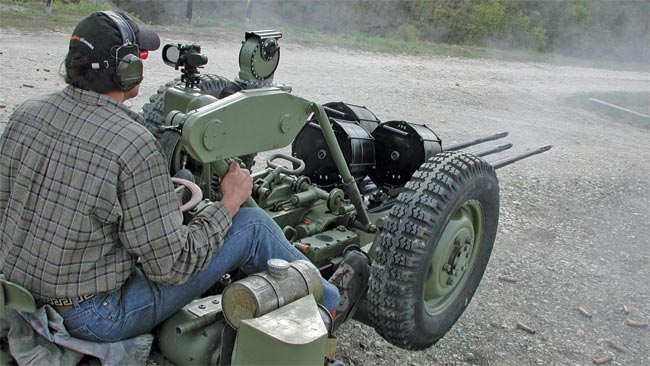 Tactical attendee live firing the M55A3 triple barreled 20mm anti-aircraft machine gun in the ground anti-material roll. This weapon system is highly portable, and provides a deadly hail of fire from the three 20x110mm Hispano style machine cannon. The M55A3 is in use in numerous armies around the world in the towed or mounted role. (Dan Shea)
SADJ was invited to review the Tactical Training Team facility in Serbia, and having known the founder, Dragan Lestaric, for many years, we considered this to be a prime opportunity to look at a resourceful training group in a non-traditional area for many end users in the international community.  Dragan is a former officer of the special Anti-Terrorist Unit of the Serbian Ministry of Interior and National Security Service, with a highly developed set of tactical and weapon skills that he has excelled at passing on in training scenarios. 

Located in the Kolubara mining region in Serbia approximately one hour from the city of Belgrade (airport code: BEG), Tactical Training Team (TTT) offers a comprehensive curriculum and hands-on training with a core focus on advance tactics and operations.  Courses range from familiarization with foreign weapons and tactics to more complex training such as covert operating techniques, aerial marksmanship from live aerial platforms, and introduction to IEDs.  TTT is one of the few civilian institutions in the world that is approved and licensed to offer accelerated advanced operations training and air assault courses.  The courses are made available to select students through a vetting process closely coordinated with the host country and the country of the student.  TTT is strategic partners with various Ministries of Defense licensed to carry out research and development testing on newly developed weapons and targeting systems such as suppressors, IR aiming devices, night and thermal vision equipment.  Due to the nature of this business, the close relationship TTT has with the Republic of Serbia Ministry of Defense helps considerably and provides access to government defense facilities and ranges to offer training and live firing of larger caliber weapons systems and destructive devices that are not available in most other training locations.  Anti-tank missiles, 12.7x108mm and 14.5x114mm heavy machine guns, 20 through 40mm automatic single and multiple barreled cannons, artillery, mortars, and specific EOD demonstrations and training are available from TTT.  Attendees are from various countries' military groups, law enforcement, and qualified private contractor and security firms.
The Tactical Training Team staff is truly diverse, with international instructors from the U.S., Serbia, Bosnia, the UK, South Africa, and Europe.  These are highly experienced instructors who are seasoned professionals in the fields of military special operations, intelligence, unconventional warfare operations, and law enforcement.  Their mission is to employ constant guidance to students in every aspect of technique and theory based on real life experiences to ensure the students are properly prepared for operating in a high risk environment.  The unique methodology brought together by this group of instructors constantly enhances the training environment by helping the attendees gain experience to deal with real world threats.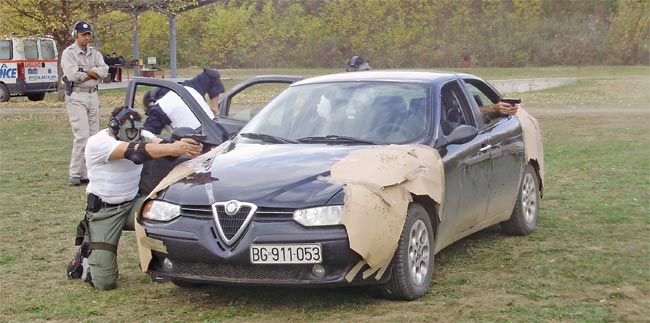 TTT attendees involved in full live fire training for VIP protection. This is the Serbian Security Government Service group.
The programs include advanced training scenarios that meet IDPA standards, and TTT can create custom simulated training environments that mirror and address the current trends in high risk locations around the world.  Since the group of instructors have such diverse real life experiences from operating in conflicts in the Balkans, Iraq, Afghanistan, the African continent and other conflict areas, TTT can deliver realistic and memorable training to the attendees.
TTT's main training center has three acres of shooting ranges outdoors that provide various angles and ranges from 270 degrees with up to 60 meters for vehicle drills, PSD AOP scenarios, CQB/Kill House, and dynamic entry.  Other ranges provide 180 degrees with 25 to 100 meters for individual shooter training.  Perimeter ranges provide for long range sniper training to 700 meters with other areas for longer ranges, and there is an indoor concrete tunnel accessing targets at 50, 100, and 150 meters.  The facility has driving courses and long range patrol and recon training in larger primitive areas.  All ranges have various steel targets, poppers, paper target frames, movable obstacles and covers in various profiles.  The ranges are approved for explosive breaching demonstrations and training.  In the center of the training complex there are two helipads used for B212 and B412 helicopter operations and courses and live fire from aerial platforms.
A note for Western groups: in the main building there are Western style toilets and showers, a restaurant, and parking area out front.  There are also hotels and Internet access available nearby.
Tactical Training Team can provide unique solutions to many of today's problems in preparing soldiers and contractors for high risk environments.  They have a long list of satisfied customers, and are discreet in their professional conduct, so SADJ will not be listing them here.  It is the opinion of this writer that TTT is one of the most agile groups in the training field.  There are a number of very good training groups around the globe, and TTT's quality and ability to react to customer's needs fits into that category.  Customers with special or custom training needs should consider the advantages of this group.
Contact:
Tactical Training Team, Ltd.
office@tactical-spec.com
www.tactical-spec.com
www.zone4international.com
Provision of 20mm+ ammo and grenades:
U.S.    
www.defensemunitions.com
info@defensemuntions.com
Europe
hayduk1@eunet.rs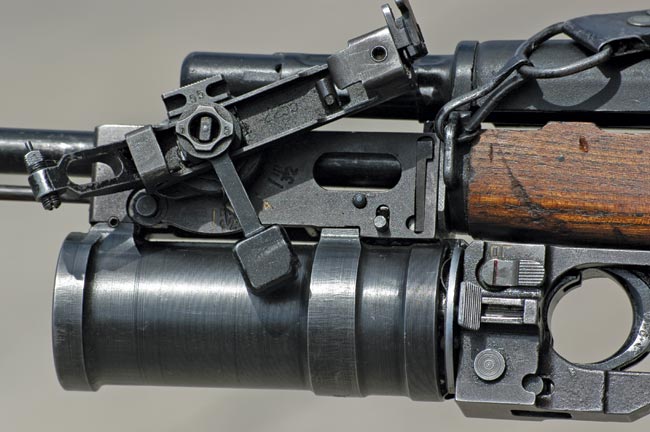 GP-25, GP-30, and BGP-40 40mm underbarrel grenade launchers are taught in both tactical use, proficiency, accuracy and armorer at TTT. Note the fast target acquisition pendulum ranging sight. (Dan Shea)
VOG-25 high explosive grenades ready for firing.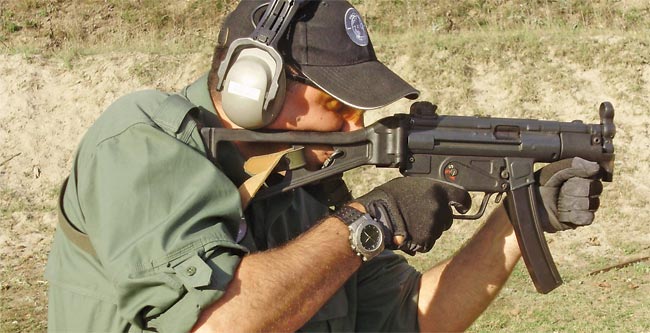 Dragan Lestaric, founder and director of TTT, demonstrates tactical use of the 9x19mm HK MP5K submachine gun with stock.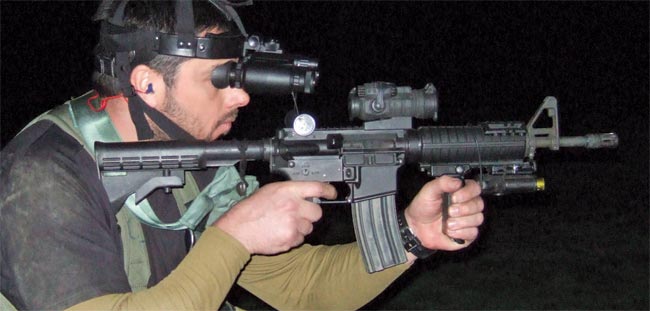 Night vision course at TTT with M4 style 5.56x45mm carbine, various optics, non-visible laser and head mounted NVG.

Davor, Chief of Operations for Z4/TTT, demonstrates firing technique with very short barreled protection version of the M16 Carbine in 5.56x45mm.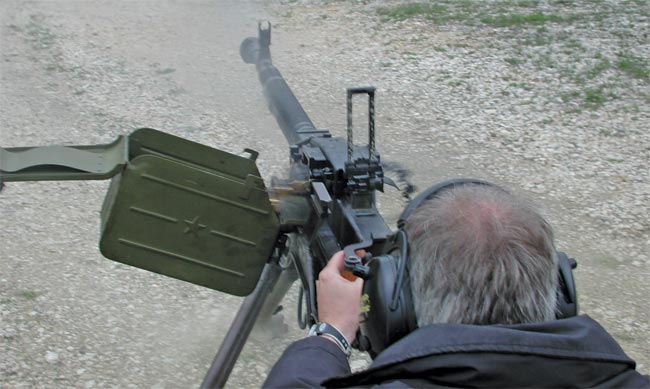 DShK 12.7x108mm machine gun being fired with armor piercing incendiary tracer (APIT) ammunition. The DShK is a primary weapon in many of the world's armies today, as well as being a threat weapon in Iraq, Afghanistan, and numerous other hotspots. (Dan Shea)
CQB course.