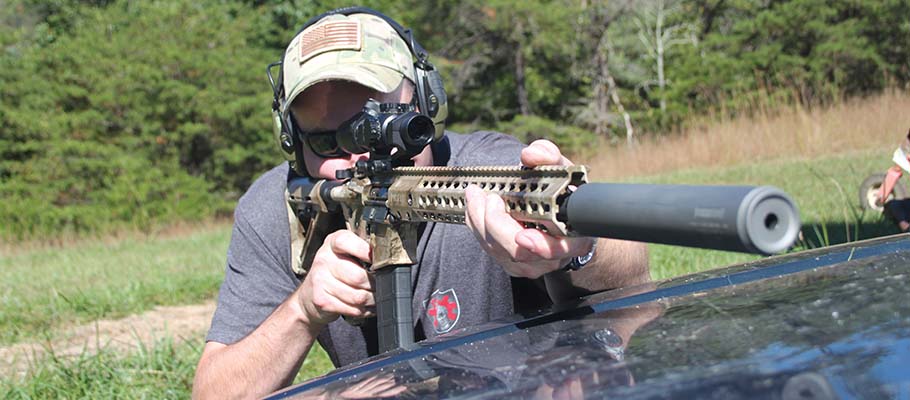 Range vehicles presented realistic ambush scenarios during Barrett REC 7 DI T&E.


Barrett has taken its vision of the AR rifle another step forward with its new direct impingement AR. Interestingly, the REC 7 DI is Barrett's fourth AR pattern rifle; the first being the Barrett M468 rifle, which also employed a direct gas-impingement system. The M468 was subsequently discontinued from production. The second Barrett AR was the piston driven REC 7 in 2007. The Barrett REC 7 II, which tweaked the original REC 7, can be considered the third Barrett AR variant. Barrett will continue to produce the piston driven REC 7 alongside the DI variant; the best of both worlds for the AR user.

It is not unusual to see military pattern weapons embraced by civilian shooters outside of the armed services. This pattern can be discerned even before the AR rifle arrived on the scene à la the Trapdoor, Springfield, M1 Garand etc. Why not take advantage of the time and effort expended by various nations' armed forces in doing the initial leg work of what works in terms of reliability and effectiveness. This is not to say military weapons are to be blindly followed; just that millions of dollars and countless hours of research & development should not be ignored as a starting place. The AR's modular nature combined with advances in CNC machine technology allows for enhancements beyond what could have been imagined 50+ years ago. This same concept can be applied to cartridges chambered in the AR.

.300BLK provides superior barrier penetration compared to standard 5.56MM cartridge.
Of late, much attention seems to be on "improving" the AR platform via cartridge enhancement. The .300 Blackout (.300BLK) is emerging as one of the most successful alternate AR chamberings. Reports from our ongoing war against terror combined with near constant operational tempo in Afghanistan and Iraq have re-exposed 5.56MM poor performance in putting an adversary down quickly with minimal rounds fired. While the basic AR15/M16 design is hard to improve upon when it comes to reliably launching bullets downrange accurately, many lament the 5.56MM caliber. Though the 7.62x51MM/ .308Win AR10 has been around for quite some time, the .308Win AR's increase in size and weight in terms of necessary AR receiver size, ammunition, and other accessories to accommodate the larger cartridge is a draw back to many. The last frontier with the AR is caliber expansion that fits within a standard 5.56MM lower receiver. Combine this with the increasing use of suppressors and the stage is set for an AR chambered in a cartridge capable of supersonic and subsonic factory loadings. This is where an AR chambered in the .300 Blackout (.300BLK) comes into the story.

The .300BLK (7.62x35MM) was introduced by Advanced Armament Corporation (AAC) in cooperation with Remington Defense in response to the US special operation military forces discussions. Literature illuminates their goal with the .300BLK as being the ability to launch .30 caliber projectiles from the AR platform from existing 5.56MM magazines without a reduction in magazine capacity or reliable functioning. Another notable characteristic of the .300BLK is its compatibility with the AR standard bolt; thus only a barrel change is necessary. Anecdotal information compares standard velocity .300BLK 115-125 grain ammunition as matching the ballistics of the 7.62x39MM AK and eclipses 5.56MM both in ballistics and terminal punch. At 300 meters, the .300BLK has approximately 17 percent more energy than the 7.62x39MM. The .300BLK from a 9 inch barrel has the same energy at the muzzle as a 14.5 inch barrel 5.56MM M4 and surpasses it as ranges extend. One interesting twist with the .300BLK, obvious considering AAC is in the suppressor business, is the ability to choose subsonic loads for optimal use with a sound suppressor. The ability to access either supersonic or subsonic factory ammunition offers great flexibility to the .300BLK AR user; especially considering the special attention paid to its compatibility with the AR platform.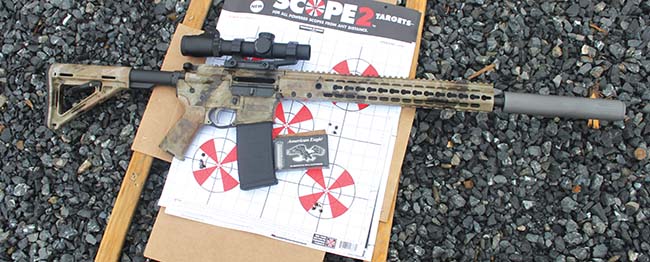 American Eagle Suppressor 220 grain OTM ammunition produced tight 50 yard grouping when fired with or without Barrett suppressor attached.
The REC 7 DI evaluated herein is chambered in .300 Blackout (.300BLK). 5.56MM and 6.8 SPC are other cartridge options. Talks with Barrett's Director of US Commercial Sales, Jeff Burch, indicated that the 5.56MM and 6.8 SPC REC 7 DI rifles will have either 16 inch or 18 inch barrels with a DMR model in the works. The .300BLK DI will be offered with 16 inch or 10 inch barrels. Barrett's AM30 suppressor was used in conjunction with the REC7 DI to fully explore what the .300BLK Barrett REC 7 DI offers. The Barrett suppressor is made from titanium alloys and measures 8.3 inches with 1.5 inch diameter. Weight is 12.4 ounces. Sound reduction is rated at -25-30dB.

The same Barrett quality and attention to detail in providing accurate, rugged, and reliable weapons such as the MRAD and 98B, both examples of other Chris Barrett designs, was turned toward the AR. For example, the Barrett Enhanced Bolt is made from high-strength 9310 steel. Every bolt is proofed and magnetic-particle inspected to guarantee reliable performance. The REC 7 DI upper and lower receivers are forged from 7075 aluminum upper and then hardcoat anodized. An ALG ACT trigger is standard with the REC 7 DI. A proprietary Barrett muzzle brake of Chris Barrett's design is threaded to the 16 inch free-floated, Match stainless barrel with M4 feed ramps machined into the receiver and the barrel extension. Barrett is profiling and chambering barrel blanks for the REC 7 DI barrel enabling tighter quality control and smoother supply chain. Magpul MOE adjustable buttstock is fitted to the REC 7 DI. The REC 7 DI weighs 6.5 pounds and measures 32.5 inches with stock collapsed and 35.75 inches extended. The REC 7 DI features Cerakote finish. Available colors are ODG, tungsten gray, tan, and black. The rifle evaluated herein features a custom paint job.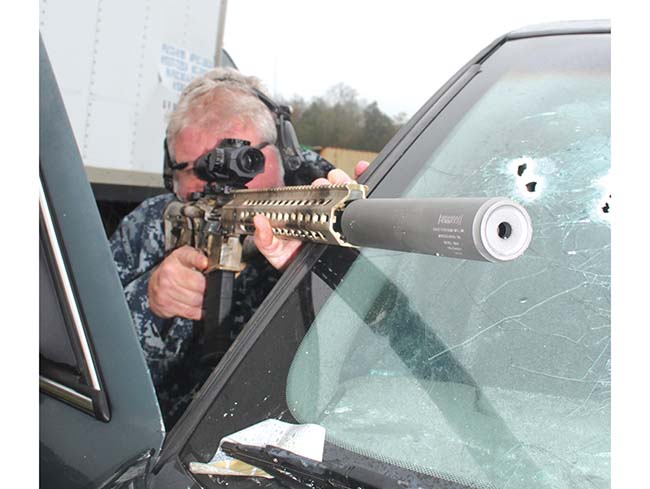 Suppressor use dominated testing with the Barrett REC 7 DI. Suppressor use is often the bane of direct impingement ARs due to the increase in fouling caused. The Barrett never faltered no matter type of ammunition used.
The REC 7 DI tested arrived with Barrett's new BRS (Barrett Rail System) forend. It is a free-float hand guard that helps trim 4 to 7 ounces of weight of the rifle. The BRS is available as a stand alone accessory from Barrett. The REC 7 DI is one of lighter AR versions on the market, especially considering that it features a full length rail and 16 inch barrel, weighing less than 7 pounds. The low profile gas block found on the Barrett REC 7 DI is machined from heat-treated tool steel and is lighter than standard gas blocks. The Barrett REC 7 DI shows versatility in satisfying customer needs by not using full length quad rails, but instead a lower profile handguard. The BRS handguard minimizes weight and contributes to the excellent balance of the REC 7 DI. Some full length rails cause a front heavy feel. Side benefits of the BRS consist of effective cooling of the barrel, secure mounting of sling swivels and other accessories deemed necessary. The minimalist approach of the BRS still allows plenty of room for VFG, bipod and lights/lasers if so needed. Barrett's decision to produce its own forward rail system for the REC 7 DI in lieu of using one from another manufacturer is a further commitment of ensuring production capability and quality.

Chris Barrett decided to include several nuances with the REC 7 DI to separate it from other rifles on the market. A BCM Gunfighter charging handle shows Barrett's effort in improving user manipulation of the rifle. Inexpensive charging handles tend to twist and bend when put under stress as expected with a rifle designed for hard use either in training or deployment. Along these same lines Barrett has chosen to nickel boron the bolt carrier to further enhance the reliability of the REC 7 DI.

EVTC's "jungle walk" firing venues allowed for a variety of supported firing positions.
Ammunition tested with the Barrett REC 7 DI Ammunition was Hornady supersonic 110 grain VMax and subsonic 208 grain AMax. American Eagle Suppressor 220 grain OTM ammunition was also used. While the Hornady ammunition is listed as .300Whisper on their webpage, a notation on the box clearly states it is usable in a .300BLK. In fact, Hornady utilizes .300WSPR/BLK labeling on its boxes. The .300Whisper predates the .300BLK and is dimensionally very similar. However, prudence dictates caution of any interchangeability unless clearly noted as with the Hornady loads. The .300Whisper is a J.D. Jones trademarked round dating back to 1992. A whole article can be dedicated to discussing the .300BLK and .300Whisper. In short, the .300BLK is a SAAMI standard cartridge and the .300Whisper is not.

The Hornady and American Eagle loads were chronographed. The Hornady 110 grain averaged 2315 fps and 208 grain 1010 fps from the Barrett 16 inch barrel. American Eagle Suppressor measured 1020 fps. A Leupold Mk 4 1.5-5x optic was mounted. Accuracy from a "bench" position with the Barrett REC7 DI measured slightly over 1 inch at 100 yards. The American Eagle Suppressor brand ammo produced tight clusters at 50 yards. This accuracy level justifies considering leaving a magnified optic such as the versatile Leupold Mk 4 1.5-5x mounted on the REC 7 DI. Several magazines' worth of ammunition was spent engaging plate racks and man-sized steel targets with the Barrett REC7 DI. Drills quickly moved past stand and deliver drills to more dynamic drills involving movement, magazine reloads, and firing from behind cover. The Barrett DC30 suppressor was used frequently during the drills. After all that is the point AR rifle chambered in .300BLK—suppressor use.

Barrett's thought process with the REC 7 DI was to create a lightweight, simple to operate AR rifle similar to Eugene Stoner's original concept. The flexibility to also chamber it in 6.8SPC and .300BLK is a nod to realism that 5.56 MM is not the only viable option for entities with the option/motivation to choose other wise. All Barrett REC 7 DI features are intended for maximizing effectiveness during a fight or realistic training on the range. The key component in a fighting rifle is reliability. No matter how accurate or powerful chambering a rifle is if it does not work 100% of the time it is a liability. Selection of a fighting rifle is as personal as it gets. The Barrett REC 7 DI is intended for serious practitioners who plan on using it for patrolling, training, or defense. A return to AR basics such as lightweight, great handling with potent firepower is often the answer. Barrett offers such a platform with its REC 7 DI.

SITES OF INTEREST

Barrett Manufacturing Inc.
www.barrett.net

Leupold
www.leupold.com

Federal Cartridge Company
www.federalpremium.com

Hornady Mfg.Inc.
www.hornady.com

Echo Valley Training Center
www.echovalleytraining.com

Working around barricade with Barrett REC 7 DI with Barrett suppressor mounted.
Hornady Ammunition is available in both supersonic and subsonic loadings.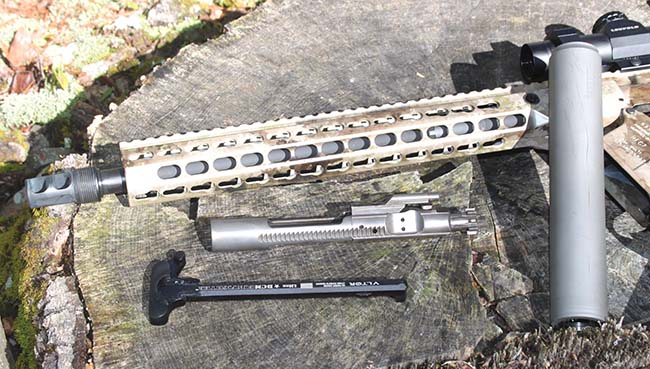 A BCM Gunfighter charging handle and nickel boron coated bolt shows Barrett's approach to provide a rifle ready for hard use with the REC 7 DI.