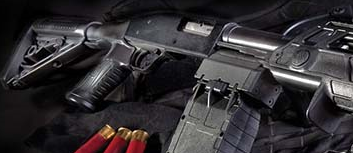 Steiner Introduces "Intelligent" Combat Sight (ICS)
Steiner Introduces "Intelligent" Combat Sight (ICS)
Steiner's new "Intelligent" Combat Sight (ICS) integrates a laser rangefinder and a ballistic calculator into a rugged and compact tactical weapons sight. The ICS, a true electro-optical aiming device, provides trajectory compensation by automatically calculating the point of aim based on ammunition ballistics, measured distance and angle to the target out to 800 meters. The precision of the 6x40mm ICS greatly increases accuracy and first round hit probability for improved battlefield effectiveness for infantry soldiers and tactical operators using small caliber weapons. Just feed the ICS your cartridge's ballistic info and the scope's computer and inclinometer instantly calculate perfect hold-over at your exact distance and gives you a bright red dot in seconds – all at the push of a button. Despite its sophisticated technology, the ICS is a ruggedized, simple to operate combat optic that requires minimal training. While the magnification is optimized for the 7.62x51mm Battle Rifle, the ICS's internal ballistic calculator is easily configurable for specific 5.56mm, .300 Blackout and .300 WinMag cartridges. The 6x40mm ICS is fully adjustable for windage and 120 MOA of elevation, and the illuminated reticle adjusts from dim to bright for daylight conditions. A Picatinny base on top of the ICS allows for the addition of a CQB sight, and a back-up iron sight on the right side provides an auxiliary sighting option. The sight is powered by one CR123A battery and the Class I Eye Safe laser and is waterproof up to 10 m. Find more at www.steiner-optics.com.
Adams Arms Announces New .308 Piston Driven Rifles
Adams Arms Announces New .308 Piston Driven Rifles
Adams Arms is proud to announce the introduction of their revolutionary new piston driven small frame .308 rifle. With their years of research and development they've engineered the finest .308 to ever hit the market. Weighing in at less than 8 pounds and more than 50% reciprocal to standard AR-15 components, their innovative .308 rifles will be setting a new standard in the firearms industry. The new lineup includes 4 models with options and price points from entry level all the way to the FAST model, which will be able to outperform and outlast anything on the market. All rifles will feature; Voodoo Innovations melonited barrels, guaranteed 1 MOA accuracy for life, pressure relief cuts under the barrel extension, LifeCoat brass saver bolts and kidney shaped ejector. The LX proprietary design allows brass to eject cleanly and efficiently, while preserving it for reloading. Their LifeCoat coating provides the lubricity of nickel with the corrosion resistance and hardness of PVD, increasing the life of the part exponentially. The guns also feature the XLP Adjustable Gas Block and Selector and Picatinny Adjustable Gas Block (on Standard & MOE Models). With retail prices ranging from $1,329.99 to $2,999.99 there is a model to fit every need and budget. More information at www.adamsarms.net.
Faxon Firearms Adds New 7.62x39 Kit to ARAK-21 Platform
Faxon Firearms Adds New 7.62×39 Kit to ARAK-21 Platform
Faxon Firearms, manufacturer of the innovative ARAK platform, is proud to announce the addition of the 7.62×39 Russian caliber to its offerings for the ARAK-21. This addition will allow the user the added advantage of a larger caliber round and less expensive ammunition for more range time. This system makes the ARAK-21 platform one of the most versatile platforms on the market, allowing the user to have the potential to have three rifles in one (5.56, .300blk and now 7.62×39). The 7.62×39 caliber will be available for order in standard ARAK-21 upper receivers, complete XRS rifles, and as a stand-alone kit for existing ARAK-21s. Kits will be available in 12.5-inch and 16-inch medium profile barrels. Current ARAK-21 users/owners can simply purchase the 7.62×39 kit as an addition to their current rifle upper. The 7.62×39 caliber kit comes with an interchangeable bolt, firing pin and barrel, all designed to work interchangeably with the current ARAK-21 upper receivers and XRS rifles. Rather than modify existing components, Faxon took detailed time and testing to create a robust set of solutions that solve many of the issues of the cartridge that plague other conversions. They lowered and widened the feed ramps to ensure consistent chambering, increased the bolt diameter to handle bolt thrust, and supply a new firing pin that matches the depth and width of the venerable AK to ensure consistent ignition. They set out to design a platform based rifle that takes the best of the AR and the best of the AK and combine them into one rifle with cross caliber capabilities. With the addition of the 7.62×39, they are expanding the capabilities for each user of the ARAK-21. This option further expands his or her platform and opens up many new shooting options. The ARAK-21 7.62×39 Kit has a retail price $499. Retail price for single barrel upper receivers is $1,199 and multiple caliber kits that include 7.62×39 will add $99 for the bolt and firing pin. 7.62×39 equipped ARAKs and kits will start shipping late February. More information can be found at www.faxonfirearms.com.
Mossberg Releases MVP Light Chassis and Blaze 47 Rimfire
Mossberg Releases MVP Light Chassis and Blaze 47 Rimfire
What could possibly improve the accuracy and handling qualities of Mossberg's groundbreaking MVP Series of bolt-action rifles? Why not add a lightweight, aluminum MDT chassis; Magpul Mil-Spec CTR adjustable stock and MOE pistol grip; SilencerCo Saker muzzle brake, and adjustable bipod? O.F. Mossberg & Sons, Inc. is pleased to announce the MVP-LC bolt-action target rifle in 5.56mm NATO (.223 Rem.) and 7.62mm NATO (.308 Win.); both available in optional Vortex-scoped combos. These AR-compatible bolt-actions utilize patented design features that accept and feed from AR-style magazines (AR-15-style for 5.56mm NATO and both M1A/M14 and AR-10-style for 7.62mm NATO models). Housed in an aluminum, tan-finished, light chassis stock
designed by MDT that provides a modular, ergonomic base, this MVP is engineered for accuracy with its V-shaped bedding and recoil lug area that only makes contact with the receiver at those points. The free-floating, medium bull barrel is threaded and comes with a SilencerCo Saker muzzle brake, utilizing the Trifecta quick-detach mounting system (thread cap included). The barrels, constructed of carbon steel, are button-rifled with 16.25-inch length and 1:7 twist rate in the 5.56mm NATO (.223 Rem.) chambering and the 7.62mm NATO (.308 Win.) sports an 18.5-inch barrel with a 1:10 twist rate. Both feature a matte blue finish on all metalwork. Enhancing the accuracy on this tack-driver is Mossberg's Lightning Bolt Action (LBA) Trigger System that delivers a crisp, creep-free trigger pull and is user-adjustable from 3 to 7 pounds. Machined from aircraft-grade aluminum and hard-coat anodized to military spec, preventing corrosion and minimizing wear, the LBA trigger system delivers the utmost in reliability and durability for consistent shot placement. Additional design features include: spiral fluted bolt; oversized tactical-style bolt handle; Picatinny top rail for ease of adding optics; and adjustable bipod. MVP-LC rifles come standard with Magpul P-Mag 10-round magazines and with the patented designs of the MVP, you can use aftermarket AR-15 (5.56mm NATO/.223 Rem.) and both M1A/M14 and AR-10-style (7.62mm NATO/.308 Win.) aftermarket magazines. Both calibers are available in MVP-LC Scoped Combos, which include Vortex Optics Viper HS-T (Hunter Shooter Tactical) 4-16x44mm variable riflescope and rings. Mossberg has also introduced a newly-engineered line of lightweight and easy-handling Blaze autoloading rimfire rifles for 2015, and joining the family is the Blaze 47, replicating the look and feel of the widely-popular AK-47 rifle. These fun-to-shoot .22 LR autoloaders feature a polymer receiver and are available with fixed-length wood stocks or adjustable black synthetic stocks, featuring Mossberg's innovative FLEX TLS (Tool-less Locking System) interchangeable recoil pad system. Both wood-stocked and synthetic versions are available with optional 10- or 25-round magazines. Experience the fun of shooting a classic military-style rifle platform in this affordable, American-made rimfire rifle series. The Blaze rimfire rifle design utilizes the durability and lightweight characteristics of today's highly-engineered polymers. The molded polymer receiver and action are paired with compact 16.5-inch free-floating, blue-finished barrels with 1:16 twist rate. The metal bolt, firing pin and bolt handle feature complementing blue finish and the Blaze 47 also features an ambidextrous safety. The spring-loading, 10- and 25-round magazines are easy-to-load and are also sold as Mossberg-branded accessories. The Blaze 47 captures the look of the venerable AK-47 with the following standard features: adjustable fiber optic rear sight and raised front rifle sights; choice of fixed wood stocks with 13 1/2-inch length-of-pull (LOP) or lever-activated, 6-position adjustable LOP synthetic stock (11 1/4 – 14 inches) providing greater comfort for all shooters; and optional 10- or 25-round capacity magazines. Mossberg has also incorporated its user-friendly FLEX TLS System on the synthetic-stocked versions of the Blaze 47: with the simple push of the integrated TLS latch, the recoil pad can be easily interchanged for other sizes of FLEX recoil pads; no tools required. Go to their web site at www.mossberg.com.
Newest SureFire Scout Light Provides Power-Source Versatility
Newest SureFire Scout Light Provides Power-Source Versatility
SureFire, LLC, manufacturer of high-end illumination tools and tactical products, has commenced sales of the latest, highly versatile member of its best-selling, ever-expanding family of LED Scout Light Weapon Lights. The new M600 AA Scout Light-for long guns equipped with Mil-Std 1913 (Picatinny) rails-can be powered by AA lithium or AA alkaline batteries, the latter of which are typically more readily available globally particularly in remote or rural areas. Powered by two lithium AAs, the M600 AA's solid-state light emitting diode (LED) generates a maximum output of 200 lumens and produces tactical-level output for up to 3.75 hours on a set of batteries. The output and runtime from two AA alkaline batteries is approximately one-third that from lithium AAs, but this reduced output/runtime is theoretically outweighed by the convenience of using these easier-to-find and often less-expensive power cells. But to maximize output and runtime, SureFire recommends powering the M600 AA with lithium batteries whenever possible. The M600 AA uses a proprietary Total Internal Reflection (TIR) lens to shape the LED's output into a smooth, flawless beam with ample reach and enough surround light to maintain good situational awareness in close to medium-range applications. Like all SureFire Scout Lights, it securely attaches to any Mil-Std 1913 rail, the M600 AA utilizing an integral thumbscrew clamp that attaches/detaches the light to said rail in a matter of seconds. Constructed of lightweight aerospace aluminum that's hard anodized with a Mil-Spec finish for added durability, this new Scout Light can be easily activated via its momentary-/constant-on click-type tailcap switch, or via several remote plug-in switch models available for purchase from SureFire as optional accessories. The M600 AA Scout Light has an MSRP of $299. More information can be found by visiting www.surefire.com online.
Adaptive Tactical Has New Sidewinder Venom 10-Round 12 Gauge Magazine
Adaptive Tactical Has New Sidewinder Venom 10-Round 12 Gauge Magazine
Adaptive Tactical, LLC, manufacturers of innovative firearm stocks and accessories, including the popular Sidewinder Venom shotgun systems, is proud to announce the release of its Sidewinder Venom 10-round box magazine for the Sidewinder Venom magazine-fed shotgun system. This system provides the ability to transform your Mossberg 590, 500* and 88** series 12 gauge pump action shotgun into a magazine fed, smooth operating tactical shotgun. The Venom 10-round magazine is compatible with 12 gauge 2.75-inch ammunition. It allows for rapid reloads while maintaining reliable feeding. Each magazine is made of durable polymer construction with strong composite and metal components. Magazines are available in Black, A-TACS, MultiCam, or Desert Digital. The interchangeable design makes this not only an innovation for the range but for home defense. Individuals now have the ability to leave their shotgun unloaded with an easy, quick loading option. This also allows for speedy transitions from buckshot to slugs or whichever ammunition the user chooses by labeling each mag with the specific shot shells loaded. For more information on Adaptive Tactical visit www.adaptivetactical.com.
MasterPiece Arms Unveils New MPA930DMG Pistol
MasterPiece Arms Unveils New MPA930DMG Pistol
MasterPiece Arms (MPA), manufacturers of the MPA MAC Line of semiautomatic pistols, carbines, suppressors and MPAR rifles, proudly announces the MPA930DMG, the first all-aluminum lower pistol from the new DMG (Defender, Machined, Grip) Series. This 9mm pistol is based on the 930sst, but includes a fully machined aluminum pistol grip and lower receiver. The 930DMG uses their fully machined grip system matched up with an all-aluminum lower receiver; significantly reducing the overall weight of the pistol. The 930DMG is chambered in 9mm, uses Glock style magazines, has adjustable front and rear sights, has a built-in single point sling flush cup, and mounting holes for a rear fixed or side folding stock. The MPA930DMG comes standard in Cerakote Tungsten coating. It is also available in Black, Gunmetal, Flat Dark Earth and Burnt Bronze Cerakote finishes. The pistol is further equipped with a side cocker, scope mount, hammer with disconnect (plus original hammer) and comes in an MPA polymer case. It will also be available in an SBR version shown in the photo. It has a retail price of $679.99. For more information on MasterPiece Arms and their product line of pistols, rifles, carbines and suppressors, visit www.masterpiecearms.com.
Ross & Zheng Engineering Unveils New Multi-Caliber UNIMAG AR Magazine
Ross & Zheng Engineering Unveils New Multi-Caliber UNIMAG AR Magazine
Ross & Zheng Engineering (RZE) has announced that it has a new multi-caliber magazine to fit the AR 5.56 platform guns. The UNIMAG multi-caliber magazine, RZE's first production-ready firearm component, provides enhanced performance and reliability for gun owners and enthusiasts. Compatible with AR-15 and other rifles that use a STANAG magazine, the UNIMAG is proven to be reliable and functional for six different types of ammunition and counting. The patented design includes a two-piece, self-levering follower that maintains its stability while also accommodating tilt introduced by the ammo, and a self-adjusting magazine shell to regulate various cartridge diameters. This is the first magazine that can handle the .223, 6.5, 6.8 and the two AK calibers, the 7.62×39 and 5.45×39, reliably. It also offers manufacturers a tremendous opportunity to expand their AR-15 product families, particularly in 7.62×39 uppers and lowers. RZE's proprietary technology is backed by patents, including the self-levering follower for a universal magazine of multiple caliber compatibility for firearms (U.S. 8667724 B2) and the magazine shell of a universal magazine of multiple caliber compatibility for firearms (U.S. 8850732 B2). The company holds two additional firearms accessory patents and has one patent pending. Learn more about the UNIMAG at www.rosszhengengineering.com.
New Seek Thermal Camera Makes It Easy to Focus In On Your Target
New Seek Thermal Camera Makes It Easy to Focus In On Your Target
Seek Thermal has just announced the Seek XR, an extended range version of its award-winning thermal camera. Created with outdoor enthusiasts in mind, the Seek XR allows people to literally see heat, making it possible to spot people and animals in total darkness. For hunters, the Seek XR can be used in daylight, the dark, or in obscured visibility conditions. It's useful for scouting, bloodtrailing, hunting game, and much more. The new Seek XR has a manual focus lens for viewing objects at close range, or at distances of up to 2,000 feet. Until recently, the price of thermal imaging has kept it out of reach for almost everybody except military and law enforcement. The Seek XR will be available in January for both iOS and Android devices for $299 at www.thermal.com Thermal imaging converts heat energy into an image that can be seen with the human eye. Traditionally, thermal cameras costing several thousand dollars and up have been used by firefighters, law enforcement and the military to see through smoke or in complete darkness. Seek Thermal has pioneered the next generation of thermal imaging technology sized and priced for the everyday consumer. The Seek camera is a small device that plugs into the micro USB connector on Android devices and the Lightning™ connector on iOS devices. A durable magnesium housing protects a next-generation thermal sensor and custom chalcogenide lens. It weighs only 0.5 ounces and creates true thermal images with a resolution of 206×156, or over 32,000 thermal pixels. Prior to today this kind of resolution was only available in cameras costing several thousand dollars and up. The Seek camera works with a free app that is available in the Apple App store and on Google Play. The app makes it easy for people to get started with thermal imaging, while also including a range of controls substantial enough for people who use the camera for serious work or serious fun. App features include; capture and share thermal photos and videos, select from different temperature measurement modes including the ability to automatically highlight everything in the scene that is above or below a specified temperature and select from nine different color palettes. Technically called "LUTs," there are different color ranges that can be applied to temperature measurements. You can also swipe seamlessly back and forth between a regular and a thermal image in Thermal+ mode. For more information visit www.thermal.com.