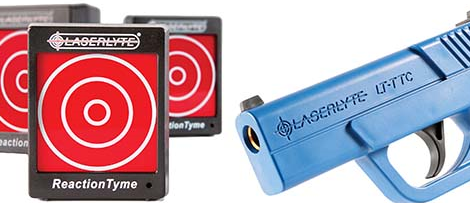 SureFire Releases Its Most Powerful LED Flashlight Ever
SureFire Releases Its Most Powerful LED Flashlight Ever



SureFire, LLC, manufacturer of high-end illumination tools and tactical products, has commenced sales of its most powerful LED flashlight in the company's 35-year history. The new UDR Dominator boasts a maximum output of an incredible 2,400 lumens, a level previously not attainable via light emitting diode (LED) technology. This represents a significant milestone for SureFire and is only the beginning of things to come as LED technology continues to evolve and improve. With its ultra-high maximum output and a deep precision reflector to shape the light into a far-reaching beam, the Dominator qualifies as a tactical flashlight, given its obvious military, law enforcement, and border security applications. But it's also well-suited for maritime use, search and rescue operations, or any other application where an ultra-bright, portable searchlight would prove useful. Along with its 2,400-lumen max setting, the variable-output Dominator also produces eight other useful output levels and even has a strobe-light setting, designed to disorient an aggressor, and a disable feature to prevent accidental activation. The Dominator is one of several "dual-fuel-capable" flashlights produced by SureFire, which means it can be powered by an included lithium-ion rechargeable battery or by twelve disposable 123A batteries, for situations where recharging the light between uses may not be an option. A built-in, color-coded LED fuel gauge keeps users abreast of remaining battery power, and the light can be charged via an AC wall socket or a DC vehicle socket. Built to be as rugged as it is powerful – for the obvious outdoor uses for which it is intended – the UDR is constructed of lightweight but strong aerospace aluminum, is hard anodized with a durable Mil-Spec finish, and has O-ring and gasket seals to protect sophisticated internal electronics from moisture and debris.


For more information you can visit www.surefire.com.


New Tripod Shooting System from Ashbury Precision Ordnance
New Tripod Shooting System from Ashbury Precision Ordnance


Ashbury Precision Ordnance (APO) Manufacturing introduces the new RSTA-II Tripod Shooting System for RifleSports focusing on long range hunting, practical/tactical rifle competition, and professional marksmen. The RSTA-II Tripod Shooting System allows long gun users to shoot from a variety of alternate shooting positions while standing, kneeling or sitting whether on flat ground, rock strewn, steep mountainous or complex urban terrain. The 1.1 pound RSTA-II Tripod Head allows users to position long guns using the Rapid Control Handle (RCH), which can be set up for either right or left hand control. This versatile tripod head provides a positive locking ±35 degree head that can securely hold a 25+ lb. long gun using a 6 o'clock accessory rail grabber, Pig Saddle or APO AnyPoint Bipod/Tripod Mount. RSTA-II Tripod Shooting Systems offer users a maximum shooting height of approximately 68 inches and collapses to approximately 29 inches using Quick Power Lock leg latches. The standard duty RSTA-II Tripod Shooting System uses the stable, yet lightweight Manfrotto 190XPROB alloy tripod base that is suggested for long guns up to 15lbs. This tripod base uses 3-section legs that collapse into a highly portable field shooting platform at only 5.5 lbs. The extreme duty version of the RSTA-II uses the Manfrotto 055XPROB a heavy duty tripod base with larger diameter 3-section tripod legs weighing 6.6 lbs. that flexes less under heavier loads of up to 20 or more pounds. The RSTA-II allows shooters to track, lock and when ready accurately engage distant targets without fatigue. In rugged field testing for more than 18 months RSTA-II Tripod Shooting Systems were live fire tested with a wide range of rifles including the M107 .50 BMG. Long-gun shooters can interchangeably mount semiautomatic carbines, shotguns, and a wide range of hunting and tactical rifles on RSTA-II Shooting Tripod platforms. Variable power spotting scopes are also easily mounted on the RSTA-II platform using the common 1/4×20 detachable baseplate, or clamped snugly inside the Pig Saddle. One tripod system with many uses. For more information go to www.ashburyprecisionordnance.com.


CMMG's Mk47 Mutant Marks the Birth of a New Black Rifle
CMMG's Mk47 Mutant Marks the Birth of a New Black Rifle


CMMG, Inc. has announced the release of the Mk47 MUTANT – an all-new rifle platform that combines the accuracy of the modern sporting rifle and relentless AK47-like reliability with the legendary 7.62x39mm caliber. Engineered from 7075-T6 billet aluminum, the Mk47 MUTANT features a uniquely designed upper and lower receiver built to manage the dimensions and pressures of the 7.62x39mm tapered cartridge all while keeping the weight of the rifle at a minimum. Remarkably, the Mk47 MUTANT (while unloaded) weighs just over seven pounds. The Mk47 MUTANT utilizes a unique bolt carrier group derived from the massive AR-10 group, which aside from being shortened to a length of eight inches, retains all of the material on the bolt face for added durability and strength. The lower receiver is designed to accept existing AK magazines, which are widely available, inexpensive and extremely reliable. A standard ambidextrous hook and latch system makes reloading fast and intuitive. The rifle comes with one Magpul PMag 30-round AK/AKM MOE 7.62×39 magazine. A full-length Picatinny rail runs atop the Mk47 making it easy to mount your preferred sights or optics. CMMG's RKM KeyMod Hand Guard is exceptionally light and ergonomic. It also gives users the freedom to mount a wide array of accessories using the KeyMod slots found in the 3, 6 and 9 o'clock positions. For accessories that are not yet KeyMod compatible, CMMG offers 5-slot accessory rails. The Mk47 sports a 16.1 inch free floated barrel with a 1:10 twist and runs on the proven carbine-length direct impingement gas system. By effectively maximizing the accuracy and harnessing the knockdown power of the 7.62x39mm, the Mk47 is an ideal rifle for a variety of sporting and defense applications. You can get more information or place an order at www.cmmginc.com.


Recover Tactical Offers Rail Grip for Beretta 92/96
Recover Tactical Offers Rail Grip for Beretta 92/96


Recover Tactical is proud to announce the release of the new Recover BC2 grip and rail system for the Beretta 92/96 series of pistols. The Beretta grip and rail system follows on the success of Recover's CC3 grip and rail for 1911s. The patented design of the BC2 adds a fully functional Picatinny rail to the Beretta and can be easily installed in about three minutes without a gunsmith.


Just like Recover's popular 1911 grips, the new Beretta BC2 grip and rail system was design by world renowned Israeli weapons designer Tamir Porat (Porat also designed the IWI Tavor assault rifle). The BC2 grip is manufactured in Israel from the same high-grade, glass-reinforced polymer used by many polymer gun manufacturers. The Recover BC2 will not scratch or damage your gun. Weighing in at only about 65 grams it will not significantly change the weight of your gun or the thickness of the grip. The Recover Beretta grip and rail system is currently available in black, desert sand, OD green and digital camo and comes with a limited lifetime warranty. Retailing for only $49.99, the BC2 is the easiest and most affordable way to add a full Picatinny rail to a Beretta. Visit them at www.recovertactical.com.


Advantage Tactical Sights Offers New Sights for 1911s and H&Ks
Advantage Tactical Sights Offers New Sights for 1911s and H&Ks


WrenTech Industries, LLC, manufacturer of innovative firearms related products including the Advantage Tactical Sight, announce six new products available online at Advantage Tactical. Their new 1911 sights include the Remington R1, Rock Island Armory, and Metro Arms. These new Advantage Tactical Sights replace the factory fixed sights. The sight packages are available with and without their Firefly night sight upgrade. Their HK 45 / P30 / VP sights are also on the website and ready to ship. These sights will fit the HK 45, all models of the P30 series, and the new and superb VP. They replace the fixed sights on those models of HKs. With all Advantage Tactical Sights, you can order the standard sight set or the standard sight set plus the Firefly night sight upgrade. The standard sight set features 5 differently colored rear sight inserts, 5 differently colored front sights, installation and adjustment hex key, Glock (only) front sight tool, and up to .044" of elevation shim. The Firefly night sight upgrade sight set is the standard sight set and a packet of two Fireflies – one glowing front sight in the yellow spectrum and one glowing front sight in the green spectrum. For more information you can contact them at
www.advantagetactical.com.


LaserLyte Announces New Triple Tyme Kit
LaserLyte Announces New Triple Tyme Kit


LaserLyte, innovators in firearms laser technologies, proudly introduce the seriously fun laser Triple Tyme Kit consisting of the LaserLyte Reaction Tyme Targets (3), a Trigger Tyme Compact Training Pistol and a LT-PRO Pistol Laser Trainer. Everything anyone needs to train, teach or just have fun anywhere, anytime. The Trigger Tyme pistol cannot accept or fire ammunition, making it a safe training tool for all ages and skill sets. The compact size of the pistol is ideal for training young shooters and individuals with small hands. The Reaction Tyme Targets work independently of each other allowing for a variety of shooting scenarios. The interactive target system works in two modes; reaction and training. The reaction mode features random LED signals in intervals of 3 to 7 seconds that can be shot by the Trigger Tyme compact pistol or any other LaserLyte Trainer. The training mode allows the user to practice trigger control and accuracy with an always on and ready-to-be-shot mode. When a hit is made the target sounds 2 beeps and a LED flash. The LT-PRO is easily inserted into the muzzle end of the Trigger Tyme pistol for hours of training and fun. It can also be used in a real firearm for realistic training with the user's actual carry firearm. For more information,
visit www.laserlyte.com.


Savage Arms Expands Line of Suppressor Ready Rifles
Savage Arms Expands Line of Suppressor Ready Rifles


Savage Arms continues to offer a broad lineup of suppressor-ready rifles for shooters and hunters who want to reduce firearm noise at the range or in the field. Savage expands its line of suppressor-ready rimfire firearms with three new rifles: Model 93 FV-SR in .22 WMR, Model 93R17 FV-SR in .17 HMR, and Model 64 FV-SR in .22 LR. These new models give hunters and plinkers accurate rifle platforms ready to accept after-market suppressors with ease. The popularity of suppressors continues its rapid climb as more shooters and hunters see the benefit of reducing firearm noise at the range or in the field. For years, Savage Arms has been serving these shooters by offering several firearms with threaded muzzles that easily accommodate aftermarket suppressors. For 2014, Savage expands this lineup with three new suppressor-ready rifles that deliver quality and accuracy, yet are priced to deliver value. The bolt-action Model 93 FV-SR chambered in .22 WMR and Model 93R17 FV-SR chambered in .17 HMR weigh 5.5 pounds. Other specifications include overall length of 35.25 inches, and barrel length of 16.5 inches. Each are equipped with a heavy, fluted barrel that improves accuracy and dissipates heat quickly, an easy-to-use oversized bolt handle, and a 5-round detachable magazine, as well as Savage Arms' legendary, user-adjustable AccuTrigger. The 93R17 FV-SR has a rate of twist of 1-in-9 inches, and the 93 FV-SR has 1-in-16 inches. The semiautomatic Model 64 FV-SR chambered in .22 Long Rifle weighs 5 pounds. Other specifications include a rate of twist of 1-in-16 inches, overall length of 36 inches, and barrel length of 16.5 inches. It is equipped with a 10-round detachable magazine. All three rifles feature a ½-inch, 28-pitch threaded muzzle with a twist-off thread protector; buttoned-rifled, carbon steel barrel; one-piece optic/accessory rail; checkered synthetic stock and black matte finish. For more information you can contact them at www.savagearms.com.


Snapshot Gives Crime Solvers A New Way to Use DNA
Snapshot Gives Crime Solvers A New Way to Use DNA


Parabon NanoLabs, Inc., a DNA technology company that develops next-generation forensic and therapeutic products, is proud to announce the Snapshot DNA Phenotyping Service. This is an investigative forensics service that produces a descriptive profile from any human DNA sample. Snapshot predicts physical characteristics including skin pigmentation, eye and hair color, face morphology, sex, and genomic ancestry, and can identify distant familial relationships between samples. Now available, after three years of development with funding from the U.S. Department of Defense (DoD), Snapshot provides a first-of-its-kind capability for determining the physical appearance and other characteristics of an individual from a DNA sample, whether it is from an active crime scene or skeletal remains. These results provide investigators with information that can help determine the identity of suspects and victims. In addition to identifying the traits an individual is likely to have, Snapshot also produces high-confidence trait exclusions – for example, it might report with >99% confidence that a particular individual does not have brown or black eyes. Knowledge of what traits can be excluded from consideration allows investigators to greatly narrow their investigation and direct their resources more effectively. It takes advantage of modern SNP technology, along with so-called 'big data' high-performance computing (HPC) techniques, to translate genetic markers into a number of different phenotype predictions. It can also be used to identify distant familial relationships between two DNA samples, such as second or third cousins, which is significantly more powerful than traditional STR-based analysis. For investigators, when CODIS (Combined DNA Index System) fails to find a DNA match, their cases often go cold; a Snapshot forensic profile, however, can generate new leads and help resolve those cases. Snapshot requires <1 nanogram (ng) of extracted DNA, and good results have been obtained with just 50 picograms (pg) of DNA. (A nanogram is a unit of mass equal to one billionth of a gram and there are 1,000 picograms within one nanogram.) Parabon scientists have built predictive models for each trait using data collected from thousands of known subjects across multiple data sources. Snapshot analysts then run the genotype data collected from each unknown DNA sample through these predictive models to produce a final phenotype prediction report. Snapshot reports are generally produced within 30 days from receipt of a DNA sample and rush orders can be filled in less than two weeks. More information can be found at http://www.parabon-nanolabs.com/snapshot or by calling (703) 689-9689 x251.


SilencerCo Launches Harvester Subsonic Ammunition Line
SilencerCo Launches Harvester Subsonic Ammunition Line


SilencerCo, an industry leader in firearm suppression products and technology, has unveiled its new line of Harvester Subsonic 300 BLK high performance ammunition, designed for optimal performance in silencer-equipped firearms. The ammunition gives shooters exceptional accuracy and enhanced noise reduction without sacrificing the terminal performance hunters and marksmen expect. Silencer-optimized Harvester Subsonic 300 BLK rounds enable groups in the sub-Minute of Angle (MOA) range, or less than 1 inch per 100 yards of distance to target. The ammo combines this best-in-class accuracy with the stopping power of a 220 grain projectile, plus unrivaled sound suppression. They have designed the Harvester ammo line to provide sub-MOA accuracy in the quietest subsonic 300 BLK ammunition on the market. SilencerCo's Harvester 300 BLK Ammunition is now available for direct purchase online and through select dealers. To learn more or to place an order, go to www.SilencerCo.com/ammo.


Tac-Con Introduces Two New Trigger Systems
Tac-Con Introduces Two New Trigger Systems


In 2013, Tactical Fire Control, Inc. rocked the AR-15 world with the introduction of the Tac-Con 3MR Trigger System, providing military, law enforcement and civilian shooters with performance features never before attainable from a non-NFA trigger system. Now, the innovators at Tac-Con are set to change the industry once again with the introduction of the Tac-Con 241 for the AR-15 and the Tac-Con Raptor, designed specifically for the AK-47.


AK fans have spoken, and Tac-Con has listened. With an unprecedented number of requests to manufacture a high-quality drop-in trigger for the ubiquitous workhorse AK platform, Tac-Con is again setting new standards in the industry. The Tac-Con Raptor Trigger System is a fire control system consisting of "Safe" and Tac-Con's proprietary semi-auto, assisted-reset, fire position. This position provides a positive reset that dramatically reduces the split times between shots. The positive reset characteristic is achieved by transferring the force from the bolt carrier through the trigger assembly, instantaneously assisting the trigger back onto the sear. As a result, this gives the firearm the fastest reset possible for an AK-47. The Raptor features a non-adjustable 4.5-pound trigger pull weight with zero take-up and no overtravel. The pioneers at Tac-Con have quite possibly developed the most innovative AR-15 trigger system on the market. Utilizing its proven 3-mode design, Tac-Con has combined its blazing-fast 3MR assisted-reset technology with a precision two-stage trigger, providing you the ultimate all in one, simple, drop-in replacement system. Now shooters can quickly transition from rapid fire to ultra-precise long range shot placement with the simple switch of the 3-mode selector. The 241 trigger system utilizes the standard "Fire" position for its 4.5 lb. assisted-reset mode, while the 180 degree, "full auto" position activates the two-stage mode. The two-stage mode features a controllable 3.5 lb. take up with a clean, crisp 1 lb. break for the ultimate in precision shot placement. You can find out more at www.TacConUSA.com.