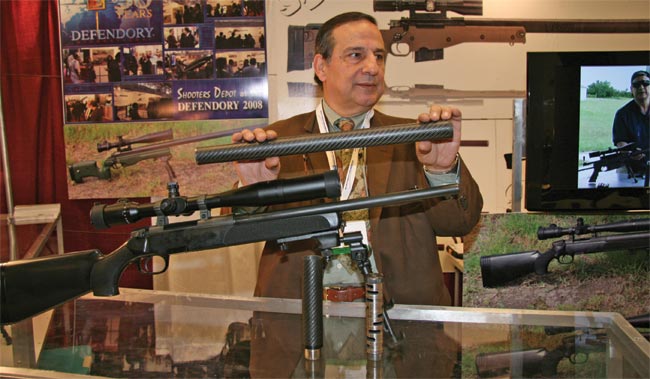 February 2009, SOLIC, Washington, DC. George Koumbis, CEO of Shooters Depot, holds the carbon fiber barrel shroud for his A.R.I.E.S. system that he has just unscrewed and removed from the barrel of a Steyr SSG. The other two components for the latest version of the Advanced Rifle Integral External Suppressor may be seen standing up on the top of the glass display case; a perforated stainless steel suppressor module and its carbon fiber housing. Readily adaptable to a variety of long arms, this innovative system boasts light weight, low cost, no change in point of impact, plus substantial reduction in recoil, noise and flash. www.shootersdepot.com. (Robert Bruce)
A Crane-modified 5.56mm M4 type carbine with handy 10.5 inch barrel came next, designated MK 18 Mod 0.  This one was particularly noteworthy for several add-ons and accessories arising from the SOPMOD (Special Operations Peculiar Modification) program and subsequent enhancements.  In addition to a sloping cheekweld telescoping buttstock, Banker identified items on the top rails such as the SU-231 PEQ ECOS-CQB day scope in line with the SU-232/PAS CNVD-T thermal night scope.

Then there was a 5.56mm M16 flat top, tipped with a Knight's Quick Disconnect sound suppressor.  The rifle's Daniel Defense Rail Interface System carried just about all of the latest version day/night/CQB sights in the NAVSPECWAR inventory.  In addition to flip-up iron sights front and rear, the top rail surface sported Elcan's SU-230/PVS Enhanced Combat Optical Sight 1-4 power Variable Articulated Telescope with piggyback Docter red dot.  The snout of this versatile combo was hidden under the light-hiding "skirt" of L-3 Comm's exciting new rubber-armored AN/PVS-24 Clip-on Night Vision Device Image Intensified, a Gen III starlight magnifier of exceptional amplification and clarity.  www.crane.navy.mil
Also represented at Crane's booth was NAVSEA Dahlgren's Test & Evaluation Division, providing a wide range of services including a 20 mile long over-water live fire test range, explosive experimental area, and a state-of-the-art shock and vibration testing facility.  They shoot helmets too, as seen in the form of a well-perforated PASGT "K-Pot" on the display table that had been used in multi-caliber evaluation firing.
JSSAP
Another "must see" display is the Joint Service Small Arms Program, an Army-administered clearinghouse for weapons technology in support of operations by all of the US Armed Forces.  Retired Army Colonel Joseph Kaelin, whom we have known for many years, was on duty there and brought us up to date on developments in LSAT, the Lightweight Small Arms Technologies program.
"The caseless track is progressing well," Kaelin said, "and there are plans to conduct a public demonstration firing at NDIA's Small Arms conference in May 2009."
This is a significant development given the many technological challenges inherent in manufacturing caseless ammunition and designing a mechanism to efficiently fire it.  All the more so, we observe, in a belt fed machine gun intended to equal or better the performance of the current M249 Squad Automatic Weapon at considerably lighter weight.
Alas, there was no additional information to be had on engineering details of the caseless gun's inner workings.  "You'll have to wait until that's cleared for release," Kaelin advised.  www.pica.army.mil
Super Snipers
Precision rifles and their suppressors are of great interest to us, particularly in the context of special operations.  The ability to take out "high value" individual targets at long range with minimal chance of detection by those on the receiving end is an important force multiplier.
Shooters Depot has been getting a good deal of attention recently with their Advanced Rifle Integral External Suppressor, a clever and cost-effective system for retrofitting favorite sniper rifles.  George Koumbis, SD's CEO and creator of the A.R.I.E.S. system, showed us his latest version as fitted to a Steyr SSG.
A strong and light carbon fiber tube surrounds the weapon's existing barrel, screwing into a threaded ring at the chamber end.  The tube is free floating with significant air space for gas and heat generated on firing.  The new two-piece suppressor module has the end cap attached to the perforated sound buffer unit and this assembly screws into a fitted length of carbon fiber tubing the same diameter as the barrel shroud.  Assembly and disassembly can be done without tools and cleaning is a snap.
Koumbis points out a list of advantages beginning with adaptability.  Existing weapons need not be replaced so operator and armorer experience is retained with no retraining and parts restocking needed.  Also, there's exceptional reduction in noise, flash and recoil with no change in the point of bullet impact.  The strong and light carbon fiber tubing contributes to an overall component weight of about 1.5 pounds plus heat shielding for no mirage to mounted optics.  Cost is also very reasonable with most conversions beginning at around $2,000.  www.shootersdepot.com
The Kiesler Defense booth showed a comprehensive line of weapons and equipment for military and law enforcement applications.  There, the futuristic lines of SIG Sauer's new TACTICAL 2 precision rifle caught our eye.  SIG's Dane Davis showed us how the operator can customize adjustments on the synthetic buttstock and demonstrated quick-change of the barrel and bolt modules for three popular long range cartridges.  Ultra fast cycling of the straight pull action comes from a clever radial bolt head that expands on locking and the trigger is fully adjustable for position, pull and stop.  www.kiesler.com
Crew Served Weapons
Belt fed guns and their various mounting options also rate high with us so we always make it a point to seek them out.
After extensively reporting on the development and initial deployment of the Army's Common Remotely Operated Weapon System we take some pride in seeing how Kongsberg's CROWS II and others in its PROTECTOR family are proliferating throughout US and allied armed forces.  A fully operational CROWS II with .50 caliber M2HB machine gun was in place at their booth, steadily attracting visitors who wanted a turn on the joystick-operated video control.  www.kongsberg.com
Noting the relative heavy weight, cost and complexity of the PROTECTOR line and similar powered remote mounts, Nobles manufacturing has developed the VIPER GUN SYSTEM, reportedly at the request of Army Special Operations Command.  This one man operated, attended gun station is also called the WIP (Weapons Interchange Platform) and it uses common components that are operator-configurable in about 15 minutes to accept the M230LF, LW25, MK19 and MK47, M3P3 and M134 guns.
Traverse and elevation are muscle powered for simplicity and Nobles' patent-pending GMBS (Gun Mount Braking System) is said to provide superior stabilization during firing.  This is particularly important for the heavy-recoiling 30mm M230LF auto cannon that's the first weapon fully integrated into the planned VIPER line.  www.noblesmfg.com.
Feeding The Tiger
Ammunition was hard to find at the event and what was seen was mostly 40mm grenades, suitable for high and low impulse launch platforms.  American Rheinmetall Munitions, Inc., the US arm of the famous European defense giant, displayed the largest variety.  We were interested to learn from Walt Galvin that their MK281 40mm high velocity practice rounds for MK 19 and MK 47 grenade machine guns are now US made.  USMC and USSOCOM are said to be primary clients, utilizing both the original Mod 0 and now the new Mod 1 with a special marking powder that is visible at night using NVGs.
American Rheinmetall is also proud to introduce the new 66mm VIRSS-L114A1 smoke screening cartridge for the projector tubes mounted on many armored fighting vehicles.  This round generates a thick and persistent cloud of smoke and special infrared screening components to defeat visual and IR observation, aiming equipment, sensor-guided weapons, beam riders, plus laser illuminators and rangefinders.  www.americanrheinmetall.com

The strangely lifelike ROVER from Australia's Marathon Robotics is our pick for the most innovative product showcased at SOLIC. This unique training tool for critical special operations shooting equips SEGWAY scooters with wireless-linked on-board computers and human size mannequins that stop and drop when hit. Several ROVERs can be independently programmed to move around in complex, unpredictable patterns, providing realistic training for urban snipers. www.marathon-robotics.com. (Marathon Robotics)
Free-Ranging ROVER
There are a number of suitable ways to present multiple, moving targets for somewhat realistic sniper training but we're unaware of any that can compare with Marathon Robotics' new ROVER system, our favorite find at the event.
Marathon's Dr. Alexei Makarenko told us that ROVER resulted from combat experience of Australian military special operators in Central Command's AO.  It seems there were too many instances when precision shooters were frustrated by not being able to effectively engage multiple individuals due to the universal reaction of "hear a shot and scatter."
Video trainers and rail-running targets just didn't do the job because the first type doesn't allow long range, open air shooting and the second is too predicable.  Marathon, funded by the Australian Department of Defense, has met the challenge with a "smart" robotic system featuring a team of independently moving lifelike target mannequins that can execute complex pre-planned scenarios.
"They can move in and out of buildings, momentarily hidden from observation, or pause behind open windows," Makarenko said, describing how the system works in the realistic urban training complex built for sniper training.  "They'll come out from different doorways and join the flow of other robots moving around the town square."
Existing technologies are a key to the relative low cost and flexibility of the system.  Marathon's engineering team started with the novel but well-proven SEGWAY scooter, a battery-powered, gyrostabilized two wheel mobility platform giving fast human-like motion to a life size 3D polymer mannequin.  "They lean forward to accelerate, rearwards to stop and they can turn abruptly," Makarenko explained, "presenting a real challenge for the shooter to track and hit them on the move."
An onboard computer gives the robot a "brain" with a combination of programmed actions, remote control and stimulus-driven responses.  Each ROVER has a GPS and a scanning laser rangefinder for navigation as well as obstacle detection and avoidance.  High speed wireless Ethernet is used to communicate with a central control station and with other robots to allow remote monitoring, interactive control and multi-'bot coordination.
"Reaction in a shooting scenario is amazingly realistic," Makarenko asserted.  "When a robot is shot it provides instant feedback by stopping and its mannequin drops backward.  Simultaneously, it sends a signal to all the others and they quickly scatter, running to the nearest cover."
This is a big part of the system's payoff in realistic training for fast, multiple target engagement when the first "terrorist" is hit and there are precious few seconds to get one or more of his fleeing accomplices.  Scoring feedback for shooters and evaluators comes from the robot's acoustic sensors, discriminating between hits to the torso or head and spine.
No joystick control is needed so a single instructor can conduct intricate programmed scenarios for long duration with multiple robots.  Also, the "script" can be changed in the middle of an exercise if desired, adding layers of complexity unattainable with other systems.
The 265 pound ROVER 'bots are pretty tough, Makarenko told us.  "In addition to being able to operate for many hours at a time day and night in heavy rain, we've put armor plate shielding over vital areas of the mobility components."  www.marathon-robotics.com
Pages: 1 2