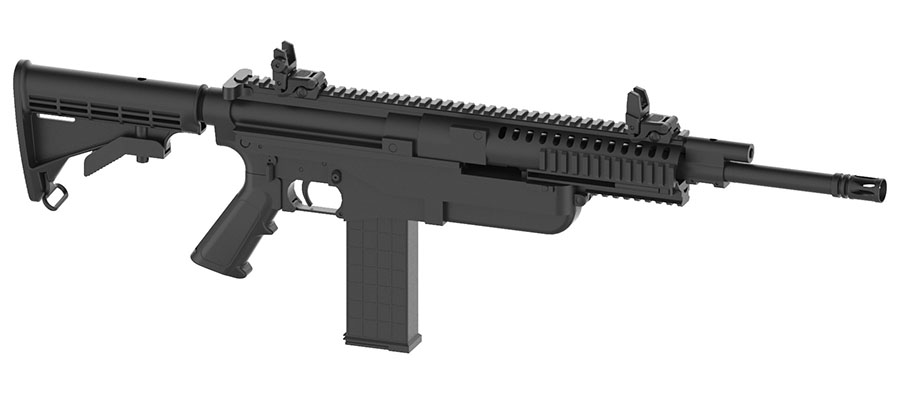 ABOVE: While Jim Schatz and other advocates campaign for immediate fielding of a LICCIW (Lightweight Intermediate Caliber Cartridge Individual Weapon), Big Army marches on. This computer graphic shows a recent configuration of ARDEC's developmental lightweight carbine firing 6.5mm, 125 grain projectiles in innovative "lipstick tube" polymer CT (Cased-Telescoped) cartridges. The newest companion to a well-proven 5.56mm CT SAW and the more recent 7.62mm CT MG, the carbine is said to be easily tailorable in caliber and configuration for leading edge advancements in fire control and other niceties. textronsystems.com/what-we-do/weapon-sensor-systems/LSAT Credit: Textron


This annual event is akin to a three ring circus, offering an information-packed agenda with presentations directly supporting the Armaments Division's three committees: Small Arms; Guns, Ammunition, Rockets & Missiles; and Unconventional Emerging Technology Armament Systems.

Brian Berger, President of Wilcox Industries Corp, and bringing long experience at the helm of the Small Arms Committee, gave us his perspective on the annual gathering.

"The NDIA Armaments Division Forum provides a unique opportunity for Industry and Government personnel to meet once a year, over a three-day period," he explained, "to learn from technical papers, attend tutorials, view short 'poster presentations,' and network with influential figures to exchange information on armament systems."

In this key slide from the forceful presentation: Next Generation Small Unit Weapon Systems – A Path to Overmatch, tireless warfighter advocate Jim Schatz reveals ongoing experimentation toward the goal of quickly fielding a LICCIW (Lightweight Intermediate Caliber Cartridge Individual Weapon) to arm America's 140,000 front line troops. Versions of a DPMS GII chambered for .264 USA (6.5x48mm) and .277 USA (7x48mm) rounds, and topped with the new Steiner Optik Intelligent Combat Sight (ICS), are proving remarkably more effective at extended range and terminal effects than the current M4 series carbines. Arguing on behalf of America's already outgunned front line warriors, he contends that it is unconscionable to wait while hidebound bureaucracies trudge toward some future solution. See all of his meticulously researched briefing slides posted on DTIC. Credit: Jim Schatz
Distance learning option

With nearly 120 agenda items including scholarly technical papers, historical perspectives, sobering assessments of harsh battlefield realities now and in the near future, panel discussions and more, doing justice to this firepower feast requires much more space than is available here.

Fortunately for all interested parties, NDIA has a generous policy of free access online to unclassified presentations. Actual briefing slides shown in unclassified presentations are posted online by DTIC (Defense Technical Information Center) for public access at www.dtic.mil/ndia/2016armament/2016armament.html

Or, go to NDIA's main page www.ndia.org, click the RESOURCES tab, then Online Proceedings from the left menu.

While you're there, take time to note the wealth of information on a myriad of other NDIA events available by date and title, an invaluable resource for the widest variety of interested parties – friend and foe alike…

Camp Lejeune, North Carolina, August 2015. A Marine with 2nd Air Naval Gunfire Liaison Company shoots an M2 .50 Caliber Heavy Machine Gun from the turret position of a Humvee. Two of the Corps' latest priorities – necessarily modest due to budget cuts – are illustrated here; phasing in M2A1 quick-change barrel .50s and reducing the height of vehicle topside weapon stations to facilitate loading on aircraft and ships. marines.mil Credit: U.S. Marine Corps photo by Cpl. Krista James
Briefings big and small

Here are a few highlights to whet your appetite for online study or a resolution to be there in person at the 2017 Forum.

While the main event kicked off on Tuesday, April 26th, Monday's early registrants were rewarded with a trio of tutorials including "Roadblocks to Success," a cautionary tale from ARDEC's Science and Technology office.

Ten "Poster Presentations" from subject matter experts were offered; intimate show-n-tell of subjects ranging from salty air corrosion on .50 cal ammo, to the "future of vibration testing."

For the next three days, committee-specific sessions ran concurrently in three separate meeting rooms. While a challenge for those with a variety of interests, this arrangement gives attendees the option to move about as desired to sit in on selected topics.

The Guns, Ammunition, Rockets, and Missiles (GARM) committee offered some 40 presentations unified by the theme "New and Evolving Armaments and Subsystems for Future Conflicts."

Among these could be found NSWC Dahlgren's Moving Target Artillery Round and ARDEC's remarkable work on 60 and 81mm Non-Lethal munitions. Yes, kinder, gentler mortar rounds.

On the decidedly cutting edge side under the banner of "Future Weapons: Armament Solutions in a Time of Small Wars and Limited Conflicts" came 30 presentations offered by the Unconventional and Emerging Technology Armament (UEA) Systems committee.

From the provocatively-titled Anti-Class One Drone & Multi-Purpose 66mm Launch System for the M-4 Carbine (Hint: search "Can Cannon" for one idea), to a dramatically closed-to-foreign-nationals examination of the question; Is Now the Time for a High-Energy Laser Weapon program of Record? Not surprisingly, many folks say YES !

WWJBD? (What Would John Browning Do?). Winchester Repeating Arms Company factory, circa 1918. Holding his famous Browning Automatic Rifle, the man who many consider the greatest firearms inventor ever, is seen here with fellow designer Frank F. Burton. In A John Browning View of the U.S. Small Arms Industry, examples of Browning's eminently practical and common sense approach were cited by respected veteran firearms engineer George Kontis in skewering today's bureaucracy-bound government armaments establishment. Credit: US Army Signal Corps, National Archives (Editor's Note: Mr. Kontis' presentation is not available on DTIC).
Small Arms Systems

Of course, most of our time was well spent in the company of industry and military proponents of traditional man-portable projectile pushers. We were richly rewarded by a veritable feast of presentations for ways of "Enhancing Small Arms Weapons, Equipment and Training in Support of the Warfighter." In a brief sampling of subjects one finds Wounds Ballistic Testing Panel, Role of MCOTEA in Testing of Small Arms, Active Stabilization of Firearms by Optical Target Tracking, Future Advanced Squad Technologies, Fatigue Life Extension of the M4A1 Carbine Bolt, MK 48 MOD 1 Machine Gun Sustained Fire Upgrade, Light Weight .338 Medium Machine Gun System Development, How to Ruin A Perfectly Good Weapon, One-Way Luminescence, and no less than five detailed papers on the Science of Firearms Suppression.

Many of the PowerPoints in this target rich environment of more than 120 panel discussions and focused papers are online at DTIC, but let's single out a handful that we found particularly provocative.

Retired Army Major General David Grange, former 75th Ranger Regiment commander and deputy commander in US Army Special Operations Command, is now top man at Osprey Global Solutions. He pulled no punches in two related presentations.

In Tuesday's keynote address, Soldier/Squad Overmatch, he warned that our likely enemies are well along in arming individual soldiers with new rifles firing ammunition extending the maximum effective range to 600 meters; well beyond that of America's M16/M4 family with currently standard issue 5.56mm ammo.

Later, in America's Foot Soldiers' New Round, Grange presented test data indicating clear superiority of Osprey's 6.5mm Super Z cartridge as an M4 compatible, cost and combat effective interim solution to the problem.

Wind blown rain spatters not only the camera lens but also the large front glass of the developmental MMO (Mounted Machine Gun Optic) topping a tripod mounted 7.62mm M240L. Major Keith Muehling, PMSW's Assistant Product Manager for Crew Served Weapons, watches the strike of bursts hundreds of meters downrange as Israel Defense Force Lieutenant Colonel Owen Giber, attending the Forum in his official capacity with the Israeli Embassy's Defense Attache, does a personal, hands-on evaluation of the sight, weapon and improved M192 tripod. The MMO is an advanced medium and heavy machine gun sight under development for the M2/M2A1, M240, and MK19. Note the swing-away magnifier day optic for precision shooting at extended ranges. peosoldier.armylive.dodlive.mil Credit: Robert Bruce
Expanding on this same theme in Next Generation Small Unit Weapon Systems – A Path to Overmatch, Jim Schatz, 2015 NDIA Chinn Award recipient and internationally recognized small arms subject matter expert, forcefully challenged the small arms status quo with another of his characteristically fact-packed presentations.

A perennial thorn in the side of hidebound bureaucracies as a tireless advocate for America's grunts, he contends that continuing to leave America's front line warfighters outgunned by adversaries while delaying at least partial replacement for M4s and 5.56mm cartridges is utterly unacceptable.

"Paradigm-changing key materials including LICC (Lightweight Intermediate Caliber Cartridge) ammo, Disturbed Reticle Carbine Sights, Blind-to-Barrier Bullets, LW Modular Weapons, and Advanced Training are available today," Schatz said, "to counter this current threat and emerging threats."

In a series of info-rich visuals, he presented solid evidence supporting his thesis based on recent testing of just such an innovative interim individual weapon/sight/cartridge system by a purposely unnamed official entity.

"That rifle shown at the top left of this slide is a DPMS GII modified by US Army Marksmanship Unit to fire the .264 USA (6.5x48mm) and .277 USA (7x48mm) rounds to include the polymer version made by MAC LLC" Schatz explained, providing ample test data to make the case.

"Its 'disturbed reticle' sight, Schatz noted, "is the Steiner Optik Intelligent Combat Sight (ICS). At the push of a button, an eye-safe laser instantly provides distance to the target, and calculates an illuminated, trajectory-compensated aiming point based on ammunition ballistics, measured distance, and angle to your target out to 800 meters."

And never one to shy away from advocating direct action, he drove home the point that, "overmatch Individual Weapon capabilities can be ours but we must ask for it!"

"The DoD or ACOS GEN. Milley/US Army or US Marine Corps or USSOCOM should brief Congress," he said, asking for $100 million to develop and field the next gen IW and LICC cartridge for "our most deployed/at risk weapon system; our Frontliners."

[EDITOR'S NOTE: Schatz' treasure map of a dissertation in the Forum's online proceedings is strongly recommended, along with his authoritative essay, The Future of the Assault Rifle, in SADJ, Vol 7 Num 1]

Among many interesting finds revealed by Dan Shea, Director of Phoenix Defence and publisher of SMALL ARMS DEFENSE JOURNAL in his presentation Modern Trends & Developments in Global Ordnance: 2015-16 World Tour, the ubiquitous combat veteran RPG looms large. This Russian RPG-7D3 launcher seen here is equipped with a simplified quadrant iron sight in place of the standard optical sight. Cheaper to make and easier to use effectively, it may be in response to the needs of Third World users. Also, there is an anti-helicopter RPG version, essentially a mortar with rocket assisted grenades, that has been encountered by the Israeli Defense Force in Palestinian use. And, RPG rounds – available in the millions worldwide – have been cleverly adapted to underbarrel launchers for AK rifles seen being fired in insurgent videos from Iraq. The trick to keep from frying the shooter is to remove the expeller cartridge. sadefensejournal.com Credit: Phoenix Defence (Editor's Note: While not officially "classified," for a number of good reasons Mr. Shea's presentation is not available on DTIC. However, professional inquiries should be sent via email to dan@sadefensejournal.com).
Military and Government Perspectives

The enormous official armaments establishments that have grown up over the decades deserve both scrutiny and praise. The Forum provided ample time for both with numerous grouped presentations as well as targeted papers. On the Small Arms side we found much to contemplate in panels featuring top figures in PM Soldier Weapons, PM Maneuver Ammunition, Joint Services Small Arms Program, and the NATO Weapons and Sensors Working Group.

Providing the Navy perspective on the Joint Service Small Arms Synchronization Team panel, the inimitable Chuck Zeller unveiled a proposed "way ahead" to more efficiently manage the current catalog of more than 30 types of small arms from pistols to grenade launchers in current use by sailors on land, sea and air.

In an initiative sure to ignite howls of protest from old salts with their personal favorites, arms lockers will eventually hold only eight kinds: M2A1 fifties, M240 mgs, M4A1 carbines, Mossberg 500 shotguns, M203A1 grenade launchers, Mk19 Mod 3 GPMGs, and whatever might emerge from the XM17 pistol competition and the Army's caliber study. Good luck with all that.

Oh, and what will become of the Navy's "legacy" leftovers being metaphorically pushed overboard? Many will go to allied military forces but long gone are the days of surplus guns being sold back to the American taxpayers who bought 'em in the first place. We're told that inquiries have been received from firms seeking to handle the demil process. Chop-chop.

While industry teams showed off their wares and entertained guest shooters on the firing line, a PM Soldier Weapons crew, down from Picatinny Arsenal in New Jersey, offered hands-on experience with many of the small arms currently in use by the US Army. In the foreground, John Heinsohn, Assistant Program Manager for Optical/Fire Control, adjusts the M68 CCO (Close Combat Optic) topping a 5.56mm M4A1 Carbine. Next to him is Major Keith Muehling, Assistant Product Manager for Crew Served Weapons, on the 7.62mm M110 SASS (Semiautomatic Sniper System) with its customary Leupold 3.5 - 10 power day optic and sound/flash suppressor. In the red jacket is Robert Galeazzi, Assistant Program Director for Precision Weapons, dialing in on target the latest upgrade of the high tech IBRS (Integrated Ballistic Reticle System) topping another M110. The IBRS, developed with L3 Brashear, integrates a variable-power day optic, laser rangefinder, projected reticle display, ballistic computer, digital compass, meteorological, incline and cant sensors. The day's fog, mist and rain proved a challenge to laser rangefinders up and down the firing line, underscoring some limitations of even the most sophisticated contrivances. peosoldier.armylive.dodlive.mil and l-3com.com Credit: Robert Bruce
And as what many see as the most warrior-focused of America's beleaguered Armed Forces, the USMC's PM Infantry Weapons Panel commanded close attention. As the Leatherneck leadership struggles to keep a sharp warfighting edge despite meager funding, small arms initiatives are necessarily small.

There is a need for a concealed carry pistol for non-uniformed criminal investigators, an improved sniper rifle system, phasing in quick change barrel M2A1s, and a quick way to reduce the height of vehicle weapon mount stations to better fit inside aircraft and shipboard. Details on these and more business opportunities are linked on Marine Corps Systems Command's website.

The Army's Program Manager Soldier Weapons is the big dog in development and fielding of improved Small Arms for all the US military. Work continues on the decade-old XM25 airburst grenade system, upgrades to the M4A1 carbine, and an opto-electronic sight for hand held 40mm launchers.

Near future goals include lightening the M2 .50 cal. to under 70 pounds (XM806?) and the Marines are partners in Army efforts to develop tough new barrels for the M240 and 249 machine guns to minimize or eliminate the need for overloaded ground pounders to carry a spare.

Questions about progress of the XM17 Modular Handgun System competition were met with the equivalent of a no-comment: "The program is in the selection process now. And there is a lot of misinformation out there." No wonder since just about nobody – including most manufacturers – is officially identifying the submitted pistols. Perhaps we'll know the finalists by the time this feature appears in print.

A quick side note: Of course we asked exhibit staffers from HK, Glock, and GD about participation in the handgun trials. HK said they had no entry, Glock would not comment, GD showed their S&W but no photos allowed.

Giving hope to those of us who have watched the ups and downs of the LSAT (Lightweight Small Arms Technologies) program, ARDEC's Kori Phillips reports in Cased Telescoped Systems: 6.5mm Carbine and 7.62mm Machine Gun, that this highly promising endeavour is alive and well; recently re-branded as CT (Cased Telescoped). Now joining the well-proven 5.56mm CT-firing SAW is a medium machine gun version in CT 7.62mm NATO, and nearing completion is an assault carbine optimized for 6.5mm, 125 grain CT ammo that "has significantly better performance than 7.62mm CT cartridge."

In a likely nod to Jim Schatz and other authorities in the "better cartridge" chorus, Phillips gave assurances that the system's compact "lipstick tube" polymer cases are easily tailorable in caliber and configuration and that architecture of the new carbine can be made to accommodate advanced fire control and other enhancements.

Meanwhile, results of the official SAAC (Small Arms Ammunition Configuration Study), promised for later this year, are anxiously awaited by military and industry with a mixture of hope and fear. Oh, and we're told that Osprey's 6.5mm Super Z came too late to be part of the study.

Dominating the exhibit area with a characteristically imposing display, defense giant General Dynamics Ordnance and Tactical Systems put three of its weapons front and center. On the left is John McMillan with the remarkable LMMG (Lightweight Medium Machine Gun) firing long-ranging, hard-hitting .338 Norma Magnum cartridges, and Dave Stouffer with the .50 caliber M2A1, the 90 year old John M. Browning classic now updated with a QCB (Quick Change Barrel). The LMMG was the focus of a special presentation by Eric Gudminson in the Small Arms Forum. Conspicuously absent from the right side display station touting the GDOTS/Smith & Wesson entry in the Army's Modular Handgun System competition, are actual examples. Their XM17 MHS pistol candidate, based on the polymer-frame M&P series, was eventually made available for viewing and handling, but no photos allowed. gd-ots.com Credit: Robert Bruce
WWJBD? (What Would John Browning Do?)

Carrying forward the occasional event tradition of a special look at some historical weaponry from a modern perspective, well-known firearms engineering guru George Kontis of Gun IQ International channeled a certain Utah born gunsmith/inventor from way more than a century past. In A John Browning View of the U.S. Small Arms Industry, Kontis' alter ego barbecued a whole herd of sacred cows.

Following brief biographical highlights of this giant of firearms history, the inventor of the .30 caliber lever action rifle, the .45 caliber M1911 pistol and .50 cal. M2 machine gun cast disapproval upon today's varmint caliber military cartridges as exactly what they are – unsuitable for big game like deer, bear and terrorists.

Then, Mr. Browning turned a critical eye on a list of subjects including seventy years of Army service rifle and ammo "improvement" programs, brass cased cartridges, combat rifles festooned with loads of ungainly add-ons, failure to adopt the metric system, continued use of wiggle-loose threaded fasteners, absurd government over-regulation, and an irrational anti-gun socio/political climate.

To the point, Kontis/Browning proposed a more efficient relationship between military and industry for a "System that Works." This starts with military and government arsenals writing specifications, then arsenals handling solicitations, industry providing competition and production, government handling acceptance, and back to arsenals for "configuration management."

In his conclusion, the NRA, NDIA and the National Armaments Consortium got a tip of the hat for public-private partnership in support of the essential small arms industrial base.

Chuck Martin of Radiance Technologies explains how multiple sensors are positioned at anatomically significant points on the "Mechanical Shooter," a device with human-like response for testing autoloading pistols or revolvers and ammunition. It is said to realistically respond to recoil like a human shooter, while eliminating the physical exposure to direct, repetitive recoil effects. Optional instrumentation captures important data for comprehensive analysis. radiancetech.com Credit: Robert Bruce
Exhibits and Networking Breaks

Participation by government and industry entities in the Forum's exhibits is strong as evidenced by seventeen booths, dominated by defense giant General Dynamics.

In addition to the gunmakers Barrett, FN America, Glock, HKD, and S&W, exhibitors enticed examination of explosive energetics, projectiles , ballistic instrumentation, mechanized cannon bore maintenance, super gunsights, custom grunt gear, a robot pistol shooter, and the Chipotle Publishing team handing out hundreds of free copies of SAR and SADJ.

Well situated in the main area where regular coffee breaks, daily luncheons and happy hour networking socials were enjoyed, exhibit staffers were kept busy all day doing show 'n tell for a steady flow of knowledgeable and engaged visitors.

Josh Schoenfeld, chief engineer for U.S. Optics, uses the top-mounted keypad on the Wilcox Raptar-S ballistic computer system to input specific type and lot 7.62 NATO cartridge data to synch with the ER-25 5x25x scope topping the DAE Precision ARCHER rifle. This remarkable Raptar incorporates an IR aiming laser, variable IR illuminator, visible aiming laser, laser range finder, and ballistic computer. Its on-board sensor suite reads ambient temperature, barometric pressure, humidity, inclination, cant and heading to quickly, efficiently and precisely calculate corrections for first round hits at extreme range. wilcox.com, usopticsscopes.com and daeprotection.com Credit: Robert Bruce
Range Time

Year after year at these events, Sal Fanelli, a senior engineer in the USMC's PM Infantry Weapons office, has bravely volunteered to shoulder the often-thorny burden of coordinating what used to be known as the Firepower Demonstrations. But this time, emphasizing inclusion of items that optimize effective projectile pushing, he's now "Chairman, Technology Demonstration Session."

"This portion is a unique opportunity that allows vendors to showcase their latest designs and gives attendees hands-on experience with the latest developments," Fanelli noted. "It's the only venue of its type and the main draw for each year's event. The paper presentations along with private talks with each of the vendors culminate each year at the end of the conference where the weapons, sights and ammo do the talking."

In what many see as saving the best for last, more than a hundred attendees boarded chartered buses on Thursday for a short ride from Fredericksburg to nearby Fort A.P. Hill's Multi-Purpose Range 33 and a few hours of nitrocellulose-perfumed pleasure with spirits undampened by scattered showers and persistent drizzle. "Any day on the range beats a day in the office," goes the old military saying.

Graciously hosted by Captain Joseph Fyfe of the Army's elite Asymetric Warfare Group, and sternly overseen by NDIA volunteer Range Safety Officer Jim Schatz and crew, demonstrators included Barrett, FN America, Glock, Heckler & Koch, LaRue, U.S. Optics with Wilcox Industries, and a big team from US Army's PM Soldier Weapons, down from ARDEC's home base at Picatinny Arsenal, New Jersey.

Attendees lined up behind their weapons of choice, getting bragging rights and selfies from trigger time with free ammo (much of it generously donated by Orbital ATK), behind a remarkable selection of the latest in pistols and PDWs, assault rifles, sniper weapons, and machine guns.

No "Hollywood flashpowder loads" needed here; standard 5.56mm M855 cartridges produce a rather spectacular fireball in auto fire as LaRue's Government and International Sales rep Jimmy White, function tests the Stealth 2.0 carbine with stubby 12 inch barrel. Addition of a quick mount suppressor nicely tames the visible and audible signature. larue.com Credit: Robert Bruce
NDIA's Armaments Division

The Division's activity is directed through three very active committees: the Small Arms Committee; the Guns, Ammunition, Rockets & Missiles Committee, and Unconventional Emerging Technology Armament Systems.

Our mission is to provide focus on integrated armament systems including those used by individual soldiers, utilized on crew served systems, and integrated into land, sea, and air platforms. The purpose is to provide the forum for industry, military, and government personnel to address issues which are necessary to ensure a superior armament system capability today and in the future.

The Division addresses many issues, such as: Armament Operational Needs and Requirements; Approaches and Concepts, System Integration, Weapons, Munitions, Fire Control, and other ancillary equipment, and logistic support. Attention is given to total systems and to technology application and state-of-the-art technology advancements. Through these topics, sections within the division provide assessment of current armaments and a vision of emerging military equipment and operational capability applying advanced technology in total armament systems.

The division's goal is to ensure a forum for all types of armaments systems within the existing committees or through expanded activity of additional committees of the Armament Division.

To view more photos from the 2016 NDIA's Armaments Division event please visit this link: https://www.smallarmsreview.com/archive/reference.07-2016.cfm#07192016
Barrett Firearms Manufacturing's Jordan Progar and at-large gun engineering wizard George Kontis are apparent believers that – even with persistent drizzle and wind gusts – "any day on the range is better than a day in the office." The weapon ready for familiarization firing is Barrett's cleverly made 7.62mm M240LW, using innovative fabrication techniques to slim down the US military's notoriously heavy, standard M240 to just 20.15 pounds "without the use of rare, exotic metals." What's that about? Well, the Army's solution has a titanium box receiver; costly and exceptionally difficult to make, weighing in at 22.3 lbs. Barrett.net Credit: Robert Bruce
Connect for success

NDIA is your source for networking, knowledge exchange, and business development opportunities with government and the defense industry. NDIA can connect you for success through association events, policy, and local chapters. Select your membership category and join online www.ndia.org

2017 Armaments Forum

As this issue goes to press the dates and location for NDIA's 2017 Armaments Forum have not been finalized but will be announced at ndia.org

As luck would have it, the PM Soldier Weapons crew from Picatinny Arsenal was already at Fort A.P. Hill doing night firing test and evaluation. This physical presence for necessary official duties – and certified US military issue ammunition donated by Orbital ATK – facilitated their participation to promote appreciation for PMSW's essential mission and to greatly enhance the NDIA range day experience. Despite coming right off some very late nights, they all managed to smile for this group shot at the end of a wet and chilly day on Range 33. peosoldier.armylive.dodlive.mil Credit: Robert Bruce
SADJ's Perspective

Dan Shea, General Director of Phoenix Defence, woke up Wednesday morning's Small Arms session with a catalog of observations on some of the latest developments worldwide in arms and ammunition.

Adding to criticism of America's warfighters being demonstrably outgunned, Shea, Editor-in-Chief of SMALL ARMS DEFENSE JOURNAL and SMALL ARMS REVIEW, noted increasing use by adversaries of more powerful cartridges including the hard-hitting and long-ranging classic 7.62 x 54R cartridges in legacy and developmental firearms, now including North Korea's fascinating new Minigun with necessarily unusual push-thru links that eliminate the need for a de-linker.

Also, Shea has run both lab and field tests on Russia's remarkable silica-embedded armor piercing projectile for the integrally-suppressed 9 x 39mm VSS Vintorez, a Spetsnaz favorite. "Subsonic – less than a thousand fps – it cuts thru a Level III plate like butter," he said, "and destroys the integrity of Level IV."

Another notable Russian development is a new, soldier-friendly quadrant iron sight for the RPG-7D3 launcher, much simpler than the standard optical sight, requiring far less training for effective use.

In his role as a long-time member of NDIA's Small Arms Steering Committee, Shea also provided his perspective on recent iterations of the event and what might be likely in the near future:

"The NDIA Small Arms Group is one of the most important and influential meetings every year, and with its sister Symposia at Shrivenham in the UK, provides platforms for the small arms community that are irreplaceable and we feel strongly must be maintained and grown.

After the drawdown in Iraq and Afghanistan, budget cuts in the military, lack of support from some of the civilian leadership in the US, and some unwelcome attention to government 'Conventions' by a high profile and out-of-control budget on a GSA convention in Las Vegas, attendance at many military shows has been cut drastically

Event organizers of these essential events have had to resort to many cost-cutting and location changing tools to keep operating. NDIA has been no exception, and the Small Arms Group has seen some attendance drop from the highs of 800-1000 to a low of several hundred.

This year's event marked a major uptick- 400 plus attendees and exhibitors appear to be related to the excellent location choice of Fredericksburg, VA. It's near to the DC/Northern Virginia heartbeat of the military, close to Quantico so the USMC can attend in force, and close enough to Picatinny so that attendees can drive down. The 2016 event was a major step forward and the positive energy was evident.

Many of the board members and attendees suggested using this venue and its nearby firing range for the next several events while we built momentum back up for the group, then move out to various other areas as leadership sees fit. While future locations remain to be seen, SADJ is off the "Come back to Las Vegas where it's cheap and gets heavy attendance" soapbox, and putting our vote in for more Fredericksburg.

Wherever NDIA Small Arms Group and any associated groups choose to go, we'll be supportive and attending of course- but we were won over by this year's location and hope to see several future shows there."

Honorees for NDIA's 2016 Armaments Forum are Dr. Philip Dater, recipient of the Lieutenant Colonel George M. Chinn Award, and retired USMC Colonel W. Hayes Parks, who received the Gunnery Sergeant Carlos N. Hathcock II Award. The Chinn Award honors a government or industry individual who has made significant contributions to the field of small arms and/or infantry weapons systems. The Hathcock Award recognizes an individual who has made significant contributions in operational employment and tactics of small arms weapons systems which have impacted the readiness and capabilities of the U.S. military or law enforcement. ndia.org Credit: Robert Bruce
NDIA Small Arms Committee's 2016 Honors and Awards

The Chinn Award is named in honor of LtCol George M. Chinn, USMC, a career Marine who dedicated his life to the study, development and refinement of machine gun mechanisms. Each year, it honors a government or industry individual who, in the opinion of the Small Arms Committee Executive Board, has made significant contributions to the field of small arms and/or infantry weapons systems.

This year's recipient, Dr. Philip H. Dater, perhaps best known as the driving force behind Gemtech firearms sound suppressors. In his presentation, Dan Shea, SADJ's publisher and NDIA Small Arms Steering Committee member, said, "I know that "Doc" Dater has devoted his professional life to the science of sound, applying that knowledge to the shooting world, and that he has not only designed many significant suppressors and been part of team that provide weapons to our warfighters, but he has also selflessly shared his knowledge with many."

Named in honor of USMC Gunnery Sergeant Carlos N. Hathcock, II, a career Marine who dedicated his life to the service of this country in both the military and law enforcement communities, the Hathcock Award recognizes an individual who, in the opinion of the Small Arms Committee Executive Board, has made significant contributions in operational employment and tactics of small arms weapons systems which have impacted the readiness and capabilities of the U.S. military or law enforcement.

Retired USMC Colonel W. Hayes Parks is NDIA's 2016 Hathcock honoree, a warrior and lawyer who gained international prominence during his time with the Army's Judge Advocate General in successfully fighting off repeated attempts to ban combat use by US military personnel of highly accurate and effective open tip match cartridges.

Parks' philosophy over decades, cited by presenters Sal Fanelli, noted firearms engineer, and retired FBI Special Agent Buford Boone, is "To provide maximum support for the first Marine across the beach, the first assaulter through the door, the sniper taking the cold bore shot, and other US military and law enforcement personnel operating in … harm's way."