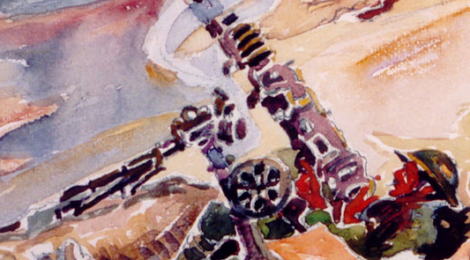 British Machine Gun Corps 'trench art' lighter. Copper and brass in the shape of a book with the collar insignia of the M.G.C. crossed Vickers attached to the front. The inside folds out to reveal a wheel and flint cigarette lighter. This lighter belonged to Private T.W. Beer, M.G.C. No. 10483.
Original watercolor painting of a U.S. doughboy manning a French M1914 Hotchkiss machine gun with smoking barrel from an anti-aircraft defense emplacement firing on an enemy plane. Signed in pencil, 'H.A. Smith, Mt. Falcon, France.' Image size 8 1/2 x 11 1/4 inches. U.S. troops were initially issued French machine guns (Hotchkiss M1914 and Chauchat M1915) upon arrival in France.
German World War I veteran machine gunner's lapel stick pin. Gold gilt image of German Maxim MG08 machine gun within machine gun belt oval marksmanship badge.