World War II Japanese home front patriotic fan. Made of bamboo and paper it measures 7-1/2 inches long and opens up to be about 10 inches wide. Printed in bright colors, it depicts heroic Japanese battle scenes that include an officer on horseback, airplanes, tanks and machine gunners firing a Hotchkiss pattern heavy machine gun. The reverse simply has a large red Japanese "meatball" against a white background.
Massive (5 inches long) pocket knife issued by the Canadian Expeditionary Force (CEF) to machine gunners in World War I. Deeply stamped on one side "M&D Canada 1914" (M&D for Militia & Defense), the knife consists of two blades and a marlin spike as well as a carrying loop. Hand etched on the other side (probably with a nail or other sharp instrument) is the insignia of the Machine Gun Corps of King's crown over crossed Vickers over MGC and identified to Cpl. L.B. Lefroy 2887.
Portrait photograph of an Australian Machine Gun Corps soldier in souvenir holder in the form of a post card. The soldier is identified to "Gunner H. J. Brown, Australian M.G.C. on Active Service." The holder is marked "For The Honour of Australia and the British Empire. Souvenir of the Great War." British made.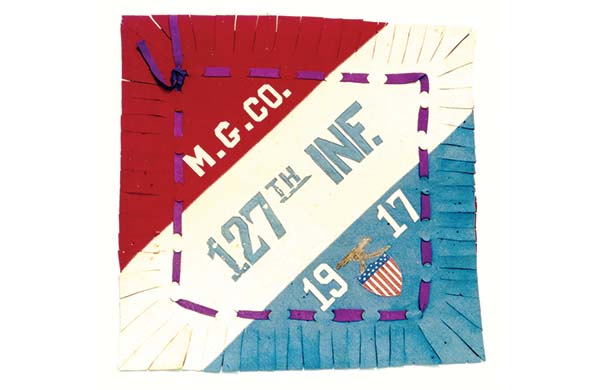 U.S. World War I felt pillow cover. Handmade home front item from a souvenir kit, to the Machine Gun Company of the 127th Infantry, 1917.
World War I British Guards Machine Gun Battalion cap badge. Used 1916-1918, the brass metal star has five points being bullets. In between each bullet point is a symbol representing the five regiments of the Foot Guards that made up the Guards Machine Gun Battalion. These include a grenade (Grenadier Guards), rose (Coldstream Guards), thistle (Scots Guards), shamrock (Irish Guards) and leek (Welsh Guards). To the center is a "GMG" (Guards Machine Gun) monogram and "1916," the year in which the unit was formed. This badge was discontinued in May 1918 to embrace the Dismounted Household Cavalrymen and the new unit, and their new insignia, was designated the Guards Machine Gun Regiment.