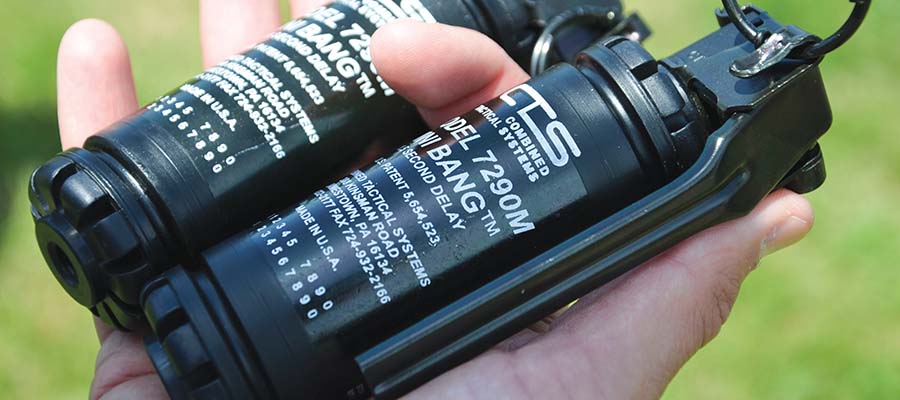 ABOVE: CTS 7290M Mini Bang™.


For 35 years, Combined Systems, Inc. (CSI) of Jamestown, PA has been a leader in the design, manufacture and marketing of security products for the global defense and law enforcement markets. A premier supplier of less-lethal munitions and systems, CSI manufactures products for riot control, police tactical teams, corrections officers, and military units.

Under the brand name Combined Tactical Systems (CTS), CSI produces its line of less-lethal munitions including aerosol defense, irritant & smoke munitions, impact munitions, flash bangs, sting-ball grenades, breaching munitions, breaching tools, fuzes, & components.

SWAT entry using CTS 7290M Mini Bang™.
The company has recently expanded the CTS line of distraction devices, "flash bangs," most notably with the 7290ML Mini Bang™, weighing only 267 grams with a light output of 4-6 million candela and sound output of 175 dB.

CTS has also expanded its Multi-Bang product family to include 3, 4, 5, 6, 7 and 8 Bang, now bringing the lineup to a full range of 2 through 9 Bangs. Multi-Bangs are non-bursting, non-fragmenting devices which create extended diversionary effects while performing with high reliability. In order to prevent the devices from becoming dangerous projectiles, all CTS flash bangs release energy from top and bottom vents. The Multi-Bangs line also incorporates CTS quality fuze components with the patented (and U.S. Army adopted) Confidence Clip™ and pin shroud.

Combined Systems, Inc. holds itself to a high standard of excellence, which is why many LE and military units worldwide trust CSI with their less lethal needs. CSI holds over 40 patents companywide including for the CTS munitions. All CTS flash bangs are built and tested to military ammunition standards with great attention to safety and fuze consistency.

Go to www.combinedsystems.com for more details.


Assorted CTS Flash Bangs and Sting-Ball Grenades.
New CTS 7290ML Mini Bang™ All provided by Combined Systems, Inc.