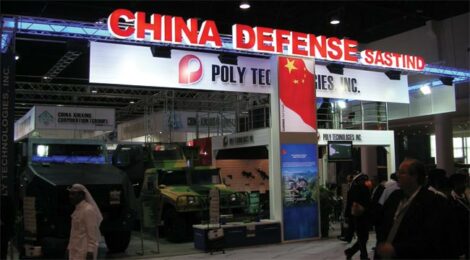 The Mini-Beryl was one of several Polish small arms on display.
SADJ attended the 9th biannual IDEX show in Abu Dhabi on 22-26 February, 2009, and found that the show had grown in size and scope.  IDEX is a "must attend" event for those involved in the small arms community as well as defense in general for the Middle East region.

Close-up of the ballistic computer fitted to the Serbian-produced Black Arrow anti-material rifle.
The Bazalt DP-64 under-water, anti-diver grenade launcher offers a unique capability.
One highlight of the small arms element of the show was the South Korean produced K-11 combination grenade launcher and kinetic energy weapon. Similar in concept to the earlier Objective Combat Infantry Weapon (OCIW), the K-11 features a 20mm grenade launcher firing operator programmed air-burst munitions and a 5.56mm NATO standard caliber assault rifle. To ensure the effectiveness of the relatively small diameter grenade a ballistic computer is fitted. The launcher is bolt-action operated and magazine-fed. The rifle component appears to be a selective-fire version of the K2 assault rifle.
The Turkish military arms producer MKE displayed a selection of its current product line. The company's 7.62mm NATO caliber bolt-action sniper rifle was on display and appeared to be a product-improved version of the rifle seen at earlier Defence Exhibitions.
A new variant of the HK G33 assault rifle, the MKE-T50 in 5.56mm NATO caliber (produced under license) was shown. The telescoping butt originally offered has been replaced with a side-folding polymer buttstock.
Steyr Mannlicher of Austria exhibited a range of product improved versions of the Steyr AUG in both 5.56mm and 9mm NATO calibers. Shown here is the 9mm NATO version with regional color tone buttstock and fitted with a manufacturer supplied suppressor.
Yugoimport SDPR was present with a full range of infantry weapons manufactured in the Republic of Serbia. Shown here is the M77 automatic rifle in 7.62x51mm NATO caliber, which has recently received improvements. Note M4 type telescoping buttstock, modular rail fore-end with length adjustable forward pistol-grip.
Pages: 1 2