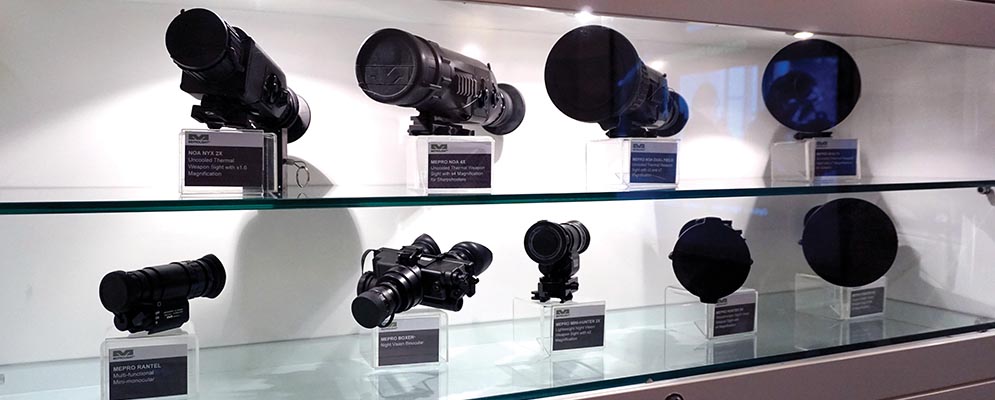 ABOVE: Complete thermal and night vision product line including monocular, binocular, clip-ons and dedicated magnified optics.

Whenever I see recent photos of Israeli soldiers, they are almost always equipped with an optic on their M4 or Tavor series of rifles. This is Meprolight's MEPRO M21 Reflex Sight that was designed in collaboration with the Israeli Special Forces. The company is also known for their Tru-Dot tritium night sights that come standard on many popular pistols in the market. What many are not aware of is they are an innovative optics manufacturer that also specializes in night vision and thermal optics.
Meprolight was founded in 1990, and they are based in Or Akiva, Israel. The town is about an hour north of Tel-Aviv, the largest city in Israel. They are part of SK Group, which consists of Israeli Weapons Industries (IWI), a world-renowned small arms manufacturer, and Camero, manufacturer of the innovative see-through-wall solutions based on advanced radar technology and many other subsidiaries such as shipyard, property development, etc.
Tritium is used on these night sights, and optics are supplied by MB-Microtec in Bern, Switzerland. These are the same tritium tubes used by various night sight manufacturers so they all perform identically as there is a legal limit on the amount of tritium that can be contained in the glass cylinders.
Tritium, of course, is radioactive, but the amounts used are completely safe. The chance of radioactive poisoning is slim even if you were to break the glass tube and consume the tritium. In fact, due to German government regulation, the night sights destined for Germany have to have a reduced amount of tritium compared to night sights made for other countries.
There's a common misconception that you have to charge tritium by facing it to the sun or shining a flashlight against it to absorb the energy. In fact, from the time of manufacture, tritium has a half-life of 10-12 years which means they retain 50 percent of their brightness from new. Meprolight provides a 10-year warranty from the date of manufacture which meets the industry standard.
Calibration and testing area for the M5 / RDS Pro red dot sights to ensure full windage and elevation travel across the enlarged flat screen display.
Their latest product officially introduced at SHOT Show 2018 is the MicroRDS red dot sight with quick detach mount for pistols. It features a 3 minute of angle (MOA) red dot which is a great balance between quick sight acquisition and accuracy. What makes it unique is it mounts on top of a set of special Meprolight night sights that are included as a package. The rear night sight contains an extension rail with a cut for the optic. The optic can then be installed and removed in seconds, offering return-to-zero capability. This is great for those who prefer not to modify their factory pistol slides by milling or who don't wish to purchase an extra dedicated slide for optics. It will be a very popular item due to the rising popularity of a carry optic both in real life as well as competition such as the new USPSA Carry Optic and IPSC Production Optics divisions.
They have also introduced green color for their M5 / RDS Pro LED powered sight with a bullseye reticle which is essentially a circle with a 2 MOA dot in the center for quicker sight acquisition in close-quarter combat. In this latest version, the brightness levels have been increased from 4 to total of 16. The brightness adjustment knob remains identical with 4 notches (OFF, 1, 2, 3 and 4), but a side button has been added onto the knob so each brightness level has 4 additional levels of micro adjustments. This is a clever design as the sight can be switched on quickly without having to scroll through the many levels of brightness to find the most suitable setting.
The MOR which is an LED, fiber optic and tritium powered sight integrated with dual lasers is also available now with a green laser for better daylight visibility. Our human eyes are more receptive to the color green than red and in certain lighting conditions, green lasers are six times easier to pick up than red. In addition to the bullseye and 4.3 MOA reticle, Meprolight now offers a 2.2 MOA dot for users who prefer more precision especially when used in conjunction with a magnifier. The MOR is powered by 2 AA alkaline or lithium batteries but will still function with a single battery inserted in either compartment. One unique feature of the MOR is once the sight is zeroed, so are the dual visible and IR lasers saving the user's time and ammunition.
All these changes and additions are due to user feedback the company has received after being used in the field.
The latest thermal/night vision product announced at MilPol 2017 in Paris was the MEPRO NYX-200 multi-spectral sight. It is available in two configurations: thermal channel with digital night camera or thermal channel with digital day camera. This combination provides flexibility for the end user as thermals cannot be seen through windows and glass as they block the heat signature. With a press of a top button, the sight quickly switches between thermal and the digital camera modes. The sight also features an IR pointer and photo and video recording, which makes this an all-in-one package instead of carrying additional equipment in the field. Both the thermal and night vision images through the viewfinder are bright and crystal clear.
MX3-T vs MX3-F 3x magnifiers; notice the much shorter throw on the MX3-T.
Production
We started on the main floor in an area that showed part of the night sights' assembly process. On the table there's a machine with a needle that is inserted in the holes where the tritium vials are inserted into the sight. The process is designed to blow out any moisture, dirt or debris inside the holes after machining. The technician has to manually insert and remove each night sight from the machine which is time consuming. Following this process, there's a secured assembly area where the tritium vials are carefully inserted into the sights, and the rear sight will have the TRU DOT brand printed in signature green color. Meprolight is an OEM provider of tritium night sights to many handgun manufacturers such as Heckler & Koch, SIG SAUER, Glock and Kimber, etc. Night sights destined for OEM are packaged in bulk to save space, and the rest are packaged in larger retail packaging.
All the assembly areas are sealed with positive air pressure to ensure a dust-free environment. There are also air ducts coming from the ceiling down to the work area sucking any specks of dust nearby. All the areas are very clean, and I felt like I was in a science lab rather than a production facility.
Moving onto the upper floor, we entered the assembly area for their optics such as the M21, M5 / RDS Pro and MOR. On one table there's a stack of bright orange fibers with one end taped for the reticle. The fibers are inserted into the inner housing followed by the lens, external housing and other components. For the M5 red dot sight, they are more complex due to the electronic board and battery housing. The MOR is the most complex due to the use of fiber, the LED as well as the 2 lasers that have to be installed.
In one area there is a tray full of used M21 reflex sights as well as M5 / RDS Pro red dot sights. These are sights returned by the Israeli Defense Force (IDF) as Meprolight provides in-house servicing for their optics issued to the IDF. Meprolight will examine, repair or replace any worn out or defective components, test and return them back to the infantry soldier who will depend on them for many years to come.
NYX-200 night vision image captured from the viewfinder.
In the testing area, the sights are put onto a machine where there's a flat screen display that shows the projection of the reticle, and the technician will test the full range of windage and elevation adjustments. Once that's completed, the sight is zeroed to the center of the grid display projected on the flat screen.
With the exception of their RDS civilian version red dot sight, all other Meprolight sights, which are all mil-spec-rated, get individually tested with extreme hot and cold temperatures, water pressure tests and shock tests to ensure they work perfectly before reaching the end user in the field.
Additionally, Meprolight staff visit the range regularly at least once or twice a week to fire pistols, rifles and belt-fed machine guns with their sights mounted. Often times they work with Israeli special units to get their feedback on prototype sights that in turn help the engineers design a better product. All the Meprolight staff are IDF veterans, and one of them whom I met is a shooting instructor in the IDF reserve unit; he conceal carries a pistol at all times. This close relationship with the end users is what makes Meprolight unique from most other optic companies in the world.
Unfortunately, there were restricted areas such as the night vision and thermal devices assembly from which I was barred access. Any information of their assembly process is highly classified.
Main entrance of the Meprolight building.
Range Day
On the 2nd day of the tour, I was getting picked up by a Meprolight employee, and we took a 45-minute drive south to the IWI shooting facility which is approximately 2000 meters from the Gaza Strip. We stopped briefly on an overlook that views Gaza city. It seemed far from the naked eye, but we were within rocket range. Once we arrived, there were IDF Merkava MK IV tanks parked nearby as well as IDF soldiers carrying their Micro Tavor X95s with Meprolight RDS Pro practicing at the range.
Before we began, I was informed where the bomb shelters are which I would immediately proceed to if I heard the siren going off. Both IWI and Meprolight staff were present, and I was able to try out the new MEPRO 4x and 6x magnified optic on the IWI Tavor 7 prototype.
The MEPRO 6x sight was originally designed for the Negev belt-fed light machine gun, but it suits perfectly well to the Tavor 7 in 7.62x51mm which can act as a Designated Marksman Rifle (DMR). The 6x optic can easily allow the operator to identify targets, and the reticle offers bullet drop compensation (BDC) for both 5.56mm and 7.62x51mm NATO rounds. With a bipod and the MEPRO 6x attached to the Tavor 7, it can easily be fired from prone position at human-sized targets out to 400-500 meters with precision.
The MEPRO 4x has shorter reach compared to the 6x; however, it is lighter and offers better situational awareness as it offers a wider field of view which fits this rifle perfectly for an all-around role for engagements from 50 to 200 meters.
NYX-200 thermal image captured from the viewfinder.
Both the MEPRO 4x and 6x offers a soft rubber eyepiece which absorbs some of the bump if the scope hits your eye protection or your eye. This is exactly the feedback they have received during the development of these optics which gets immediately passed back to the engineering team so they can implement the changes to the design.
Unlike the Trijicon ACOG, however, the MEPRO 4x and 6x do not offer daytime illumination by LED or fiber optic as Meprolight found it is not necessary; perhaps it also adds unnecessary complexity which can weaken the optic's durability. They do feature illumination powered by red LED for low-light shooting.
All the optics on range day had quick detach mounts so we quickly took off the 4x and 6x sights and popped in the M5 / RDS Pro red dot sight with the new MX3-T 3x magnifier. The MX3-T magnifier was designed based on request from an Israeli special unit that wanted a shorter throw compared to the MX3-F with a flip mount. Instead of pressing a button to flip the mount, the MX3-T can be flipped to the right after pulling back just a few millimeters. The new mount is more compact and intuitive, but due to its manufacturing complexity of the new mount, the retail cost will be slightly higher.
Next I shot the IWI Masada 9mm striker-fired polymer prototype pistol with the Micro RDS prototype sight installed. I was informed the lens on this unit is different to the final production unit, as they had to make final revisions to improve clarity. I had no issue hitting the target at 10 meters away, although the red dot does take few minutes to get used to for someone like myself who does not have red dot sights on my pistols. After a few magazine changes, we removed the Micro RDS by flipping the QD lever and shot the exact same pistol with only the night sights. The Masada cycled every round and hit the target every time with or without the red dot sight installed.
MEPRO 4x and 6x magnified optics.
Conclusion
It's a treat to be able to visit one of the world's best optics manufacturers with a diverse range of products. I would like to thank Amir Karo, director of Sales & Marketing at Meprolight for his hospitality. Israel is a beautiful country, but it is constantly under threat from the region which means it has to constantly create better equipment to maintain its advantage. With many new products arriving in 2018, Meprolight will certainly increase their market share in the highly competitive optics market.