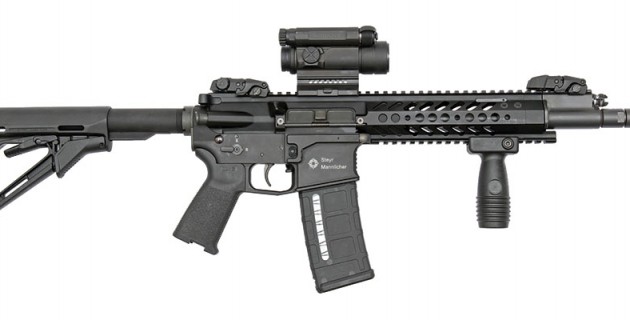 ABOVE: Steyr STM 556 assault rifle. (Steyr)
Eurosatory 2014, the Defence and Security Exhibition was held in Paris Nord Villepinte (near Charles de Gaulle airport) from June 16 to 20, 2014. It remains the largest global meeting for land and air-land defense. During this edition, the exhibition also confirmed it's now-established in the areas of homeland security, civil security and safety of companies.
Some figures confirm the success of Eurosatory 2014, with 1,504 exhibitors from 58 countries, 55,770 visitors, 707 journalists, 172 Official Delegations from 88 countries and 3 International Organizations.
Regarding the reduction of many military budgets in the world, few new small arms could be observed. Nevertheless, we can still present a large overall review of some of the exhibited materials.
Austria
Glock: New pistols from Glock are: the Glock 30 S – the same as the Glock 36 but in .45 ACP with a 96 mm (3.78 inch) barrel; the Glock 39 in .45 ACP with a 87 mm (3.42 inch) barrel; the Glock 41 in .45 ACP with a 135 mm (5.31 inch) barrel; and the Glock 42 in .380 ACP with a 82 mm (3.22 inch) barrel.
Kepplinger: Engineer Hannes Kepplinger has developed 9mm and .45 cal. SMGs as well as small bore assault rifles. He now proposes a bolt action sniper rifle named the SSG 08. It has a folding stock, a Picatinny rail fitted over the barrel and the magazine housing is behind a large size forearm. This rifle also has a bipod and a silencer which is also used as a flash hider. Chambered for the .338 Lapua Magnum, it has a magazine capacity of 10 rounds, has an overall length of 1,240 m (48.8 inches), length with stock folded of 970 m (38.1 inches), barrel length of 720 m (28.34 inches) and weighs 6.5 kg (14.34 lbs.).
Steyr Mannlicher: Pistols, SSG assault rifle and sniper rifles. The Austrian company has also a new assault rifle: the STM 556. It comes from the M16 family with an upper and lower receiver made of aircraft quality light alloy. The selector is ambidextrous, and the rifle is fed from a STANAG 4179 M16 magazine. The rifle has a quick-change barrel system and uses a short-stroke gas piston operating system. It is adjustable with four positions for normal, over (clogged gun) – and under-gassed (for suppressor) settings as well as shut off (grenade launching). The rifle has a telescopic stock, several Picatinny rails, and an anatomic pistol grip (with three sizes) and receives a black Mannox finish.
Belgium
FN Herstal: The Belgium company showed all of its pistols, assault rifles and machine guns. It also presented the new FN TASAM (Target Acquisition & Situation Awareness Module). It uses interoperability of all components of the weapon to provide a number of advanced combat and C4i capabilities – in day and night conditions: situational awareness of both soldier and platoon (using the GPS), target acquisition (using a laser range finder and a camera), and data transfer within the platoon or to higher levels of command (using the FN SmartCore shot counter and communication network such as Bluetooth, wireless or 3G).
The FN HUD (Head Up Display) is a state-of-the-art sighting solution specifically designed for enhanced firing accuracy in combat using axial armaments, combined with reduced pilot workload and reduced target acquisition time. Easy to integrate on new or in-service helicopter platforms, the FN HUD incorporates the latest advances in digital electronics and electro-optical systems and is able to communicate with the existing avionics systems aboard the carrier.
Bulgaria
Arsenal: had a large choice of modern automatic weapons, most of the rifle type derivate from the Kalashnikov.
Canada
Colt: Formerly Diemaco prior to 2005, Colt Canada manufactures a large family of AR-15 assault rifles, having the similar design of the M16A3, with the heavy barrel of the M16A2 that includes 25 models in 5.56x45mm; 2 models in 7.62×51; 1 model in 7.62×39; and two 9mm submachine guns. These guns are used by standard or special forces of Afghanistan, Canada, Denmark, Great Britain, Iceland, Netherland and Norway.
Defence Technologies: Another Canadian company proposes several bolt action sniper rifles with fiberglass stock, stainless steel frame, titanium bolt and cold forged steel barrel. The bolt has two lugs on the head and a third at rear. The Coyote is available in .308 NATO, the Timberwolf in .338 Lapua Magnum and the LRT-3-50 in .50 cal. Browning.
China
Norinco. The Peoples Republic of China booth only had a pictured representation of their small arms production, as well as some videos played on screen. Included were the new grenade launchers in 35mm.
Croatia
Agencia Alan: This company represents all the Croatian small arms production: HS pistols, available in 9x19mm, .40 S&W and .45 ACP – three variations of each exist (Combat, Sub-Compact and Tactical); ERO submachine guns (Uzi and Micro-Uzi types); VHS assault rifles; several sniper rifles in .300 Winchester Magnum, .338 Lapua Magnum, .50 Browning and 20×110; and the RBG 6, a repeating 40mm grenade launcher (MGL Mk I type).
Czech Republic
Ceska Zbrojovka: Many small arms were exhibited at the booth of the Uhersky Brod factory: CZ pistols CZ; Scorpion EVO 3 A1 SMG; CA 805 Bren A1 and A2 assault rifles; CZ 750 S1 M1 sniper rifles; and CZ 805 G 1 40mm grenade launcher.
Emirates
Caracal: Caracal pistols are: CP 660, CP 661, CP 662, 9x19mm polymer frame, short recoil and double action lock and trigger safety; CP 663, 9×19, .40 S&W or 9x21mm, fitted with a rotating barrel lock, single and double action lock; with an 18-round magazine. The CP 664 is a smaller pistol with double action only, a rotating bolt and an 18-round magazine. The CAR 816 assault rifles are a high quality local production of the M4 carbine with a gas operated piston system. Various sniper rifles are also proposed as the CS 308, CH 300, CS 338 and CS 50. A new 9mm semiautomatic carbine was also exhibited that uses a 9.25 inch or 16.14 inch barrel and uses the Caracal pistol magazine.
France
Humbert: The Humbert Company offers all of the Beretta group products and a new training device named VirTra. It permits training of police and military personnel in a virtual space with video projection where enemies appear with computer control. The shooter uses their current gun, with special conversion or "recoil kits. The replacement barrel fires a laser at each shot and a CO2 cartridge located in the magazine well allows emulating the slide recoil. The device already exists for Colt, Glock, Beretta 92, S&W M&P, Taurus, SIG-Sauer pistols, MP5 SMGs and M4 carbine.
Rivolier: Rivolier is the French distributor of Remington, SIG Sauer, Ruger and small arms societies.
Verney-Carron: Single shot or over/under Flash-Ball launchers (less than lethal); 44mm smooth bore rubber bullets; and 40mm rifled barrel for various 40×46 grenades.
Germany
Heckler & Koch: We could see the new double-action VP9 pistol, with trigger safety and safe dismounting device. It holds a left and right bolt stop and the magazine is the same as the P30. It is furnished in a box with several grips. Currently available in the USA, it will be delivered in Europe at the end of 2014. HK also exhibited many pistols, submachine guns, rifles and machine guns, including the HK MG5 7.62x51mm belt fed.
Liemke: Liemke GmbH, is located in Bielefeld (Germany), and has made an agreement with the American company Noreen Firearms LLC from Belgrade (Montana). They will both build or sell the same line of several semiautomatic or automatic rifles to include: BN 223, similar to the M16, with gas action on the bolt (5.56×45); BN 36, .30-06, .270 Winchester and .25-06 Remington; BN 308, 7.62×51; BN 300, .300 Winchester Magnum; BN 338, .338 Lapua Magnum; and BN 408, .408 Chey Tac, gas action with rod. Two other sniper rifles exist: the ULR with telescopic stock and ULR Extreme with side folding stock.
Tactic Groups: This new company is located in Frankfurt. It proposes new solutions developed from materials available on the market: MP 18i is a submachine gun built from a Steyr G pistol with silencer and front grip and the MG 14 Z is a twin machine gun in .308 NATO made from two MG 3s mounted on a single frame with one grip and trigger mechanism. Each can fire separately or with the other. Feeding is also independent with one fed from the left and the other from the right. MG 14 Z can use various sights or aiming accessories;
Israel
IWI: The Israeli company had a large choice of small arms that included Jericho pistols; Uzi Pro and Micro-Tavor SMGs; ACE and Tavor assault rifles; and Negev machine guns including the NG7 in 7.62x51mm.
A new sniper rifle called the "DAN" in .338 Lapua Magnum was also presented. It has a folding stock with adjustable shoulder rest, cheek rest and rear monopod. The light alloy frame houses a cylindrical bolt with three lugs at the front. The fluted forearm has several Picatinny rails. The box magazine has a ten-round capacity and the barrel can be fitted with a suppressor. Many accessories can be fitted on the DAN: scope, aiming sights, bipod, etc.
Pakistan
Pakistan Ordnance Factory: Pakistan Ordnance Factories (POF) was founded in 1951 with the primary objective of producing arms and ammunition for the armed forces of Pakistan. POF is the first defense production industry in Pakistan, which produces a wide range of conventional small arms and ammunition that include the PK 9 (Beretta 92 type), ST 9 and B 8 pistols, with assistance from Turkish Sarsilmaz company); PK 1, PK 2 and PK 3, which are variations of the MP 5 SMG; G 3 assault rifles; PSR 90 sniper rifle; PK 7, 7.62×39 assault rifle (Pakistani HK 32); PK 8. 5.56×45 variation of HK 33; MG 3, .308 W machine gun: Type 54, 12.7×108 machine gun, Chinese sub-variation of Russian DShK 1938/46; etc.
Poland
Zaklady Metalowe Lucznik: This is the largest producer of Polish small arms and included various pistols, including the Walther 99 made under license; Glauberyt PM 84, PM 98 and PM 06 SMG; Beryl wz 96 and wz 04, 5.56x45mm assault rifles; Aleks BOR (.308 W and .338 LM) and TOR (.50 Browning) sniper rifles; UKM 2000 machine guns, an improvement of the PKM in .308 W, developed but to be industrialized and the Negev, 5.56×45 light machine gun, built under license.
Zaklady Metalowe Dezamet: The company produces a 40mm grenade launcher and various 40×46 grenades.
Mesko: Mesko is a Polish ammunition factory making 9mm Makarov, 5.56×45, .50 Browning, etc.
Russia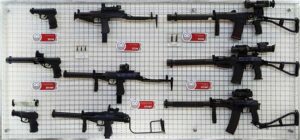 Most Russian manufacturers: KBP, Tsniitochmash and Tula TOZ were at the Paris exhibition, with many small arms, but no new models could be discerned this year.
Slovenia
Arex: Arex produces blank or training ammunitions, links, machine gun feeders, barrels and gun parts. The latest development is a pistol designated Rex 01. It works with an updated Browning design. The frame is made of aircraft light alloy, with a squared trigger guard as well as a Picatinny rail to fit accessories. The frame receives separate plastic grips. The recoil spring is under the barrel. The slide has a squared shape, the ejection port is located at the top and the front and rear large serrated grooves are milled. The pistol receives black or Olive Green finish or both. It has also several safeties: a manual safety located on each side at the rear of the slide; trigger safety; left and right bolt stop, also used as hammer decocking levers, located just above the grips. The magazine catch can also be actuated on each side.
The pistol works with a barrel short-recoil device. The barrel is round with a square part at the rear for locking and feeding. The single or double action trigger actuates a hammer. Three variations of the Rex 01 are offered: Standard, Combat and Compact. A small laser can be mounted in the recoil spring guide.
South Africa
Less Lethal Africa: Production of cartridges loaded with rubber or plastic bullets, used for riot control in 9mm Luger; 5.56×45; 7.62×51; 7.62×39 and 12 Gauge. Projectiles are of a soft material, which slightly flattens on impact, without penetration of shot from 20 meters or over. If the user wishes to use the cartridge with semi-auto or full auto guns, a special bolt is required.
Switzerland
SIG Sauer: An association of German and Swiss companies, SIG Sauer proposes a large choice of small arms for military and police organizations to include .380 ACP, 9mm Luger, .357 SIG, .40 S&W and .45 ACP pistols; 9mm Luger, .357 SIG or .40 S&W SMGs; 5.56×45, .308 W and 7.62×39 assault rifles; 5.56×45, .308 W and .50 Browning sniper rifles; 40mm grenade launcher; .380 ACP, 9mm Luger 17, .357 SIG, .40 S&W and .45 ACP law enforcement cartridges, etc.
Ruag: The group produces various cartridges in a large variety of calibers. It also provides special loads for training, snipers, short range, suppressor, etc.
Turkey
Turkish exhibitor's companies were among the few to presents new products.
MKE: State owned company Makina ve Kimya Endustrisi or MKE, is the main supplier of the Turkish Army and proposes also small arms for export that include the MP 5 submachine gun; G3 and HK 33 assault rifles; MSG 90 sniper rifle; MG3 machine gun, etc.
In addition, the Turkish Army has just adopted a new machine rifle: the MPT 76 in .308 NATO using a 20-round magazine with a cyclic rate of 700 rpm. It is a derivative of the AR-10 with a telescopic stock. The upper Picatinny rail receives the rear sight and transport grip. A light alloy forearm also has several rails. The selector can be actuated from both sides. Magazines are made of polycarbonate and magazine lock or right and left. The rifle works by gas action with a small push rod. It receives a Bowie type bayonet, with saw blade and wire cutter.
Sarsilmaz: The company produces various pistols, assault rifles, shotguns and a new submachine gun derived from the SAR 223: the SAR 109 C, upper grip and plastic forearms like the M4 carbine and the SAR 109 T, polygonal light alloy forearm with Picatinny rails, both with a 20-30-round magazine in 9mm Luger with a cyclic rate of 900-1,000 rpm.
The SAR 223, like the SAR 109 SMG is derived from the M4 carbine in 5.56mm. It works with direct gas action and is proposed in classic configuration or Tactical.
Tisas: The company produces various semiautomatic pistols for domestic
use or export.
United States
Barrett: Large choice of repeating or semiautomatic sniper rifles, .30 to .50 caliber. Barrett was discussing their new very light weight variant of the M240 machine gun, using a clamshell type receiver.
General Dynamics: Produces several automatic guns to include the M2 machine gun; 40mm automatic grenade launcher; .338 Norma Magnum LWMMG machine gun.
Kel-Tec: During the exhibition, the German dealer of Kel-Tec announced that the French Custom Office uses the KSG shogun. It is a single barrel riot gun, with two tubular magazines and a selective feeder, which permits the use of the cartridge from one or the other, with various loads (buck shot, bullets, less lethal, armor piercing, etc).
LMT: Lewis Machine Tool presented several M16/M4 and AR-10 rifles, with direct gas action on the bolt. Six variations exist in 5.56×45 and .308 W, as well as the British "Sharpshooter" rifle.
Mac Ammo: This company is located in New Orleans and it produces metal/plastic ammunition cases, with: brass head and polymer body (Mk 223 Mod O); light alloy/steel head and polymer body (Mk 223 Design Max) – existing in 5.56×45, .308 W, .30-06 and .50 Browning. Weight reduction is very important, particularly with the .50 Browning cartridges: for a load of 50 kg (110 lbs), it is possible to obtain 402 standard cartridges with M33 bullet and brass case; 493 cartridges with brass/polymer cases; or 540 cartridges with light alloy/steel/polymer cases. Composite cases have insulating qualities – barrel heat is lower and life of the tube is longer. The quick change barrel is easier and no headspace adjustment is necessary. Supply is also improved because no rust appears on links.
Ohio Ordnance: OOW's new BAR production, designated the HCAR, has a lightened frame and a new buffer. Caliber is still .30-06 and it is fed by a new, proprietary 30-round magazine.
Rade Technology Corp.: This company proposes a cartridge counter device designated the Radetec. It is a small digital screen located in a polyamide grip, associated with a small button battery. After adjustment it can indicate how many cartridges are still in the magazine. The device currently exists for Colt, Beretta 92, S&W M&P, Ruger Mk III pistols and
M16/M4 rifles.
U.S. Ordnance: Machine gun manufacturer of M60 (E6 and D) and MK 43 in (.308 W); M 240 B, C or D (.308 W); M2 HB, QCB or M48 (.50 Browning). US Ordnance recently announced the purchase of their new M60E6 by the Danish military, and there was a lot of interest in this 7.62x51mm light weight, modernized belt fed machine gun.
Next exhibition Eurosatory 2016 will be from June 13-17, 2016.