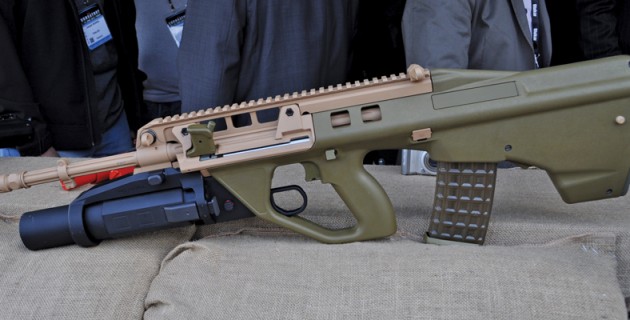 ABOVE: The Steyr F90 battle rifle with 40mm grenade launcher.
Eurosatory – the largest military and small arms defense show in Europe opened June 11 – 15, 2012 to exhibitors from more than 60 countries.  Representing small arms, medium and large caliber gun systems, vehicles, aircraft, and missiles, the exhibition was well attended by visitors from around the world.
Australia and New Zealand debut the F90
The F90 was debuted by Thales at Eurosatory 2012.  The F88, the former battle rifle used by the Australian and New Zealand land forces, was redesigned and refit into the F90 by Thales and Steyr Mannlicher.  The new F90 is identical to the EF-88 rifle (the enhanced F88), and is based upon the F88 platform that has been in use by Australian and New Zealand land forces since the 1980s.
The weapon's open architecture incorporates a NATO tri-rail system and optional NATO magazines, while a growth path allows for the fitting of centralised power, as well as data and powered rails.  The rifles are currently being built in Australia at the Lithgow facility under license from Steyr Mannlicher.  Built in five variants the F90, F90(G) which features a 40mm grenade launcher, F90M (a marksman variant), F90M(G) (the marksman variant with a 40mm grenade launcher) and the F90 CQB (a short barreled variant).
Battling Minigun Pods
For several years, Dillon Aero and Garwood Industries (Now Profense LLC) have been going toe-to-toe in the M134 manufacturing business.  Surprisingly, both companies have decided to offer a Minigun pod for close air support aircraft and rotary wing aircraft.  Miniguns are nothing new, having been developed by Richard Gatling in the 1860s.  General Electric produced the M134 for use on the UH-1 Huey helicopter.  Pods for the M134 (designated the SUU-11/A by the U.S. Air Force and the M18 by the U.S. Army) are nothing new, having been developed and manufactured by other defense contractors through the years.
Nevertheless, in the ongoing battle between the only two U.S. based Minigun manufacturers, both have decided to introduce a Minigun pod of their own manufacture.  Both pods appear to be well made and designed, and it was impossible to determine whether either model was better than the other while at a trade show.  Dillon Aero reports that their pod is specifically designed to be used on small fixed wing aircraft, such as the Embraer Tucano or Hawker Beechcraft AT-6 aircraft.  Time will tell whether either pod is adopted or contracted for mass production.
Lewis Machine and Tool – L129 A1 Mod
Adopted in 2010, the L129A1 UK mode continues to impress.  Designed and manufactured by Lewis Machine & Tool Co (LMT) based on a requirement and specification for an accurate long range semi-automatic 7.62mm rifle.  A match grade 16-inch "cut rifled" barrel, manufactured from stainless steel, was selected for the application.  The design allows the barrel to be readily changed for one of a different length, quickly changing the role of the rifle from sniping to close protection or CQB.  The L129A1 rifle also features LMT's two-stage precision trigger, for improved performance.
Law Enforcement International with the Lewis Machine and Tool L129A1 DMR, adopted by the UK MOD in 2010.
Heckler and Koch – G28 DMR Rifle in .308
The G28 is Heckler and Koch's entry into the crowded 7.62×51 Designated Marksman Rifle (DMR) category.  Utilizing the proven HK417 platform, the G28 is capable of 1.5 MOA accuracy with a high degree of first round hit probability to 600 meters.  Like the HK417, the G28 is a piston system with an adjustable gas regulator to allow for suppressor use.
One should recall that Heckler and Koch has led the way with the DMR, even before there the DMR designation was created.  The venerable PSG1 rifle – rebuilt and upgraded into the PSG1 A1 rifle – has sub-MOA accuracy and is one of the grand-daddies of 7.62 caliber sniper rifles.
Chemring Bangalore Torpedoes
Thought Bangalore torpedoes were relegated to use on a forgotten Pacific island back in the early 1940s?  Guess again.  Chemring Energetics manufactures new production Bangalore Torpedoes for those situations where obstacles on the battlefield just need to go away.  Featuring a one-meter aluminum body filled with two kilograms of DPX1 pressed explosive, the system may be assembled into a maximum 8-section assembly.  Once detonated, the DPX1 explosive is capable of defeating razor wire and cutting steel plate up to 6mm in thickness.
Mr. Sergei Kalinin of Tsniitochmash with a Russian 9.3mm SMG.
The system may be initiated via electric and non-electric detonators, shock tube, det-cord boosters, or an integrated firing device.  Finally, the system meets STANAG 4497 guidance on the design for hand emplaced munitions.
Camero Micro-Power Radar
What adolescent boy has not wished he could see though walls?  Ever wish you could see through walls with x-ray vision?  Camero Tech of Israel has developed a micro-power radar system that allows for just that – the ability to see through walls.  Three hand held variants were on display – the Xaver 100, 400, and 800 models, which based upon size and power, allow for greater range, depth, and the ability to "see" through walls.  The systems are ready to go at the push of a button, with no warm up time.
The Xaver 400 model has a 20 meter (65 foot) detection range, and is able to track both static and moving targets.  Completely radiation safe, the systems meet the limitations of international radiation exposure restrictions.
Camero is a part of the SK Group, a leading global defense and security group that includes Israel Weapons Industries (IWI), Meprolight, Israel Shipyards, PI Systems, and Uniscope, all based within Israel.
Chemring Energetics Bangalore Torpedoes.
SIG Arms
SIG Arms displayed the SAN511-2, a SIG Arms built .50 BMG magazine fed semiautomatic rifle.  Utilizing a rotary bolt within an aluminum receiver, the barrel is free-floated and suppressor capable.  Five configurations are offered with varying barrel lengths (17.5", 22", 27.5", 32", and 36" barrel lengths) with a side folding butt stock.  All configurations are fed from a five-round box magazine,
Gilboa APR
A number of short M16 platforms were on display by Gilboa, another Israeli company making a splash at Eurosatory.  Most of their systems were based upon a short stroke M16 platform, allowing very compact rifle and pistol systems.  Of note was the shortest variant, the Gilboa APR, featuring a 5.7-inch barrel.  Including a detachable butt stock, the platform may be transformed from a rifle to a pistol for added reduction in size.  The APR also features a side charging handle within the upper receiver of the firearm in addition to the traditional charging handle.  While the APR in pistol configuration was difficult to employ with any accuracy, the system was a very small and compact package that may have tactical use in limited circumstances.
Eurosatory 2012 was a great success and offered a glimpse into the international arms market.  Hosted on a biennial basis, the next show is scheduled for June 16 – 20, 2014 in Paris, France.  Additional information regarding the show can be found at www.eurosatory.com.