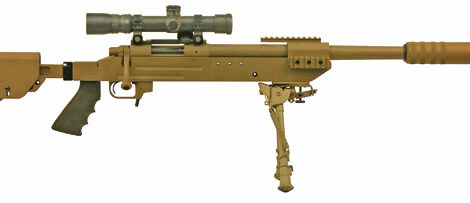 Elite Iron introduces the new Bravo SD, Sierra SD and SEAR sound suppressors.  Based on real world input, the Elite Iron Bravo SD sound suppressor has been designed for shooters who need significantly reduced sound pressure and increased accuracy for a more compact .30 caliber rifle configuration.  The "SD" stands for Special Deployment for good reason as the Bravo SD adds only 6 inches to the overall length of a rifle because of the unique over-the-barrel design.  The matching muzzle brake allows for a 2-point contact that provides more stable barrel dynamics.  The Bravo SD tube is made of 304 stainless steel.  Internal parts are CNC-machined from solid 17/4PH stainless steel billets and are 100% TIG welded for added strength.  The suppressor weighs only 26 oz. and has an overall length of 10 inches and diameter of 1.625 inches.  The Bravo SD notably lowers the sound pressure level by 34-35 db.

The Sierra SD was created for .338 Lapua chambered rifles and has the same built-in toughness, structural integrity, and increased accuracy as the Bravo SD.  The Sierra SD weighs just 30 oz., is 12 inches long, and has an exterior diameter of 1.625 inches.  The 2-point contact (with matching muzzle brake) and over-the-barrel design only adds 7.75 inches to the overall length of the weapon.  Using the muzzle brake only also reduces recoil significantly for both the Bravo SD and Sierra SD.  Sierra SD sound pressure level reduction is an impressive 33 db.
The SEAR (Special Engagement Assault Rifle) suppressor is custom built to a host weapon supplied by a client or provided by Elite Iron.  The SEAR is also an over-the-barrel design for rifles from .22 to .30 caliber that require maximum sound level suppression.  The .30 caliber version weighs 30 oz., is 13 inches long, 1.625 inches in diameter, and reduces sound pressure level by 35 db.  For critical shooting scenarios, the over-the-barrel Bravo SD, Sierra SD, and SEAR offer excellent sound signature reduction, increased accuracy and shorter overall rifle length.  Additional information may be found online at www.EliteIron.net.