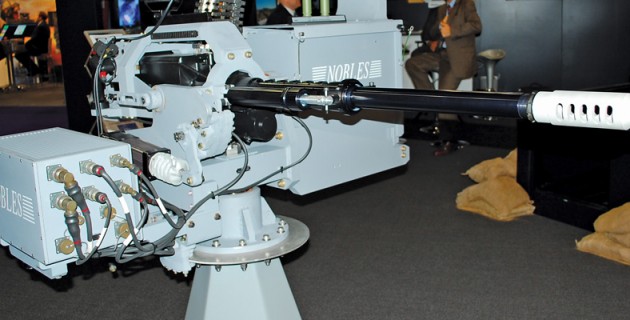 ABOVE: Nobles Mfg Inc of Wisconsin displayed their powered mount capable of mounting a variety of weapon types. Shown here fitted with a 30 mm chain gun.

DSEI is the largest fully integrated defense and security show in the world, featuring Air, Naval, Land and Security show content. Based in ExCeL, London every two years, the event provides unrivalled access to key markets across the globe. Combining a high quality of exhibitors across the supply chain, networking opportunities and the ability to see new technologies first hand on the show floor, DSEI provides an inspirational experience to nearly 30,000 visitors.
DSEI gave us the chance to:
View the full capability of the international defense and security industry at a single exhibition
Witness the latest developments in products and services and see the future of the defense industry
Make new contacts in the defense industry
Some of the key features at DSEI 2011 included:
Air Static Displays including – Lockheed Martin – JSF, Zephyr – QinetiQ, AgustaWestland – AW159 Lynx Wildcat
The UK Capability Showcase included the best of British from a range of defence and security suppliers
Waterborne Demonstrations on the littoral environment, anti-piracy and anti-boarding systems, sonar diver detection and agility and capability demonstrations of Unmanned Surface Vehicles (USVs) and Interceptor craft
The security zone consisted of a seminar theatre encompassing strategic presentations, thought provoking panel debates and informative product reviews, focusing on security.
Visiting Naval Ships at DSEI 2011 included: FGS BRAUNSCHWEIG K130 Class Corvette, the HNLMS SNELLIUS, the HMS DAUNTLESS, and the HNoMS Storm
The 2011 show gathered 28,440 international attendees in 2011 with 1,391 exhibiting companies from 55 different nations. It was visited by 796 global VIPs. DSEI was named Best Trade Show for the 2011 edition by Exhibition News UK.
Zastava - M77 (N) 7.62 mm automatic rifle configured for precision shooting.
Mock-up of Rheinmetall 40 mm Medium-Velocity Automatic Grenade Launcher.
French FR-F2 7.62 mm sniper rifle fitted with the 'FELIN' multi-purpose weapon sight.
Pakistan Ordnance Factories (POF) PK-9 9 mm (9x19 mm) self-loading pistols showing a similarity to the Beretta Model 92 design.
Arsenal of Bulgaria displayed examples of their increasing ammunition product line. Shown here are (L-R) the RHEF-9MA high-explosive fragmentation round - RHEF-9MA1 high explosive fragmentation round - RHEAT-9MA displayed examples of their increasing ammunition product line.
Shown here is the Arsenal of Bulgaria poster showing their current product line of former eastern bloc calibres - ranging from 9 x19 mm Makarov to 30 x 165 mm cannon types.
Manroy International display board. Upper two guns (SA-80's) are non-firing full size and weight training weapons, the latter group also includes sectioned weapons for instructional purposes.
Shown here is the 5.56 mm FAMAS assault rifle heavily modified as part of the French 'FELIN' soldier system and fitted with an EO Tech red-dot sight.
Shown here is the Bulgarian Opticoelectron Unified Mortar Sight MUM intended for use with mortars ranging in calibre from 60-120 mm.
Pages: 1 2