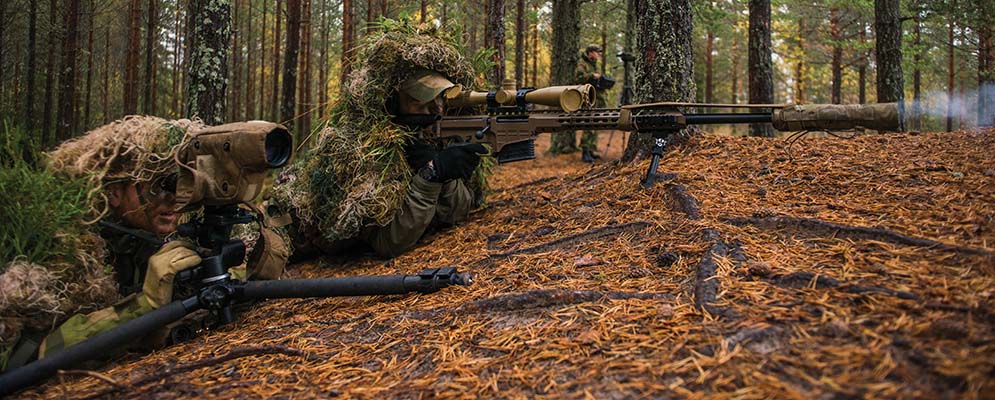 ABOVE: The MRAD.338 LapMag from Barrett Firearms Manufacturing, Inc. is the new sniper rifle for the Norwegian Armed Forces. The spotter has a 20-60×72 spotting scope.

The purpose of this article is to give a short description of some precision rifles designed for military snipers and law enforcement. Suppressors and rifle scopes are increasingly developed as integral parts of weapons. The scopes are continuing to become smarter through the use of external data in combination with ballistic computers and fire control systems.
Part Two in this article series will describe some 'intelligent' rifle scopes/fire control systems. Part Three will describe some state-of-the-art night vision devices that can be used with daylight rifle scopes.
THE SNIPER'S MOST APPRECIATED PIECE OF EQUIPMENT—THE RIFLE
Snipers in WWI used the standard infantryman's rifle and attached a telescopic sight. German snipers armed with the converted Gewehr 98 sniper rifle killed thousands of Allied troops. Snipers trained their rifles on dips in trench walls or crossing points, waiting for the careless or curious to show their heads. Germany's tradition of shooting clubs and hunting with rifles meant that it could call upon plenty of sharpshooters. Its advanced optics industry provided their telescopic sights. In the period before and during WW II, the Soviet Union developed different sniper rifles in caliber 7.62x54mm. The two most common sniper rifles employed by the Soviet Union were the Mosin-Nagant and the Tokarev SVT-40. The sniper version of the Mosin-Nagant rifle was used before, during and after WWII. It used the standard bolt-action 1891/30 infantry rifle as a platform, although rifles destined for conversion were hand-selected for quality and accuracy. Scopes were added, and they came in two versions. The PE scope was a copy of a German Zeiss scope. Later, in 1963, the SVD was introduced. Designed by Yevgeny Dragunov in the late 1950s and early 1960s, it was the first purpose-built designated marksman's rifle. It became a standard squad support weapon in service with the Soviet Armed Forces. It was also exported to Warsaw Pact countries and Soviet allies. Currently, it is used by Russia and at least 30 other countries and license-produced. Since its introduction, the SVD has seen action during countless wars and been employed by insurgents. This rifle is still produced in Russia.
On a bipod, the MRAD in.338 LapMag caliber. Barrels from left to right: the fluted.338 barrel,.338 carbon-wrapped,.300 WinMag barrel and the.308 barrel. Aud Håland
COMBAT SCENARIOS
The infantry conducts combat operations at close range with a number of dismounted soldiers sufficient to achieve the best possible force ratio. The infantry's efficiency and strength mostly rely on the effectiveness and accuracy of its fire. Combat operations conducted by the infantry have changed considerably since the formulation of former long-range sniper rifle employment doctrine, due in part to the following factors:
new asymmetric enemies;
new terrains (mostly urban, but mountainous, wooded and desert areas too);
new equipment (infantry fighting vehicles, remotely operated turrets and so on);
and new constraints (including collateral damage and increased casualty significance).
The KIVAARI in.338 LapMag. Aud Håland
Snipers provide intelligence and fire support in emergency situations and can be deployed in areas impassable to other units. Long-range sniper rifle teams must be capable of hitting man-sized targets out to 1,200 meters and disabling soft-skinned vehicles out to 1,800 meters. Such shots are extremely demanding and require outstanding shooters who have benefitted from high-quality standard and maintenance training programs and possess state-of-the-art equipment. The following are examples of engagement ranges for different rifle types:
The M110 semi-automatic 7.62x51mm rifle is reasonably light and maneuverable for a squad's marksman while providing a good mix of accuracy and penetration out to about 600–800 meters with conventional ammo. It's a favorite rifle for snipers in urban warfare.
The SOCOM Mk 13 bolt-action sniper rifle chambered for .300 Winchester Magnum provides good performance out to about 1,200 meters.
The typical .338 Lapua Magnum rifle only weighs about 2 pounds (1kg) more than a comparable .300 rifle. A .338 rifle is capable of placing reliable hits at around 1 mile (1,600 meters). Compared to the M82 (M107) sniper rifle chambered for .50 caliber, a .338 Lapua Magnum rifle has considerably less muzzle blast and flash. It is also much more pleasant to shoot, and the ammunition provides a more cost-effective option for long-range military sniping.
The .50 caliber Barret M82's effective firing range is over 1,800 meters.
The Rangemaster .338. Aud Håland
PRECISION RIFLES AND ACCESSORIES
There's a lot of movement in the precision rifle range. The Precision Sniper Rifle (PSR) program by U.S. Special Operations Command certainly worked as a catalyst for systems in caliber .338 Lapua Magnum (LM). There is also currently a suppressor boom in the sniper and precision rifle market.
CALIBER .338 (8.6x70mm) LAPUA MAGNUM RIFLES
The following are brief descriptions of only some of the available .338 LM precision sniper rifles. Many such sniper rifles on the market are not described here, such as the Remington Modular Sniper Rifle .338 LM and the Alex-338.
The Steyr SSG 08. Aud Håland
On February 3, 2016, the manufacturer C.G. Haenel GmbH won the bid for the new German Army sniper rifle with the Haenel RS9 rifle in .338 LM. The Bundeswehr designated it as the G29 rifle. The bolt-action G29 rifle comes as a "medium-range sniper rifle." The weapon is manufactured in Germany. A first lot of 115 weapons were delivered. Users will be the Special Forces of the Army and the Navy. The cold-hammered, free-floating precision barrel measures 685mm and has a twist of 1:10. Further details are the Ilaflon coating in color RAL8000 and a long NATO STANAG 4694 rail on the receiver top. The G29 combines a Steiner Military 5-25×56 optic on an ERA-TAC mounting, as well as an Aimpoint Micro-T2 for quick aiming. Its range is around 1,500 meters. Furthermore, a ROTEX silencer from B&T is included among the accessories. When the buttstock is folded, the total length is reduced from 51.2 inches (1,300mm) to 39 inches. The G29 weighs about 17.6 pounds (8kg) ready for use. The magazine's capacity is 10 rounds.
The WWI converted Gewehr 98 sniper rifle. Aud Håland
The Rangemaster .338 (.338 Lapua and .300 WinMag) is a high-performance rifle with an effective range of up to 1,500 meters. Its RPA four-lug Quadlock action is renowned for unrivalled accuracy, durability and safety. The company claims that this rifle is probably the most accurate .338 rifle available. The safety is incorporated into the trigger design. It has a mount for torch/laser designator and night vision. The 30-inch barrel with a twist rate of 1:10 comes with a muzzle brake and is threaded for a sound moderator. The rifle's overall length is 52.5 inches (1,335mm) or 41 inches (1,042mm) with the stock unfolded or folded, respectively. Its weight (empty magazine, no scope) is 17 pounds (7.7kg). The magazine's capacity is five rounds.
Steyr Mannlicher GmbH has written that the STEYR SSG 08 is an extremely accurate bolt-action sniper rifle. SSG 08 is available in .338 LM, .300 WinMag, .243 Win and 7.62x51mm. The SSG 08's receiver, finished with Steyr's Mannox coating, has an integrated 20 MOA Picatinny top rail and additional rails on the handguard that can mount various accessories. A night vision bridge for in-line night vision is available as an extra. The 27.2-inch free-floating, cold hammer-forged .338 caliber barrel has a muzzle brake compatible with a quickly attachable suppressor. The foldable high-strength aluminum stock has an adjustable cheek piece and butt plate. The pistol grip can be customized to the user's hand. When the stock is folded to the left, the shooter will always have access to the trigger, and the bolt can be fixed without any movement (or associated noise). The detachable bipod and a telescopic butt spike monopod can ensure a stable firing position. The rifle's overall length is 50.4 inches (1,280mm) and its weight without the bipod and scope is 13.5 pounds (6.12kg). The magazine has a capacity of six rounds.
The Accuracy International AXMC. Aud Håland
Accuracy International's (AI's) latest in a long and distinguished line of combat-proven sniper rifles is the AX Multi Caliber (AXMC), a .338 LM rifle. With a caliber conversion kit, it can easily be reconfigured to .300 WinMag or .308 Win in minutes, simply by changing the barrel, bolt and magazine/insert. It has AI's patent-pending Quickloc quick-release barrel system, bolted and bonded to the aluminum chassis, as well as a proofed steel action. The AXMC comes with a full-length 30 MOA STANAG 4694 or MIL-STD-1913 rail for mounting optics and thermal/NV imaging equipment. Its mounting system for the bipod is patented. It has a three-position safety and two-stage trigger adjustable for reach and trigger weight. The folding stock has an adjustable cheek piece and buttpad. The pistol grip can be configured by the user and has replaceable pistol grip back straps. AI's stainless-steel barrel for the .338 LM features a 1-in-9.35-inch twist, is threaded for a muzzle brake and comes in two lengths: 20 or 27 inches. An AI suppressor is optional for the tactical threaded double-chamber muzzle brake. AX rifles benefit from a Cerakote ceramic polymer firearm coating, and one can choose from three colors. With a 27-inch barrel and tactical muzzle brake, the rifle's overall length is 49.2 inches (1,250mm), and folding the stock reduces shortens the overall length to 41 inches (1,040mm). The rifle's weight is 15 pounds (6.8kg) with the standard rail setup, an empty magazine and no scope. The magazine's capacity is 10 rounds.
The Sako TRG M10 is a bolt-action sniper rifle that is likewise available in multiple calibers. It's designed to be adjusted to each shooter's needs. The action frame is cold hammer-forged from special alloyed steel, and the steel parts are phosphatized. The receiver is stabilized with three fastening screws and comes with a Picatinny (or Weaver) base and integral 17mm axial scope mounting rails. The forestock features an integral slot for fast mounting/dismounting of a TRG adjustable steel bipod. The ambidextrous controls are within reach of the firing hand and are large enough to be operated with gloves on. The two-stage trigger in the robust and fully adjustable trigger mechanism protects against accidental discharge if, for example, the rifle is dropped. The pistol grip has an interchangeable back strap that comes in three different sizes. The aluminum-reinforced composite folding stock is designed for both right- and left-handed shooters, adjustable in height and can be cast off or cast on. The cheek piece can be adjusted laterally and vertically. The butt plate is adjustable for distance and angle, and its height and pitch can be finely tuned. The 27-inch (689mm) fluted stainless-steel barrel has muzzle threading, with the muzzle brake being optional. The rifle can also be acquired in black. Its overall length is 47.9 inches (1,216.5mm). Its empty weight is 14.3 pounds (6.5kg). The magazine's capacity is five rounds.
The SOCOM Mk 13 bolt-action sniper rifle chambered for .300 Winchester Magnum. Aud Håland
The Barrett MRAD bolt-action long-range precision rifle has proved unfailingly accurate. MRAD is available in .338 LM, .338 Norma Mag, .300 Norma Mag, .300 WinMag, .308 Win, 7mm Rem Mag, .260 Rem and 6.5mm Creedmoor. For .338 LM, the rifle is offered with three different barrel lengths (fluted and heavy): 20-inch (510mm), 24-inch (610mm) and 26-inch (660mm). This caliber interchangeability makes the rifle adaptable to a variety of user needs. With the rifle's user-changeable barrel system, the barrel can be removed by simply loosening two bolts using a standard Torx wrench. The MRAD in .338 LM has Barrett's fully adjustable match-grade trigger module, which can be removed without tools. The oversized trigger guard allows the use of gloves. The thumb-operated safety can be configured for left- or right-handed operation. The ambidextrous magazine release can be used intuitively while retaining a firing grip and cheek weld. The bolt guide acts as a dust cover to reduce contamination. The MRAD uses a standard AR-15/M4 pistol grip. Integrated into the MRAD rifle's aluminum upper receiver is a 21.75-inch (552.4mm) Picatinny rail with a 20 MOA taper. The forward receiver is drilled and tapped for accessory rails to be mounted at the three, six and nine o'clock positions. During transport, the folding stock locks onto the bolt handle, maintaining the same rifle width whether folded or extended. The folding stock is made of a temperature-resistant polymer, and the cheek piece is fully adjustable. The rifle's length of pull can be set to five different positions with the push of a single button. The rifle is available in five colors. Its maximum length with a 24.5-inch (620mm) barrel is 46.9 inches (1,190mm) with a recoil pad—with a suppressor its overall length is 55.3 inches. Its length with the stock folded is 39.4 inches (1,001mm). Its weight with an empty magazine is 14.3 pounds (6.7kg). The magazine capacity is 10 rounds.
The project for a new standard sniper rifle for the Norwegian Armed Forces lasted two years and included summer and winter trials. It was determined that the new rifle should be .338 caliber before weapon candidate selection and testing began—this is the reverse of the typical process when choosing a weapon system. Some of the tested weapons were quickly deemed incapable of meeting the accuracy requirement set for the chosen caliber. The remaining selected weapons became more difficult to distinguish from each other. Weight, size, ergonomics and technical solutions were the criteria that guided the decision. After a period of testing with weapons, ammunition, accessories and optics, three candidates were shortlisted. These were the Accuracy International AX (AI AX), Sako M10 and Barrett MRAD. These bolt-action sniper rifle systems are available in multiple calibers with different barrel lengths. A high level of configurability makes them extremely versatile platforms that can easily be converted from true long-range precision rifles to more compact pieces of equipment. The AI AX and Sako M10 were very good solutions, but the Barrett .338 LM MRAD (Multi Role Adaptive Design) rifle was chosen as the new sniper rifle for the Norwegian Armed Forces.
8.6mm sniper rifle "Alex—338." Aud Håland
SEMI-AUTOMATIC
DRD Tactical is a company that makes rifles based on the AR platform. DRD makes all components, and their rifles are designed to allow rapid takedown and storage in small cases. The rifles are easy to reassemble. Their KIVAARI semi-automatic rifle in .338 Lapua uses a direct gas impingement mechanism and is based on the AR operating system. It looks like an oversized AR-15 rifle. The receiver is made of billet aircraft aluminum and it has an AR-type pistol grip, and its Magpul PRS buttstock is fully adjustable. For accessory mounting, it has a 17-inch Magpul M-LOK QD rail. The safety control is ambidextrous. The bolt is made of strong steel, the same high quality as that used in the aircraft industry. The patented quick takedown 24-inch stainless-steel barrel is cold-hammered with a 1:10 twist. Most .338 LM ammunition is made for bolt-action rifles. Being a semi-automatic rifle with a high chamber pressure, the use of Lapua ammunition with strong brass becomes a necessity. Due to the rifle's caliber, the spring's force is a little greater than that of an AR-15 rifle. The charging handle is therefore on the left side on the receiver. The muzzle brake makes the rifle work quietly, but it can also be used with a suppressor. The rifle's accuracy is 1 MOA with Lapua ammunition. Its overall length is 47 inches (1,193.8mm) and its empty weight is 13.6 pounds (6.17kg). The magazine's capacity is 10 rounds.
The G29 sniper rifle in.338 LapMag with the M5Xi 5-25x56 sniper sight is used by the German Special Forces. Waldemar Geiger/Europäische Sicherheit & Technik.
SOMETIMES A "SLUGGER" IS NEEDED
Modern army snipers face a new range of threats. Amongst these are vehicles filled with explosives and driven by suicide bombers. Such car bombs, called vehicle-borne improvised explosive devices (VBIEDs), have been known to inflict hundreds of casualties. To oppose these threats, army snipers use new tactics and weapons to stop the vehicle before it reaches the intended target. For example, if a vehicle refuses to stop after warnings at a traffic control point, it has to be disabled in case it is a VBIED. The sniper therefore needs to have a rifle that can take out the vehicle. Dependent on circumstances, the best tactic for stopping a vehicle could be to destroy its engine instead of neutralizing the driver. One weapon system that has a devastating effect on vehicles and is used at many checkpoints is the legendary M82A1 (M107). To make the weapon even more lethal, the sniper has available different ammunition depending on the type of target. The most versatile and destructive is the NAMMO .50 cal. (12.7x99mm) APi-S, Armor Piercing round for extreme accuracy and high penetration capability against material targets. A large tungsten carbide penetrator provides excellent armor penetration (22mm of armored steel at 900 meters) with an incendiary/marker effect for spotting purposes. Targets range from light material to light armored vehicles. Nonetheless, the M82 has its drawbacks; for instance, with a 29-inch barrel it weighs 28.4 pounds (12.9kg) without a scope or ammunition. Its muzzle flash and dust blow are also substantial. However, it's an incredibly effective and devastating battle-tested weapon system, not only for the destruction of vehicle targets but also of soft targets. When employing .50 cal. Ball (Match Grade) rounds, it exhibits extreme accuracy at ranges far beyond the capability of a 7.62mm sniper rifle.
The 7.62x54mm SVD sniper rifle. Aud Håland
(Second from top) The sniper version of the 7.62x54mm Mosin-Nagant rifle. Aud Håland
A Norwegian Home Guard sniper and a spotter are securing critical infrastructure with the venerable.50 cal. Barrett M82A1 anti-material rifle. Torbjørn Kjosvold/the Norwegian Armed Forces