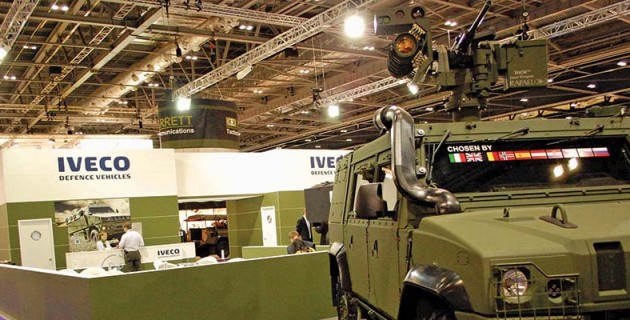 ABOVE: IVECO Defence vehicles display stand.

The Defence Security Equipment International (DSEI) 2013 exhibition was held in the London Docklands ExCeL Exhibition Centre on September 10-13, 2013. It is a bi-annual event, held in the autumn to avoid conflict with the other major international defence exhibitions such as IDEX in Abu Dhabi held earlier in the year and Eurosatory in Paris traditionally held the following year.
Post exhibition statistics showed that 32,169 visitors attended DSEI 2013, a rise of 13% over the same event in 2011. The exhibition featured 1,489 exhibitors, representing 54 countries, and included 40 international pavilions. Ninety-seven official delegations from 56 countries attended.
Colt Canada at the Canadian pavilion.
For those unfamiliar with the venue, the ExCeL centre is comprised of two very large display halls (North & South) on either side of a wide centre-isle. Externally, a large maritime anchorage adjoins the Centre, together with ground displays of aircraft. The display halls/areas are 'themed' to concentrate particular types of activity and equipment to enable the visitor to focus on their particular area of interest. Themed areas this year included the:
ATK stand. MK52 7.62mm Chain Gun displayed.
Land Zone: Over 80 exhibitors were present in the land systems sector with an additional 25 military vehicle OEM's exhibiting a diverse range of capabilities around the halls. The line-up of major exhibitors included, BAE Systems, General Dynamics Iveco, JCB, Land Rover, Lockheed Martin, Nexter, Oshkosh, Rheinmetall, Renault and Supacat.
Naval Zone: This zone included regular exhibitors such as Cammel Laird, Lurssen, ThyssenKrupp, Damen, Daewoo and Hyundai Heavy Industries. First time exhibitors included Asmer, Mazagon Dock, Babcok and BAE.
Visiting Warships: Reportedly, a record number of ships docked alongside ExCeL. They included, for example, the Dutch Holland Class corvette HNLMS Groningen, the German Braunschweig Class corvette FGS Madgeburg, the Swedish Mine Counter Measure vessels HSwMS Vinga and Ulvo. Highlighting the international aspect was the Republic of Korea KDX-2 class Destroyer and Logistic Support Ship Hwa Chun. The Royal Navy was of course represented in this case by the Type 23 frigate HMS Sutherland and the River Class Offshore Patrol Vessel HMS Tyne. These were not just static displays – the opportunity to take part in guided tours of individual vessels was provided.
Air Zone: Focused on key aerospace requirements, a diverse variety of manufacturers exhibited their product lines, ranging from the prime contractors such as BAE Systems, GE Aviation, Raytheon and Rolls-Royce, together with niche supply chain providers.
Static Displays: There were both internal and external displays. Externally, the venerable Spitfire was displayed with today's Eurofighter Typhoon. Elsewhere were displayed rotary elements such as the Wildcat helicopter.
Unmanned Systems: A number of Unmanned Aerial Vehicles (UAV) and Unmanned Ground Vehicles (UGV) platforms were displayed at this zone reflecting a rapidly increasing use of these systems, together with supporting stakeholders such as the Association for Unmanned Vehicle Systems and Cranfield University.
UGV Demonstrations: a demonstration area was set aside in the North Hall to allow manufactures to demonstrate their product line.
Security & Special Forces Zone: First introduced at the previous 2011 DSEI exhibition, this much expanded zone reflected the dynamic nature of this sector. Exhibitors showcased a comprehensive range of security solutions from advanced software analytical tools to prevent fraud to the installation and maintenance of security systems. Prime contractors included API Europe, BAE Systems, Dell CISCO, Emerson, Fujitsu and Telesoft.
Medical & Disaster Relief Zone: This newly introduced zone reflects the increasing requirements of the medical personnel within the armed forces who are providing greater levels of medical support at the unit level, which is reflected in the decreasing number of preventable deaths resulting from combat related injuries.
International Pavilions: International Pavilions increased in number from the 20011 show to a record number of 40 pavilions this year. A number of subject specific Pavilions were also provided for those attending with a focused agenda, such as the AOC Electronic Warfare, Cyber and National Electronics Week pavilions.
60mm and 81mm mortar ammunition displayed at the Yugoimport SDPR stand.
The show was very much 'International' in scope with virtually all continents and geographical regions represented. Nations making their debut included Chile, Japan and South Korea. Of note was the Mexican X-Arms company debuting their Mendoza submachine gun in standard and compact models. Other manufacturers of individual weapons included all the big names in small arms production such as Arsenal, FN Herstal, Heckler & Koch and US Ordnance. Continuing in a similar vein, ancillary and accessory manufactures were represented by Optix and Opticoelectron of Bulgaria, S C Pro Optics S.A. of Romania and Ring Sights of the United Kingdom to name just a few. Ammunition manufacturers were fully represented from the largest – ATK of the USA to small specialist producers such as the South African, Less-Lethal Africa with their range of in-house developed small arms ammunition.
A range of assault rifles were displayed by Arsenal of Bulgaria.
GATR Technologies portable inflatable satellite.
PGW Defence of Canada displayed their product line of precision rifles.
ATK stand. MK44 Bushmaster Chain Gun displayed.
Nammo displayed their HADES area defence system.
ATK stand. Bushmaster M230LF Chain Gun displayed.