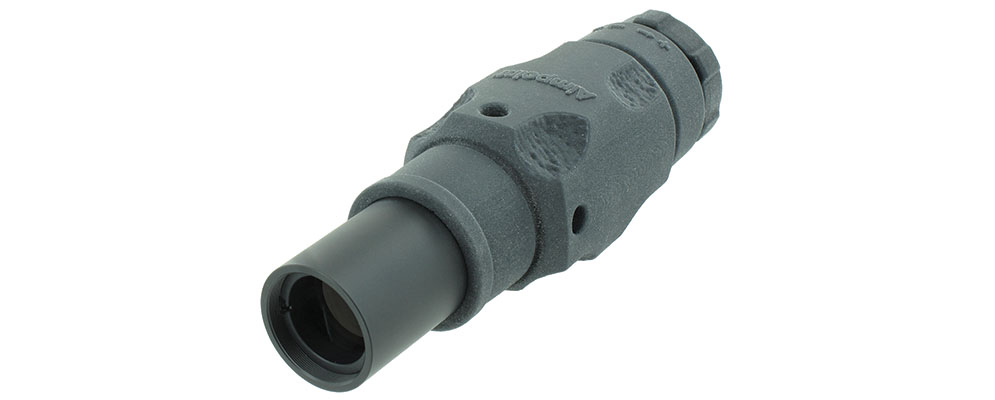 ABOVE: Aimpoint 6XMag-1


Aimpoint

These two products, when paired together are perfect for multiple applications. The Micro T-2 (AR Ready version refers to the type of mounting systems it comes with – a 39mm spacer and LRP, Lever Release Picatinny, base attachment), has on 1x optical magnification but increases to 6x when paired with the 6X Magnifier (6XMag-1). The 6XMag-1 is great for use mounted on a rifle or carbine or as a handheld observation device.BR>
Micro T-2 AR Ready
Product Name: Micro T-2 AR Ready (Red Dot Sight)
Optical Magnification: 1x
Eye Relief: Unlimited
Exit Pupil: N/A
Field of View: N/A
Adjustment Range: 1 yard at 100 yards
Reticle Color: Red
Solution Calculation Time: N/A
Menu: N/A
Power Supply: 3V lithium battery, type CR2032
Ranging Laser: N/A
Visible Laser: N/A
Aperture: Clear aperture, 18mm
Range: Variation
Minimum range: Zero
Range Accuracy: 2 MOA
Dimensions: 2 5/8" x 3 1/16"
Weight: 3 oz, 84g. (sight only)
MSRP (USD): $971.00BR>
Product Name: 6XMag-1 (Magnifier)
Optical Magnification: 6X
Eye Relief: 70 mm
Exit Pupil: 3.3 mm
Field of View: 3 degrees
Adjustment Range: Diopter -3 to +3
Reticle Color: N/A
Solution Calculation Time: N/A
Menu: N/A
Power Supply: N/A
Ranging Laser: N/A
Visible Laser: N/A
Aperture: N/A
Range: N/A
Minimum range: N/A
Range Accuracy: N/A
Dimensions: 6" x 1 13/16"
Weight: 8.8oz
MSRP (USD): $878.00

ATN

X-Sight II HD 5-20
Product Name: X-Sight II HD 5-20
SKU#: DGWSXS520Z
Thermal Sensor: ATN L130 Sensor
Optical Magnification: 5
Eye Relief: 65mm
Field of View: 5 degrees
Adjustment Range: 1/8″
Reticle Color: Multiple Color Options (7 colors)
Menu: Yes
Lithium rec: 4AA (Lithium recommended)
Ranging Laser: NO
Visible Laser: NO
Objective Lens: 85 mm
Range: Day 500 m / Night 200 m
Minimum range: 25 m
Dimensions: 11.36″ x 3.5″ x 3.45″/ 289 x90 x 8 mm
Weight: 2.55 lbs/ 1.15 kg
MSRP (USD): $699

ThOR HD 2.5-25x
Product Name: ThOR HD 2.5-25x, 640×480, 50mm
SKU#: TIWSTH643A
Thermal Sensor: 640×480
Optical Magnification: 2.5
Eye Relief: 65mm
Field of View: 12.5×9.7
Menu: Yes
Ranging Laser: NO
Visible Laser: NO
Objective Lens: 50 mm
Range: 1500 m
Minimum range: 25 m
Dimensions: 8.81″ x 3.16″ x 3.14″ / 224 x 80 x 80 mm
Weight: 1.85 lbs/0.83 kg
MSRP (USD): $4,999

Barrett

BORS (Barrett Optical Ranging System)
BORS (Barrett Optical Ranging System) is an integrated ballistics computer that mounts directly on the riflescope and couples to the elevation knob.  Drawing from several tables and taking into account a number of real-time external factors, it automatically gives the shooter the exact yardage at which a bullet will hit.  Once the distance to the target has been estimated,  the computer can be put into action by simply turning the elevation knob until the LCD displays the target's range.  Three internal sensors automatically calculate the ballistic solution. BORS compensates for temperature, changes in air pressure, and aiming at an upward or downward angle. BORS even determines if the rifle is canted. BORS kit includes the proprietary Barrett Ballistic Software  (requires Windows XP or higher, and is not directly MAC OS compatible) that's pre-programmed with a library of common projectiles and velocities selected by Barrett. It also includes a BORS data cable that allows the user to program custom loads on a personal computer and transfer them directly to BORS.

BORS in Action
Weight: * 13 oz (370 g)
Height Above Centerline of Scope: 2.49" (6.32 cm)
Width: 3.25" (8.26 cm)
Display: 2 lines, 12 character LCD
Operating Temperatures: 32° F thru 158° F (0° c thru 70° c)
Operating Altitude: -1,000 thru 20,000 ft (-300 thru 6,100 m)
Tilt Range: -90° thru 90° (2-degree resolution)
Battery: CR-123
Life: 30 hour minimum (with 1,500 mAh battery)
Buttons: 4 button
Optical Magnification: n/a
Eye Relief: N/a
Exit Pupil: N/a
Field of View: N/a
Adjustment Range: N/a
Reticle Color: N/a
Solution Calculation Time: Instant 
Menu: n/a
Power Supply: CR-123 battery
Ranging Laser: N/a
Visible Laser: N/a
Aperture: N/a
Range: 2500 yards or meters
Minimum range: 100 yards or meters
Range Accuracy: N/a
Dimensions: See above
Weight: 13 ounces
MSRP (USD): $1,400 to $1,800
https://barrett.net/accessories/optics/bors/

Qioptiq

Dragon (S) Sniper – In-Line Thermal weapon
DRAGON-S (Sniper) In-line Thermal Sight is designed for use with a range of optical dayscopes and provides snipers with a 24Hr surveillance and target engagement capability.

DRAGON-S is factory set to eliminate the need for rezeroing when used in conjunction with the dayscope. A light seal is provided between the In-line Thermal Sight and the dayscope.

DRAGON-S is part of the DRAGON family of uncooled thermal products from Qioptiq that utilize the latest in uncooled thermal camera, electronics and optical technologies to deliver world leading performance and reliability.

DRAGON-S can be adapted for use on a variety of weapons mounting to either a Picatinny or NATO rail.

DRAGON-S thermal sight is designed specifically to meet target engagement and surveillance requirements for military customers and law enforcement agencies providing high performance within a lightweight, compact and rugged military qualified design.

DRAGON-S delivers a capability to detect man and vehicle targets 24 hours a day, even in poor visibility, in total darkness and through battlefield obscurants.

DRAGON-S can be fitted with Qioptiq's LO GLINT coating technology to reduce sunlight glint and reflection as an option.

RIGIDITY – All aluminum construction for structural rigidity and EMC sealing properties ensures good integration and compatibility with surrounding systems.

STABILITY – Boresight stability guaranteed through state of the art optical design and lens mounting techniques.

SIMPLICITY – Controls have been designed and positioned for ease of access and MMI designed for ease of use across all roles.

Product: Dragon (S) Sniper – In-Line Thermal weapon
Optical Magnification: X 1 (in-line sight)
Eye Relief: Day sight eye relief
Field of View: 7.4º HFOV
Adjustment Range: Day Sight
Reticle Color: Customer specific
Solution Calculation Time: Day sight
Menu: Customer specific
Power Supply: 4 x 1.5V AA Lithium Disulphide (LiFeS2 )
Ranging Laser: Customer specific
Visible Laser: Customer specific
Aperture: Day sight
Range: Detection – 3080m
Orientation – 1540m
Recognition – 780m
Identification – 400m
Minimum range: 5m to Infinity
Dimensions: <238.3 mm, <85.6mm Weight: <930g

MERLIN-LR – In–Line Weapon Mounted Night Sight
MERLIN-LR (Long Range) is a lightweight night vision adaptor for military and law enforcement operators who want to retain the use of their existing day scopes.

MERLIN-LR is part of the MERLIN family of Night Vision Products from Qioptiq utilising the latest optical technologies to deliver world leading performance and reliability.

It can be fitted with a wide range of standard and autogating image intensifier tube variants from US and European manufacturers.

MERLIN-LR is a high resolution collimated night sight for use in front of an existing day sight, providing the user with a 24 hr capability.

It can be installed and removed without the need for re-zeroing and ensures a high night time first round hit probability.

It attaches via a quick release mount onto either a primary or secondary picatinny rail attached to the weapon (other mounting options are available) and the controls are easily accessible by the user.

It's powered from 2 commercially available 1.5V AA batteries which provide over 90 hours.

Product: MERLIN-LR – In–Line Weapon Mounted Night Sight
Magnification: x1
Field of View: 9°
Detection Range – Man: 2040m – Quarter Moon, 2940m – Moonlight
Weight (excluding lens cap, rubber boot & batteries): <1450g Dimensions: 250mm (L) x 86mm (W) x 105mm (H) Batteries: 2 x 1.5V AA Battery Life: >90 hours continuous operation @ 20°C Alkaline
Image Intensifier Tube: 18mm XR5
Boresight Alignment: <0.5 MOA (Factory Set) Accessories: Weapon mount, Lens Cap, Carrying Pouch, Transit Case, Instruction Card, User Manual, Carrying Strap, Lens Cleaning Kit

Schmidt & Bender

5-45x56 PM II High Power
Model: 5-45×56 PM II High Power
Optical Magnification: 5,0-45
Eye Relief: 90mm
Exit Pupil: 8,8-1,2
Field of View: 7.8-0.9 (m/100m)
Main Tube: 34 mm
Parallax adjustment: 30 m – infinity
Elevation adjustment: 270 cm // 66 MOA
Windage adjustment: ± 60cm  // ± 15 MOA
Click mechanism: 1 cm // 1/4 MOA
Reticles: H2CMR // P4LF
Dimensions (length mm): 434
Weight (g): 1106
MSRP (USD): $5616,29

5-25x56 PM II
Model: 5-25×56 PM II
Optical Magnification: 5.0-25.0
Eye Relief: 90 mm
Exit Pupil: 11.0-2.3
Field of View: 5.3-1.5
Main Tube: 34 mm
Parallax adjustment: 10 m – infinity
Elevation adjustment: 260 cm // 64 MOA
Windage adjustment: ± 60cm  // ± 16 MOA
Click mechanism: 1 cm // 1/4 MOA
Reticles: P4F,  H58, MSR
Dimensions (length mm): 417
Weight (g): 1129
MSRP (USD): $3645,44

Sightmark

Pinnacle 5-30x50 TMD Riflescope
Sightmark Pinnacle 5-30×50 TMD Riflescope (SM13029TMD) is a precision first focal plane optic with .1 MRAD adjustments, TMD-HW illuminated reticle and a 34mm tube. Turrets can be capped or left exposed using included turret-thread protecting rings. The 5-30x50TMD is a traditional long-range precision riflescope. Parallax is from 30 – Inf, while max range is dependent upon how far out you can see and adjust to your target, as well as ballistics. Certainly, right rifle/right shooter you should be getting sub-MOA accuracy.

Optical Magnification: 5-30
Eye Relief (in/mm): 3.8-3.7/97-96
Exit Pupil (Diam.): 8.8-1.7mm
Field of View (ft. @ 100 yds): 3.4-2.2
Adjustment Range: 18 MRAD (Wind) & 26 MRAD (Elevation)
Reticle Color: Black with red & green illumination
Dimensions: (in/mm) 14/357L x 3.65/92.9W x 3.14/79.9H
Weight: 34.5 oz.
MSRP (USD): $1,799.99

Trijicon

VC16-D
Optical Magnification: 1-6 
Eye Relief: 4in
Exit Pupil: 0.41-0.15
Field of View: 18.0-3.0
Adjustment Range: 90 MOA total travel
Reticle Color: Red and green
Power Supply: AA battery
Dimensions: 10.05×2.51×2.73in
Weight: 23.2oz
MSRP (USD): $2800.00