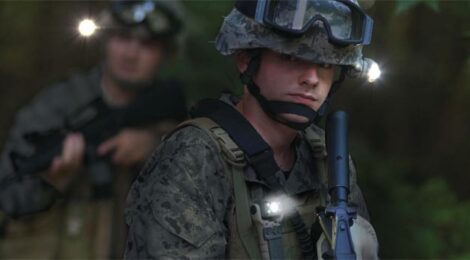 Energizer
Two Energizer flashlights have been selected by the U.S. Army's Program Executive Office – Soldier (PEO-Soldier) for inclusion in the Approved Family of Flashlight list (AFFL).

The Energizer Hard Case Tactical Swivel light is one of the approved lights in the "Tactical Handheld Light" category and the Energizer 1AA Ultimate Lithium is one of the lights in the "Basic White Light" category.  In order to qualify, lights on the list had to meet several levels of physical, environmental and Soldier compatibility testing.
The Energizer Hard Case Tactical Swivel light was developed after extensive research and was designed to specifically meet the needs of military personnel.  Powered by Energizer Ultimate Lithium batteries, the light will provide more than seven hours of light and perform better in extreme temperatures than lights operated with standard alkaline batteries.  Features include imperative capabilities such as multiple color LEDs, Red, Green, Blue and White, for light discipline needs, Infrared (IR) for Night Vision Device usage and IR strobe for Identify Friend or Foe (IFF) use.  It incorporates a rotating swivel head which allows for hands-free signaling and standard flashlight use, along with multiple switches.  The flashlight provides a tight, high-intensity, 70-lumens beam on white mode for long-distance illumination and is also capable of temporarily disrupting the vision of an enemy combatant.  Other features include DualDrive Technology that allows operation on two AA batteries or a single AA battery if needed, a heavy-duty clip that can be attached to a tactical vest or other gear systems, can withstand a 15-foot drop and is waterproof.
The Energizer 1AA Ultimate Lithium features bright white, high performance LEDs.  Advanced circuitry built into the light allows users to adjust the light output and manage battery life to meet their needs.  An extremely rugged design features a waterproof, machined, aircraft-grade aluminum alloy body, shatterproof lens, and nearly indestructible LED.
For more information, contact Energizer Headquarters, 533 Maryville University Drive, St. Louis, MO 63141.  Phone (800) 459-7622. Website: www.HardCaseTactical.com.
Long known for their batteries, Energizer released their Night Strike and Night Strike Swivel handheld flashlights.
The Night Strike utilizes multiple LEDs and is capable of 130 lumen output in either red or white light, with multiple power settings.  When utilizing three Energizer lithium batteries, the run time is a reported 6 hours.
The Night Strike Swivel provides even more features than the Nigh Strike unit by offering 4 color LED (white, green, red, and blue) as well as UV illumination, in 13 different lighting modes.  Each colored LED may be turned on individually or in any combination with any other LED, depending upon the situation.
Utilizing two AA-sized lithium batteries, the unit runs for a reported 5 hours.  More impressively, the unit can run on either one or two AA-sized batteries without malfunction.  www.energizer.com.
Smith and Wesson
Building upon the success of the M&P15-22 rifle, Smith and Wesson has introduced three new models.  All four variants offer a two position safety selector identical to the AR-15/M16 series, a fully functioning charging handle, fully functioning bolt catch that holds the bolt open on an empty magazine, a match grade precision barrel, and a polymer M1913 Picatinny rail hand guard.
The new variants include a pinned stock and 10-round magazine variant for sale in restrictive States, as well as a rifle variant equipped with a 1/2×28 threaded barrel.  Given that 1.2×28 is the standard thread pitch on all AR-15 and M16 rifles, any muzzle device (to include properly threaded sound suppressors) should fit on the M&P15-22 rifle.
Smith and Wesson also introduced two new pistols for the Bodyguard series.  The first, a .38 caliber revolver features a hammerless design, a short 1.9-inch barrel, and an overall length of 6.6 inches.  The revolver has a capacity of five rounds, weighs 14.3 ounces and is built from a one-piece aluminum alloy upper frame along with a steel reinforced polymer lower frame.  Finally, the revolver features an easily manipulated ambidextrous cylinder release on the top of the frame.
The semiautomatic pistol is chambered in .380 ACP, features a six-round magazine, a high-strength polymer frame, a black stainless steel slide, and a 2.75 inch barrel.  Overall length is 5.25 inches, with an unloaded weight of 11.85 ounces.
Both Bodyguard pistols feature an integrated laser manufactured by InSight.  www.smith-wesson.com.
Otis Technology
Otis has long been known for its convenient cleaning kits in a variety of calibers.  New for 2010, Otis has released the TRS, an AR-15/M16 carbine length, free floating Picatinny quad rail.  The unit is reportedly manufactured via a patented manufacturing method on all critical geometries, allowing for repeatability when frequently mounting and removing weapon sights and accessories.  www.otisgun.com.
Purosol
The Global War on Terror often takes place in dusty and harsh environments.  Optic and computer systems are constantly being cleaned and dusted.  Purosol has released a solvent-free, organic cleaning fluid for all optics.  The solution reportedly contains no ammonia, alcohol, detergent, silicone, graphite, or silicone.  In addition, a second formula is available for cleaning LCD, plasma, and other electronic displays.  In addition to the properties within the optical solution, the plasma version creates an anti-static barrier to help repel dust and lengthen the time between cleaning.   www.internationalsupplies.com
Glock
Glock has debuted the 4th generation of pistols.  Initially offered in the Model 22 (.40 S&W) and Model 17 (9mm) the new pistols offer several new features designed to satisfy the most demanding consumers.  Most noticeably, the Gen4 design has a multiple backstrap system that allows the user to change the circumference of the grip to fit their individual hand size.  The grip has three options; a short frame version, medium frame or large frame that are easily changed and secured with a single pin.
The magazine release catch of the Gen4 is reversible and enlarged. It allows users to switch access of the catch to the left or right side of the pistol with no additional parts.  Internally, the original recoil spring has been replaced with a dual recoil spring assembly.  The dual recoil spring assembly noticeably reduces the recoil while simultaneously increasing the life cycle of the pistol.  Finally, the Gen4 pistols have a new Rough Textured Frame (RTF) surface designed to enhance grip traction and is present on the frame as well as the interchangeable backstraps.  www.glock.com.
Century International Arms
Century International Arms, Inc. is debuting a 100% U.S. made AK semiautomatic rifle, the Centurion 39 Sporter chambered in 7.62x39mm.  The Centurion 39 is assembled using all new U.S. manufactured parts.  It is different from other rifles on the market in that the receiver is machined from an 11 pound block of 4140 ordnance quality steel.  The barrel is equipped with a proprietary V shaped Chevron Compensator, designed exclusively by Century.  This unparalleled compensator design directs gases upward, which reduces recoil and makes the rifle more controllable.  Instead of adjusting for windage from the front sight like other similar rifles, the rear sight is adjustable for both windage and elevation.  Other features include a high visibility front sight post and a buttstock that is 1 inch longer than military style stocks, for better comfort and handling.
The upper and lower handguard have four Picatinny rails that can be used to accessorize the Centurion 39 with red dot sights, scopes, lights, lasers and a foregrip.  Barrel Length: 16.5 inches with a 1:10 twist.  Overall length is 37.25 inches, weighs 8.2 pounds and comes with two U.S. made 30-round magazines.  www.centuryarms.com.