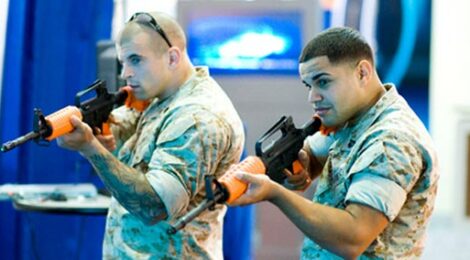 Marines just returned from front-line combat action in Iraq and Afghanistan provide valuable input to exhibitors who are continually seeking new and better ways to meet the Corps' warfighting needs.
The Modern Day Marine Military Exposition has, since its inception in 1981, been one of the leading innovators in the annual showcasing of military equipment and systems.  That tradition continues with the event's 29th edition, which will be held at Marine Corps Base, Quantico, VA this September 29th through October 1st.

Because the Marines are continually seeking improved small arms; air, ground and sea-based fire support; and mobility platforms – both ground and air – the exposition has become one of their leading sources of information and insight on what is being produced or planned to equip them for the future.
Several thousand Marines, as well as members of the other Armed Forces and key civilian federal employees attend the event each year to see what is available and what will be available for an organization that must be primed and well-equipped for rapid-response and forced entry operations at all times.
The expo was the first military trade show to present, as part its opening ceremony, the landing of a fixed-wing aircraft in the parking lot of a downtown civic center.  That was at the first edition of the exposition in Tucson, AZ, in 1981.  More recently, it became the first defense exposition to establish an improvised explosive device pavilion to inform attendees about the latest in IED-defeat equipment and systems.  Last year, the expo became the first military trade show to place a ground robotics obstacle course on-site for attendees to observe unmanned ground vehicles navigating a series of complex barriers and mobility challenges.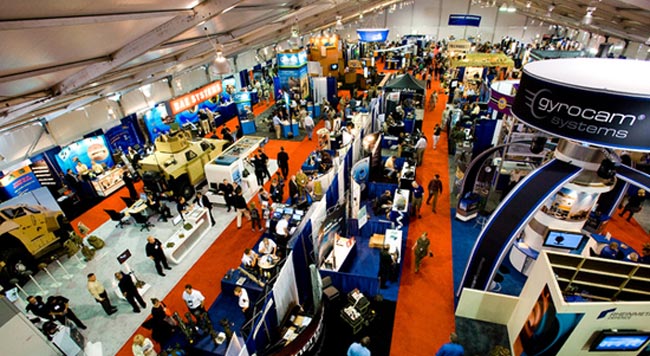 In addition to outdoor display areas, the Modern Day Marine Expo has several thousand square feet of covered space in three large tents adjacent to the base headquarters at Marine Corps Base, Quantico, VA.
Among innovations for this year will be an Expeditionary Force Aviation Pavilion spotlighting Marine Corps aviation.  Emphasis will focus on modernization of the Corps' air combat element and its role in an amphibious force continually engaged in, or preparing for, expeditionary operations.  The pavilion will showcase a broad spectrum of aviation equipment, including support and service systems designed and produced specifically for the air combat element of Marine air ground task forces.
As they have for thousands of visitors during each of the past 28 editions, representatives from leading companies from throughout the U.S. and allied nations will exhibit products that support all of the ground, air and sea operations of expeditionary forces.  However, the new Expeditionary Force Aviation Pavilion will be a special display area emphasizing modernization of the Corps' air arm.  This will also include displays illustrating the many tasks carried out by Marine Corps aviation personnel, including force protection of the aviation element's assets and infrastructure.
In the recent past, the Marine Corps introduced vertical takeoff and landing fixed-wing aircraft into the U.S. Armed Forces and the tilt-rotor aircraft now in service in Iraq and Afghanistan.  As Marine Corps planners develop methods for transitioning their current 13 "legacy" aircraft types to seven new platforms, U.S. and allied industries use the exposition to show how they are prepared to contribute to better-equipped and even more formidable expeditionary fighting teams of Marine air-ground task forces, than those now serving around the world.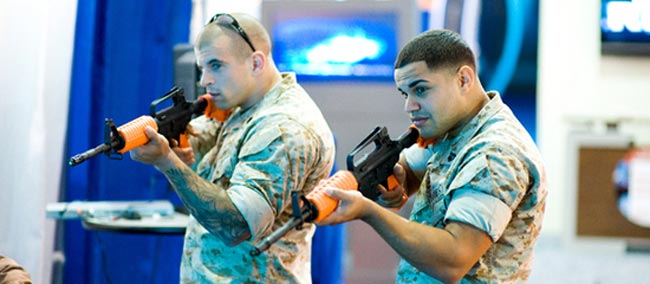 Members of the Armed Forces preparing for deployment to combat zones, or just back, comprise a large percentage of the attendees who take advantage of simulators and the hands-on aspects of the Modern Day Marine Military Exposition to learn about what is available or on the way for force modernization.
Companies producing the finest small arms in the world will be at the exposition, in strength, as they are each year, as will be companies producing special aiming and night vision devices, and small arms maintenance equipment and systems.  Marines and other attendees will be able to describe to the men and women who produce that equipment their own personal experiences in employment of small arms during recent combat operations.  These interchanges and stories of lessons-learned are a value-added by-product of the exposition for manufacturers seeking ways to improve upon the weapons and systems they now produce.
Because of the exposition's emphasis on innovation each year, it has also become an event that has enjoyed not only growth but industry recognition within the trade show industry.  Last year, Trade Show Week, the global exhibition industry trade magazine, honored the Modern Day Marine Military Exposition with one of its "Fastest 50" awards.  The award is based on growth of an event and was created to recognize the people and organizations whose innovations and hard work have improved the overall growth and vitality of the trade show industry.
Endorsed by the Marine Corps Aviation Association, the Modern Day Marine Military Exposition is sponsored by the Marine Corps League, a Marine Corps 70,000-member veterans' organization, and co-sponsored by Marine Corps Systems Command and Marine Corps Base, Quantico.  Much of the equipment now being employed by Marines, in the air and on the ground, in Iraq and Afghanistan, was first seen by military leaders, operations planners, acquisition managers, and the end users – air and ground combat Marines – at previous editions of the exposition.
Exhibits at this year's exposition will fill three large display tents as well as outdoor exhibit areas.  In addition to getting a hands-on, close-up look at much of the latest in equipment and technology now in service, there will be video presentations, models or prototypes of items soon to become available for use in combat and combat support operations.  The defense contractors from around the world who exhibit at the event will also be available to discuss their products and services, respond to questions, and listen to input from the men and women who employ expeditionary warfighting gear.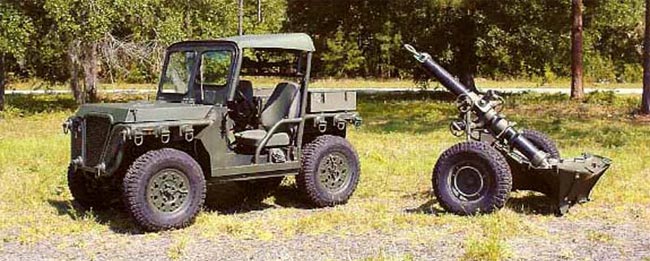 Ground mobility equipment, in research and development or newly entering Marine Corps service, is prominent among the hundreds of items of equipment presented at the Marine Expo each year.
Quantico is home of the Marine Corps Combat Development Command, which develops Marine operational concepts and determines the Corps' capability requirements for doctrine, equipment, organization, training, education and support.  The Marine Corps Warfighting Laboratory, also at Quantico, is part of the Development Command and is responsible for improving current and future naval expeditionary warfare capabilities.  Also headquartered at the base, the Marine Corps Systems Command is the Corps' principal agency for acquisition and sustainment of systems and equipment used to carry out the Marines' warfighting mission.
The uniformed Marines and civilian employees, who staff the Development Command and Systems Command, as well as Marine officers and staff non-commissioned officers attending the Marine Corps University's professional development schools at Quantico, will be joined by military and civilian personnel from other U.S. and allied forces.
A special by-invitation-only Report to Industry will be presented by Marine Corps general officers closely associated with all aspects of the Corps' equipment and systems research, development, testing and acquisition programs and policies.
The Report to Industry will be followed by Marine Corps Systems Command Program Group Director Exhibitor Meetings in which members of the defense industry will receive direct input from the men and women who manage the programs through which Marines acquire and field weapons and equipment for the Corps' expeditionary missions on the ground, in the air and at sea.
Another of the exposition's special activities will be an Enlisted Awards Parade honoring distinguished enlisted Marines and sailors from units around the world with awards sponsored by the Marine Corps League.  Additionally, a Modern Day Marine Military Exposition Grand Banquet and Awards Dinner will be held at the Ritz-Carlton Hotel in the Pentagon City section of Arlington, VA.
Modern Day Marine Military Exposition Point-of-Contact:
Charlie Baisley at charles.baisley@nielsen.com or (703) 812-2741
Media Contact:
Carl White at carlwhite@expomediaservices.com or 540-351-1691