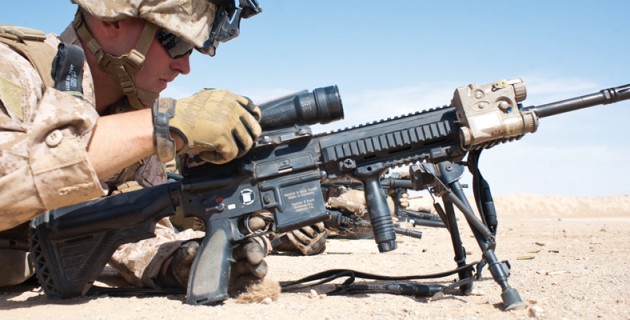 29 March 2010, Djibouti, Africa. Lance Cpl. Tim Eastep, with 1st platoon, Alpha Company, Battalion Landing Team 1st Battalion, 9th Marine Regiment, 24th Marine Expeditionary Unit, provides suppression fire using his M249 squad automatic weapon, allowing his team to advance forward, during a mechanized assault as part of a live fire range exercise. The 5.56mm belt-fed M249 Squad Automatic Weapon, adopted by the Marine Corps in 1985, is seen here in its latest 'Para' configuration. This evolved from an effort initiated in Marine Force Recon to make it lighter and more maneuverable, but now falling short of the new M27 Infantry Automatic Rifle. Combat weight of this light machine gun with 200 rounds loaded plus the USMC version ACOG, laser aiming module and bipod, is about twice that of a comparably equipped M27 and seven loaded mags. (USMC photo by Gunnery Sgt. Chad R. Kiehl)
This seasoned Marine brings impressive credentials to the job, having held every billet in infantry battalions from Platoon Commander through Battalion Operations Officer.  His combat experience spans 2005 through 08, including rifle company commander in the Al Anbar Province in Iraq, and as a combat advisor with the Afghan Commando Kandak (battalion), primarily in Kunar Province, Afghanistan.

We asked Clark when and why Marines in the field began asking for an alternative to the M249 that the Corps fielded beginning in 1985 and he suggested we talk with Gunner Eby, describing him as both a fellow Marine and personal friend.  As seen earlier in this feature, we certainly did and it proved highly instructive.
"Historically, the Marine Corps kind of understood the shortcomings of the SAW but it was a service level decision to adopt it," Clark said, "a Marine Corps requirement that was initially developed by the Army."
Dissatisfaction soon arose and grew in the dozen or so years that followed, leading to the often-cited initial IAR trials conducted by the 1st Marine Division's 2nd Battalion, 7th Marine Regiment circa 2000.
"Until you operate with a weapon system for some period of time, you haven't identified all the considerations for employment," Clark explained.  "2-7 was not the only battalion that had this epiphany.  It was a growing thought process in the Marine Corps."
2-7 did a limited IAR experiment and then provided their findings up through the Gunner community; the highly respected duty experts on weapons employment whose opinions carry considerable weight in the Marine Corps.  Their endorsement of the Infantry Automatic Rifle, echoed in formal recommendations, continued year after year as Marine infantrymen fought the Global War on Terror in Afghanistan, Iraq and other hot spots.
Clark cited a list of complaints from the field including SAW gunners lagging behind, particularly in the attack.  He called the M249 an effective but cumbersome light machine gun, not best suited for the Corps' tactical doctrine for rifle squads in urban combat.
"When you go into a MOUT (Military Operations on Urban Terrain) environment you've got to strip the SAW gunner out of the 'stack' (of Marines entering and clearing buildings)," he said.  "And so now you've effectively taken what was your automatic rifle out of the attack in a MOUT environment where it's really about maintaining momentum and tempo."
21 November 2011, The Crucible training center, Stafford County, Virginia. The final version of HK's M27 Infantry Automatic Rifle as officially adopted for use throughout the Marine Corps. This is one of the Corps' hard worked test and evaluation rifles, lacking only the 'M27' receiver marking that will replace 'HK 416 D' on the magazine well. It's topped with a 3.5 power SU-258/PVQ SDO (Trijicon Model TA11SDO-CP) day scope with distinctive 'piggyback' RMR (Ruggedized Miniature Reflex) close combat sight. Note the folded down BUIS (back up iron sight) and Manta's black colored soft polymer rail and broomstick covers that will be standard in USMC service. The M27's ambidextrous selector features HK's intuitive 'pictographic' markings for SAFE in white, SEMI and FULL AUTO in red. To reinforce previous training these positions (and the charging handle, forward assist and magazine release) are the same as on M16 series rifles. The trigger guard swings down to allow shooting with heavy gloves or mitts. (Robert Bruce)
This and other gripes fueled the escalation from an evolving "Universal Need Statement" initiated back in 1999, to official program status six years later, the bureaucratic birthday of a laborious and strictly defined procurement process.  In early 2005, Clark and others under the Deputy Commandant for Combat Development and Integration wrote up a set of capabilities desired for a theoretical Infantry Automatic Rifle, sending the specifications over to Marine Corps Systems Command.
On 14 July 2005, MARCORSYSCOM kick-started the process by issuing its Request for Information to the defense industry, listing both threshold (minimum) and objective (desirable) IAR characteristics they might be able to meet with an existing weapon.  With this, the IAR machine started picking up speed.
While the initial solicitation's 100 round minimum magazine capacity was soon dropped in favor of standard GI 30-rounders for reasons detailed later in the feature, the specified caliber begged for discussion.  Since performance shortcomings in the U.S. military's standard issue M855 5.56x45mm cartridges have been well documented, we asked Clark if alternatives like 6.8mm had been considered.
"We did not." he said, but quickly added, "We're considering alternate calibers in the future."
Clark emphasized that one of the driving factors for the desired IAR was commonality among the weapons in the Marine rifle squad.  "We have an M27 with common ammunition – (5.56mm) ball, not linked – and a common ammunition source with the approved service rifle magazine," he said.  "Now we can switch back and forth.  It's much easier, and having been a company commander, I think that offers a lot of capability to trade magazines back and forth on reaching the objective."
It was Clark's job to take up the cause from his predecessors and steer the IAR past the metaphorical mudholes, mines and ruts that are noted in what follows here.  Analysis of responses to the RFI and further input from the Gunner community and other elements of the Corps resulted in a modified set of IAR specifications rolled up in a Capabilities Development Document.  The CDD was signed in June 2007, marking what's called a Milestone B in 'acquisition-speak,' the jargon used in government procurement circles.
More industry responses followed – samples and related support provided at no cost to the government but considerable cost to the hopefuls – used in several rounds of tests that eventually narrowed the field to four candidate weapons.  Then, intensive verification testing was done on this quartet; two from Colt and one each from FN and HK.
On 19 December 2008, four "IDIQ" (indefinite delivery, indefinite quantity ) contracts were formally announced, one for each of the finalist IARs, identically worded except for the company name and price.  The purpose for these multiple awards was two-fold; first to have a contract structure in place to support purchase of test samples, spares and services.  Then, when the winning rifle among the four contenders was finalized, to expedite full rate production, getting IARs into the hands of Marines as fast as the hidebound system would allow.
Heckler and Koch Defense, Inc., Ashburn, Va., is being awarded a five year indefinite delivery, indefinite quantity contract with possible delivery orders up to $23,600,000 for the production, delivery, and associated support of the Marine Corps' Infantry Automatic Rifle (IAR).  The IAR will be a light weight, magazine fed, 5.56mm weapon which will enhance the automatic rifleman's maneuverability and displacement speed while providing the ability to suppress or destroy not only area targets, but point targets as well.  The IAR is planned to replace the M249 Squad Automatic Weapons (SAW) currently employed by automatic riflemen within Infantry and Light Armored Reconnaissance (LAR) Battalions.  Although four contracts will be made initially, delivery orders will be awarded for samples.  First Article, spare/repair parts, and various support services; and, eventually one of the four contractors may be awarded delivery orders for up to 6,500 IARs.  Work will be performed in Oberndorf, Germany.  Delivery of contract line items will be as stated on applicable delivery orders.  Contract funds will be obligated in multiple delivery orders.  This contract was competitively procured.  The Marine Corps Systems Command, Quantico, Va., is the contracting activity (M67854-09-D-1038).
Some insight into the eventual outcome may be had by comparing the total cost bid by each for the theoretical purchase of 6,500 IARs.  Both Colt rifles were the least expensive at $14 million, HK was in the middle at $23.6 million, and FN wanted $27.9 for theirs.
3 June 2011, Marine Corps Base 29 Palms, California. A Marine with 2nd platoon, Company B, 1st Battalion, 6th Marine Regiment, 2nd Marine Division, provides cover fire while an M249 squad automatic weapon gunner and another fire team member work to clear the belt fed weapon's malfunction during a platoon attack course, part of the Enhanced Mojave Viper training evolution. This is particularly difficult and time consuming at night. (USMC photo by Corporal James W. Clark)
Left behind were rifles from LWRC and Knight's, as well as the Ultimax light machine gun, offered under special arrangement with Singapore-based ST Kinetics and the United States defense giant General Dynamics.
Not surprisingly, contending firms with weapons that were passed over weren't happy.  We, of course, asked why they didn't make the cut.
Clark, tightly constrained by all manner of legal restrictions arising from the military's too-often bitter experience with countless contract protests, lawsuits and even political interference, gave the expected answer.  "That's where we get into 'source selection sensitive' information," he stated.  "I can't release what the deliberations were."
We kept fishing, asking him to comment on any significant tradeoffs necessary to meet IAR's specifications.  Things like piston vs. gas, open bolt vs. closed, cookoff, barrel swap, etc.   Carefully choosing his words, Clark emphasized that the requirements document was "agnostic to operating system."  "We didn't go into this saying 'Hey, we want a closed bolt, piston driven gun.'  We considered gas impingement, gas piston, we considered operating rod." Clark explained.  "We didn't go in with preconceived notions.  I wouldn't characterize it as tradeoffs.  We had the performance specifications and we just simply took the gun that best met our performance specifications."
Lessons learned along the way (Clark says there wasn't much change from the CDD) were codified in a Capability Production Document, signed in November 2009.  The CPD enabled Milestone C decisions that resulted in "down-select" of a single weapon system, announced a month later.  The Corps' source selection panel named HK's candidate best in meeting the requirements.
It was our duty to again ask the logical question: What performance and other factors led to the decision to adopt HK's modified 416 rifle as the USMC's Infantry Automatic Rifle?
Clark's answer was patient, cautious and brief.  "Across the board, it best met our requirements.  When we hold a source selection… we consider cost, schedule, performance and past performance."  Then, after a moment of reflection, he added with emphasis, "As the user representative, performance is always the most important aspect to me."
The Commandant Goes Public
HK's IAR candidate had won the battle but not yet the war.  The SAW vs. IAR debate hadn't gone away and not only were there were skeptics in the ranks but General James Conway, the soon-to-retire Commandant of the Marine Corps, had been cautiously weighing pros and cons for quite some time.