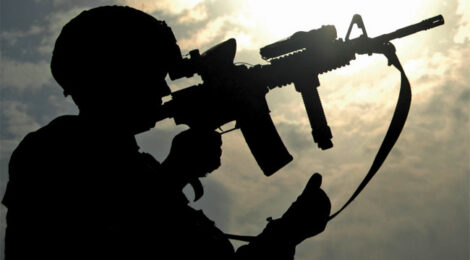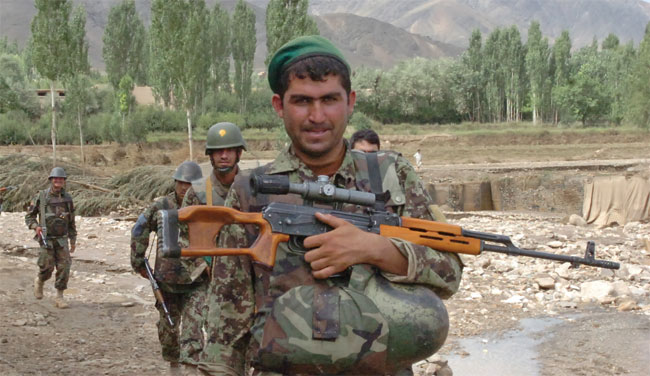 Afghan soldiers patrol behind U.S. Soldiers with Legion Company, 1st Battalion, 503rd Infantry, 173rd Airborne Brigade Combat Team in Heheayat village in Nerkh district, Wardak province, Afghanistan, Aug. 7, 2010. The soldier in the foreground is armed with a Romanian PSL/FPK sniper rifle. (U.S. Army photo by Spc. Theodore Schmidt)
Lieutenant-Colonel Beale also said that the New Zealand Army will acquire more tactical shotguns.  The service bought a small quantity of Benelli M3 semiautomatics in 2006.

The standard infantry rifle, the Steyr AUG, is going through an upgrade programme with the effort focusing on enhancing its ability to accept a wide range of sighting systems, including night vision devices, and other tactical ancillaries.  In-line thermal and image intensifying sites will be issued on the basis of one each per infantry section, a number that will increase, and every soldier will have night vision goggles and night aiming devices.  It's critical that the weapon is maintained at zero when sites are changed, said Lt-Col Beale.
This programme, which will not be applied to the entire AUG inventory, is due for completion in 2011.  The NZDF currently operates the AUG in two barrel lengths of 508 millimetres and 407 mm for long range and close quarter engagements respectively.  But in the Afghan mountains up against 7.62, admits Lieutenant-Colonel Beale, "you want better ballistics."
The New Zealand Army also intends to buy a new designated marksman weapon, in 7.62mm calibre, as well as upgrading its sniper rifles to provide a maximum range of 1,500 metres.  The service is also seeking more and better 0.50 calibre anti-materiel rifles.
The current personal protection weapon is the SIG P226 pistol, but the NZDF is considering replacing it with a submachine gun.
Netherlands Upgrades and Replacements
Lt Cdr Gabrie Geelof, a Navy officer who served in the Dutch Marines, outlined some of the issues facing the Netherlands as it embarks on its own small arms upgrade and replacement programme over the next 10 years, taking operational lessons, particularly from Afghanistan, into account.  One of the most important of these, says Lt Cdr Geelof, is that soldiers need flexible weapons with common characteristics.  Due to begin in 2011, this programme is to follow on from recent upgrades and fast track purchases.
The Netherlands chose to upgrade its inventory of Colt Canada Diemaco C8 assault rifles in house and is now approaching full operational capability with the upgraded weapon.  The programme also addresses ergonomics for left-handed shooters and of those who wear glasses.  New furniture includes a vertical fore grip that can also be used as a bipod and an extendable butt, both in a pale sand colour that contrasts with the rifles overall black scheme, breaking up its visual outline.  Between 25,000 and 30,000 rifles will eventually be upgraded.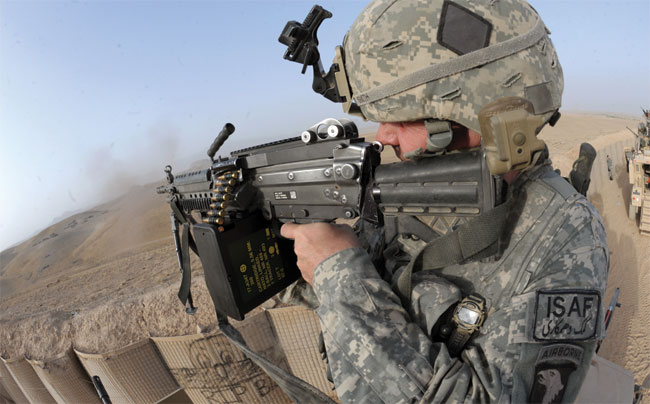 U.S. Army Staff Sgt. Michael Smith, an ammunition specialist assigned to Echo Company, 1st Battalion, 101st Combat Aviation Brigade, fires an M249 while standing atop a military vehicle during live fire weapons training at the shooting range in Multi-National Base Tarin Kowt at the province of Uruzgan, Afghanistan, July 7, 2010. The 101st Aviation Combat Brigade is deployed to Afghanistan in support of Operation Enduring Freedom. (U.S. Air Force photo by Tech. Sgt. Michele A. Desrochers)
The Dutch have selected the Heckler and Koch HK 416 to replace the Diemaco C8A1GD as the special forces carbine in a program that began in 2008.  Around 1,000 are being procured for the SF, police, marines and the Mareechausee Marine police force.  The HK 416 was selected for its accuracy, low maintenance requirements and its facility to be configured with different upper receivers and barrel lengths that enable it to replace the C8 and the FN P90 in use by special forces counter-terror units.  Special forces particularly like it because it can be fired without damage with a barrel full of water, unlike the C8.  All the accessories used on the C8 can be transferred to the HK 416.
The Army and Marines have gradually been receiving better sniper weapon systems since 2000; separate programmes for the two services having been combined into the overarching "extending options for sniper teams" program.  This programme covers weapons, optronics (including thermal scopes for spotters) and other equipment and added the Barrett M82 A1 0.50 calibre (12.7x99mm) rifle and the Accuracy International AWSM .338 to an inventory that already included the same company's 7.62mm AW.  Full operational capability for this programme is due in 2012.
With a budget exceeding 250 million euros, the future small arms replacement programme is very wide ranging, covering everything from pistols to heavy machine guns and automatic grenade launchers.  The Ministry of Defence, says Lt Cdr Geelof, intends to replace its current inventory system by system, although budgetary restrictions will mean that not all old stock is replaced.  The programme is due to begin in 2011 with an initial operational capability in 2014 and full operational capability and 2020.
The programme will consider whether it is feasible to procure a modular family of weapons to meet most or all of the requirements.  It will also consider what to do with weapons bought through recent fast track procurements.
The Dutch forces have an urgent need to replace machine guns which are both old and subject to intense wear and tear.  But, says Lieutenant Commander Geelof, they face a choice between waiting for the new generation of .50 calibre machine guns currently being developed by industry or buying into old technology again and being stuck with it for the next 50 years.
They also have to deal with configuration management issues with the Glock 17 pistol, of which the Dutch have four different versions, only one of which has a loaded chamber indicator.  This is a discrepancy with clear safety implications.
While small arms are not part of the VOSS soldier modernisation programme, the projects must be co-ordinated to ensure that clothing, including body armour, and weapons are compatible.  Integration with remote weapons stations will also have to be considered for the larger weapons.
In selecting these weapons, the MoD will work through the TE NO research organisation to help validate or falsify conclusions drawn from operational lessons.  Germany is having similar problems with machine guns and has also begun a small arms replacement programme, and the two countries have begun to cooperate in a process that may result in joint testing of ammunition and possibly joint procurements.
While industry is focused on the weapons themselves, ancillaries such as ammunition pouches, transport containers and means of securing guns inside vehicles etc., are becoming increasingly important, Geelof commented.
Naturally, the Dutch will also examine the effectiveness of the 5.56x45mm round as part of this process.